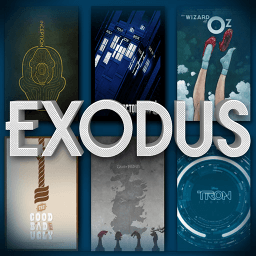 Kodi Exodus Not Working? Click Here For Info
Exodus not working for you? If you are having trouble with the Exodus Kodi add-on, click here to find out if there may be a widespread issue with the add-on and if there is anything you can do!
Latest Update December 7th
Current Status: Some issues present (latest version is 2.0.22)
NOTE: There are issues in Exodus right now with accessing TV Show sections. The TVDB API which pulls data back for TV Shows is currently down. There is nothing to do except wait for these TVDB to start fix their issues, and follow us on Twitter and Facebook for the latest updates. Users should still be able to manually search for content in the add-on
___
If you need to install version 2.0.22, follow our Exodus Kodi guide. If you are having issues, the best way to let us know is on Twitter with a log! Also, check the comment below for help from other users.
Common Issues and Solutions:
Problem: I only see videos from the year 1970 and earlier (or year X and earlier)!

This means that you have not set up the time and date on your Kodi box. Please make sure that your date and time is set to today's today. It will default to 1970, which is why you don't see any new sources.

Problem: I am getting "no stream available" when I watch anything.

Before asking for support, read this article and see if you fall into one of the categories described. There might not be any working streams on any public websites.
If you want access to more obscure audio and video files, Easynews is a Usenet client that gives you access to private servers containing millions of files. These private servers don't go down and files aren't deleted, so they contain almost everything ever uploaded. Click here for more information or click here to sign up!

Problem: When I click on a show or movie, I see the "working" symbol but nothing happens.

This problem has been reported by users who use BT as their internet service provider. If you use BT, disable your "home hub smart setup" and see if this fixes your issue. Alternatively, you can sign up for a VPN service like IPVanish and make yourself appear as if you are from a different location and ISP. Click here to sign up for IPVanish.
___
People have been asking on our Twitter account if there are problems with Exodus not working. Rather than reply to everyone, let's have a look at what the issue is and if there is anything that can be done!
Users have been saying that none of the movie menus are working other than the "people watching" category. Things in Exodus not working include search, genres, certificates, and other sections. If this sounds like you, read on!
Thanks to a few members on the TVADDONS forums who posted logs of their issues, we looked through the logs ourself and found two errors pop up:
ERROR: CGUIMediaWindow::GetDirectory(plugin://plugin.video.exodus/?action=movies&url=theaters) failed
ERROR: CGUIMediaWindow::GetDirectory(plugin://plugin.video.exodus/?action=movieGenres) failed
Essentially, the Exodus add-on gave an error when the user tried to go into the "theaters" directory and the "movieGenres" directory.
To see if we could find more information on Exodus not working, we went into the Exodus source code to find out where theatres and genres were called and discovered that both of these categories get their information from themoviedb.org API.
Therefore, the reason for Exodus not working is because themoviedb.org API is currently broken. This means that there is NOTHING you can do! Relax, use another another, and wait for the API to start working again.
We will update this post, as well as Twitter and Facebook when everything is back to normal again!
When Exodus is working normal, there are some other reasons why you might find Exodus not working for you:
Exodus may not work if:
Your Kodi is outdated. Exodus is only designed to work with Kodi Isenguard (15) or higher. If you are still using Kodi 14.2, you will not receive any support for Exodus issues.
Your version of Exodus is outdated. The current version is v2.0.14. If you see something different, check this post because we may have forgotten to update this one!
You may want to consider hiding yourself on the internet with a reliable VIP VPN service like IPVanish. If your ISP has caps on how much you can use the internet or if you live in an area where content is geo-blocked, a VPN can make you appear as if you are from anywhere in the world. IPVanish has some advantages of its competitors too:
Tier 1 hardware (no speed slowdown)
Log-free, so you can't be tracked
7 day money back guarantee
The ability to be configured right at your router, for a hassle-free experience.
If you are interested in signing up, receive an automatic 25% off your first IPVanish bill by clicking here!
Kodi Exodus Not Working? Click Here For Info
was last modified:
December 7th, 2016
by