The official KodiTips Kodi 17 build is now live! Completely designed from scratch with simplicity and professionalism in mind, download our Kodi 17 build today and test it out on your Krypton Kodi setup.
March 26th: We've updated our Kodi 17 build so that you don't have to manually enable unknown sources and add-ons after install! Thanks to Aftermath Wizard for the code.
With Kodi 17, the build you were using on Kodi Jarvis is not compatible with Kodi Krypton. So, we've build our official KodiTips Kodi 17 build from scratch for Krypton users.
This build does not give you anything you can't build or setup yourself. Installing this build is completely your decision.
Check out some of the features of this build before deciding for yourself whether you want to install the KodiTips Kodi 17 build on your Krypton software:
Built for Kodi Krypton (version 17). This will not work on Kodi 16 or earlier.
Simple and easy to use. All parts of the build are right on the main screen. Only 18 add-ons come installed with the build and only add-ons that are optimized for Kodi Krypton.
Only essential add-ons. You can always follow our guides on Koditips.com to add what you want but this build is meant to be a solid base to start with.
Only official repos and sources are used. Don't worry about sketchy sources or malicious add-ons or code.
Hand-tested by the KodiTips administrator to ensure that all add-ons are working. If you have issues, problems will be completely on your end (outdated firmware, Kodi version, etc).
The skin in the add-on was chosen because it is easy to setup and customize to suit your preferences. Follow our instructions below for assistance.
Easily access each submenu by pressing left to slide out the side menu with each sub-section.
Check out screenshots of our Kodi 17 build below and underneath that, we will show you how to install it and set it up to your liking!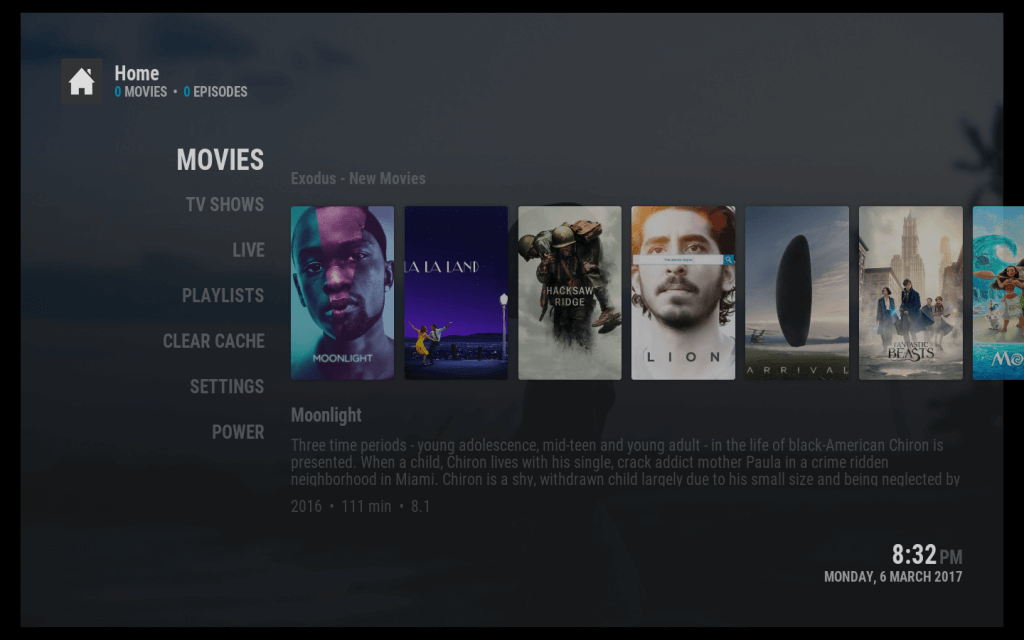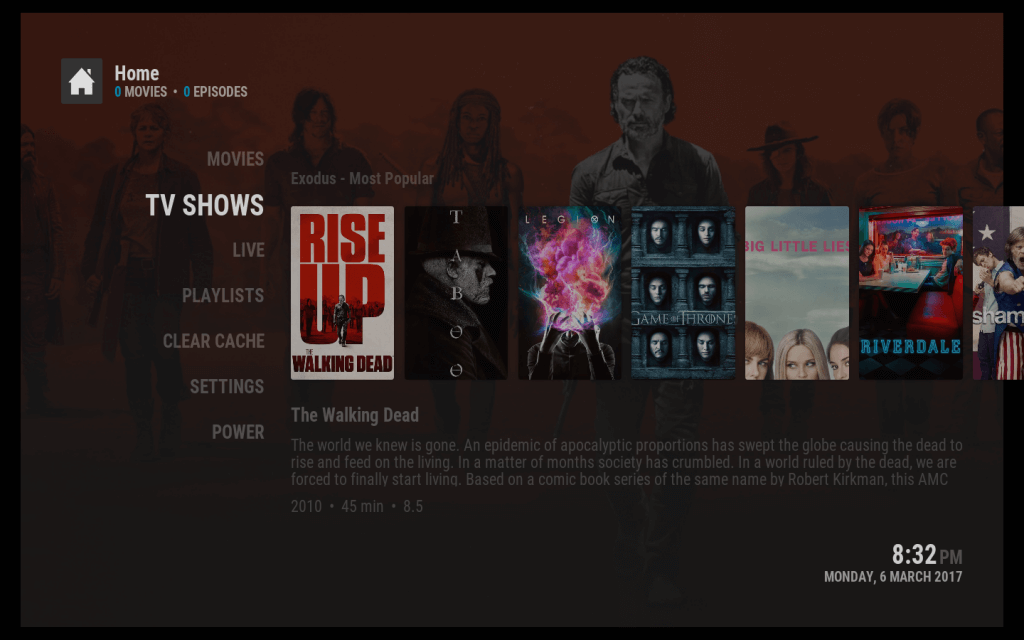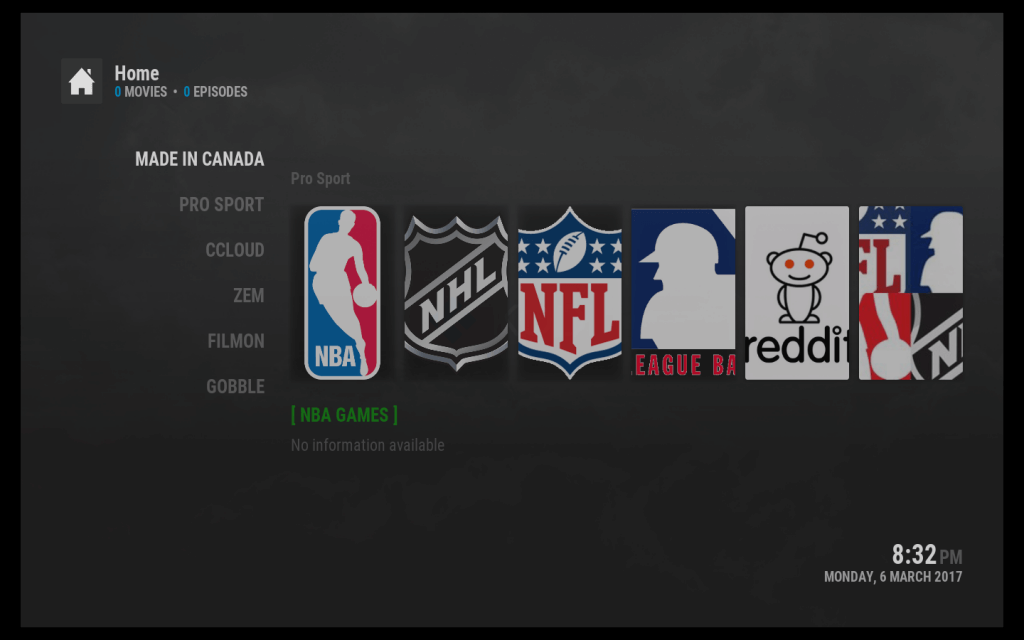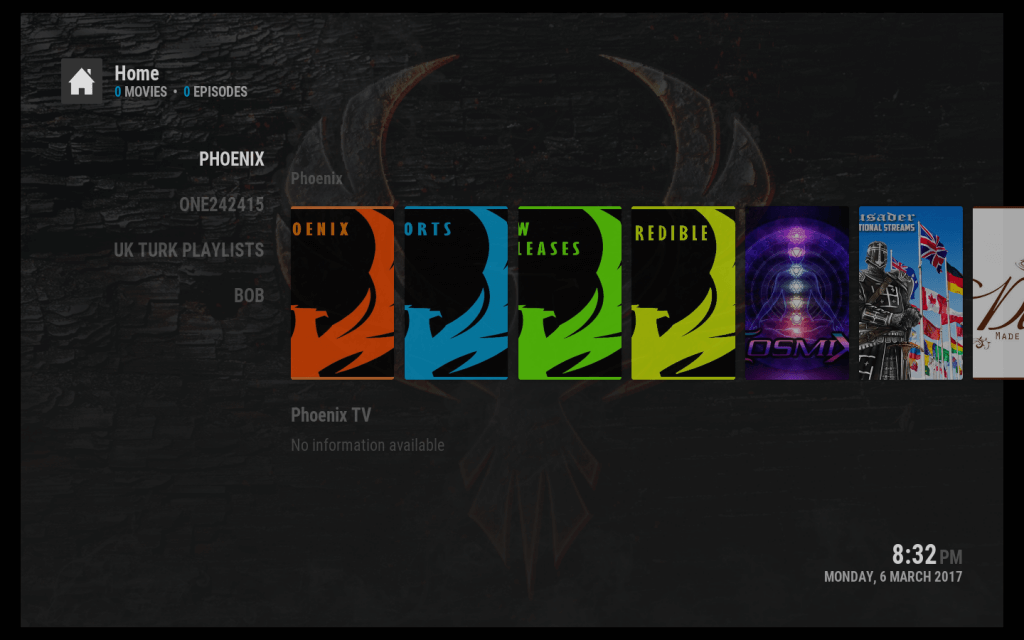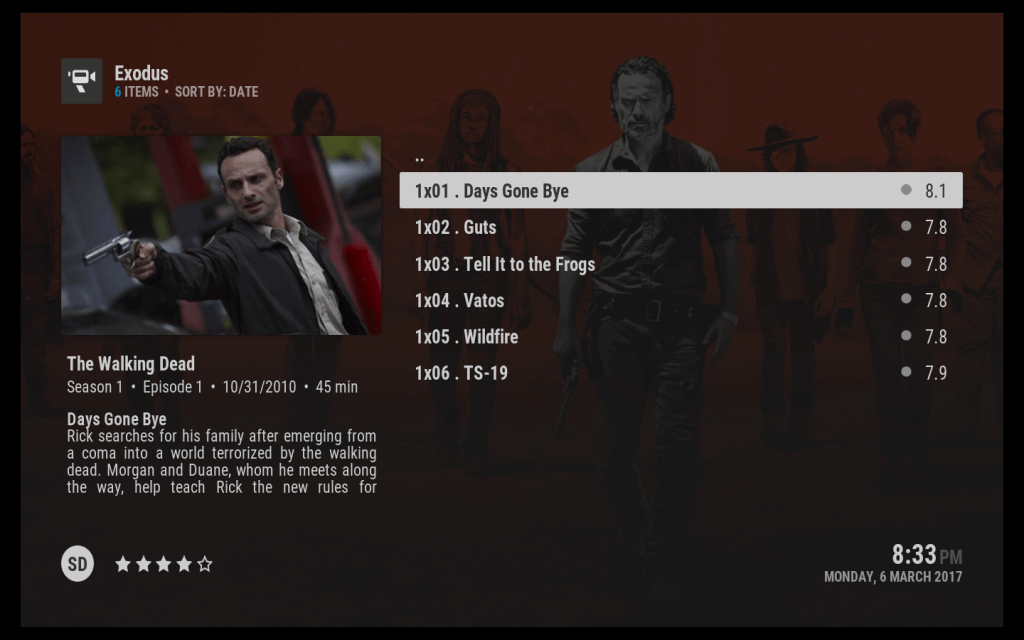 KodiTips Kodi 17 Build Current Setup
Movies
Main = Exodus Movies Section
Submenu = Exodus, Bubbles,  Phoenix Movies, Bob Movies, UK Turk Movies
Widget = Exodus Hot Movies

TV Shows
Main = Exodus TV Section
Submenu = Exodus, Bubbles, Phoenix TV, Bob Amazing TV
Widget = Exodus Most Popular Shows
Live
Main = Made in Canada
Submenu = Made In Canada, Pro Sport, cCloud, ZemTV, FilmOn, Gobble
Widget = Pro Sport Sports Sections
Playlists
Main = Phoenix
Submenu = Phoenix, One242415, UK Turk, Bob
Widget = Phoenix Sections
Clear Cache
Settings
Power
Premium Add-ons Installed (but not on main screen)
SportsAccess (premium live sports/TV), Easynews (Obscure video/audio streams, Massive private servers)
Interested in installing and using the official KodiTips build? Follow the guide below!
How to Install KodiTips Kodi 17 Build
a) Install KodiTips Wizard (If you have the wizard installed already, move to part b).
ON Kodi `7 Krypton Only: From the main menu, navigate to Settings > System Settings > Add-ons > Turn On Unknown Sources > Click Yes.
From the Kodi main menu, navigate to SYSTEM > File Manager > Add Source > None
Type the following EXACTLY http://repo.koditips.com and select Done
Highlight the box underneath and enter a name for this media Source like ".KT". and then click OK
Go back to your home screen.

ON Kodi 17 Krypton: Select Add-ons > Add-on Browser 
ON Kodi 16 or earlier: Select SYSTEM > Add-Ons

Select Install from Zip File > ".KT" > xbmc-repos > english > repository.koditips-x-x-x.zip and wait for the Add-on enabled notification
Select Install from Repository > KodiTips.com repository > Program Add-ons > KodiTips Krypton Wizard > Install
Wait for Add-on enabled notification
b) Download, Install, Reinstall, or Upgrade the KodiTips Build
To install or upgrade to the latest version of the build, simply launch the KodiTips Wizard from your Program Add-ons.
Select FRESH START and follow through the prompts. This will delete everything on your box except for the Koditips Wizard.
After FRESH START is completed, reboot your Kodi box (pull the power or select from the menu).
When Kodi restarts, it will be back to the default setup. In Kodi Krypton, third party add-ons become disabled by default so you have to go to Add-ons > Add-on Browser > My Add-ons > Program Add-ons > KodiTips Krypton Wizard > Enable
Launch the Koditips Krypton Wizard from your Program Add-onsn.
Click on Generator
The build will download and then extract and install.
A dialog box will pop up after it's done which will force close Kodi and restart it if possible.
After your KodiTips build is installed:
Optional Customization Possibilities
Sync URLResolver and Exodus with your Real-Debrid account.

From the main menu, navigate to Settings > Add-ons > My Add-ons > Video Add-ons > Exodus > Tools > SETTINGS: Accounts and click the Authorization button under Real-Debrid.
From the main menu, navigate to Settings > Add-ons > SYSTEM > Dependencies > URLResolver > Configure and perform the Real-Debrid authorization under the Universal Resolvers section.

Setup Trakt in Add-ons like Exodus or Velocity

Launch Exodus > Tools > SETTINGS: Accounts > Authorization under Trakt

Customize your menu/submenu (to add SportsAccess, for example)

Select Skin Settings under the Settings linkm, then Home > Customize Home Menu
To change a heading shortcut, select your heading and then press "Choose Item For Menu"
To change a submenu shortcut, select your heading, press Submenu, select your sub-heading and then press "Choose Item For Menu".
In the "Change Shortcut" window, click on Add-on and navigate from there to the chosen shortcut of your choice.

Set your Movie and TV Show header shortcuts to go into your Trakt List library.

Using the steps above to change the shortcut on your heading, navigate to Settings > Add-ons > Video Add-ons > Exodus > My Lists, and choose your Movie or TV list. Now your Movie and TV Show shortcuts will go into your private Trakt libraries.
Other Random Tips 
After the build is installed, the wizard will try to force quit Kodi. If you have an Android box, this will not work. Unplug the power cable from the back of the box for 10 seconds and then plug it back in to complete this step.
When the build is installed on Openelec, it might be zoomed in. Navigate to Settings > Interface > Make sure the level is set to "Expert" > Set the zoom to -4%.
To access the submenu for a section, simply hit left on the home screen.
And that's it! What do you think about the KodiTips Build. Give us feedback by commenting below or reaching out to use on Twitter or Facebook.
With Snoopers Charter and other internet privacy concerns, hide yourself on the internet with a reliable VIP VPN service like IPVanish. A VPN can make hide your internet traffic and make you appear as if you are from anywhere in the world. We offer 53% off IPVanish, has some advantages too:
Native apps for Android TV, Android, iOS, Mac, Linux, and more
Tier 1 hardware (no speed slowdown)
Log-free, so you can't be tracked
7 day money back guarantee
The ability to be configured right at your router, for a hassle-free experience.
If you are interested in signing up, receive an automatic 53% off your first IPVanish bill by clicking here!
Official KodiTips Kodi 17 Build Install Guide
was last modified:
March 26th, 2017
by