Do you expect to stream movies and TV shows on Kodi in the highest quality and convenience? Getting a Real-Debrid on Kodi account may be what you are looking for!
If you are interested in trying the Real-Debrid Kodi service, simply click here and sign up for an account!
I see tons of questions and comments on Facebook and Twitter such as "Why can't I find any HD links in Genesis?" or "How come Genesis is always buffering my streams?" The truth is, the majority of file hosts in Genesis are provided for free and have limited bandwidth capabilities. These sites limit the download speed you are allowed to access them with and limit the quality of files that can be uploaded. As well, Genesis is a popular add-on and thousands of people are trying to use the same streams at the same time. All of these factors cause routine buffering.
If you are willing to try it, there is a PREMIUM option that eliminates these issues and make add-ons such as Genesis buffer free and high quality: Real-Debrid on Kodi.
Real-Debrid is a paid service that gives you premium access to a large number of popular file hosts on the internet. Your fee goes to maintaining and paying for those servers, so your download speeds are not limited and uploads are not capped to save space.
The monthly cost for Real-Debrid on Kodi is insanely cheap – 4 euros ($4.31USD) for 30 days, 9 euros ($9.69USD) for 90 days, or 16 euros ($17.23) for 180 days. At less than $20 for 6 months of premium quality, the risk to try the service is very low! In addition, when you buy a premium package you earn fidelity points, which can be put towards free premium time for Real-Debrid on Kodi.
If you are interested in trying Real-Debrid, simply click here and sign up for an account!
Signing Up For A Premium Real-Debrid Account
Once you have a Real-Debrid account and you sign in, you will see that your account banner shows FREE.

On the top banner, click on "Premium"

Scroll down and you will see your buying options. Select the package you want to try, and click "Subscribe".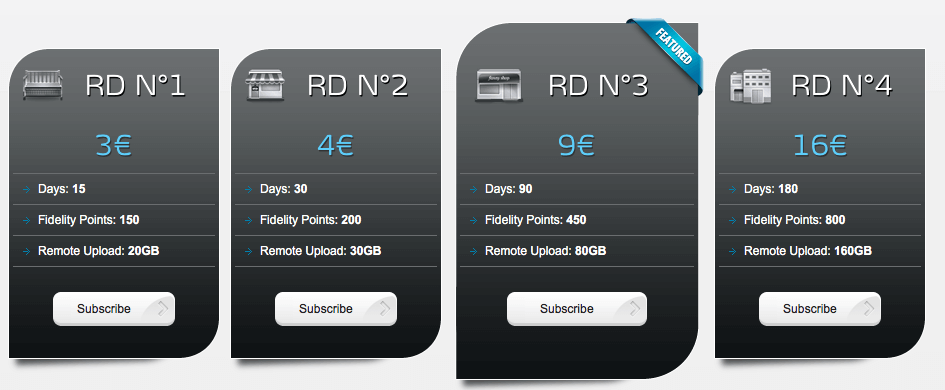 Choose your payment method and follow the instructions to pay for your premium account. After your account is processed and you show as a premium user, you can setup Real-Debrid on Kodi!

How to Setup Real-Debrid On Kodi
URLResolver
From the Kodi main menu, navigate to SYSTEM > Add-ons > SYSTEM > Dependencies > URLResolver > Configure.
In the URLResolver Configure window, scroll over to the Universal Resolvers tab. Scroll down to realdebrid and toggle on the Enabled and Ask for Authorization When Needed boxes. Also, change the Priority to 90 to ensure that your real-debrid links will appear first.
When you are done, click OK to save settings and return to the main menu.
The first time you select a real-debrid link, you MAY be prompted with instructions for authorizing Real-Debrid on Kodi. It will give you a URL address to visit on your computer and a code. When you enter this code and then your Real-Debrid username and password when prompted, your Kodi video will automatically start playing and your premium Real-Debrid account will be associated with your Kodi settings.
You are now setup for Real-Debrid on Kodi! You should noticed that the Real-Debrid source shows up first whenever you go into a movie or TV show.
Real-Debrid is a paid service, which will turn people off. Just remember, your favourite Kodi add-ons are FREE and you should expect FREE quality. Real-Debrid on Kodi is one option for giving yourself a more flawless Kodi experience.
Get in touch with us on Twitter if you have any questions.
Hide yourself on the internet with a reliable VIP VPN service. A VPN can make hide your internet traffic and make you appear as if you are from anywhere in the world. We offer 53% off IPVanish, which has some advantages too:
Native apps for Amazon Fire Stick, Android TV, Android, iOS, Mac, Linux, and more
Unlimited bandwidth
Tier 1 hardware (no speed slowdown)
Log-free, so you can't be tracked
7 day money back guarantee
The ability to be configured right at your router, for a hassle-free experience.
If you are interested in signing up, receive an automatic 53% off your first IPVanish bill by clicking here!
Reduce Buffer, Improve Quality with Real-Debrid on Kodi
was last modified:
February 27th, 2018
by