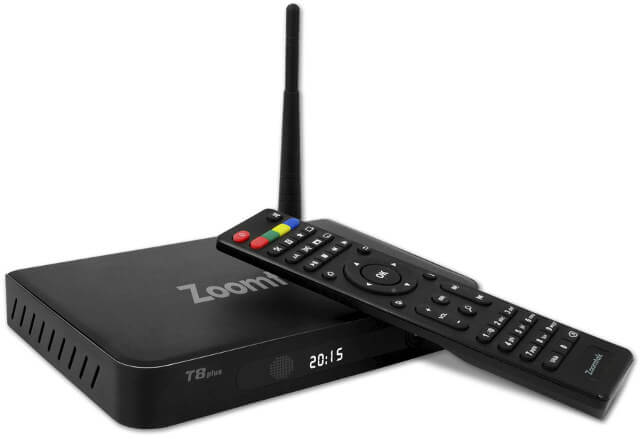 Zoomtak T8 Plus Review: Quality Android Kodi Box
The Zoomtak T8 Plus Android box is a nice consideration if you are looking for a quality Kodi box that looks to stand apart from the rest of the competition. Continue reading for our Zoomtak T8 Plus review!
For details on how you can win a free Zoomtak T8 Plus Kodi box,

click here!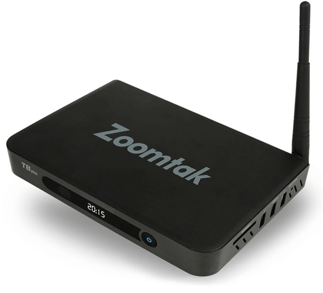 The Zoomtak T8 Plus is a well-designed Android box that provides quality materials and features that attempt to set it apart from other similar boxes. At $130 per box with shipping included, the price is very reasonable as well. let's take a look at some features of the box!
The Zoomtak T8 Plus shell is a high quality aluminum shell, which is better for dissipating heat. The front of the box contains the power button (a feature some boxes don't have) and displays the time when the box is powered on, another nice feature.
The side of the T8 Plus contains an SD card slot, 3 USB 2.0 slots, and a restore button hole which makes it easy to reset the box back to factory without needing to go into the settings. The back of the box is where the power connector, Ethernet port, HDMI port, AV output, SPDIF port, and antenna port exist. Included in the Zoomtak T8 Plus packaging other than the physical box is:
A/C adapter
HDMI cable
IR remote
User manual. 
The external antenna that comes with the Zoomtak T8 Plus greatly improves the WiFi signal strength. In addition, the T8 supports dual band Wifi, which not a lot of other Kodi boxes offer. Dual band allows you to connect to the 5GHz wireless band in addition to 2.4GHz, for maximum reliability.
Once you power up the T8 Plus, you'll find that it comes preinstalled with Android 4.4.2 and Kodi 15.2. Zoomtak boxes are always already rooted, which means that there is no need to spend hours trying different ROMs to get root access. As with all Android boxes, you get access to thousands of Android apps and games from the Google Play Store. Once you launch Kodi, you have access to all of the best Kodi add-ons and repositories. Have a look at our startup guide for new users. by clicking here.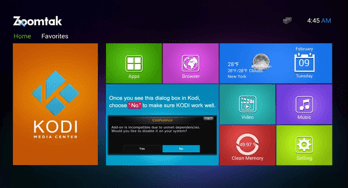 Zoomtak T8 Plus Detailed specification:
CPU: ARM Cortex A9 2Ghz x4 Quad-Core, Amlogic S812
GPU: 2D/ 3D/ OpenGL ES2.0(AMD Z430)/ OpenVG1.1(AMD Z160) 27M Tri/sec
OS: Android 4.4.2 Kitkat + KODI 15.2 Helix (stable)
RAM: 2GB, DDR3 Internal
Storage: 16GB eMMC Flash
Network: Dual band 2.4Ghz/5Ghz Wireless WIFI, Gigabit Ethernet
Bluetooth: Supports Bluetooth 4.0
Video Resolution: Support 1080P/2k/4k full HD H.265 Video Decoding and Output
Optimization/Customization of KODI for ease of use
Expansion: SD card slot, up to 32GB – USB: USB 2.0 data x 4, support external hard drive up to 100TB
Good work by the Zoomtak team to create an Android box that tries to be a little different. If you are looking for a Kodi box, click here to go to the Zoomtak website where you can buy it!
Zoomtak T8 Plus Review: Quality Android Kodi Box
was last modified:
March 11th, 2016
by