Wouldn't it be awesome if you could get free TV streams in full HD? Watching live HD television is a lot easier than you think. Our guide below shows you how to find out which channels and walks you through setup in order to get free TV integrated into Kodi today. Read all of the details below.
Wouldn't it be awesome to get free TV without paying a cent towards a cable company each month? Getting free TV channels configured in HD and loaded into your Kodi setup is a lot easier than you might think. Over-the-air TV options are HD, buffer-free, and easy to setup.
Unlike streams provided by third-party Kodi addons, the method below for live TV does not rely on somebody else's server or media file. The only bottleneck is your internet speed, where we recommend 10mbps or greater. Also, make sure your Android TV box or Kodi hardware is using hardwired ethernet.
Other than that, the solution laid out in this guide is going to be infinitely more reliable than any third-party addon! Pair this live solution with a number of third-party addons as shown on our website for a well-rounded full solution.
If you are interested in any of the following details, keep reading our guide below:
What free TV channels can I get?
Choosing the best antenna to access your channels.
HD antenna mounting tips
Connecting your antenna to access free TV
Loading free TV onto Kodi
Wiring details and extra features
What Free TV Channels Can I Get?
Before proceeding further, you must know that what TV channels you can get for free. Your options for free TV are limited to the location you live. The more urban your home is located, the more likely that you can setup a full selection of TV channels.
Multiple websites on the internet help you find what OTA channels are available in your area. Simply use one of the guides below, enter your address, and decide if this option is right for you.
Visit one of the links above and enter in your location. You will see a list of over-the-air TV channels in your area. All of the channels listed on this website are available to you via the steps below.
If you are happy with the selection of free HD live TV channels in your area, then proceed on to the next section: picking out an HD antenna.
Choosing the Best HD Antenna
HD antennas have come back into popularity as more and more cord cutters look to access over-the-air channels. Just like rabbit ears on old televisions, these antennas are what pick up the free TV channels found in the search links we posted above.
One of the most respected HD antenna brands in the industry is Channel Master. Channel Master has a wide selection of both indoor and outdoor antennas that come in a variety of styles. Which antenna is best for you depends on three main factors:
whether you want to place the antenna indoors or outdoors
how close your over-the-air television channels are to your location
what the angle of degrees are to each station
Placing the antenna outdoors will always be preferred since the you won't have the walls of your house to dampen your signal. However, this is not practical to everyone and modern advancements have made indoor antennas still a viable option. Indoor antennas will probably cost you a little more money for reliability.
The distance you are to the over-the-air TV towers will affect how big your antenna is. We've listed the distances for our recommended antennas below to help you in choosing the best one for your location.
The angle for each TV channels is an indication of which direction you have to place the TV antenna. If you see channels that are split between two opposite locations (180 degrees apart from each other), then a multi-directional antenna will be recommended.
Best Channel Master Antenna For You
With the information above in mind, it's time to choose an antenna. The full list of Channel Master antennas can be found by clicking here. We've posted a cheat sheet guide below to help you make your selection.
| Antenna Name | Style | Range | Information | Buy Now |
| --- | --- | --- | --- | --- |
| Smartenna | Indoor | MAX | The Smartenna has 7 different reception patterns and active filtering built in, allowing you to get the most free TV channels without needing to mount anything outside. It is the #1 choice for indoor antennas. | Click Here ($89) |
| Flatenna | Indoor | 35 miles | The Flatenna is a basic indoor antenna. It is for those who live in a very urban area, nearby to OTA TV signals. It is recommend that it is mounted higher for maximum efficiency. | Click Here ($19) |
| Stealthtenna | Outdoor | 50 miles | The Stealthenna is a single-direction 50 mile antenna for outdoor use. | Click Here ($99) |
| Metrotenna | Outdoor | 40 miles | The Metrotenna sacrifices a bit of distance but for bi-directional ability. This is useful if your free TV channels are split in two completely opposite directions. | Click Here ($129) |
There are a few major notes to consider before buying one of the antennas above:
If you are buying an outdoor antenna, buy the bundle package (which is linked above) so that you get a signal amplifier and 100 feet worth of coaxial cable with your order. The coaxial cable connects from the antenna outside into either your TV or Kodi PVR (more on that later) inside your home.
The basic Flatenna is a simple indoor antenna. It is only recommended in the largest of urban areas, where your free TV channels are nearby and in abundance. For ultimate reliability, consider the new Smartenna for indoor use or one of the outdoor options.
If you have a special scenario or need antennas with a larger range, click here. Channel Master has a full selection of antennas that range as far as 100 miles. 
HD Antenna Mounting Tips
When you receive your HD antenna and want to setup your free TV channels, you'll probably want to know where the best place is to mount this thing.
If you bought an outdoor HD antenna, the criteria is simple. Pick a spot on the roof that allows you to aim your antenna in the direction of your OTA towers without any obstacles in the way. If you bought a bi-directional antenna, a spot on the corner of your roof probably makes the most sense.
If you bought an indoor HD antenna, there are a few guidelines to help you get the best signal. These are even more important if you bought the basic Flatenna but are good considerations with the Smartenna too:
Mount on the side of your home closest to your TV towers.
The fewer walls your antenna has to go through to get outside, the better.
Mounting the HD antenna higher up will be preferable verses eye level or lower.
Note that your indoor antenna will come delivered with limited coaxial cable – usually 6 or 16 feet. Coaxial cable on Amazon is dirt cheap, only $16 for 100 feet worth of extra cable. Click here if you need to order a custom size of cable to suit your home.
Connecting Your HD Antenna to your TV
Once you receive your HD antenna, basic setup with your television is simple:
Mount your antenna into its location.
Connect the coaxial cable from the antenna into the COAX port in the back of your TV. If you have an amplifier plug, the cable into the amplifier first and then into your TV.
Turn your TV on and change to the basic COAX/TV input (with the white noise).
Head into your TV settings menu and search for a "Scan for Channels" option. Run this and sit back while your TV and antenna pick up HD free TV channels!
Setting Up Your HD Antenna with Kodi
In order to nicely integrate your over-the-air free TV channels with Kodi, you need a device that integrates with your Kodi software over the same internet network. This is where a product by Silicon Dust called the HDHomeRun comes into play.
The HDHomeRun is a line of hardware which take your incoming digital channels and place them on your home internet network. Now, any computer, phone, Android TV, or hardware loaded with Kodi can access your free TV channels. The HDHomeRun also adds a few other nice features:
HDHomeRun Features
Access your free OTA channels on any device in your house.
View a full electronic program guide (EPG)
DVR: Record shows and view later (some models)
An HD antenna is a quick and dirty way to get free TV channels, but the HDHomeRun will nicely tie everything together and give you more flexibility to access streams inside of your home.
Where Can You Buy the HDHomeRun?
Amazon has a full selection of HDHomeRun Kodi devices. Simply decide which is right for you below and buy one today:
To assist on helping you make a decision, here is a features listing for each model of the HDHomeRun: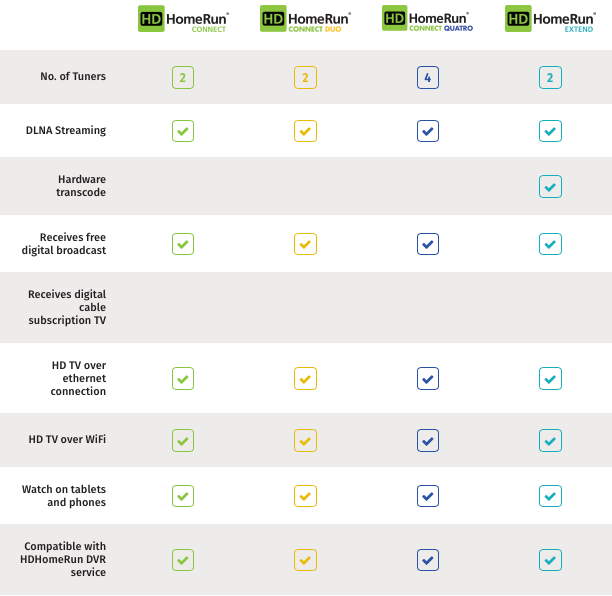 HD Antenna to HDHomeRun Wiring Guide
Wiring and setup of your new devices is really easy:
Connect the coaxial cable from your HD antenna into the HDHomeRun.
Plug an ethernet cable from your HDHomeRun into your home router.
HDHomeRun Kodi Install Guide
Once your HDHomeRun is setup and configured to view free TV channels, there is a free Kodi addon you can get. This addon reads your home network and brings all of the content from the HDHomeRun to Kodi. You do not need any physical connection from your HDHomeRun to Kodi hardware as long as both are connected to the same wireless network.
ON Kodi 17 Krypton or later: Select Add-ons > Add-on Browser 

ON Kodi 16 or earlier: Select SYSTEM > Add-Ons

Select Install from Repository > Kodi Add-on Repository > Program Add-ons > HDHomeRun > Install
Wait for Add-on enabled notification
That's it! When you launch the HDHomeRun Kodi app, it will automatically scan your wifi network for a connected tuner and all of the channels names will be listed in an electronic program guide format.
HDHomeRun General Setup Guide
You can find device specific HDHomeRun software installation guides by clicking here. In most cases, you simply download the HDHomeRun app on your chosen device and as long as it is on the same network, you will be able to detect and watch live streams when you launch the app.
When you launch the app, use the cheat sheet below to help you navigate, find channels, and setup your HDHomeRun: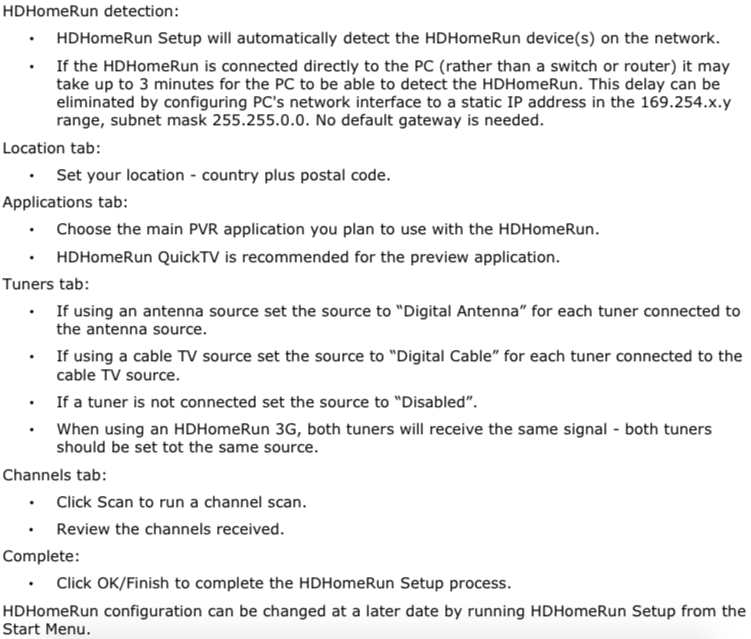 For more information, check out the HDHomeRun website here.
And with that, you now have the ability to watch free TV live and in HD. Over-the-air solutions are completely free and legal and the setup cost is not much more than a month worth of cable.
Let us know on Twitter or Facebook or by commenting below if we can help you out!
PROTECT YOURSELF ON THE INTERNET
Sign up for a premium Kodi VPN and access the internet unrestricted. We offer exclusive discounts for NordVPN, the highest respected VPN in the Kodi community. It has some great features for users:
Apps for Android, iOS, Mac, Linux & more
Zero Logs
Unlimited bandwidth
Tier 1 hardware (no speed slowdown)
Access to servers hundreds of VPN servers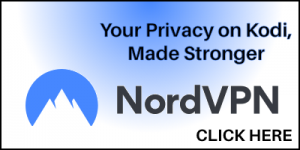 Click here to learn more about Kodi VPN protection