Our detailed guide for the best Kodi VPN is designed to assist you in finding the features, apps, and setup required for fast and private VPN streaming. Access blocked content and protect your connection in Kodi, Android TV, and other OS' with a premium Kodi VPN service.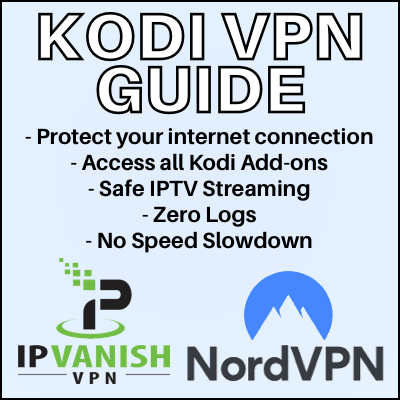 With all of the recent news about hiding your connection, net neutrality, and service providers watching you, a VPN has become more and more required for users. A Kodi VPN also carries a number of advantages geared towards streaming users. The guide below is meant to solve and discuss a number of areas:
Get in touch with us on Twitter or Facebook if you have any other questions you want us to answer.
What is a Kodi VPN?
A VPN, or Virtual Private Network, is a tool that allows you to connect to the internet without worry about third parties seeing your traffic. It does this by redirecting your internet traffic through an encrypted and secure tunnel. VPN software masks your IP Address and physical location, allowing you to view content that would not normally be available in your area.
For Kodi, geoblocked content is very common. Kodi addons do not store any content of their own. They search and retrieve files from websites publicly available on the internet. Often, live streaming services will limit access to local users only. As well, certain countries (such as UK) block access from some of the websites that Kodi addons scrape. A Kodi VPN is your tool against both of these restrictions.
How to Sign Up For a Kodi VPN
We offer exclusive discounts for both IPVanish and NordVPN, allowing you to save money.
On occasion, you can get even greater deals outside of the promotions we are able to offer. For example, IPVanish regularly runs a promotion for 50% off a one year plan by entering in IPVSAVE50 at checkout. Simply use the link above and change the coupon code at checkout right after you enter payment information.
Reasons You Need a Kodi VPN
You'll be able to access all geo-blocked content in Kodi from all of the best Kodi addons.
Your connection is protected when using torrent or acestream files.
Stream and download content anonymously
Best Kodi VPN Features
We fully support and recommend two VPN services: IPVanish and NordVPN. The reasons we support these two for streaming VPN needs are because they both have some key features:
Completely log free
Unlimited bandwidth and usage
No throttling or blocking of any traffic, ports, or protocols
Easy to use interface
Coverage in 20+ countries throughout the world.
Access to 650+ VPN servers
24/7/365 support
IPVanish vs NordVPN
Both of the services we advertise and offer exclusive discounts for, IPVanish and NordVPN, are premium services. There are subtle changes that may sway you into looking specifically into one over the other.
For IPVanish, it offers native applications for Android TV and Amazon Fire Stick, which are two very popular Kodi platforms. It is also available in more countries, allowing you to mask yourself to look like more locations. Many Kodi websites, such as ours, have recommended IPVanish for a long time due to its commitment to Kodi users.
NordVPN is a well-respected VPN company with a dedicated user base. The service comes with a no-worries 30 day money back guarantee. As well, NordVPN is based in Panama, which has no data retention laws.
Basic Kodi VPN Setup Guide
Download the software for your operating system and install it.
Launch the app and enter in your username and password.
By default, a VPN network is chosen based on your location and you can flip the switch in the corner to enable your service.
If you would like to manually pick your VPN network, you can choose by city or by a map instead.
Kodi VPN Setup Guide for Android TV & Amazon Fire
If you have decided to sign-up for IPVanish, it has native applications for both the Android TV and Amazon Fire hardware. This means that you can download native applications from the App Store on these devices and quickly setup your VPN.
Click here for our Amazon Fire Stick / Fire TV setup guide.
Click here for our Android TV Kodi setup guide.
Kodi VPN Setup Guide at Your Router
The quickest and most efficient way to protect your internet connections at all time is to setup your Kodi VPN right at the router feeding your home internet connection.
The best VPN protocol to use is OpenVPN, which provides a good balance between high speeds and increased security.
Both IPVanish and NordVPN both offer VPN router setup guides for a wide variety of router brands and firmware models. The DD-WRT setup guide will work for most off-the-shelf routers today.
Once More – How to Sign Up For a Kodi VPN
We offer exclusive discounts for both IPVanish and NordVPN, allowing you to save money.
Protect and hide yourself with the best Kodi VPN service. If you have any questions about the service, feel free to get in touch with us on Facebook and Twitter and we will be happy to answer your VPN questions.