In this guide, we'll teach you everything you need to know about the Ronin Wallet, a custom sidechain that interacts with the Axie Infinity game by Sky Mavis. Ronin was developed to eliminate gas fees from Axie Infinity players and speed up transactions.
In this Ronin Wallet guide, we'll go over:
How to download and install Ronin Wallet
How to Setup Ronin Wallet
How to send Ethereum to the Ronin Wallet
How to Connect Ronin Wallet to your Axie Infinity account
How to use Ronin Bridge
Other Ronin Wallet tips and tricks
This guide is meant to be as simple as possible for people who are new to crypto games, NFTs, and decentralized apps (Dapps).
If you have any other questions, make sure to comment down at the bottom of this guide. Before we show you how to download, install, and use Ronin Wallet, let's go over what exactly it is.
What is Ronin Wallet?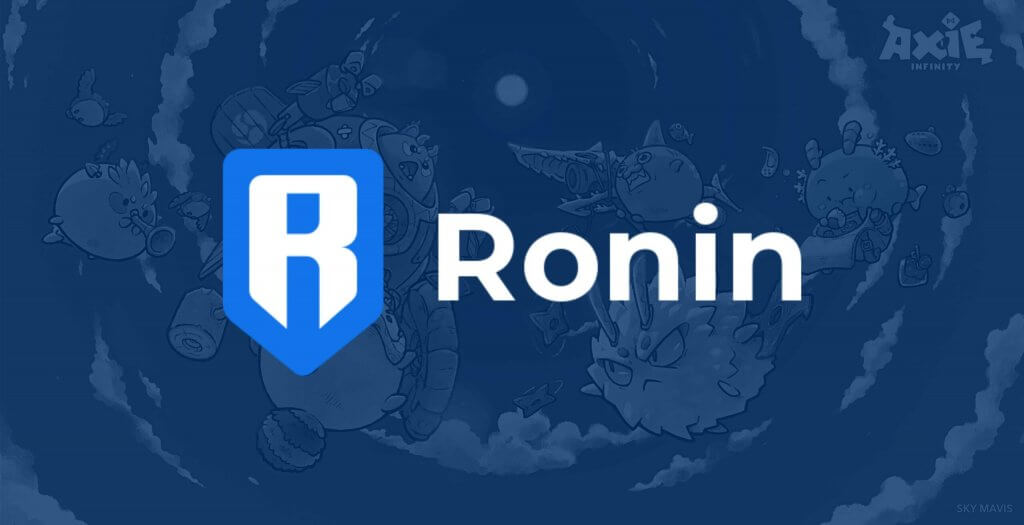 Ronin Wallet is a custom wallet made specifically for the Axie Infinity crypto game. The wallet was designed by Sky Mavis. It was created due to added congestion and expensive gas fees on the Ethereum network, which was decreasing player experience in Axie Infintiy.
By using Ronin, game players pay less in gas fees and see transactions process much faster.
Ronin is a sidechain that sits on top of Ethereum. It supports the 2 game currency used in Axie Infinity and 1 special Ethereum coin:
Smooth Love Potion (SLP)
Axie Infinity Shards (AXS)
Wrapped Ethereum (WETH) – Used to receive Ethereum from a wallet like MetaMask. You convert WETH into SLP or AXS.
You can earn and use these coins in the game.
The process to get cryptocurrency into your Roning wallet is as follows:
Binance -> MetaMask -> Ronin Bridge -> Ronin Wallet
If this seems confusing, don't worry! We have step by step instructions on how to get started with Ronin Wallet so that you can play Axie Infinity as soon as possible.
Let's start with the first tutorial, which is how to download and install Ronin Wallet in your web browser.
How to Download and Install Ronin Wallet on Chrome
First, click here to visit the Ronin extension page for Chrome. Click on Add to Chrome to begin.

Chrome will send you a popup, notifying you that the wallet is requesting certain permissions. Click on Add Extension to download the wallet in your browser.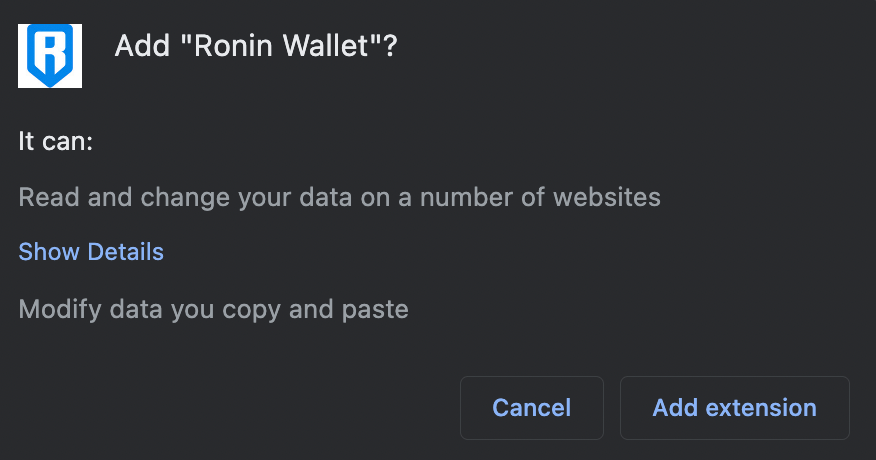 When it is done, you will find Ronin in your extensions area, which is a puzzle piece icon in the top right corner.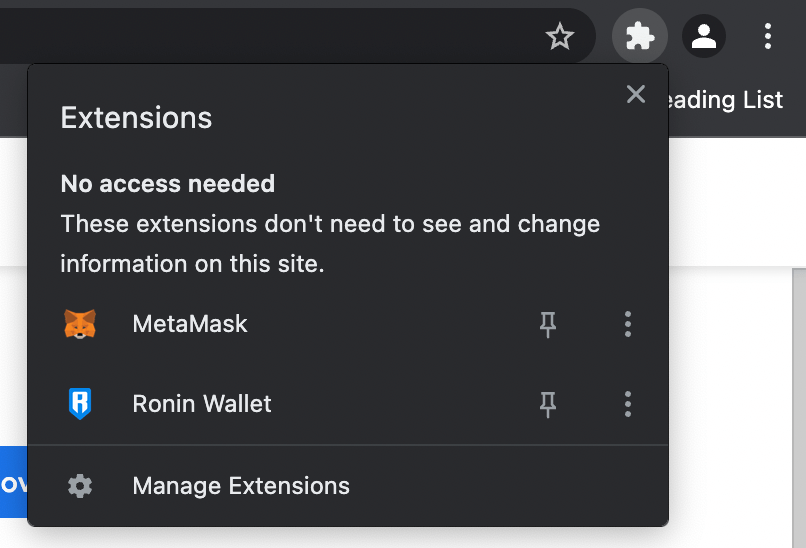 You have now downloaded and installed the Ronin Wallet on Chrome. Next, we will show you how to setup your wallet so that you can use.
How to Setup Ronin Wallet
When you launch Ronin Wallet from your Chrome extensions area, it will pop up with the splash screen below. Click on Get Started to begin.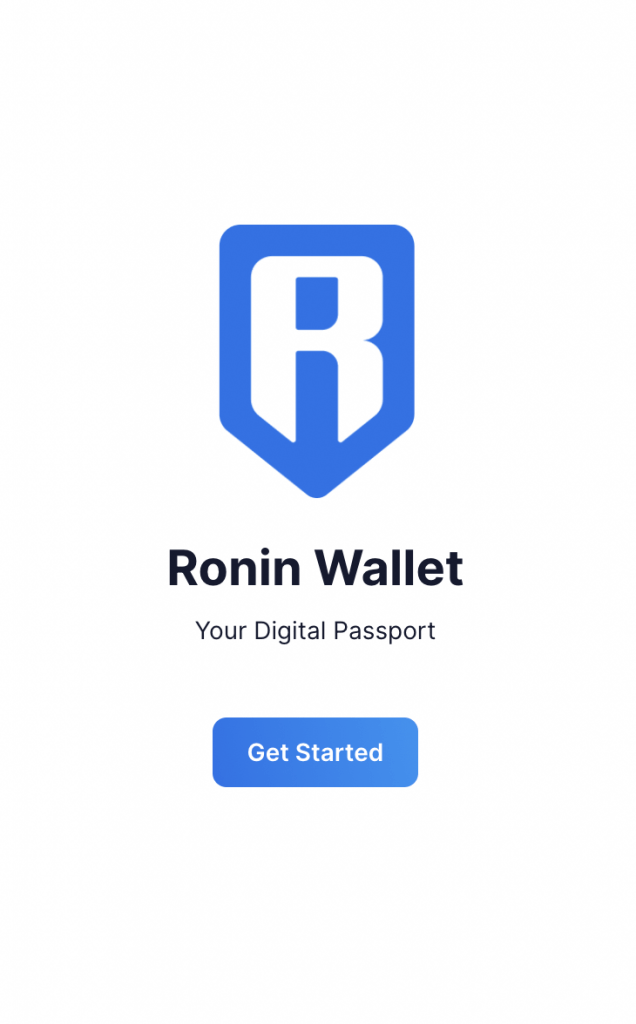 You will be shown the welcome screen. Click on I'm new. Let's get set up! To begin.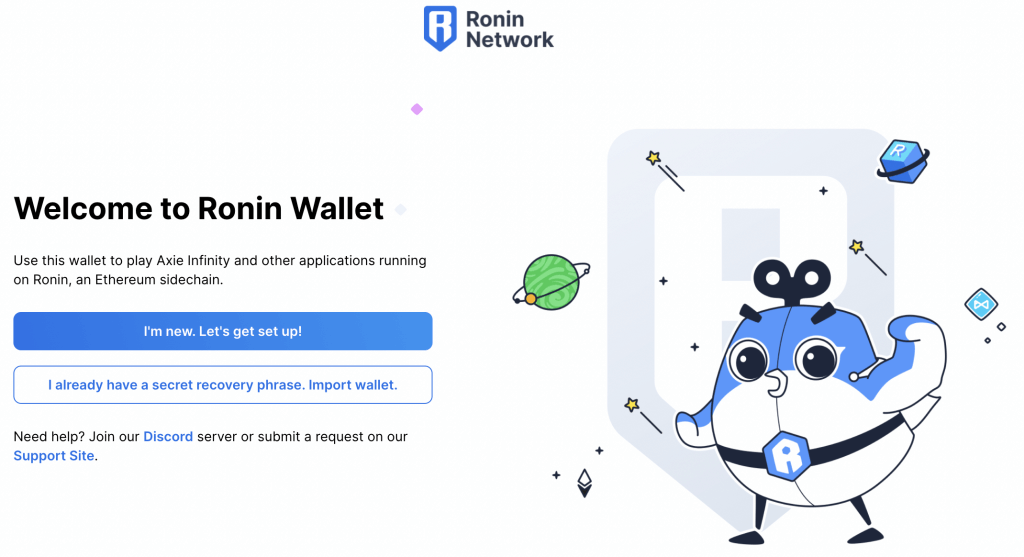 First, you have to create a password for your wallet. Enter that In and then click on Create Wallet.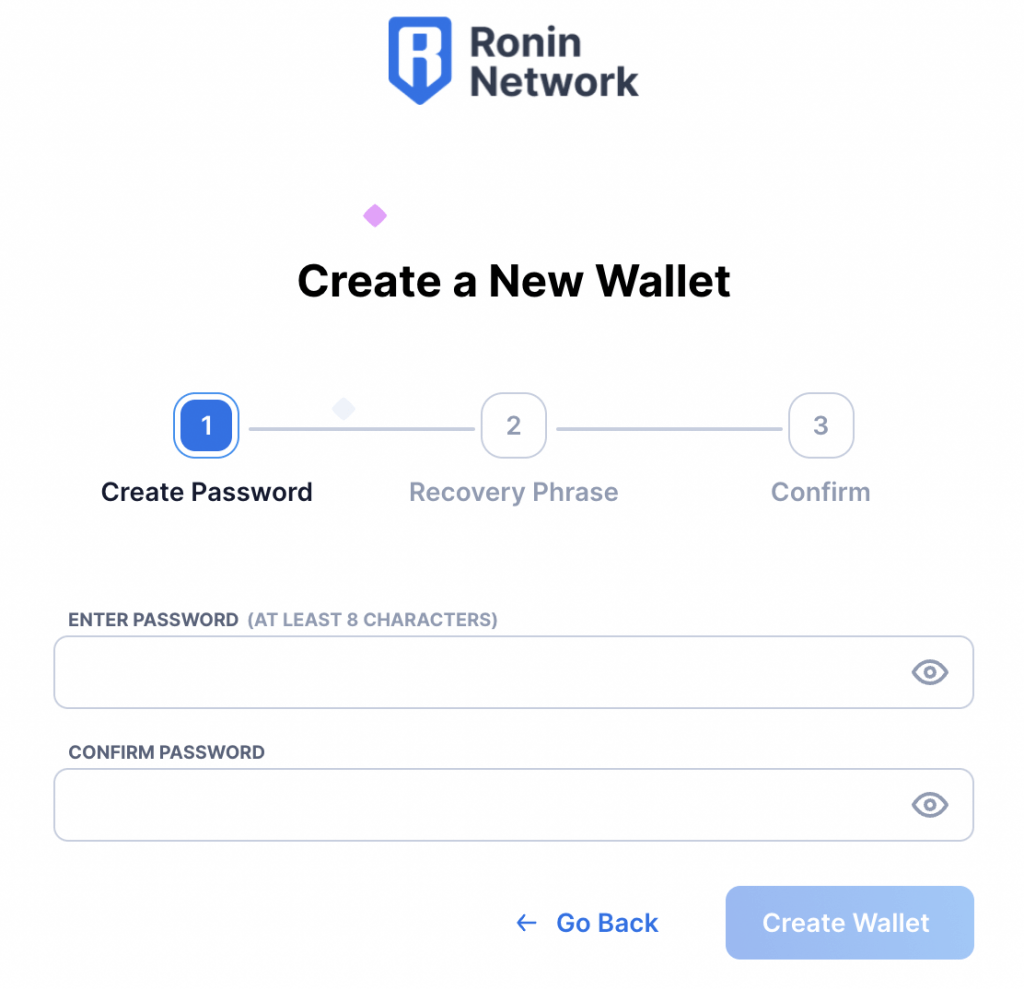 Next, you will be given your Ronin recovery phrase. If you ever lose access to your wallet, you need to enter in the 12 words provided in order to retrieve access. Click on Reveal Seed Phrase, write down your words, and then click Confirm Seed Phrase.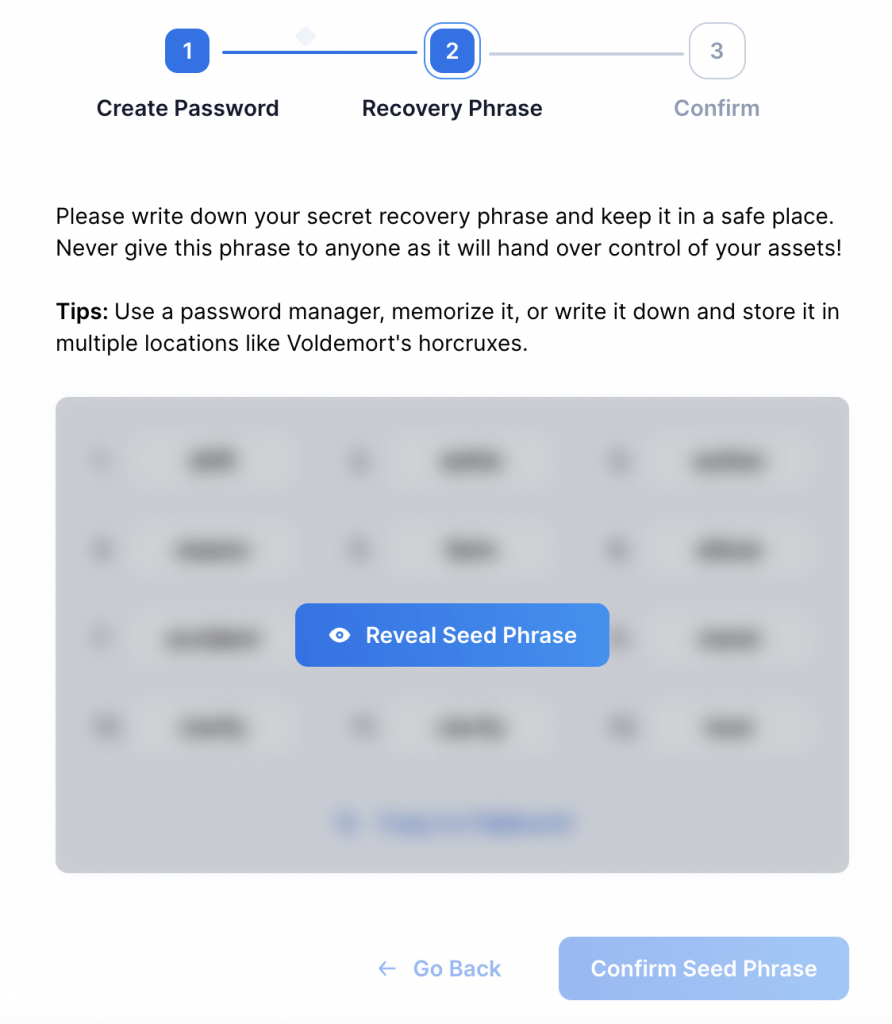 To confirm your account, you have to enter in four random words from your seed phrase. Enter those and then click on Continue.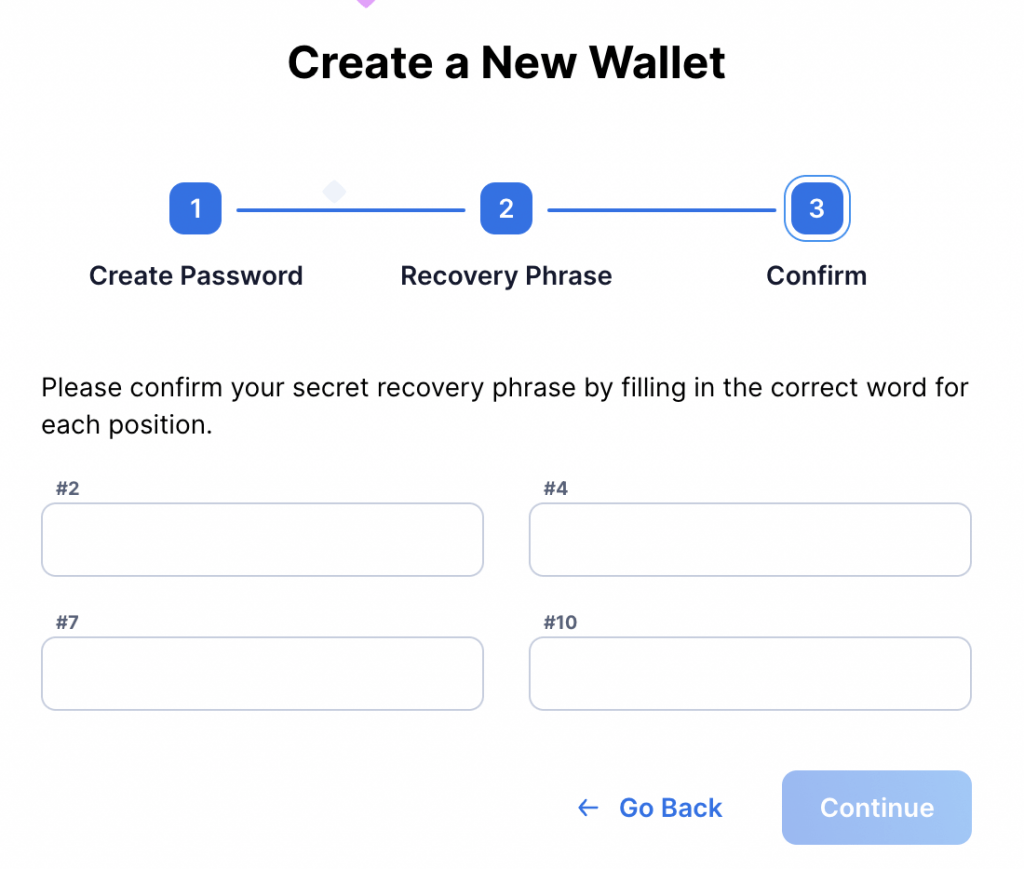 Congratulations, your wallet has been created. When you launch it from your Chrome extensions area again, you will be shown your main dashboard.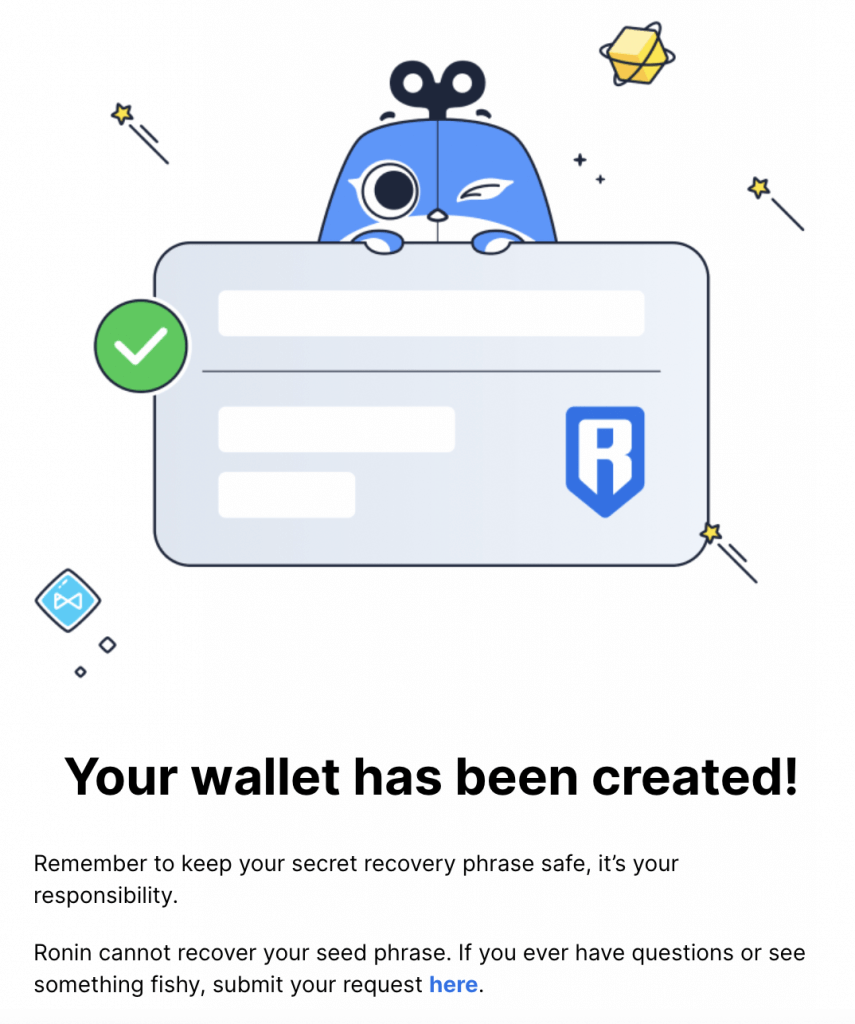 How to Send Ethereum to Ronin Wallet
Now that you are setup, you need to send Ethereum from an ETH wallet to Ronin Wallet, where it will be received as wrapped ETH (WETH).
To do this, there are 3 basic parts:
Use the links above to visit our complete guides for each step, which have step by step pictures and detailed information.
The basic steps are:
Click on the Verify banner and verify your Binance account in order to enable deposits and transactions.
Buy Ethereum in your Binance account with real money. If you are waiting for your account to be verified, you can complete step #4 below and come back here later.
Visit the official MetaMask website from Chrome or Firefox and install the wallet in your browser.
Copy your Ethereum account address in MetaMask.
From the Fiat & Spot screen in Binance, click on Withdraw under ETH.
Paste your MetaMask account address in the Address spot and make sure the ERC20 blockchain is used. Send the money to MetaMask.
Once you have ETH in your MetaMask wallet, you can send Ethereum to Ronin Wallet or use it for other blockchain games. Axie Infinity has made this as easy as possible by creating the Ronin Bridge. It Is a software interface by Sky Mavis that allows you to transfer Ethereum to Ronin Wallet without having to worry about protocols or other technical details.
To do this, first go to the official Ronin Bridge webste at https://bridge.roninchain.com/
Click on Deposit to start the process.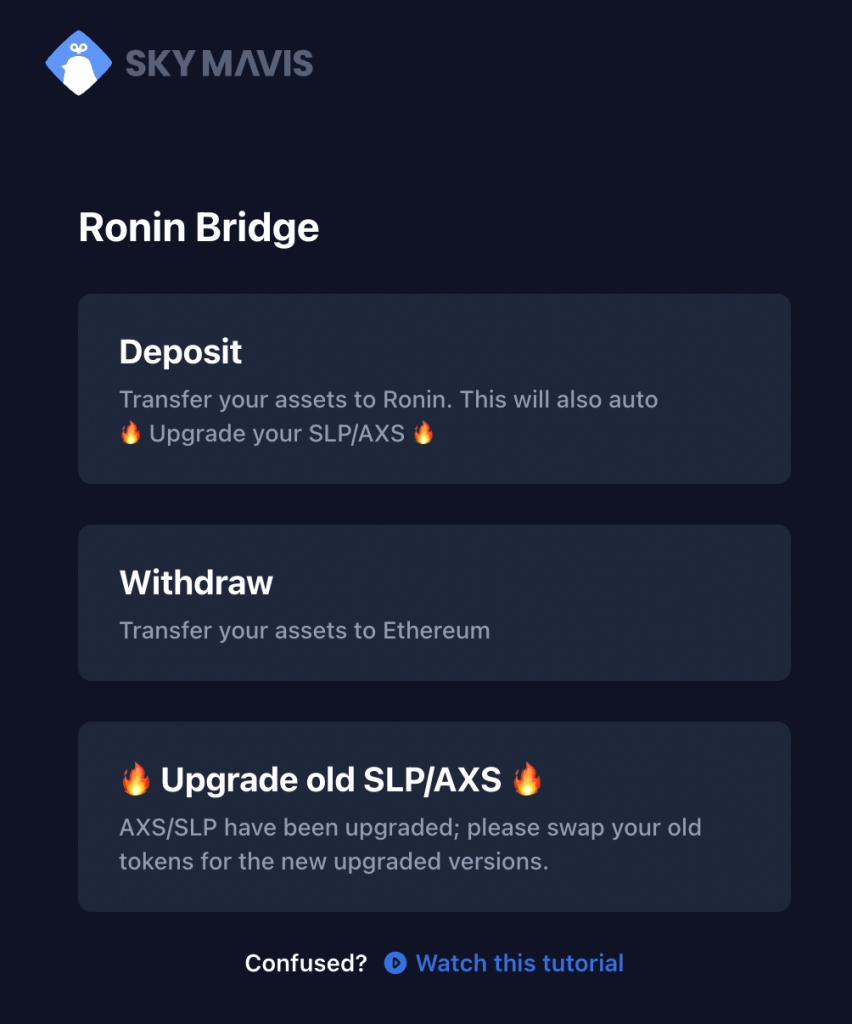 Your MetaMask wallet will pop up, asking you to connect Ronin Bridge to the wallet. Click on Next and then Connectto setup the two together.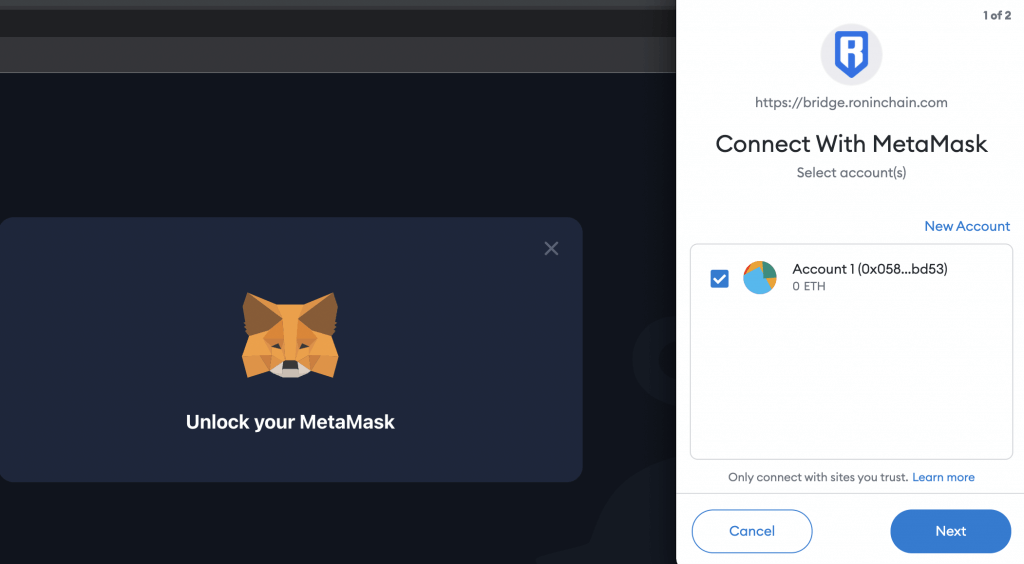 Next, launch your Ronin Wallet and copy your account address to your clipboard.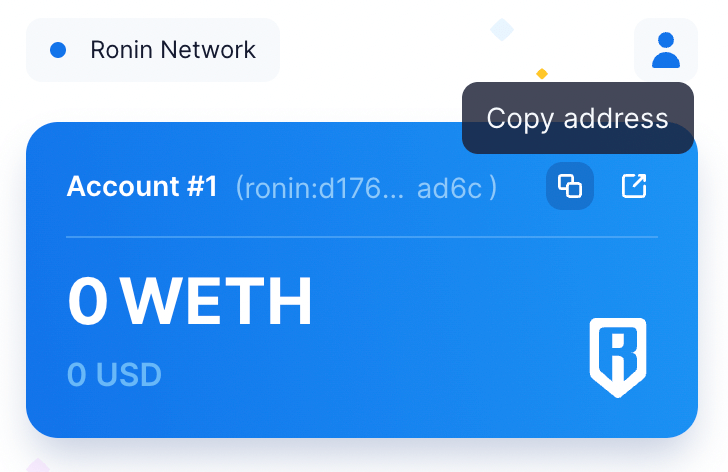 Back in the Ronin Bridge, the screen will have changed to the Deposit page after you connected to MetaMask. To send coins from the Ethereum Network to the Ronin Network, paste your Ronin address in and choose ETH as your asset (unless you have other coins you are transferring to Ronin) and then enter in an amount.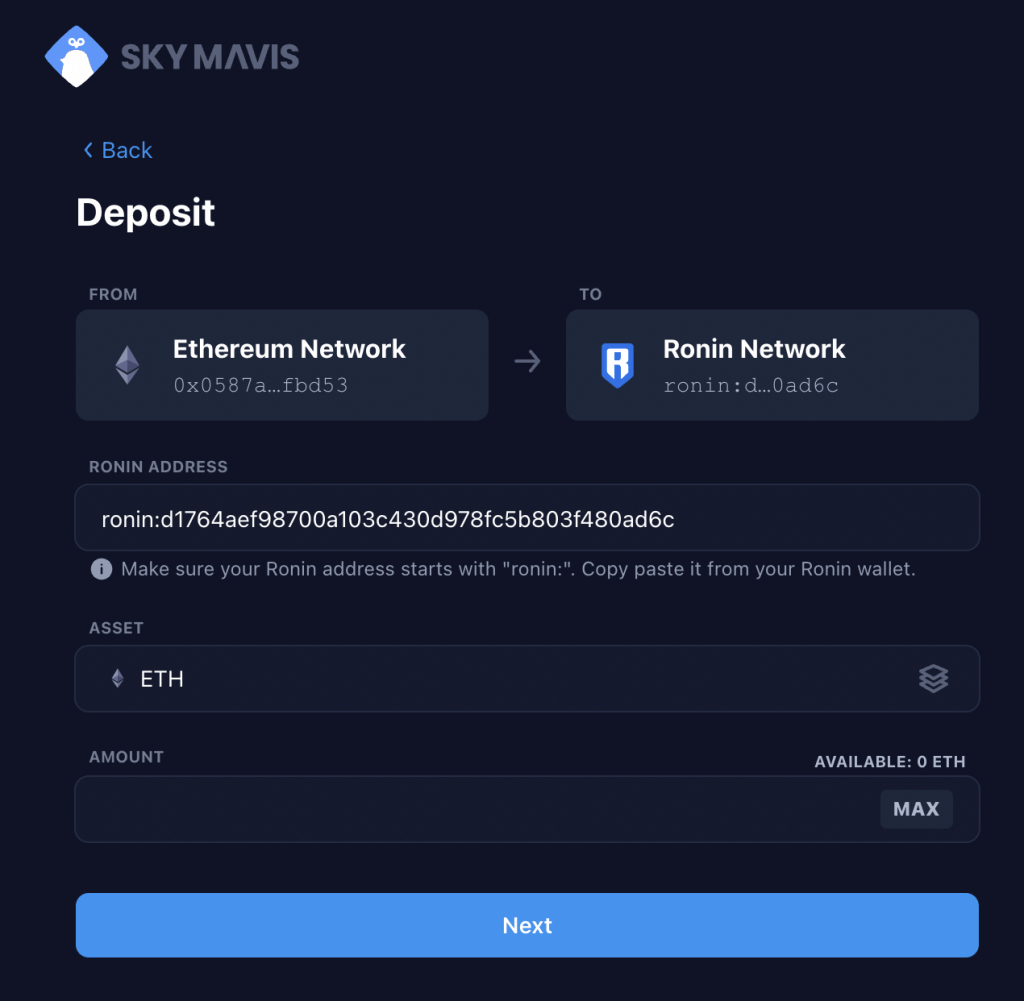 When you are done, click on Next. You will review your transaction and then click Confirm too send Ethereum token to your Ronin Wallet.
When the transaction is complete, your money will appear as WETH in Ronin.
How to Swap WETH for AXS or SLP in Ronin Wallet
When you want to play Axie Infinity, you will need AXS and SLP coins for the game. To swap WETH for these coins, first launch your Ronin Wallet and click on the Swap button.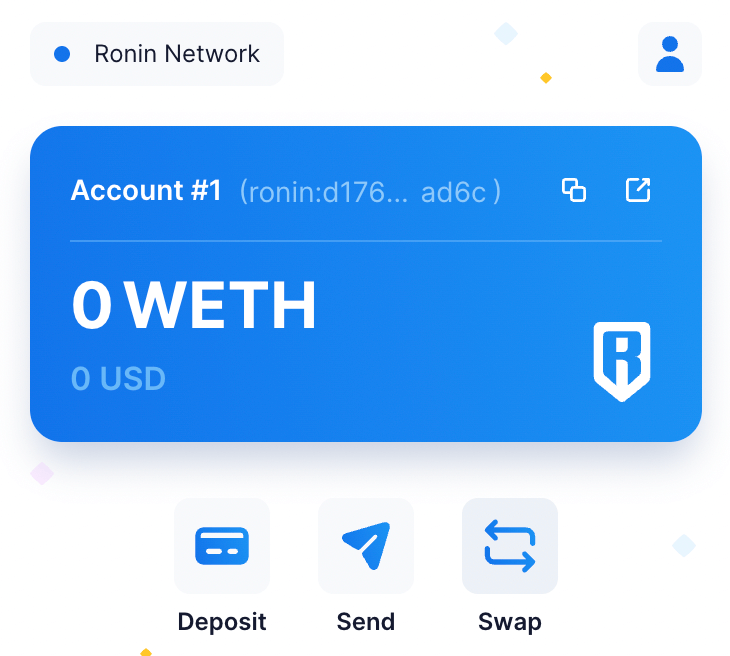 Choose WETH as your first coin and AXS or SLP as your second coin. Enter in the amount you want to swap and then click on Swap to complete the transaction.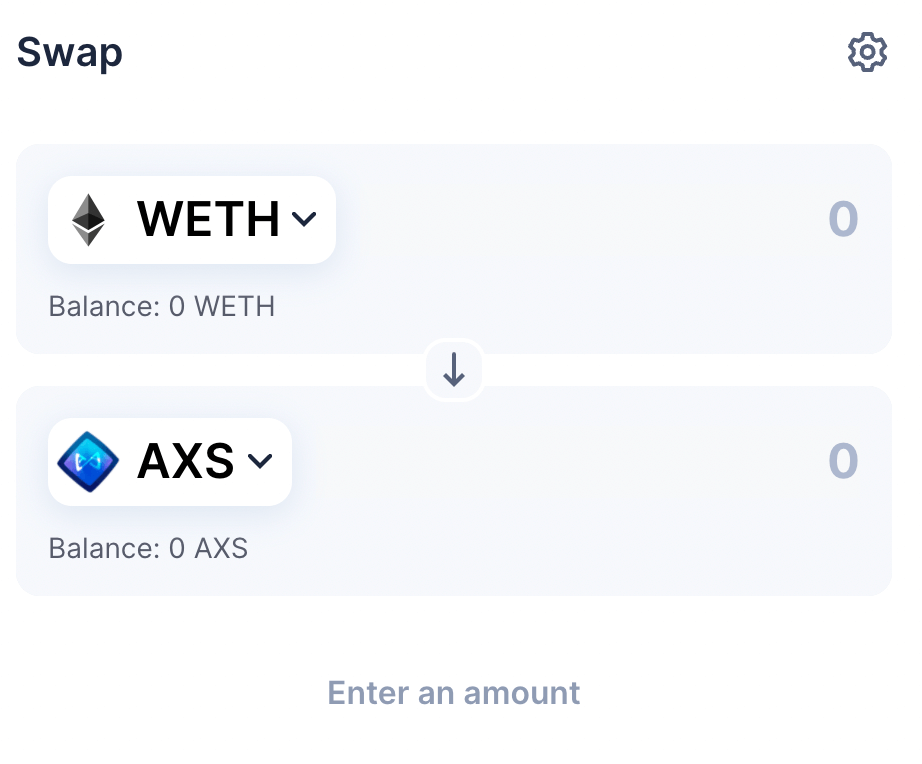 You now have your coins for the game!
Ronin Wallet Mobile App
A mobile app APK is under development for Ronin, which will let you make trades in Axie from your iOS and Android mobile phone. As soon as that app is released, we will update this section with instructions on how to download the Ronin Wallet app for mobile.
Do you have any other questions about the Ronin Wallet and how it works? Comment down below.