Do you want to know how to backup Kodi and restore your build on another device so that the two are identical? The process is easier than you might think.
Below is a guide on how to backup Kodi, including all of your add-ons, settings, and skin from one device and load it onto a new device. This trick is handy if you just bought a second Kodi box and want to keep it consistent between the two boxes.
You can also use the trick below to quickly setup a friend's Kodi software to be identical to yours.
How to Backup Kodi & Restore Kodi On Another Device
From the Kodi main menu, click on "Add-ons".
Click "Add-on Browser" (gear icon).
Select the "Kodi Add-ons Repository"
Select the "Program Add-ons" category.
Select the "Backup" add-on listing.
Click on the "Install" button then wait a for the add-on to complete installation.
 Return to the main menu and click on the "PROGRAMS" menu.
Select your "Backup" add-on.
Click "Backup" to backup Kodi.
Click "OK" button when you are told "Error: Remote path doesn't exist".
Select "Browse Remote Path".
Select the folder where you want your build saved.
Click "OK" on the right side of the window.
Click "OK" at the bottom of the window to save it.
Choose the "Backup" add-on once again.
Click "Backup" again.
Wait a minute for the process to complete. Your entire build will now be saved in the folder you selected previously.
Now you have to Copy this backup folder to your new device via USB or other method.
Once the "Backup Folder" in on your New Device, launch XBMC and then follow steps 1 to 16 above in order to install the Backup add-on onto your new Kodi device. The only exception is that you have to click on "Restore" instead of "Backup" and specify the restore folder that you have your Kodi build saved in.
Once your restore folder is specified, press the "Restore" function again.
Choose the Restore build you want to load onto this device.
Wait a minute for the process to complete again.
Once finished, you will want to restart your Kodi device and the new box should now have your complete build again!
You can backup Kodi and restore on another device! Let us know on Twitter or Facebook if you want us to post any more tips and tricks!
PROTECT YOURSELF ON THE INTERNET
Sign up for a premium Kodi VPN and access the internet unrestricted. We offer exclusive discounts for NordVPN, the highest respected VPN in the Kodi community. It has some great features for users:
Apps for Android, iOS, Mac, Linux & more
Zero Logs
Unlimited bandwidth
Tier 1 hardware (no speed slowdown)
Access to servers hundreds of VPN servers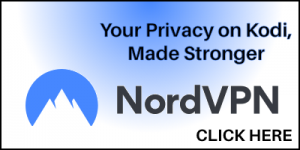 Click here to learn more about Kodi VPN protection