In this guide, we look at the top IGO Launchpads, which are the best place for crypto game developers to advertise their game and launch a successful token.
We'll go over:
What Initial Game Offerings (IGO) are and why you should be interested if you are a crypto user or game developer.
What IGO Launchpads are and how they help new crypto games launch successfully
The best IGO launchpads to check out today
Features you should look at in the best IGO launchpads
This guide is both for crypto players and crypto developers who want to learn more about these launchpads. If we've missed any of the best IGO launchpads, let us know by commenting down below.
Best IGO Launchpads
Here are the best IGO launchpads today:
Enjin Starter Review – The Best IGO Launchpad
Enjin Starter is the world's leading IGO launchpad for blockchain games and the metaverse. It was built on Enjin's Jumpnet Blockchain. This is a huge plus because there are no gas fees.
Plus, Enjin Starter supports carbon-negative NFTs and smart contracts. Game developers are rewarded for their creativity based on Enjin goods by selling NFTs.
The team has a solid background in blockchain technology and the gaming industry. To participate in any of the listed IGO, you must fulfill the KYC processes, stake your tokens, and you're all set.
Some of the completed projects launched by Enjin Starter include:
Age of Tanks
Kryxivia
SolChicks
Zomfi
PathDAO
Attack Wagon
Project Defina
Gaia Everworld.
Enjin Starter Features
Enjin creates a thriving ecosystem for blockchain gaming.
It empowers digital ownership with NFTs.
No gas fees are required for transactions.
Click here to view Enjin Starter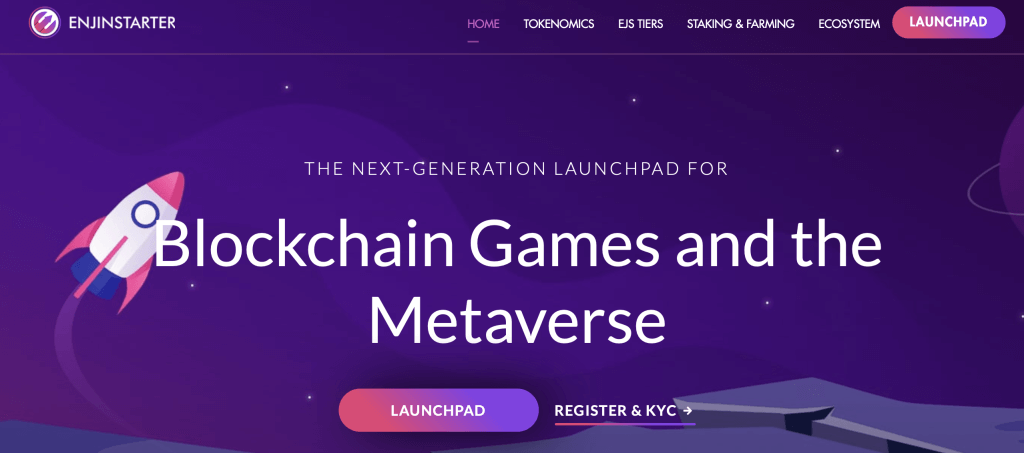 Red Kite Review – High Quality IGO Launchpad
Red Kite is a top-tier IGO launchpad and DeFi platform powered by PolkaFoundry. It provides an unparalleled opportunity for developers and content creators to launch their projects to the gaming communities.
Red Kite has a utility token with the symbol "PKF". Token holders will have the opportunity to access hand-picked projects first before the general public.
Players can join IGO projects with 5 simple steps:
KYC signup
Staking PKF
Whitelist Application
Token Swap
Claiming your returns
You can gain early access to special token sales at a lower price before they hit the market. Some of the already completed projects include Rainmaker, The Killbox, and Revolve.
Red Kits is a popular IGO launchpad and is well established. They hand review all applications into the platform and only partner with the best crypto projects.
Red Kite Features
Red Kite supports a wide range of blockchains, including Polygon, Binance, and Ethereum.
It is the first IGO launchpad on Polkadot.
Red Kite painstakingly scrutinizes every project listed on its platform.
They have a bot system that automatically monitors participants' behavior.

GameFi Review – High Volume IGO Launchpad
GameFi is a dedicated IGO launchpad with lots of assets to facilitate the success of games. It was established by a Vietnamese team, the original people behind the success of Red Kite launchpad.
To date, GameFi has launched 13 gaming projects on different blockchain networks, including Binance Smart Chain, Ethereum, Solana, and Polygon. GameFi has launched projects like Yield Guilds, Aggregator, Marketplace, and Accelerator in its ecosystem.
This launchpad uses a tier or ranking system to categorize their investors. Its native token, $GAFI, has different use cases, including staking to earn passive income. Token holders must stake their tokens to be eligible for participating in an IGO.
Some of the other completed projects include:
Death Road
Hero Verse
Project Seed
Game Station,
Polka Pet Worl
Dinox World
Space Crypto
As you can see, GameFi is a high volume launchpad for hot crypto projects.
GameFi Features
GameFi lets you access games and gaming assets from any blockchain.
Game developers can finance their projects through scholarship and other creative activities.
GameFi has an NFT marketplace exclusively for blockchain game items.

Seedify Review – Best IGO Launchpad for Binance Smart Chain
Seedify is a GameFi IGO launchpad for blockchain games built on the Binance Smart Chain. Founded in early 2021 by a team of blockchain experts, Speedify has conducted a number of successful IGOs to date.
Seedify allows IGOs to directly issue their tokens on the Elrond Network. Through IGOs, Speedify has raised over $730K for different projects.
Speedify offers 9 tiers, with each tier operating a pool and requiring participants to lock in their FUND, the platform's utility token. While tier 1 is a lottery pool, from tier 2 to tier 9 are guaranteed pools. The more money you invest into a project, the better the tier you join into.
Some of the projects completed on Speedify are:
Cyber Trade
Syn City
Heros Chained
Space Misfits
MetaStrike
World of Defish
The Parallel
The Binance Smart Chain is doing great things for crypto game development, so Seedify is a great IGO launchpad to join and be a part of. Plus, popular crypto wallets like MetaMask fully support the BSC.
Seedify Features
Speedify is transparent and brings incentive and ownership models on the table.
Speedify provides curated IGOs and supports every listed project to crowdsource funding.
They also give every project the required publicity for massive adoption.


Gamestarter Review – Most Popular IGO Token
Gamestarter is an IGO launchpad that's focused on NFT-based games. Gamestarter is considered as one of the most innovative layer-2 solutions on the market. Its native token, GAME, is already live on a lot of popular exchanges, including Gate.io, PancakeSwap, and Uniswap.
By current ROI, GAME is among the top 10 tokens listed by IGO launchpads.
Gamestarter has completed a number of projects, while several others are either ongoing or preparing to start its pre-sale. Some of the completed NFT games are:
Project Seed
Dark Frontiers
BitHotel
Demole
Moo Monster
Dynasty
To participate in any listed IGO, you must complete the KYC processes, connect your wallet, stake your GAME tokens, and you're good to go.
Gamestarter Features
Users must stake $GAME to earn rewards.
$GAME is used as a significant boost for major in-game processes.
Long-term token holders will enjoy massive discounts in the NFT marketplace.
Click here to view Gamestarter


ROCO Finance Review – Launchpad with Crypto Game
ROCO Finance is a fully decentralized GameFi platform which provides blockchain services to content creators, game developers, and players. At its core, they help developers get their crypto games and coins listed and launched successfully.
Aside from providing utility and access to game development platforms, they have their flagship game called Rise Online – built on the Avalanche blockchain. Rise Online has attracted interest from major partners like Huobi Capital and Alameda Research. It is a popular crypto game to try and it drives extra interest in the ROCO Finance launchpad.
ROCO Finance reduces barriers to entry for gamers and players by combining blockchain technology infrastructure with its game solutions. Participating in any of the IGOs can be done by completing a few tasks:
KYC protocols
Staking your ROCO tokens
Voting before the IGO.
Already completed projects on ROCO Finance include:
Rise Online
Xerians
Dogeon
Akitavax
Islander
Heros of NFT
Tale Craft
ROCO also runs a popular NFT marketplace where communities and developers can post items from the games that ROCO has launched.
ROCO Finance Features
ROCO Finance has a user-friendly NFT marketplace where player communities and game developers can easily manage, exchange, and distribute virtual items.
A staking and farming pool for partner game companies allows them manage and earn rewards for their players.
This launchpad lets you earn rewards by staking ROCO.
Click here to view ROCO Finance

PlayPad Review – Best IGO Launchpad for VR Games
PlayPad is the world's first initial game offering platform for VR gaming and play-to-earn projects. PlayPad is fully decentralized and supports unique tier allocation. This innovative IGO launchpad works on Polygon, Ethereum, BSC, and Phantom networks.
Compared to other IGO launchpads, PlayPad targets only VR games and NFT-based projects. Metaverse games under development for VR headsets like the Meta Quest 2 and HTC Vive Pro 2 can use PlayPad for funding and support.
PlayPad's tier system aims to make a fairer IGO process. PlayPad has a staking pool where you can stake PPAD, the platform's token. PPAD allows you to invest in upcoming projects to earn passive income.
Some of the already completed projects or games are:
PlayPad Features
PlayPad focuses in the VR gaming space.
All stakers receive their rewards from PlayPad's reward pool and are also included in the IGO pool.
PlayPad supports a wide range of blockchains games, including Binance Smart Chain, Ethereum, and Phantom networks.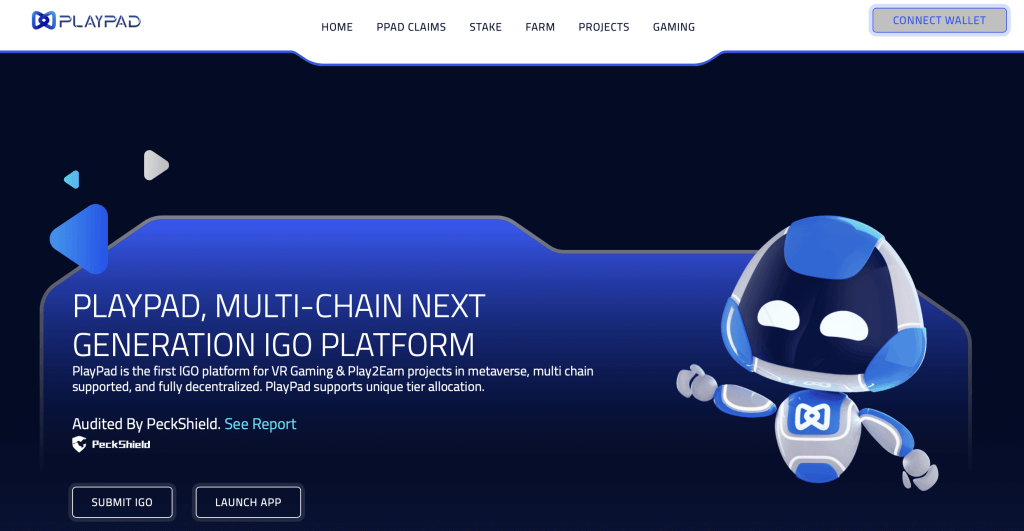 Game Zone Review – High Quality IGO Launchpad
Game Zone is a powerful IGO launchpad for GameFi games. The platform provides a one-stop solution for gamers to access NFT Play-to-earn games built across all major blockchains, including Polygon, Binance Smart Chain, Solana, and Ethereum.
Game Zone's incubator program helps new crypto games launch with a high success rate. They offer a number of services to those who partner with them, including:
Legal advice for your token and project
Tokenomics design and vesting schedule creation
In-house development, support, and auditing
A full network and team for marketing
Industry connections
For investors, Game Zone offers a smart tier system to get involved with. By staking GZONE, Game Zone's token, you can access new play-to-earn games, lotteries, beta versions, and NFT airdrops. As you stake more GZONE, your pool weight increases and you get access to more features and early access events.
Those who have staked over 70,0000 GZONE have the highest change from free gaming token and NFT airdrops.
Most recently, Game Zone has helped launch a number of successful crypto projects:
Verve
Pax World
Marvelous NFTs
Dotpad
Revomon
Game Zone Features
GameZone uses a tier-based system to assign allocations so that all players can have a chance to secure an early stake.
GameZone targets only games and NFT-centered projects.
You must complete the KYC process to participate in any of the IGO listed on GameZone.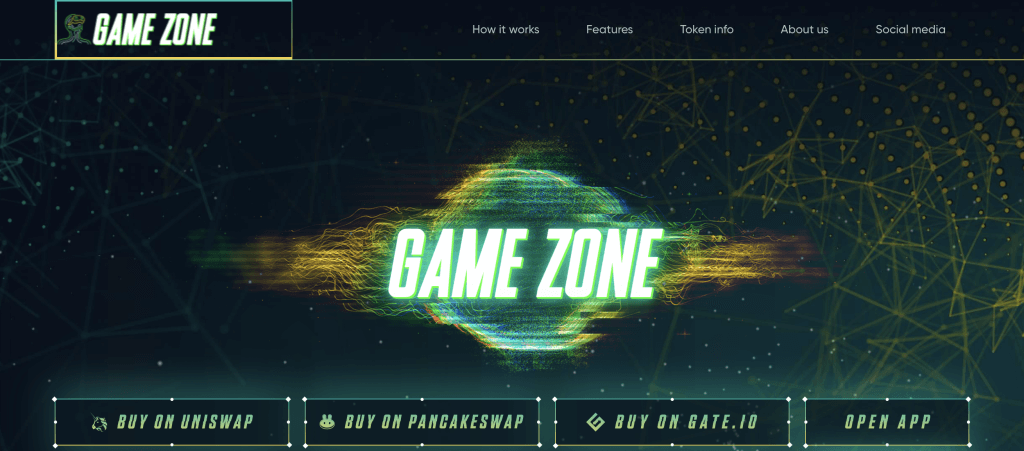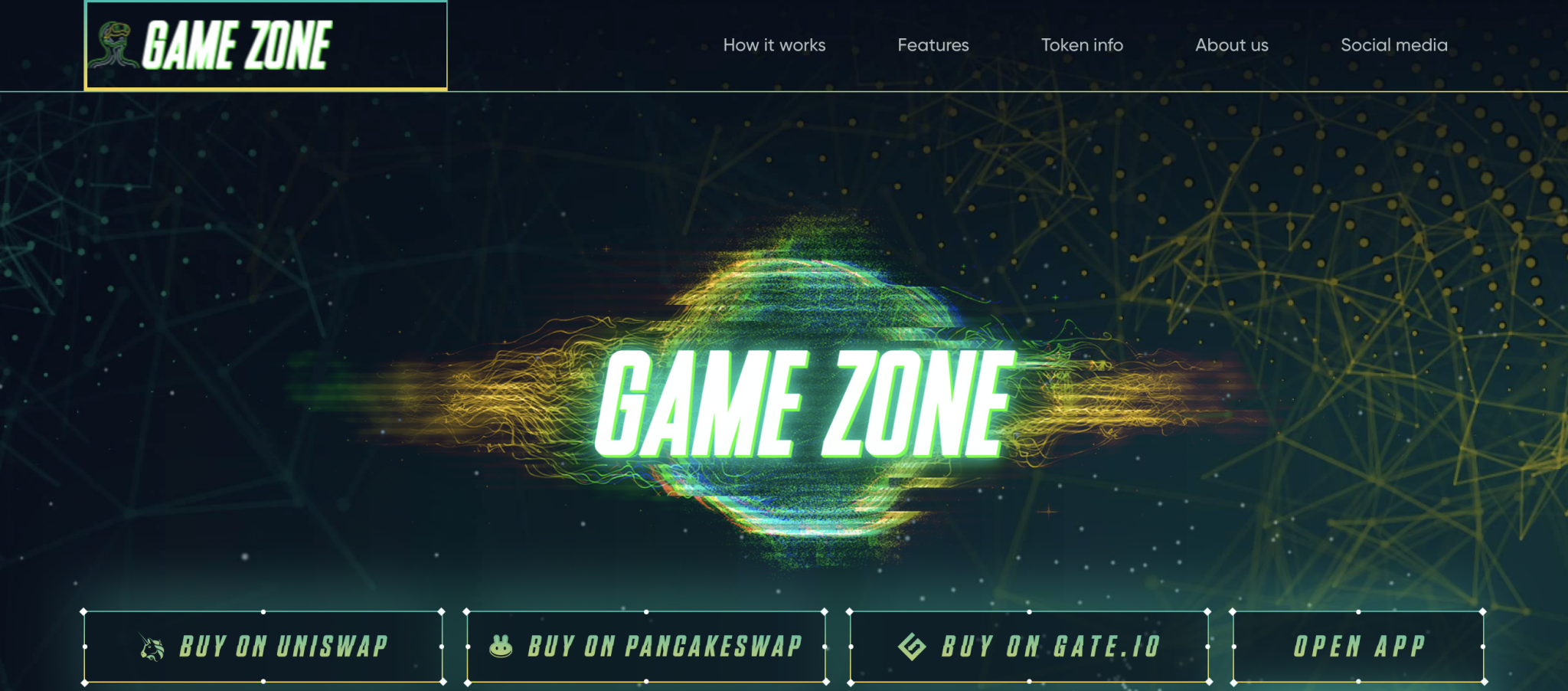 What is an Initial Game Offering?
An IGO is the acronym for Initial Game Offering. It's a method for blockchain-based games to raise capital to scale their operations or activities. An IGO is quite similar to an Initial Coin Offering (ICO), only that it raises cryptocurrency tokens rather than traditional cash capital. Developers use this method to create awareness about their games and also raise funds to project the game's adoption.
As of now, it is extremely difficult for gaming projects to launch on exchanges like Binance or Coinbase when they are still new and in the development stages. Therefore, IGOs stand out to meet the demand of these projects.
Initial Game Offerings (IGO) are the best way to invest in early play to earn crypto games before the general public does.
What is an IGO Launchpad?
An IGO launchpad is a fully decentralized platform benefits both crypto players and crypto developers.
They allow interested members of the public to invest in initial game offerings in their early stage. IGO launchpads give exceptional returns on your investment. There are IGO launchpads on the internet that are exclusive to one or multiple blockchains.
Most IGO launchpads will allow you to purchase the internal token and also have an NFT marketplace where you can convert gaming assets to real-world money.
If you are an entrepreneur or game developer, you can raise funds to scale your projects through IGO launchpads. Launchpads take care of key marketing and advertising deliverables, including:
Advertising your game on various website
Generating interest in your token
Refining the marketing materials and white paper for your game
Helping you raise capital
Blockchain games are a huge trend and the best IGO launchpads understand how to successfully launch in this space.
Next, we go over the best IGO launchpads that you can check out today. These companies understand the crypto space and are in a great spot to help companies launch successfully. Users should also check them out to learn about new and exciting crypto games to play.
Overall, the best IGO launchpads above provide benefit to crypto game players and developers. They offer users the chance to access early beta content before other players can. They offer capital and time to exciting new crypto projects.
What IGO launchpad have you used as an investor or a game developer? Comment down below and help others out who might be interested but unsure where to start.