In this guide, we go over exactly how you get starting playing CryptoBlades, one of the trendiest NFT role-playing games available today. With step-by-step instructions, we'll walk you through creating an account, how to play CryptoBlades, and how you can level up faster.
If you are new to crypto games, don't worry! We'll walk you through common steps like:
Signing up to a cryptocurrency exchange like Binance where you can get your own coins
Sending those coins to a wallet that supports CryptoBlades like MetaMask
Converting your coins to SKILL, the currency used in CryptoBlades
How to sign up for an account to play CryptoBlades with
CryptoBlades Tips and tricks for first time users.
This guide is part of a new Crypto section on koditips.com. If you have any other crypto games you would like us to focus on, comment down at the bottom of this guide. If you play CryptoBlades and have any other tips to share, we would like to hear from you as well.
What is CryptoBlades
CryptoBlades is a play-to-earn crypto game that launched way back in 2014 on the Binance Smart Chain. It was one of the first games to incorporate non-fungible tokens (NFTs), which are unique digital assets that can be acquired, bought, or sold in the game.
CryptoBlades is developed by Riveted Games and the game can be played on any browser, as it is web-based. Players have to level up their characters while completing challenges and creating or minting their unique weapons.
You can even trade these characters in the CryptoBlades marketplace. Being a play to earn game, players can earn SKILL through buying and selling assets and from playing the game. They can manufacture goods or create services for sale to earn profits significantly. Additionally, players can use the SKILL tokens to upgrade their characters and level up their game play.
The team behind CryptoBlades is a group of young entrepreneurs who are vast in the online gaming industry. The team offers players the opportunity to leverage their gaming skills and earn financial rewards in the process.
If the idea of playing a game and earning real world money at the same time entices you, CryptoBlades is an excellent place to get started.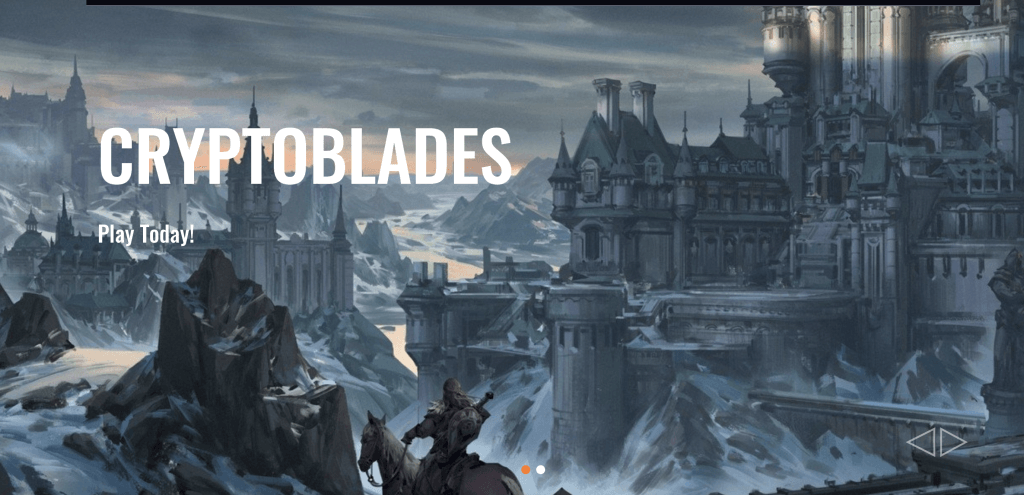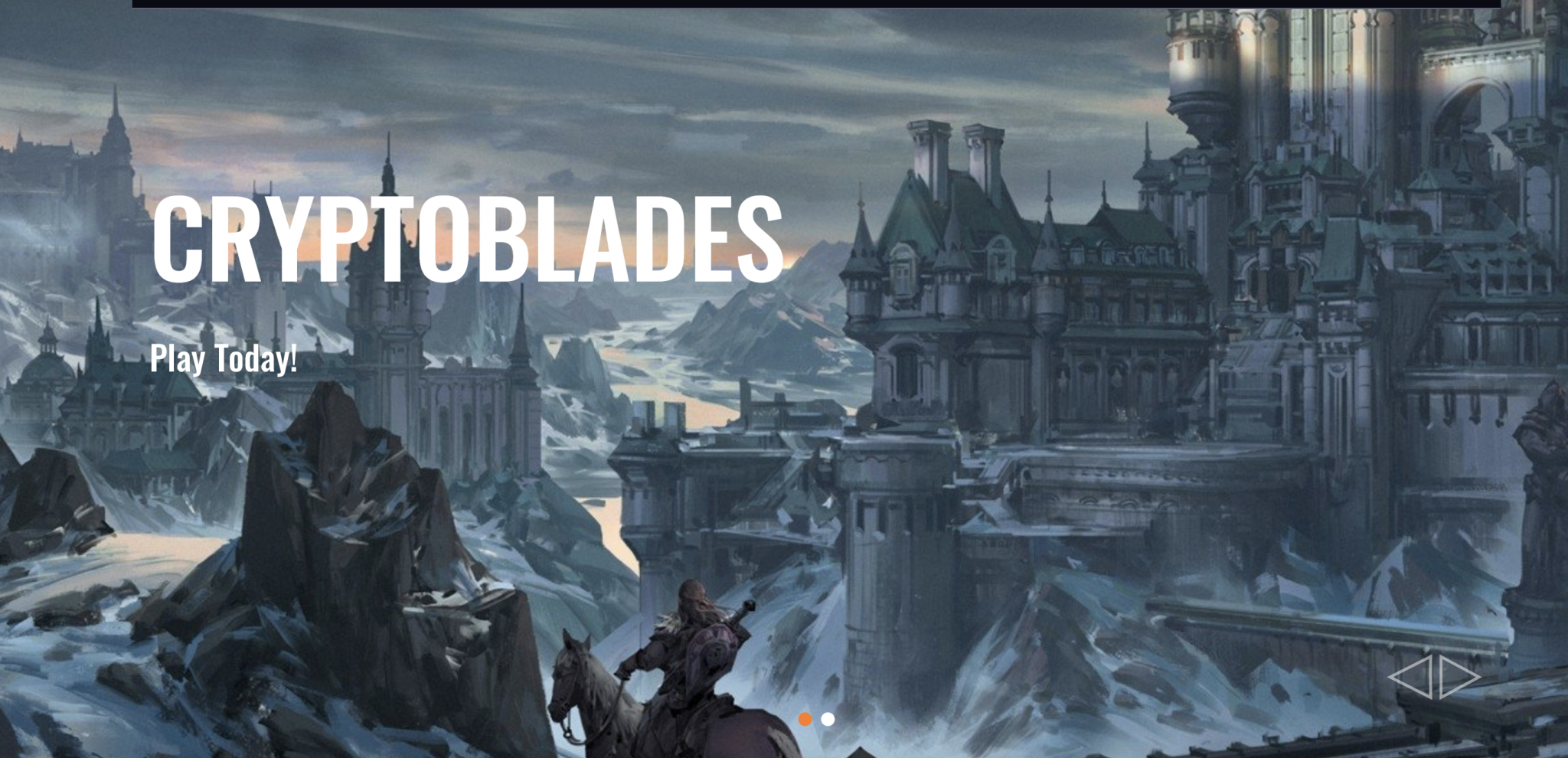 How Does CryptoBlades Work?
CryptoBlades lets players battle against each other to earn rewards, including SKILL tokens. Players have the ability to craft an NFT (Non-fungible token) of a powerful weapon or character to defeat their enemies.
Leveling up is the fastest way to become stronger in the game. CryptoBlades players can boost their total powers by:
employing extra characters
retooling the characters
equipping them with unique weapons.
Players can exchange their equipment and avatars in an open market. They can also trade or stake their SKILL tokens to make passive income. Every SKILL token earned has instant value, as liquidity is blocked.
SKILL Coin in CryptoBlades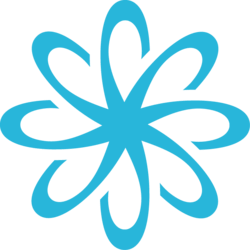 SKILL is the native currency of the CryptoBlades ecosystem. It gives players the ability to trade in the CryptoBlades marketplace, forge and refurbish weapons, and acquire characters.
SKILL is used to create or enhance an existing NFT asset that players will leverage to defeat their opponents.
Investors or crypto enthusiasts can swap SKILL on decentralized exchanges like Binance for profits. They can also buy and hold SKILL to make profits in the future when it value increases.
Gas Fees
Since CryptoBlades operates on the blockchain, players are required to pay gas fees for every transaction carried out. This fee is paid using the using Binance BNB coin.
The gas fee is used to maintain the games technology, so that there won't be any disruption in game play. Players are required to have a minimum deposit of BNB in their MetaMask wallet to interact with the CryptoBlades smart contracts.
Depending on the transaction, the gas fee charged is usually between 0.0007 and 0.0010 BNB. You can keep track of the gas fee expended on any transaction in your MetaMask transactions. As you play CryptoBlades, you will see Gas Fees fluctuate depending on network usage. It is a good tip to wait until gas fees are lower in order to save money on transactions.
CryptoBlades Requirements
To play CryptoBlades, there are three fundamental requirements you have to fulfill. The requirements are:
Once you have these three requirements handy, you are set to start playing CryptoBlades. We encourage you to play the game on a desktop PC or Macbook computer.
If this sounds confusing, don't worry. We have step-by-step instructions to get you started to play CryptoBlades today. These instructions start next and are in the following order:
How to create a Binance account and deposit cash in exchange for BNB
How to create a MetaMask wallet
How to transfer your BNB coins to MetaMask
How to convert BNB coins to SKILL
How to create a CryptoBlades account
How to play CryptoBlades today
How to Play CryptoBlades [Step-by-Step Getting Started]
You need 0.4783 SKILL and 0.0025 BNB in order to get started and play CryptoBlades. When you battle enemies and defeat them, you will earn more SKILL for your effort. However, a lot of players choose to buy SKILL with their additional money. This involves sending BNB (Binance coin) to MetaMask and then converting that to SKILL.
If you want to withdraw SKILL from the game and trade it for real life money, you also need to know about these steps.
The step-by-step CryptoBlades tutorials below will help you get familiar with these processes. If you already have MetaMask setup and SKILL in your wallet, you can skip right down to our playing CryptoBlades section.
How to create a Binance account and deposit cash in exchange for BNB
Binance is a cryptocurrency exchange that lets you buy, sell, and trade coins. The reason why it is valuable to play CryptoBlades is because the home Binance coin, BNB, is used as the game's base currency. BNB is converted back and forth to SKILL, which is CryptoBlades' playing currency.
Follow the instructions below to sign up for your Binance account, deposit cash, and buy BNB with it.
If you want more detail, check out our complete Binance guide for new users, which has pictures for every step listed below.
Enter in your chosen email address and password or click on "Mobile" and fill in that information if you'd like to use your phone number as your login. When you are done, click on Create Account.
For security verification, drag the arrow to the right until the puzzle piece fits into its slot.
A 6-digit code will be sent to your email address or phone number (depending on which option you chose). Enter it in to the next screen.
Finally, you will reach the Welcome to Binance screen, which outlines some of the core features. Click on Go to Dashboard to complete the sign up process.
If you have not verified your Binance account yet, you will see the yellow banner at the top of each page after you log in to Binance. Click on the Verify button to get started.
You will be taken to a page that outlines the perks you get when you verify your account (see above). You can also become "Verified Plus" status for even higher daily limits after you become Verified at the first level.
Click on Start Now to get started.
Next, enter in your personal identity information including your name, nationality, and date of birth. When you are done, click on Continue.
Next, you have to enter in your address location. When you are done, click on Continue.
In order to verify your ID, you have to have one piece of government-issued identification available. Choose what you have handy and then click Continue. The instructions are the same for each piece of ID.
First, you have to click on the two camera rectangles and submit pictures of the front and back of your ID. If you are on your computer, you can use your webcam to complete this step. If you are on your phone, you can take a picture with your phone.
When you are done, click on Continue to continue setting up your Binance account.
Next, you have to take a selfie of yourself. Click on the Take a Selfie button and use your camera or computer webcam to take the photo. Click on Continue when you are done.
Next, Binance will run its facial recognition tool across your face. Click on Continue and follow the instructions on the screen to take a video of yourself looking at the camera.
Once you are done your facial recognition, your Binance account will go into a review state. It can take up to two weeks to verify your identity, but it usually happens within a few days.
When Binance has verified your account, you will get an email telling you that you are able to deposit and withdraw funds!
To buy cryptocurrency such as Bitcoin or Binance Coin (BNB), hover over the Buy Crypto option on the main Binance menu.
Change your currency to match how you want to buy your coin. The options in this menu will update automatically depending on the currency you choose. Credit/Debit card payments are the easiest and most convenient. Select your payment method.
Enter in how much money you want to Spend in your local currency and change the coin you want to Buy. What you enter for spend will automatically update the buy section to show you what you will receive. To play CryptoBlades, you want to buy BNB.
Click on Continue and enter in your payment information in order to buy BNB coin.
And that's it for this section! If you already have a Binance account and are verified, you only need to follow from steps 18 onward.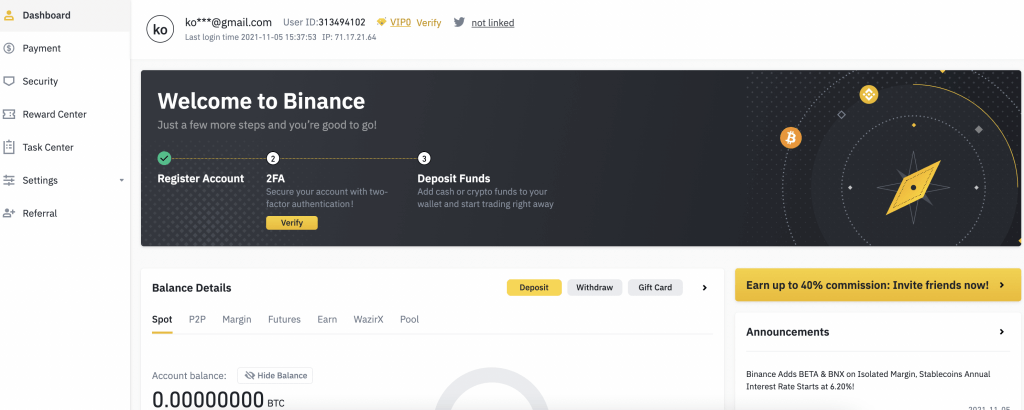 Now that we have BNB, we need to create an account with a MetaMask, a crypto wallet. MetaMask. Like a real wallet, MetaMask allows you to store cryptocurrency tokens in it. It also allows you to connect to crypto games, like CryptoBlades, and makes sure that you are in sync with the game's blockchain.
How to Create an Account on MetaMask
Follow the instructions below to create an account on MetaMask, so that you can transfer BNB, convert it to SKILL, and play CryptoBlades.
If you are a beginner, we have a complete tutorial guide with pictures for every instruction here: How to create a MetaMask account.
Visit the official Metamask website at https://metamask.io/. Both Chrome and Firefox are supported by MetaMask, so make sure you are using one of those browsers.
Click the Download button in the top right corner of the Metamask home page.
Click on Install MetaMask for Chrome/Firefox.
In the Metamask store listing page, click on Add to Chrome or Add to Firefox, depending on which browser you are using.
Your browser will make sure that you actually want to install MetaMask in your browser. Read the disclaimer and then click on Add extension.
After MetaMask is done installing in your browser, click on MetaMask in your Extensions area to launch your wallet. You may have to restart the browser in order for MetaMask to show up in here.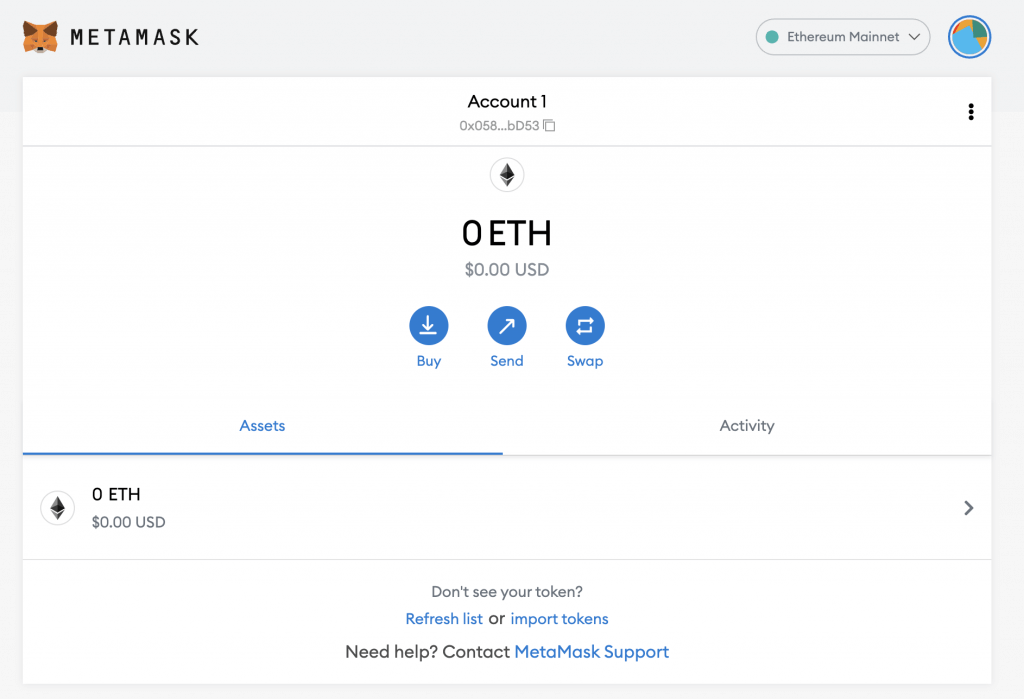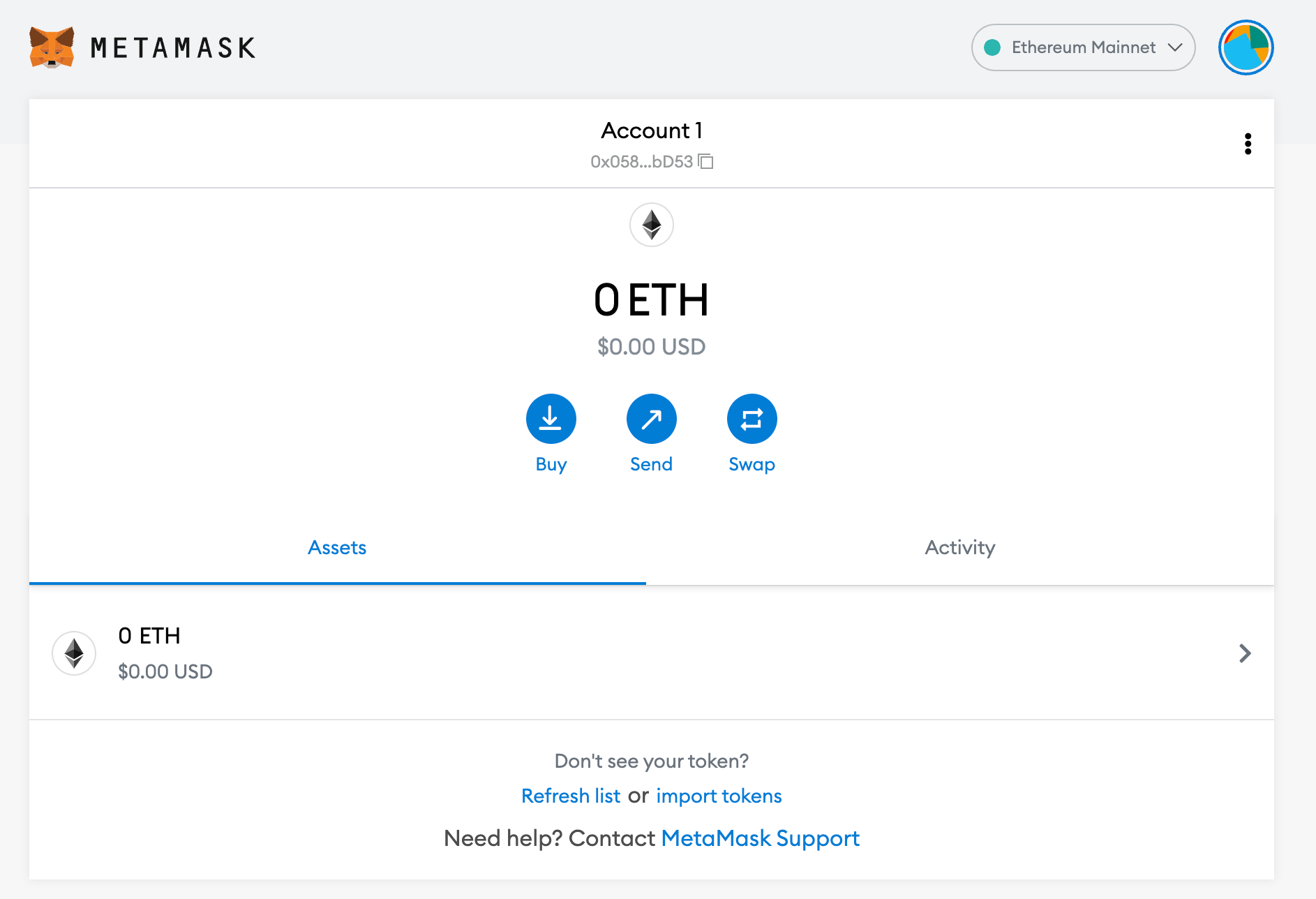 How to Transfer BNB to MetaMask
In order to transfer BNB to MetaMask, you need to connect your MetaMask wallet to the Binance Smart Chain. After that, you can transfer in BNB and then convert it to skill.
If you want pictures and more detailed instructions, we have a guide on how to transfer BNB from Binance to MetaMask.
Log in to MetaMask and then click on your avatar in the top right corner and then select Settings.
Click on the Networks tab on the left side of the settings page.
Click on Add Network in the top right corner. A blank network will be added to your list.
To add the Binance Smart Chain, we have to enter in information that tells MetaMask where to go to connect to the network. Enter in the following information:

Network Name: Binance Smart Chain
New RPC URL: https://bsc-dataseed.binance.org/
ID: 56
Symbol: BNB
Explorer URL: https://bscscan.com

When you are done, click on Save.
Go back to the main MetaMask dashboard and make sure the Binance Smart Chain is selected.
Under the BNB section of the dashboard, hover over the account address and click on it to copy your address to your clipboard.
Go back to Binance and log in if you aren't already. Click on the Buy Crypto button.
Enter in an amount in the currency box and then change the Receive option to BNB. Then, click on Continue.
Confirm your chosen source of payment on the next screen and then click on Continue. If you don't have valid payment info, you will have to load it here and then click Continue a second time after that is done.
Review your order details and then click Confirm to complete the transaction.
From the top menu, go to Wallet > Fiat and Spot to see your crypto balances. Under BNB, where you should see your deposity, click on Withdraw.
In the Address box, enter in the address of your wallet you copied from MetaMask. Make sure the Network is set to BSC Binance Smart Chain. Set the amount you want to send and then click on Withdraw.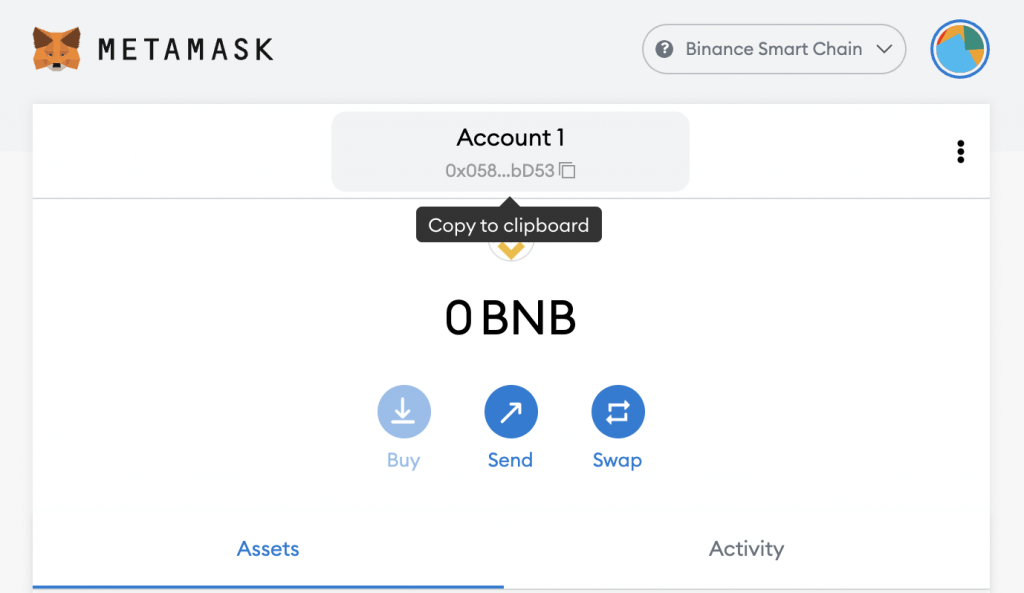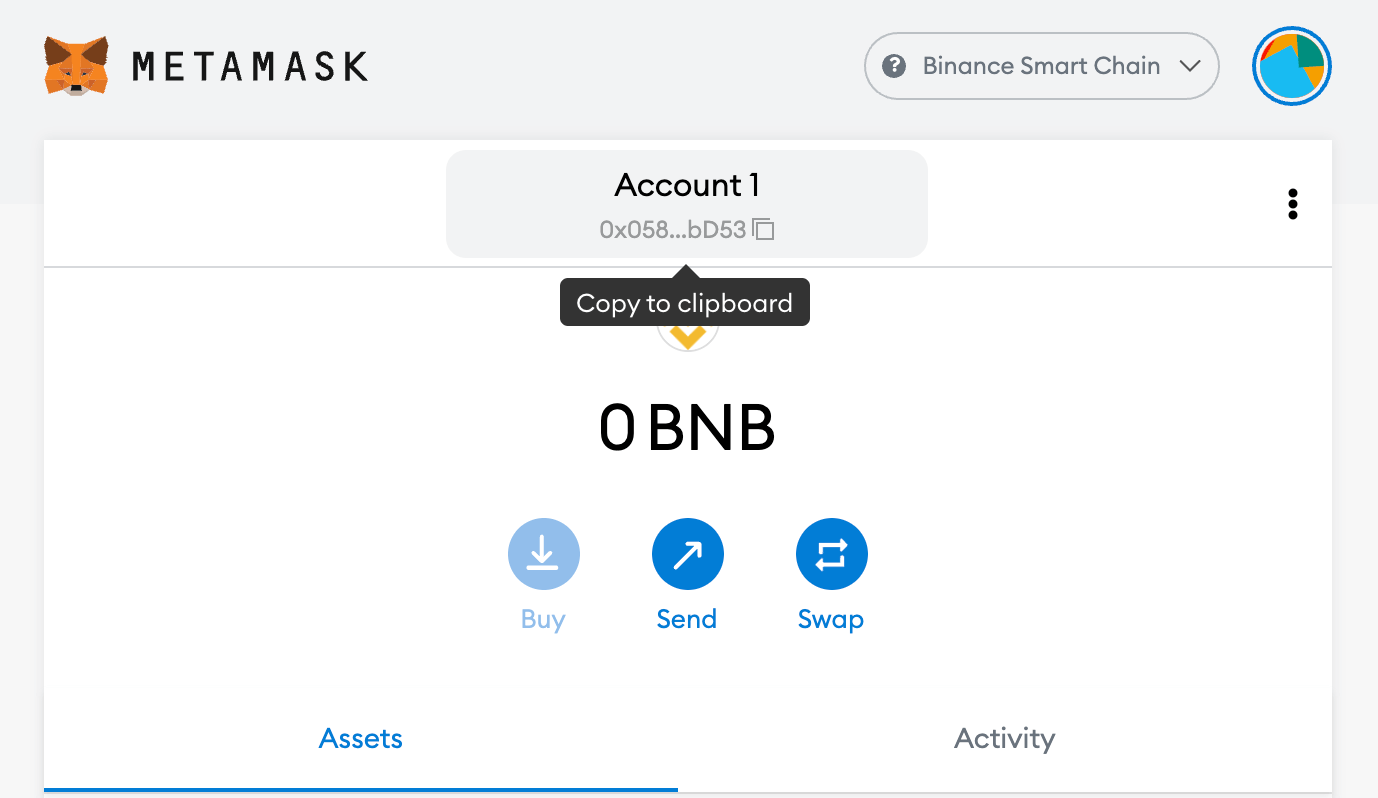 How to Transfer BNB to Skill in MetaMask
After your BNB appears in your MetaMask wallet, we have to transfer it to SKILL so that you can buy assets in CryptoBlades. To do that:
In your MetaMask home page, in the BNB section, click on Swap.
Change your Swap To coin to be SKILL and enter in how much BNB you want to convert. When you are done, click on Review Swap.
MetaMask will calculate the market rate of SKILL and will show you a summary of your network fees and swap information. If you are happy, click on Swap to complete the transaction.
You now have extra SKILL that you can use to play CryptoBlades! Next, we will show you how to actually sign up and play CryptoBlades finally!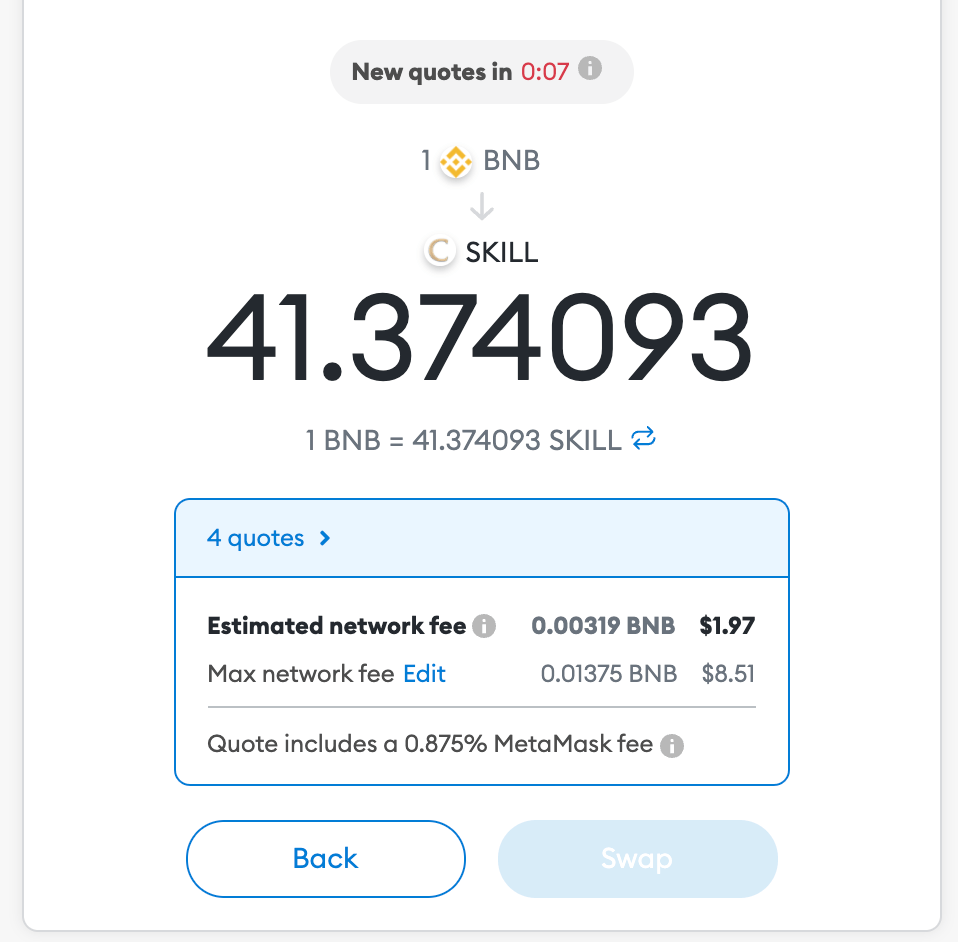 How to Play CryptoBlades for the First Time
To play CryptoBlades, you first have to go to the homepage, https://www.cryptoblades.io/
Click on the Play CryptoBlades option on the top menu. CryptoBlades will automatically detect your MetaMask wallet and ask you if you want to connect it into the game, so make sure you are using the browser with MetaMask installed. Click on Next and then Connect.
Your account is tied with your unique MetaMask wallet, so the sign up process is very easy.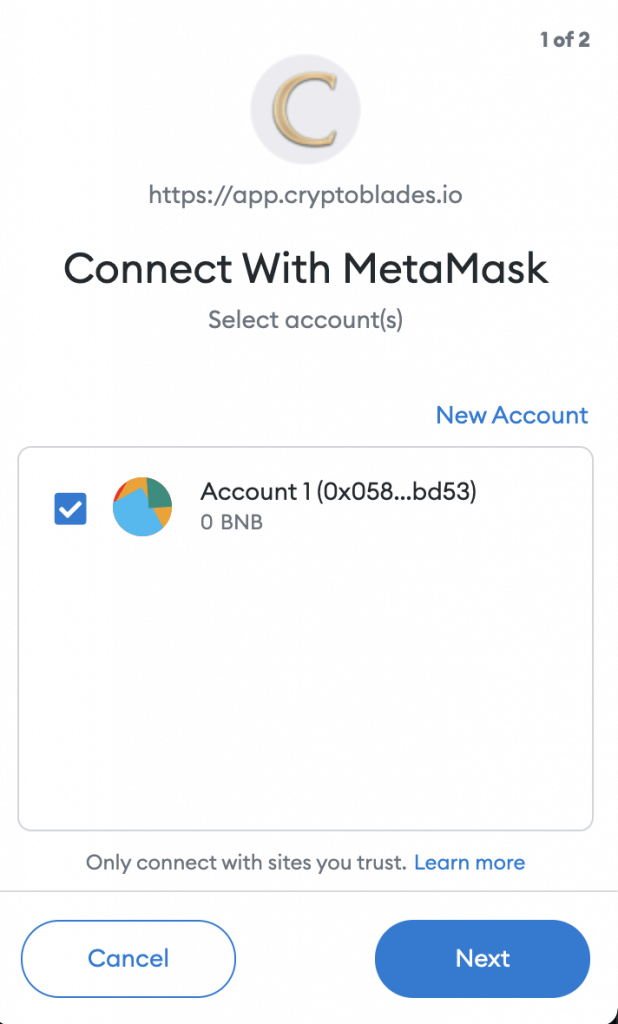 You need 0.4783 SKILL and 0.0025 BNB in order to get started and play CryptoBlades. The. Getting Started pop up has a few useful tutorial links on how to play CryptoBlades. They are the same as the steps we went through above. When you are done, click on Hide Warning.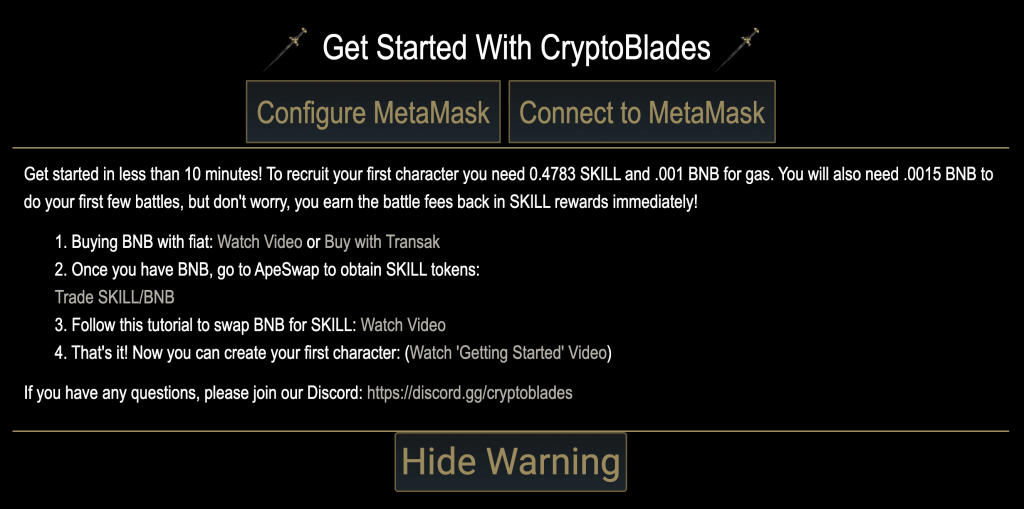 After you have the SKILL in your account, you need to recruit a character in order to get started. You recruit characters in the Plaza so click on that options to begin.
Your MetaMask wallet will have you confirm your purchase of a character with your skill.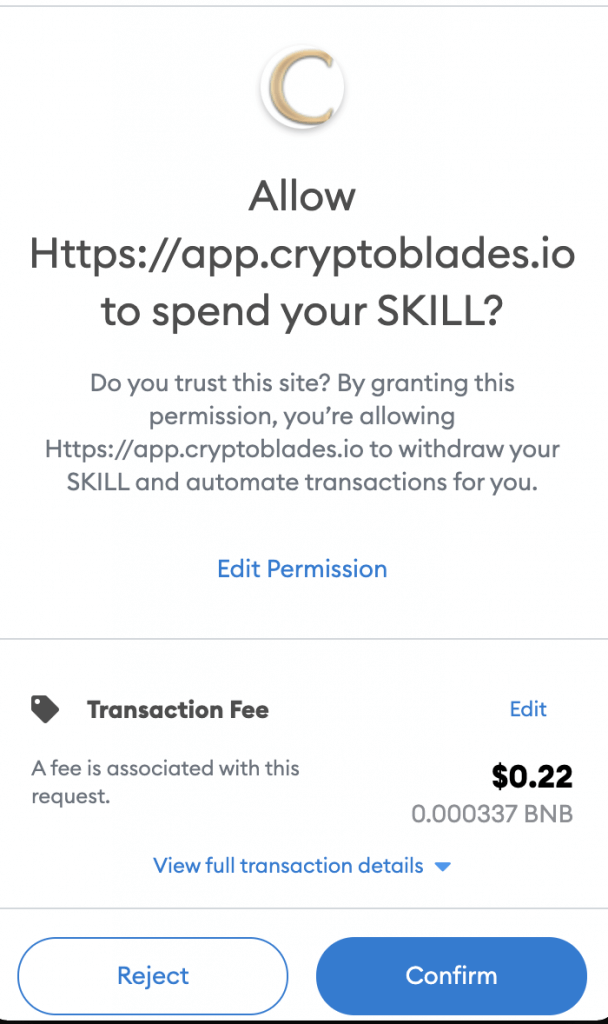 Your first character will have a 1-star weapon to start and will be given a random element: Fire, Earth, Lightning, or Water. Each element has an advantage over another.

You can see your character and its stats in the Plaza after your purchase is complete. It might take a minute for the transaction to process. Your character card will show you the strength of your character. It will start out at level 1 and will increase level each time you win a battle.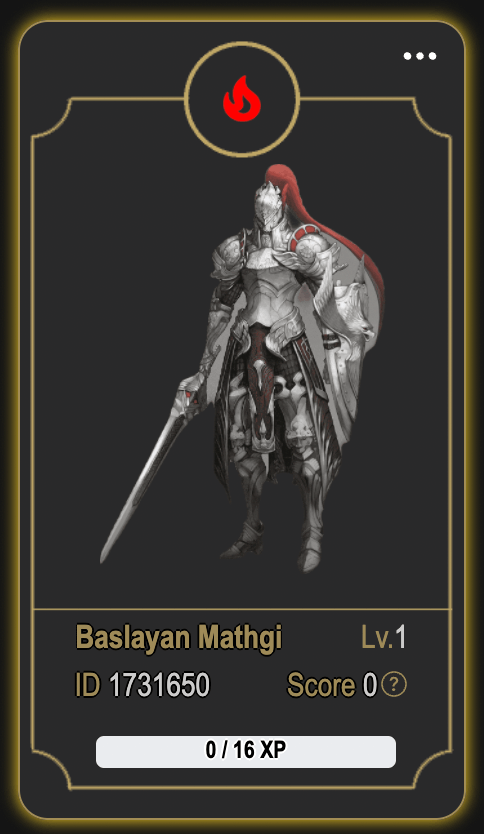 Information about the weapon that came with the character can be found in the Blacksmith area. 1, 2, and 3 star weapons can only have one attribute, while 4-star weapons have two attributes, and 5-star weapons have 3-attributes. The more attributes you have and the higher value they are, the more types of battles you will be successful in.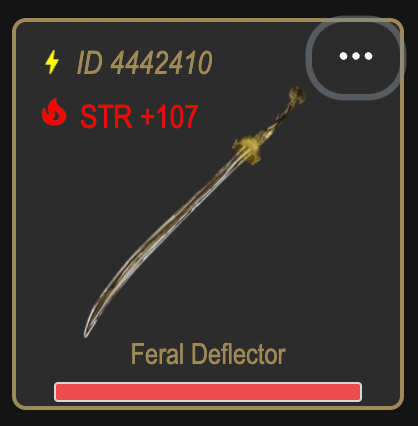 Once you have your character and your weapon, you can get into battle by clicking on the Combat option. In battle, if you roll a higher number than your enemy, you will win the fight and earn a small amount of SKILL token. If you lose the fight, you earn nothing.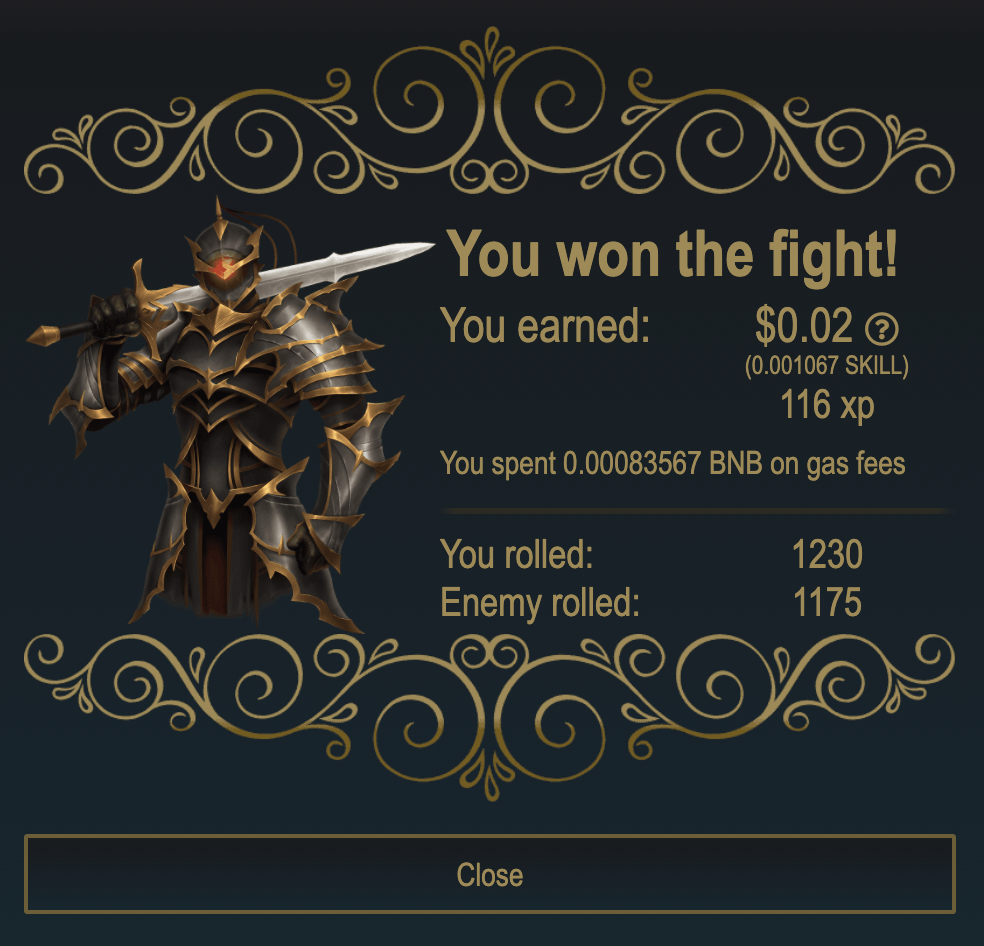 There will be an early withdrawal tax on all SKILL which starts at 15% and reduces by 1% per day until it hits 0%. So, you should wait 15 days before trying to convert any SKILL back to BNB in MetaMask.
You've now completed all of the basic CryptoBlades setup! Before you go and play CryptoBlades, we have some information on play-to-earn to help you get started.
CryptoBlades Tips
Reforging
Reforging weapons is when you burn and then merge one weapon into another. The target weapon will receive enhanced attributes, which will help you win battles more easily. The weapon disappears from your inventory and is gone forever.
Reforging adds value to common weapons that have no rarity. It will make your weapon more valuable if you decide to sell it in the marketplace.
To try reforging, go to Blacksmith, select a weapon, then click "Reforge."
Using the Marketplace
It is more cost-efficient to buy a character or weapon from the marketplace instead of recruiting and forging. This is because you can see the cost and stats of everything before you buy something. So if you do your own cost analysis, you can find the best deal when you are starting out, and the rarest item when you are levelled up.
Navigate yourself through the market and search for the item you want.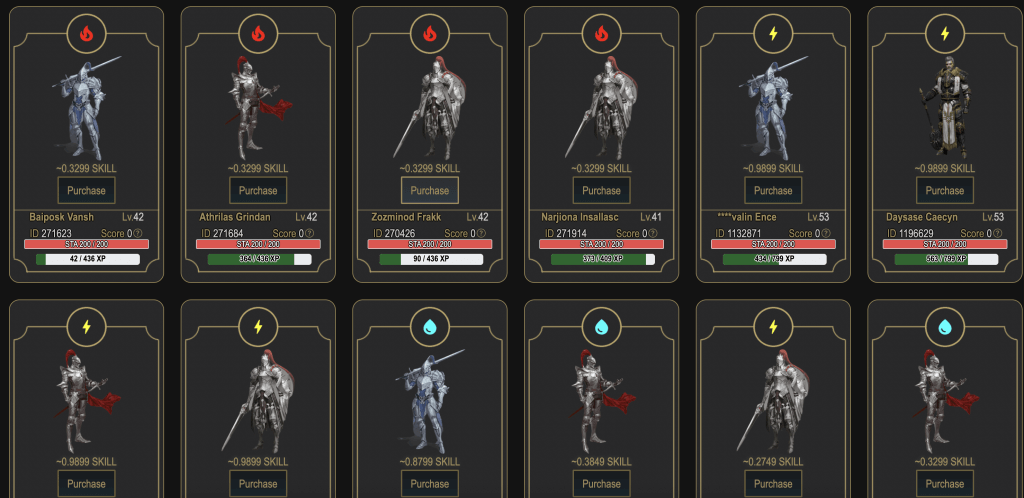 Character Stamina
Each character has a stamina stat, which can reach a maximum of 200. Every five minutes, one point of stamina is regenerated.
When you take your player into combat, either 40, 80, 160, or 200 stamina is used up per fight. The more stamina you use in a fight, the more SKILL you will win for a victory. You will also decrease the BNB you will burn as gas fees because you will battle less in the day.
However if you lose the fight, you still lose all your stamina without the reward of SKILL.
If you choose 40 stamina per fight, each character you own can play up to 7.2 fights in 24 hours.
How do you win more battles in CryptoBlades?
There are many battle simulators that you can find on the Internet to calculate the estimated chance of winning for each battle. Check out this combat simulator for more information.
Raids
Raids are a unique way to earn more SKILL than individual battles. You join up with 23 other players around the world that are at your skill level. Raids take 8 hours to complete, the element of the raid is random, and the bosses power is dependent on how many players are interested in doing the RAID.
There will be times when the raid's Boss Power will be too high and regular battles are more profitable. However, other times will make raid's better.
Winning raids will give you your share of the raid drop, which includes items, objects, and power-ups. You can use them on your own character or sell them in the marketplace.
Raids take up all of your 200 stamina. It is a good play for new players because you get to earn better rewards when you are starting off.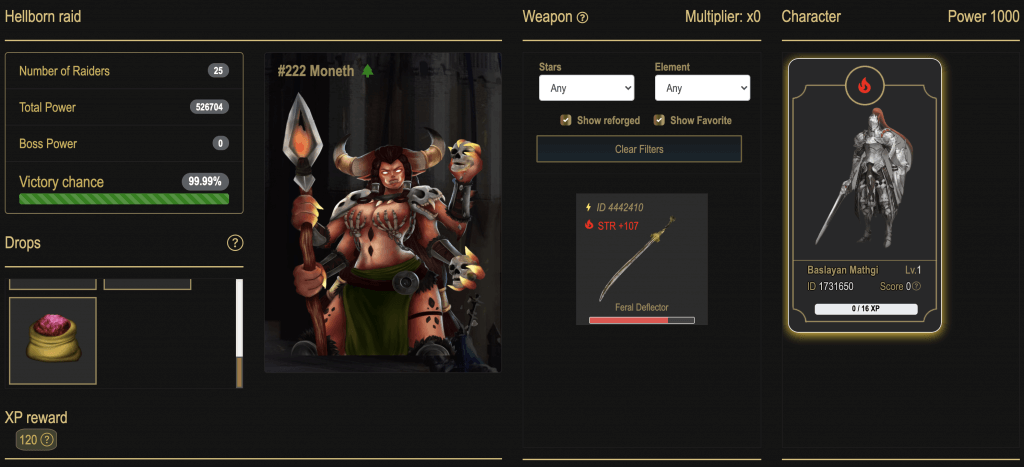 If you have any other CryptoBlades tips you want us to cover, let us know down below!
How to Make Money in CryptoBlades (Play-to-Earn)
CryptoBlades is a play-to-earn game. It allows its players to make real world money in exchange for playing the game. There are multiple ways to make money in the game:
Taking your character and weapon NFTs into combat for SKILL points.
Minting characters and weapons and then selling them for SKILL on the marketplace.
Trading your NFT objects with other players in exchange for cryptocurrency (BEP-20 tokens)
Exchanging your SKILL for other cryptocurrencies which can then be sold on Binance.
How much real world money you can earn on CryptoBlades is affected by both luck and skill. Cashing out your SKILL for real world money means that you can't use it in the game to level up and progress. So, it is important that you have fun while you play CryptoBlades before you focus on earning money.
The SKILL currency fluctuates in value just like other cryptocurrency's, so you earn more money as the popularity of the game increases as well.
Players can continuously track their earnings, EXP gain, and character stamina as the game progresses.
Do you have any other questions before you play CryptoBlades or get started in the game? Comment down below and we will help you have!