Nvidia's cloud gaming service, GeForce Now, is moving out of its public beta and becoming available to all. On February 4th, 2020 Nvidia announced that anyone can try out the service for free without needing to join a wait list.
GFN is somewhat like a Netflix service but for gaming. It enables you to enjoy the best PC graphics without paying for pricey hardware. The big perk is how it'll let you play games you already own on your Steam account. You don't need to to buy your favorite PC titles again.
Join us as we walk you through a guide to enable you to get started with GeForce Now. Without further ado, let's get started.
What Is Nvidia GeForce Now?
GeForce Now is NVIDIA's cloud-based game streaming service. It delivers real-time gameplay straight from the cloud to your laptop, desktop, Mac, SHIELD TV, or Android devices.
Connect to your store accounts and stream your own library of games, or play your favorite free-to-play games. With cloud saves for supported games, you can pick up your game where you left off, on any supported device, wherever you are.
What Games Are On GeForce Now?
Nvidia's service doesn't sell you any games. Instead, GeForce Now let you access your existing game libraries from Steam, Uplay, and the Epic Games Store.
Play games you already own anywhere you want by signing into the service you own it on.
This means that you don't have to re-buy any games when you subscribe to GeForce Now.
Nvidia's service supports numerous popular games, some of which are:
The Witcher 3
MotoGP
Saints Row IV
Fortnite
Batman: Arkham City
F1 2018
Assassin's Creed
Ride 3
Tropico
Cuphead
Warframe
Dauntless
Destiny 2
Wolfenstein: Youngblood
GeForce Now Price
The service includes Free and Founder tiers.
Free Tier
Standard Access
1-Hour Session Length
Founders Tier
Priority Access
Extended Session Length (6 hours)
RTX On
Free 90-day Introductory Perior
The initial price of the Founders Tier is $4.99 per month. This is half the price of its main competitor, Google Stadia.
In addition, you don't need to buy a dedicated device for cloud gaming. Most Android devices should have the ability to download and use GeForce Now. The Nvidia Shield is also the #1 Android TV box and it comes with full support and a good controller to use.
Recommended Internet Connection
According to Nvidia, gamers need a 10 Mbps connection for bare minimum quality on GeForce Now. The company also recommends different broadband speeds for better tiers of gaming:
20 Mbps for 720p at 60 fps
50 Mbps for 1080p at 60 fps.
You must be within certain distance to one of Nvidia's servers in order to use the service. Most residents of North America and Europe will be able to try and use GFN.
What Devices Can You Use To Access GeForce Now?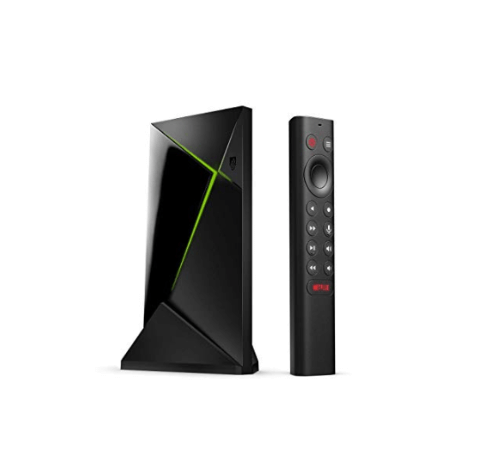 A full list of equipment that you can use Nvidia GeForce Now on is:
Nvidia Shield
Android phones, tablets, and streaming boxes
PC
Mac
How to Buy the Nvidia Shield
The Nvidia Shield is the preferred device to use GeForce Now on. It is available worldwide from Amazon.
NVIDIA SHIELD Android TV Pro Streaming Media Player; 4K HDR movies, live sports, Dolby Vision-Atmos, AI-enhanced upscaling, GeForce NOW cloud gaming, Google Assistant Built-In, Works with Alexa
The Best of the Best. The world's most powerful Android TV streaming media player upgraded to Android TV version 11. Enhance HD video in real-time to 4K for clearer, crisper visuals using next-generation AI upscaling. 2x USB 3.0 ports for storage expansion, USB cameras, keyboards, controllers, and more. Plex Media Server built-in, 3 GB RAM, and 16 GB storage.Connectivity Technology : Bluetooth 5.0
Dolby Vision - Atmos. Bring your home theater to life with Dolby Vision HDR, and surround sound with Dolby Atmos and Dolby Digital Plus—delivering ultra-vivid picture quality and immersive audio
How To Get GeForce Now?
You should be able to download the GeForce Now app on your Android devices (running Android 5.0+) from the Google Play Store.
Fire, install the app, Then, create an account or sign in. Next, begin searching for the games you want to play to add to your library.
Games fall into two camps: "instant access" and "single session." Instant access games are those formally supported. They are preinstalled on Nvidia's servers, kept up to date, optimized for streaming and findable within the GFN apps.
Single session games must be downloaded manually before you are able to play.
There are also about 50 to 60 free-to-play games.
GeForce Now vs Google Stadia
There's a lot of similarities between GeForce Now and Google Stia. Both allow subscribers to stream video games via an internet connection, leaving the specs of the hardware redundant. You don't need a powerhouse gaming PC or console to play the latest and greatest games – just a decent internet connection.
Google Stadia will sell you games directly while GeForce Now allows you to stream games you've purchased on other storefronts.
GeForce Now costs $4.99 a month, while the Stadia Pro subscription costs £8.99 per month. Google Stadia has a much smaller collection in its game library. Nvidia's integration features a large collectionof usable games.
What do you think about Nvidia GeForce Now? Share your thoughts with us using the comment box below.