A new Kodi Pin Generator APK from Stream Army allows you to generate addon pins for all Stream Army addons, such as Nemesis, directly on your Android Box. This means you don't have to visit the site on your computer or phone any longer. Read the details in our guide.
Recently, some developers have chosen to add a pin system to their addons, requiring users to visit a website in order to gain access to streams within the addon. This website has ads on them, allowing the developer to pay for server costs. Stream Army, home to popular Kodi addon Nemesis, has created a Kodi Pin Generator for Android which makes things easier to generate a pin for their addons.
Instead of visiting a site on your phone or computer, the Pin Generator APK can be installed on any Android box. Once installed, you generate a pin right in Android before launching Kodi.
Each pin generated lasts for four hours worth of streaming time.
If you are interested in installing the Kodi Pin Generator Android APK or learning more information, check out the information below!
How to Install Kodi Pin Generator Android APK Guide
First off, Enable Unknown Sources from your Android Box Settings > System > Debug Options menu.
Head to the Pin Generator website by clicking here and download the Pin Generator APK.
Copy this APK onto a USB stick and plug the USB stick into your Android Box.
Run the Pin Generator APK inside of Android. HINT: You can download ES File Explorer from the Google Play Store, which will let you easily navigate to your USB drive and run the APK.
After the APK is installed, it will appear in your list of Android Apps installed on your box.
How to Use Kodi Pin Generator
To use the Pin Generator APK, you just launch the generator and click on the button to Generate a Pin. This will give you access for four hours to all Stream Army addons including Nemesis, Fap Zone, Bash the Bishop, and anything they will release in the future.
After you have been authenticated by the server, you can launch Kodi. When you go to use a Stream Army addon, you are
What is the Purpose of Kodi Pin Addons?
Kodi addons and repositories require bandwidth in order to be stored on a private server. The more popular an addon gets, the more expensive it becomes to maintain this hardware. By forcing users to generate a pin before using the addon, it takes them to a site with passive adsense ad on it. These ads help raise money to the developer so that they can pay for their expenses.
Nobody is forcing you to use any of the Kodi pin addons. There are plenty of other addons available from our home page. The Pin Generator APK above will simplify this process more.
Let us know on Twitter or Facebook if we can help you out!
PROTECT YOURSELF ON THE INTERNET
Sign up for a premium Kodi VPN and access the internet unrestricted. We offer exclusive discounts for NordVPN, the highest respected VPN in the Kodi community. It has some great features for users:
Apps for Android, iOS, Mac, Linux & more
Zero Logs
Unlimited bandwidth
Tier 1 hardware (no speed slowdown)
Access to servers hundreds of VPN servers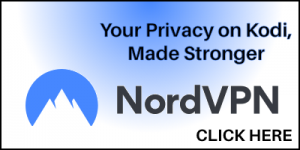 Click here to learn more about Kodi VPN protection