In this guide, we go over exactly how you get starting playing Axie Infinity, one of the trendiest NFT role-playing games available today. With step-by-step instructions, we'll walk you through creating an account, how to play Axie Infinity, and how you can level up faster.
If you are new to crypto games, don't worry! We'll walk you through common steps like:
Signing up to a cryptocurrency exchange like Binance where you can get your own coins
Sending those coins to a wallet that supports the game like MetaMask
Setting up Ronin Wallet, which allows you to play the game with zero gas fees
How to sign up for an Axie Infinity account and download the game to your computer or phone.
This guide is part of a new Crypto section on koditips.com. If you have any other crypto games you would like us to focus on, comment down at the bottom of this guide. If you play Axie Infinity and have any other tips to share, we would like to hear from you as well.
Related: Click here to read our complete guide on how to use the Axie Infinity marketplace.
What is Axie Infinity?
Axie Infinity is a blockchain crypto game with play-to-earn elements so that you can earn real world money for playing. It was inspired by the Pokémon game but has some design element changes.
The focus of this game is breeding, nurturing, and fighting cute creatures. Axie Infinity shows how the cryptocurrency and gaming worlds can coexist. It is considered one of the first AAA crypto game titles.
You can play Axie Infinity on iPhones, Android phones, and on desktop computers.
Axies
In Axie Infinity, there are animated character digital assets known as Axies. Players treat these Axies as pets. You can breed, train, and fight with your Axies and level them up by playing the game.
When you win your battles, you earn coins which can be used to further yourself in the game or cashed out for real world cash.
Players must own at least 3 Axies to initiate battles.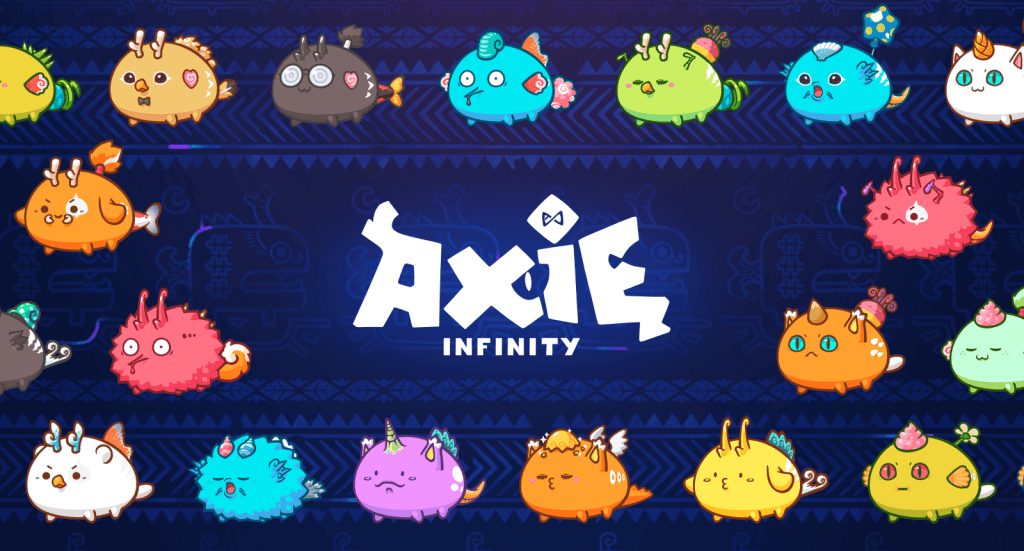 How Does Axie Infinity Work?
In the game, players breed, buy, and pit cute creatures or monsters called Axies against each other in a bid to win in-game assets, called Small Love Portion. These in-game assets can be exchanged for real-world money. Each Axie is a unique Non-fungible token (NFT) that players can buy or sell on different exchanges outside the game ecosystem.
There are a number of different ways to earn Axies in the game:
Player vs player (PVP) battles
Collecting rare Axies
Selling Axies on the marketplace
Breeding Axies
Players require Smooth Love Potions (SLP) to breed Axies. SLPs are highly volatile just like any other token. However if the popularity of Axie Infinity continues to increase, so will the coin as well.
Instead of rewarding for winning, players are rewarded for their efforts and talent. Players can breed and nurture creatures, and sell them on the marketplace for real-world money or for other cryptos.
As such, many online gamers now use their in-game tokens to pay their bills and fund their lifestyle.
Axie Infinity Coins
There are two many coins that are used in the Axie Infinity game: Axie Infinity Shard (AXS) and Smooth Love Potion (SLP).
Axie Infinity Shard (AXS)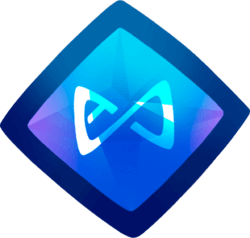 AXS stands for "Axie Infinity Shard". AXS functions as a governance token. It allows players to have a say in the project and vote on new features or directions in the game that the Axie team will take.
There is a maximum supply of 27 million AXS tokens. It also redistributes itself back into the game's ecosystem. When you breed, a fee is partially paid in AXS, which is added to the community treasury for redistribution.
Since AXS is tied to the success of the game, it allows you to earn money for supporting the game as its success grows.
AXS has a few other features too:
Staking in order to earn interest for staying committed to the project
Participating in public tournament
Governance votes
Generating new content
Smooth Love Potion (SLP)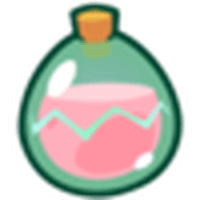 SLP is an acronym for "Smooth Love Portion." This is the in-game currency used in Axie Infinity and it is earned by completing missions or defeating opponents in the game. SLP can be used in the game to breed pets.
SLP is an uncapped token. The supply grows as more players play the game. The more games you play, the more SLP you will be able to earn.
As your Axies level up, the cost to breed and participate with them goes up. Therefore, you want to see a steadily increasing supply of SLP.
Gas Fees
Gas fees, as known as transaction fees, are paid by players by each transaction carried out on the Axie Infinity network. Players are subjected to gas fees because the entire operations of the game are built on the Ethereum blockchain.
You pay no gas fees in Axie Infinity when you use Ronin Wallet for your transactions. The Ronin siechain is a layer two Ethereum chain that sits on top of the Ethereum mainnet and is dedicated for Axie Infinity. We have a complete guide on using Ronin Wallet here which will get you setup.
As you can see in the chart below, you will pay heavy gas fees if you deposit or withdraw to Axie Infinity in any other way except for Ronin. The cost for withdrawing ETH directly to your ETH wallet can be over $20 USD per transaction.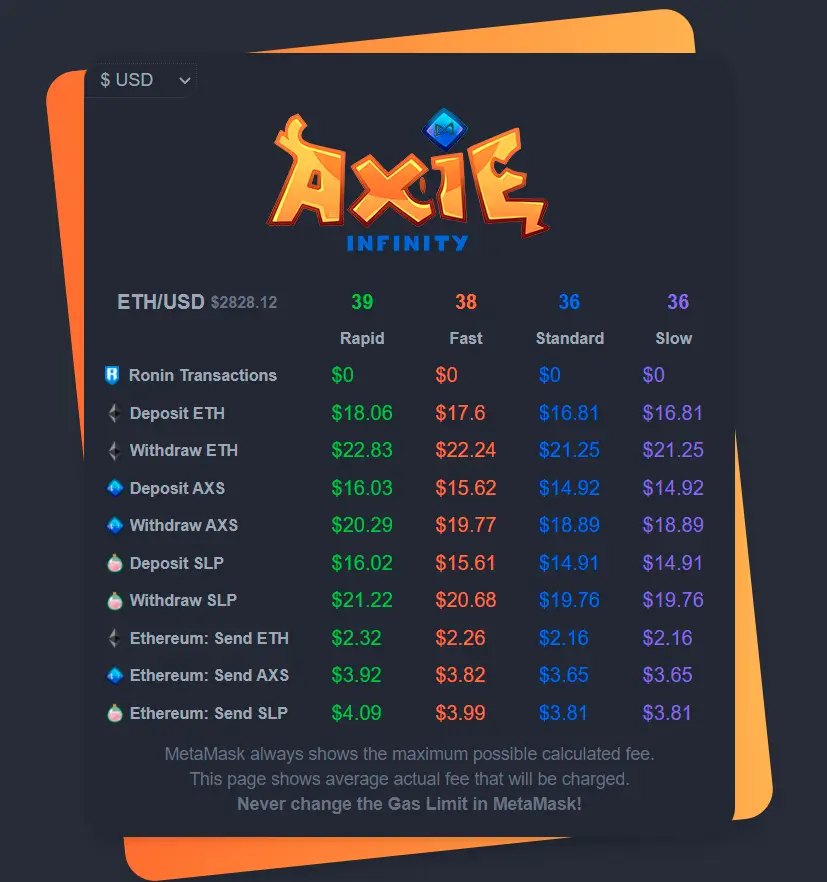 How to get started playing Axie Infinity
Before you get started playing Axie Infinity, ensure you have a reliable browser and a stable internet connection. Once you have these handy, you can follow the step by step guide below to get started.
Getting started in Axie Infinity requires a few different steps you must complete:
Setting up a MetaMask Wallet
Creating and setting up a Ronin Wallet for zero gas fee transactions
Deposit Ethereum to Ronin via MetaMask
Creating an Axie Infinity account
Downloading the game on your phone or web browser
All of the steps you need to take are below.
How to Sign Up and Setup Your MetaMask Wallet
Follow the instructions below to create an account on MetaMask, so that you can transfer Ethereum and play Axie Infinity.
If you are a beginner, we have a complete tutorial guide with pictures for every instruction here: How to create a MetaMask account.
Visit the official Metamask website at https://metamask.io/. Both Chrome and Firefox are supported by MetaMask, so make sure you are using one of those browsers.
Click the Download button in the top right corner of the Metamask home page.
Click on Install MetaMask for Chrome/Firefox.
In the Metamask store listing page, click on Add to Chrome or Add to Firefox, depending on which browser you are using.
Your browser will make sure that you actually want to install MetaMask in your browser. Read the disclaimer and then click on Add extension.
After MetaMask is done installing in your browser, click on MetaMask in your Extensions area to launch your wallet. You may have to restart the browser in order for MetaMask to show up in here.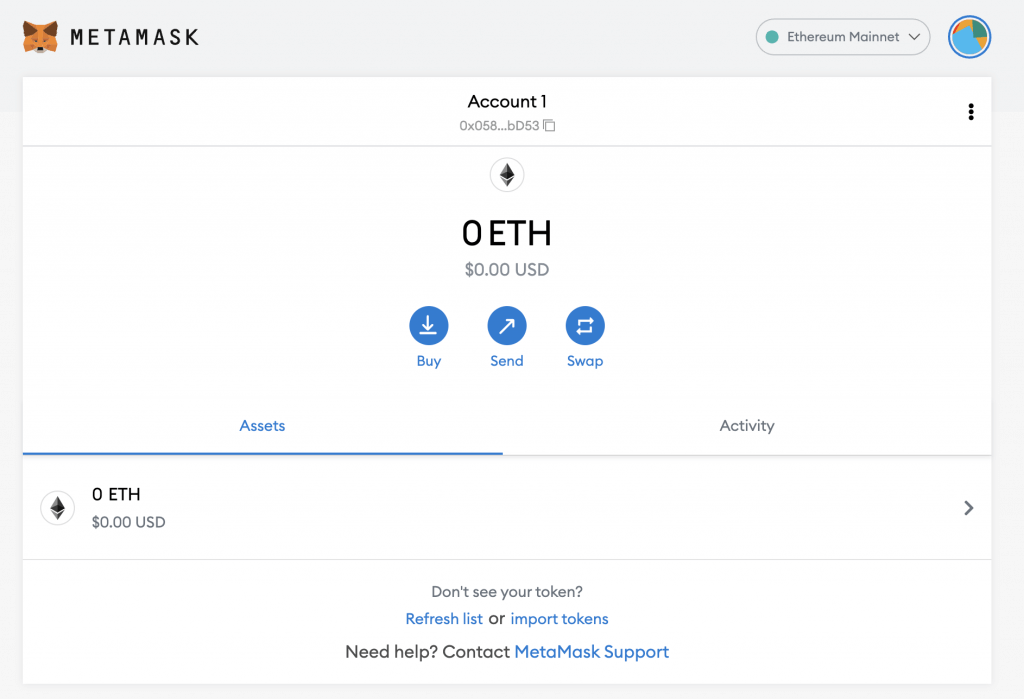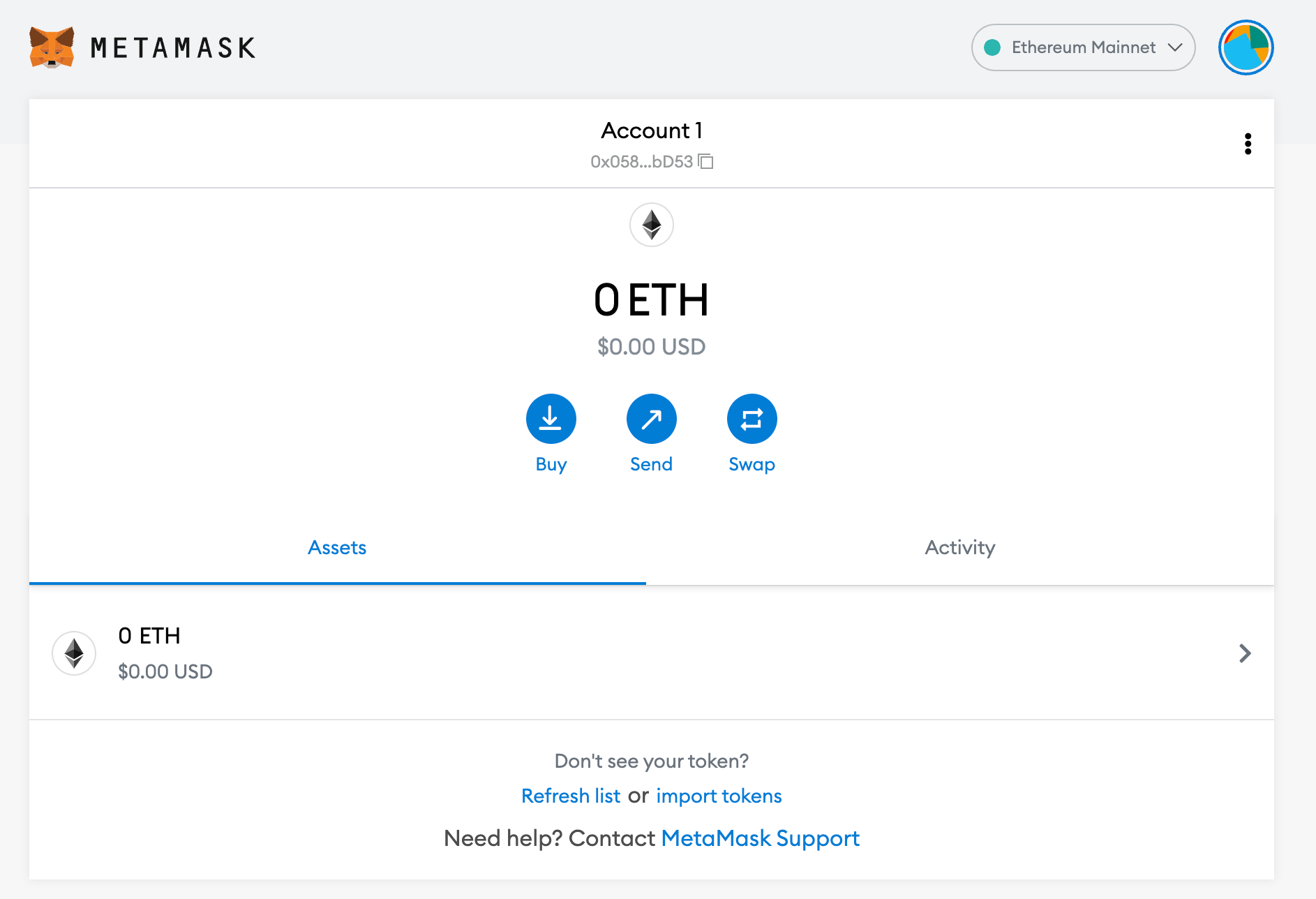 How to Create and Setup a Ronin Wallet
For complete instructions with more detail and pictures, check out our Ronin Wallet guide.
First, click here to visit the Ronin extension page for Chrome. Click on Add to Chrome to begin.
Click on Add Extension to download the wallet in your browser.
When it is done, launch Ronin from your browser extensions area.
When you launch Ronin Wallet from your Chrome extensions area, it will pop up with the splash screen below. Click on Get Started to begin.
You will be shown the welcome screen. Click on I'm new. Let's get set up! To begin.
First, you have to create a password for your wallet. Enter that In and then click on Create Wallet.
Next, you will be given your Ronin recovery phrase. If you ever lose access to your wallet, you need to enter in the 12 words provided in order to retrieve access. Click on Reveal Seed Phrase, write down your words, and then click Confirm Seed Phrase.
To confirm your account, you have to enter in four random words from your seed phrase. Enter those and then click on Continue.
Congratulations, your wallet has been created. When you launch it from your Chrome extensions area again, you will be shown your main dashboard.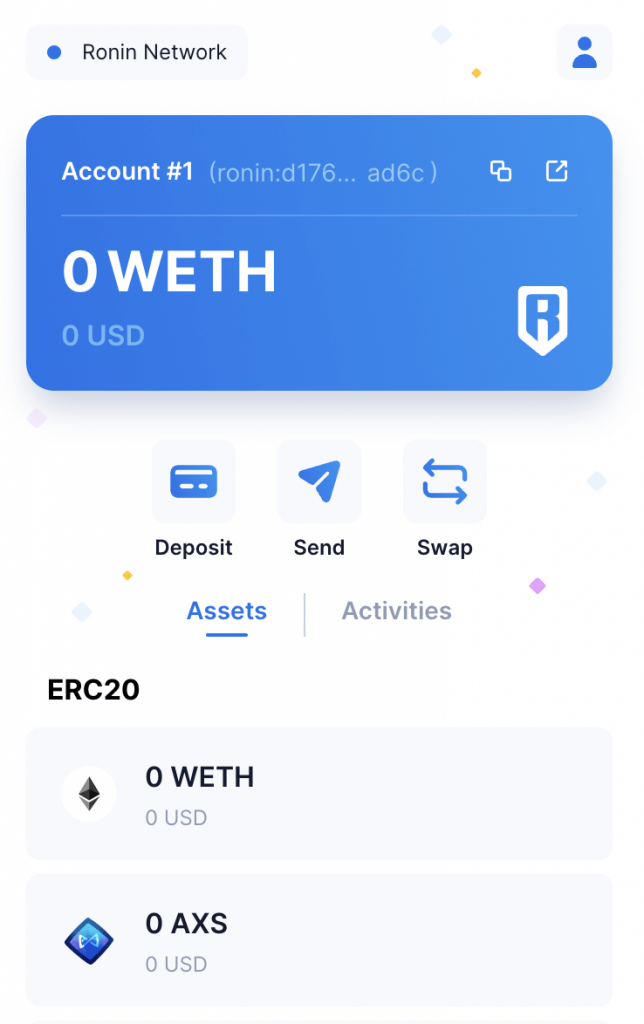 How to Deposit Ethereum to Ronin Wallet via MetaMask
Login to your main MetaMask dashboard and make sure the Ethereum Mainnet is selected.
Under the ETH section of the dashboard, hover over the account address and click on it to copy your address to your clipboard.
Go to Binance (or Coinbase or another crypto exchange) and log in if you aren't already. Click on the Buy Crypto button.
Enter in an amount in the currency box and then change the Receive option to ETH. Then, click on Continue.
Confirm your chosen source of payment on the next screen and then click on Continue. If you don't have valid payment info, you will have to load it here and then click Continue a second time after that is done.
Review your order details and then click Confirm to complete the transaction.
From the top menu, go to Wallet > Fiat and Spot to see your crypto balances. Under ETH, where you should see your deposity, click on Withdraw.
In the Address box, enter in the address of your wallet you copied from MetaMask. Set the amount you want to send and then click on Withdraw.
Once the ETH is in your MetaMask wallet, you can send it to Ronin Wallet via the Ronin Bridge website: https://bridge.roninchain.com/
Click on Deposit to start the process.
Your MetaMask wallet will pop up, asking you to connect Ronin Bridge to the wallet. Click on Next and then Connectto setup the two together.
Next, launch your Ronin Wallet and copy your account address to your clipboard.
Back in the Ronin Bridge, the screen will have changed to the Deposit page after you connected to MetaMask. To send coins from the Ethereum Network to the Ronin Network, paste your Ronin address in and choose ETH as your asset (unless you have other coins you are transferring to Ronin) and then enter in an amount.
When you are done, click on Next. You will review your transaction and then click Confirm too send Ethereum token to your Ronin Wallet.
When the transaction is complete, your money will appear as WETH in Ronin.
How to Create an Axie Infinity Account
In order to get started playing Axie Infinity, you need to purchase 3 Axies from the marketplace in order to complete your starer team. The price of Axies changes with the supply and demand of the game.
First, visit the Axie Marketplace and click on Login on the top navigation bar.
Click on Login with Ronin Wallet.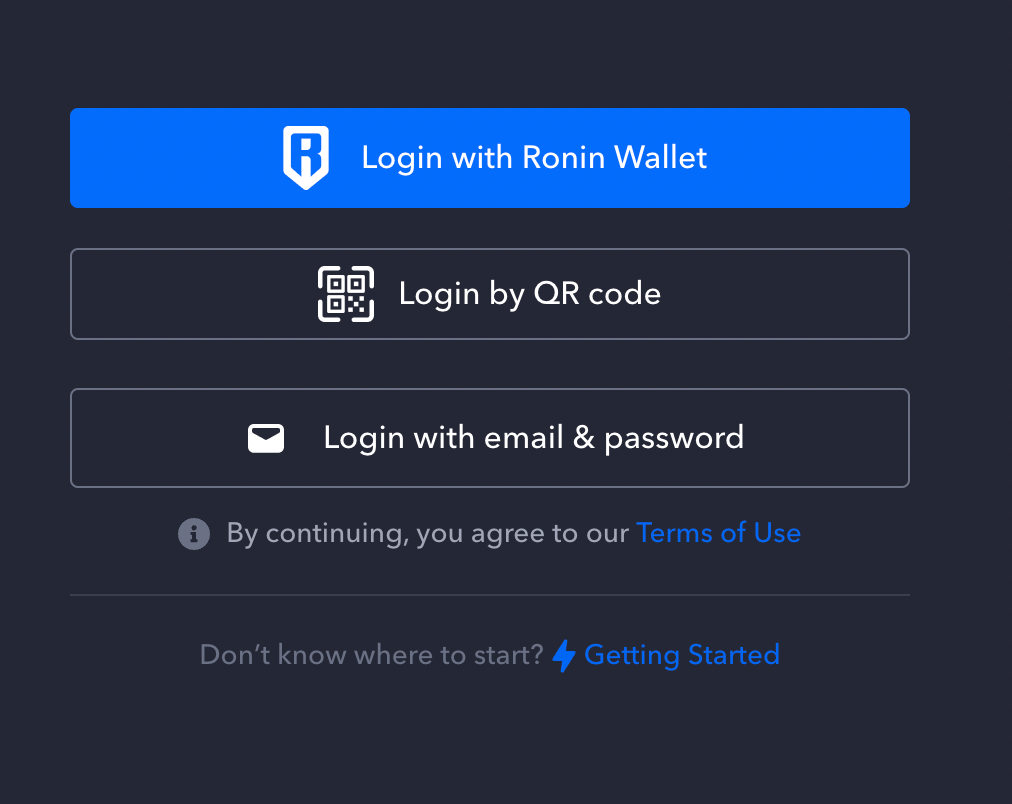 Ronin Wallet will popup in your browser, asking you to confirm that you want Axie Infinity to be connected with your wallet. Click on Confirm.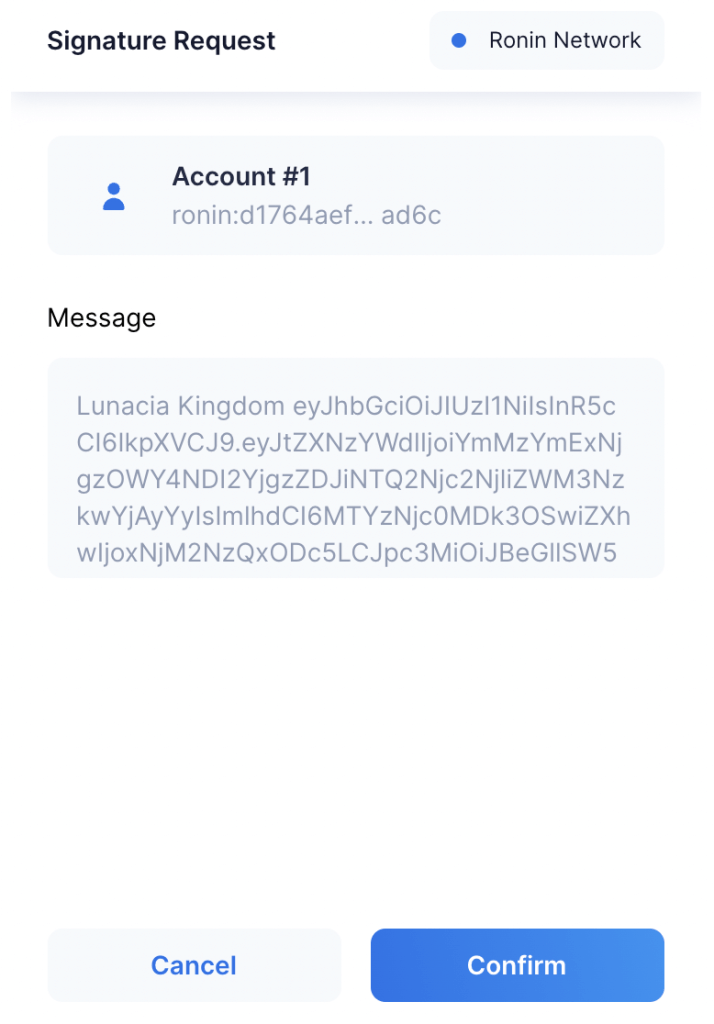 Pick a username to use in Axie Infinity and then click on Save.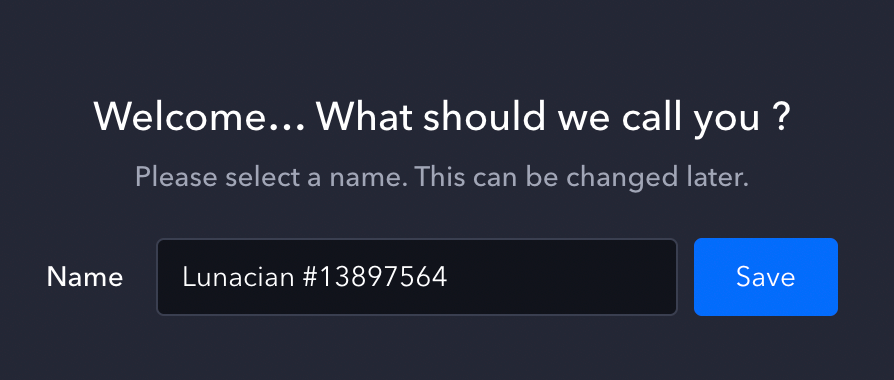 Before you can start playing, we need to complete setting up your account. Click on Set up email & password .

Enter in your email and password that you want to use in the game and then click on Confirm. The game will email you a code which you must enter and then click Confirm to finish verification.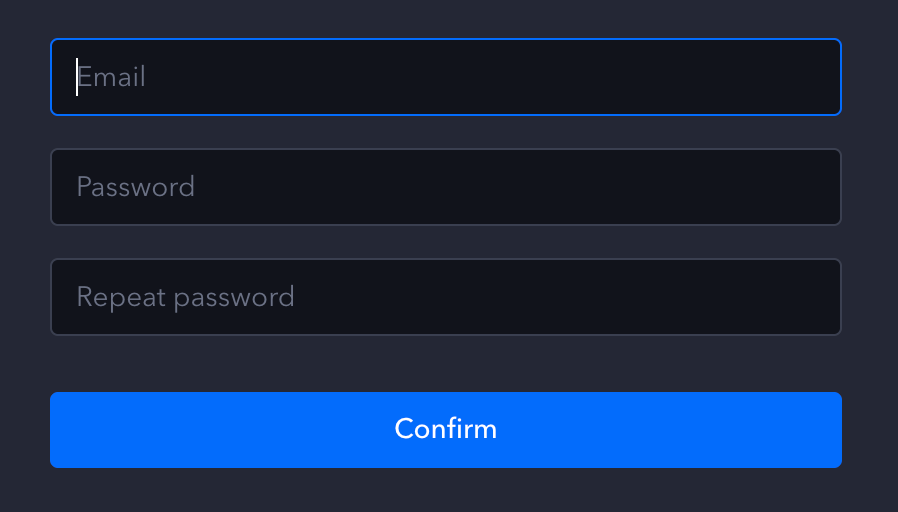 You now have an Axie Infinity account to play the game with. There are 2 steps left: buying 3 Axies from the marketplace and then downloading the actual Axie Infinity game to play.
How to Buy Axies From the Marketplace
3 Axies are required on your team before you can play the adventure mode or arena mode in the game. If you aren't already there, go to the Axie Marketplace and see what Axies are available to buy by clicking on Marketplace in the top header.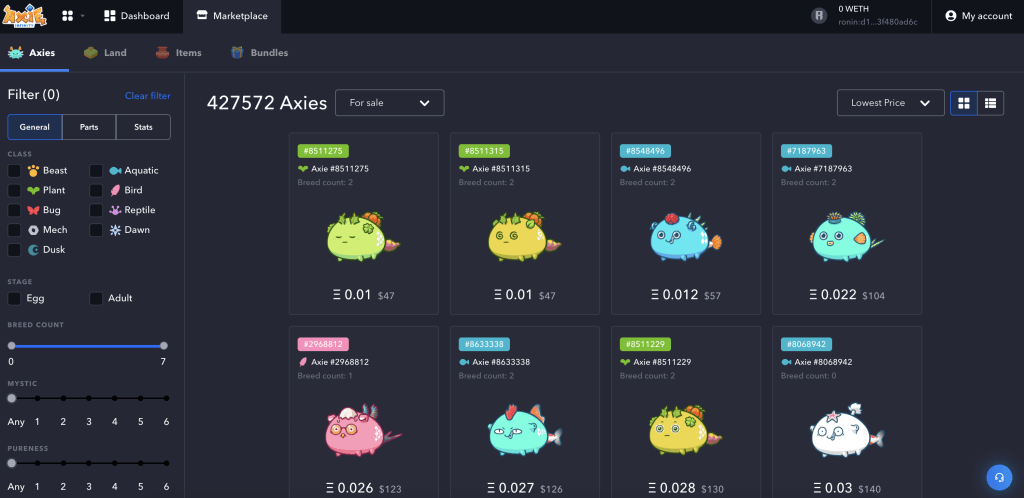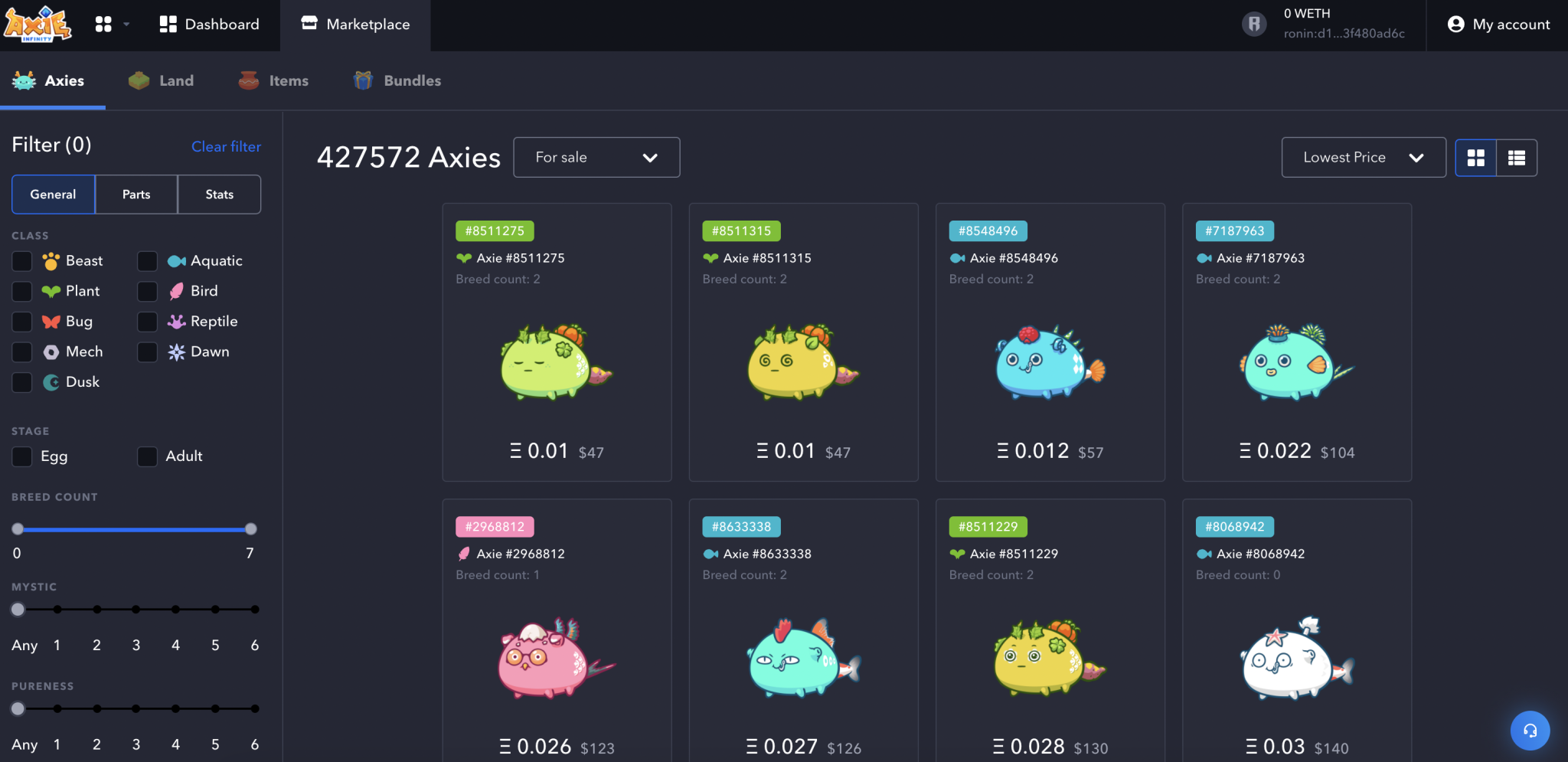 Select the Axie you want to purchase to go into the specific for your character. This screen will show you important information, such as:
Breed count
Stats
Body Parts
Abilities
Parents and children
Sale history
Click on Buy Now to buy your Axie. You must have Ethereum in your Ronin wallet to complete the purchase.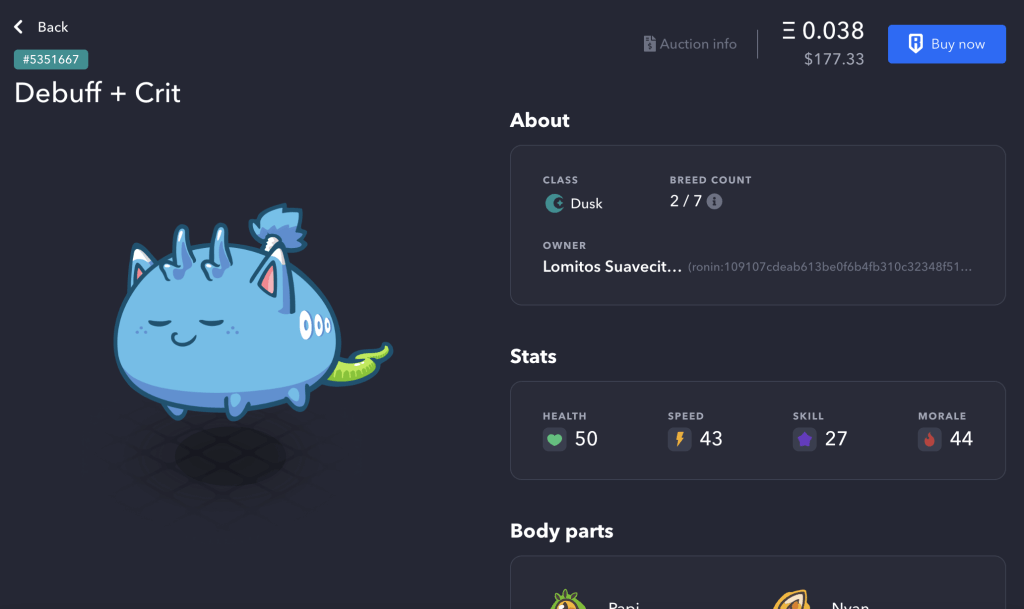 How to Download Axie Infinity
Finally, you can download the Axie Infinity game, sync up your account, and begin playing. To start, go to the official website. Click on Play Now to begin.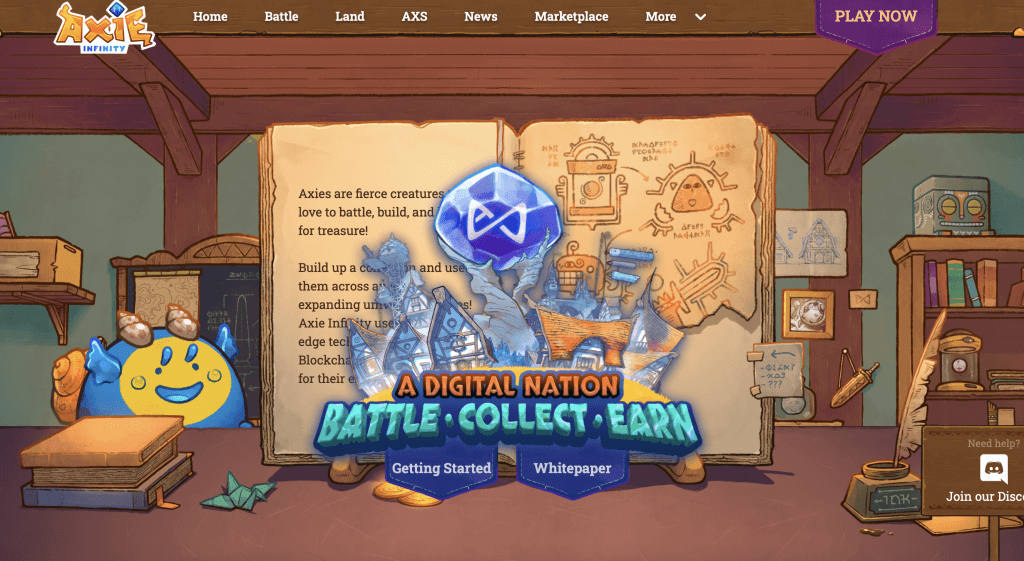 Mavis Hub, the launcher for the game, will begin downloading on your device. You can also download the game for other devices here.
When your download is done, double click on the installer file and follow the prompts to install Axie Infinty on your computer. Launch Mavis Hub and enter in the email address and password you used when you signed up for the marketplace. Then, hit Login.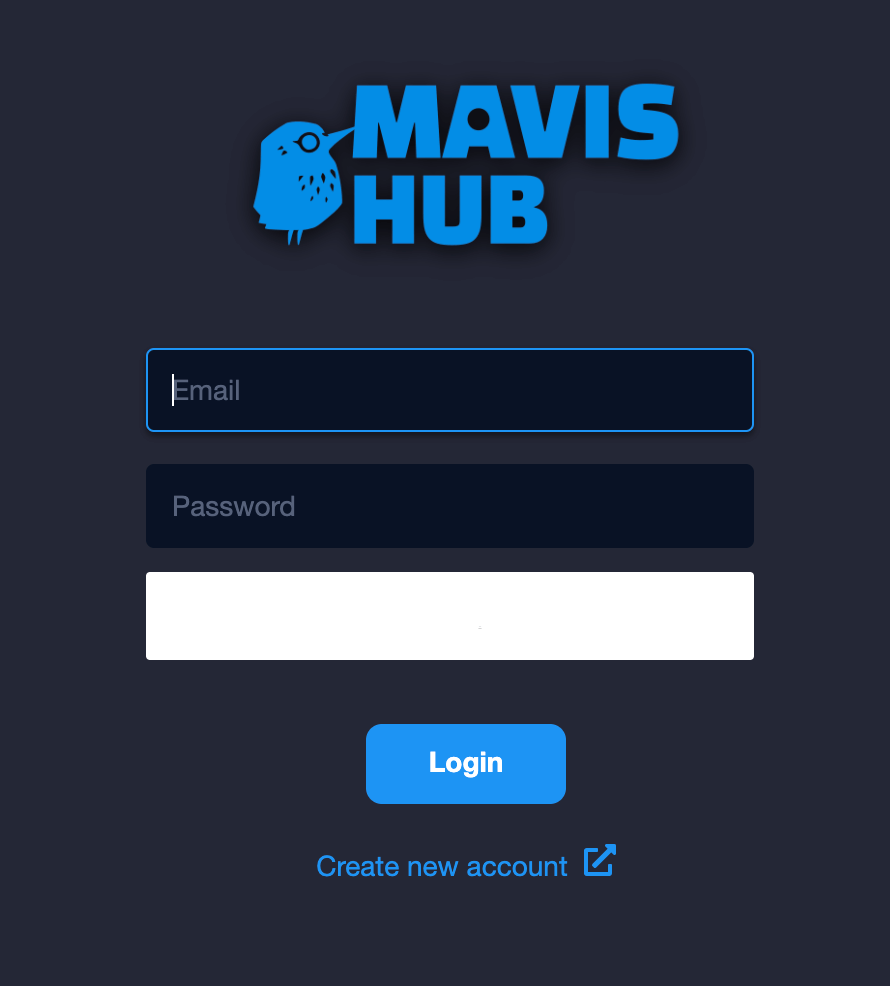 When Mavis Hub launches, choose Axie Infinity on the left side and then click on Install. The game will install on your computer.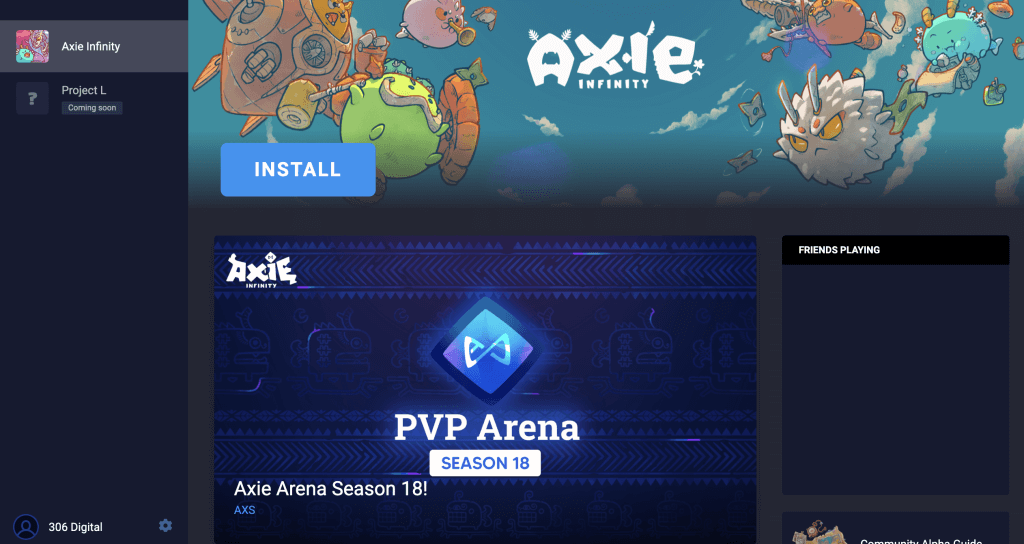 When it is done, Mavis Hub will change your button to Play, which you can click to start Axie Infinity and begin playing!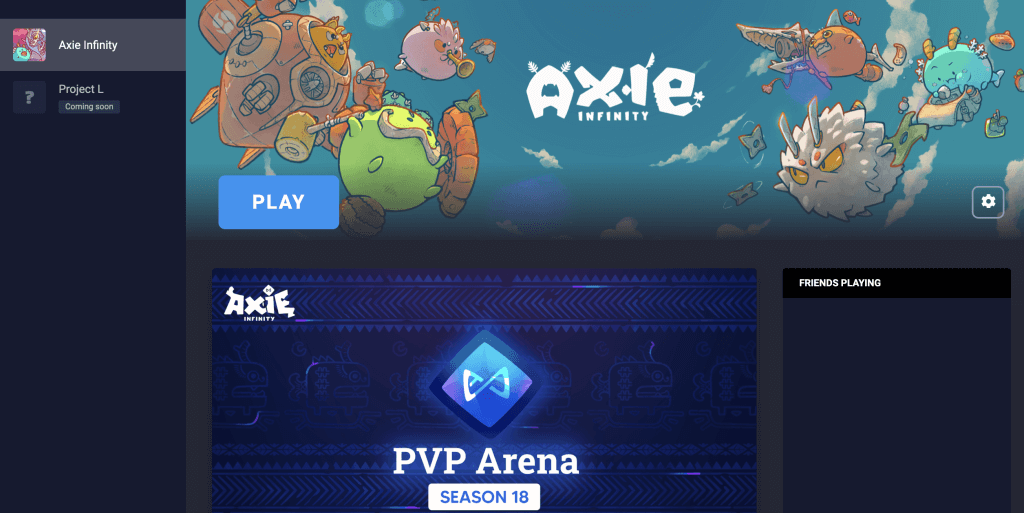 You're now set to play Axie Infinity!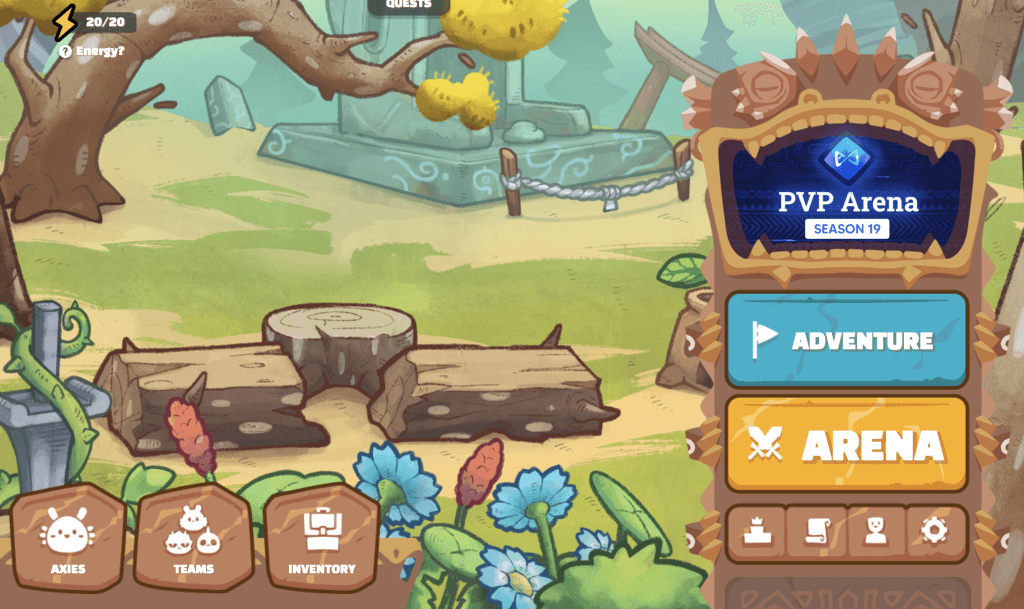 How to Make Money Playing Axie Infinity
There are a few different ways to make money playing the game.
Buying and Selling Axies
You need a minimum of three Axies in order to play the adventure mode in the game. You can battle, breed, and spawn new Axies in the game. With these characters, you can sell them on the marketplace in exchange for Ethereum which can be sold for real money.
If you click on an Axie in the marketplace, you will see a summary of all the times it has been bought and sold and for what price.
Axie Scholarship Fund
The Scholarship fund is a feature in the game that offers scholarships to new players who cannot afford to buy their own Axies. You earn revenue by splitting profit with the player of the game.
Holding AXS
The price of AXS is determined by how popular the game gets over time. If you believe that the popularity of Axie Infinity is going to increase in the future, then holding AXS is a smart decision. By holding, you will have the opportunity to sell later for a higher price.
Frequently Asked Questions about Axie Infinity
How does Axie Infinity work?
Axie Infinity is a play-to-earn crypto game that rewards players who commit to the game. It takes components of Pokemon where you have to raise, train, breed, and battle animal characters called Axies. You can earn money by buying and selling Axies, battling in the game, and by staking the AXS coin long-term.
How much does an Axie cost?
The cost of an Axie character is as low as 0.01 ETH. In November 2021 when Ethereum was $4,800, the cost of an Axie started at $48.
What is SLP in Axie Infinity?
SLP stands for Smooth Love Portion and it is the in-game currency used in Axie. It is earned by completing missions or defeating opponents in the game. SLP can be used in the game to breed pets.
What is AXS in Axie Infinity?
AXS stands for "Axie Infinity Shard". AXS functions as a governance token and it allows players to have a say in the project and vote on new features or directions in the game that the Axie team will take. The price of AXS increases or decreases with the popularity of the game, allowing early adopters to make money with it.
How many players does Axie Infinity have?
There are currently over 1.5 million active players in the game.
And that is our ultimate guide to getting started playing Axie Infinity. If you have any questions or tips to share, comment down at the bottom of this guide and let us know.