Warning
: Array to string conversion in
/srv/users/serverpilot/apps/koditips/public/wp-content/plugins/luckywp-table-of-contents/plugin/Shortcode.php
on line
287
Lots of streamers use a Bluetooth adapter to listen to TV audio on wireless headphones. In this guide, we take a look at the best Bluetooth transmitters you can buy.
Smart TVs are packed with a ton of apps and features, but a lot of them don't have easy Bluetooth connectivity.
If you recently bought one of these, comment down below and let us know what you think.
The Best Bluetooth Adapters for Streaming
Best Bluetooth adapters for streaming
These are the best Bluetooth adapters for streaming you will ever find.
What is a Bluetooth Adapter?
A Bluetooth adapter is an electronic device that helps you transmit audio from your TV to a Bluetooth devices like wireless headphones and speakers. The headphones or speakers usually have a Bluetooth receiver in order to decode the receiving digital signal into audible audio.
There are some TV Bluetooth adapters that serve as a receiver too. They can be connected to broadcast songs and speakers from your PC or mobile devices.
The adapters below allow you to easily add Bluetooth capabilities to your TV or media centerr.
Next, we take a look at our top Bluetooth adapters in more detail.
TaoTronics Bluetooth Transmitter Review
TaoTronics Bluetooth Transmitter is a dual Bluetooth adapter that can transform a non-Bluetooth TV into a Bluetooth transmitter. With TaoTronics Bluetooth Transmitter, you will enjoy high fidelity stereo sound without lip-sync delay.
Set this Bluetooth transmitter to TX mode and connect it to your TV. This transmitter supports RCA and AUX connectors, so ensure your audio sources have one of these kinds of jacks. Plus, the built-in battery can serve you up to 10 hours of continuous streaming.
If you're looking for a high definition codec for a richer and deeper sound experience, the TaoTronics Bluetooth Transmitter has got you covered.
TaoTronics Bluetooth Transmitter Features
You can easily pair it with two headphones simultaneously
It can stream audio even while charging
It has one button control
The built-in battery can last up to 10 hours
No products found.
ZIOCOM Bluetooth Adapter Review
The ZIOCOM Bluetooth adapater that can make your TV Bluetooth-enabled to stream audio to your Bluetooth speakers and headphones. It supports aptX low latency so that you enjoy delay-free audio transmission.
We liked how using the ZIOCOM Bluetooth Transmitter was simple and straightforward. The first step is to power on the transmitter with a USB cable, then switch to TX mode. Then, switch to AUX and insert the AUX cable. Once you're done, press the A/B button to pair with your headphones to start streaming. The AUX mode is only applicable if you use RCA or 3.5mm audio cable.
This transmitter is equipped with dual antennas to extend its transmission range. ZIOCOM Bluetooth Transmitter can be paired with two Bluetooth headphones simultaneously to share your favorite music or movies.
ZIOCOM Bluetooth Transmitter Features
Comes with dual antennas for enhanced Bluetooth signals
Supports digital optical/AUX/RCA multiple audio output
Supports volume addition and subtraction for devices without volume control
Can pair two headphones simultaneously
ZIOCOM Bluetooth Transmitter Receiver for TV, Home Stereo Speakers, 2-in-1 Wireless Audio Adapter with aptX Low Latency, Bypass Mode, Optical AUX RCA Connection, Pairs 2 Devices Simultaneously
BLUETOOTH 5.0 VERSION - Provides optimum transmission efficiency, stability and ultra-low power consumption. Supports A2DP, AVRCP, SBC, APTX, aptX-LL, and aptX-HD multiple decoding; Equipped with HD lossless decoder, bringing a "better-than-CD" listening experience to you
3-in-1 TRANSMITTER & RECEIVER - Transmitter mode: add Bluetooth function to non-Bluetooth device, turn a non-Bluetooth TV, PC, CD, MP3 / MP4 into a Bluetooth transmitter, transmit audio to Bluetooth headphones or speakers; Receiver mode: Convert old stereo or wired headphones to a wireless Bluetooth devices, pair with smart phone or tablet, enjoy music or audio by a easy cable-free solution; Bypass mode is also supported
TROND Bluetooth Adapter
The TROND Bluetooth adapter is a powerful Bluetooth adapter that you can use to stream audio from your TV to your wireless headphones or speakers. It can serve as both a transmitter and receiver depending on usage.
The first step is to long-press the ON button for three seconds to power the device on. Then double-tap the device to activate its pairing mode. Turn on your Bluetooth headphones and get them ready for pairing. Once paired, connect it to your TV via the 3.5mm AUX cable, and start enjoying continuous audio.
In the transmission mode, you can pair two headphones or speakers and stream audio to both of them simultaneously. With this transmitter, you can enjoy CD-like audio quality wirelessly on your headphones via your TV.
TROND Bluetooth Transmitter Features
Provides about 8-hour battery life and can be fully recharged within 2 hours
You can charge it while it's working
Can pair two or more headphones and speakers
Avantree Oasis Plus Bluetooth Adapter
The Avantree Oasis Plus Bluetooth adapter is a 164 feet long-range transmitter, receiver, and bypass. It enables your TV to stream audio to your Bluetooth headphones or speakers. This transmitter includes full-function like pairing, voice prompts, and codec LED indicators.
With this transmitter, your family will enjoy uninterrupted audio via Bluetooth headphones and a wired speaker simultaneously with independent volume control. It lets you play audio from both your headphones and soundbar simultaneously even for TVs with only 1 optical port.
Avantree Oasis Plus Bluetooth Transmitter Features
Can be used as a pair to extend wireless range
Equipped with built-in volume control to easily adjust volume on devices that didn't come with volume control buttons
Uses aptX low latency to eliminate lip-sync delay
Compatible with devices with Optical, RCA, and AUX audio outputs
Sale
Avantree Oasis Plus Bluetooth Transmitter & Receiver for TV, Easy to Install, Soundbar PassThrough, aptX Low Latency & HD Audio Adapter for 2 Headphones
[Perfectly Synced Visual-Audio] The Avantree Oasis Plus is aptX Low Latency certified. When (and ONLY WHEN) used with a Bluetooth headphone/speaker that also supports aptX Low Latency or FastStream, it will deliver the ultimate "no lip sync delay" experience, ensuring perfectly synced visual and audio no matter what you watch.
[Works Alongside your Speaker] The "Pass-Through" or "Bypass" feature of Oasis Plus guarantees simultaneous audio output through the headphones (that are connected to Oasis Plus) AND your external TV speaker such as Sound Bar or Stereo AVR, so other household members can still hear the TV while you're using the headphones.
Giveet Bluetooth Adapter
The Giveet Bluetooth adapter is a 3.5mm audio cable or RCA cable transmitter that can turn non-Bluetooth devices into Bluetooth devices. It supports 40ms low latency, fast auto-connection. It also simultaneously pairs with 2 Bluetooth devices. With Giveet Bluetooth Transmitter, you will enjoy real-time audio streaming from your TV anywhere you want.
This device only works as a Bluetooth transmitter, streaming high quality audio to Bluetooth headphones, speakers, and Airpods. Just plug the transmitter into your TV and pair with your headphones or speakers, and you are good to go. The connection doesn't require any driver installation.
It is lightweight and has a unique color. It comes with one button and a working status indicator.
Giveet Bluetooth Transmitter Features
Audio reconnection after paired successfully
The battery can last up to 14 hours while the charging time is 2 hours
No lip sync delay
Continue streaming audio while charging
1Mii Bluetooth Adapter
The 1Mii Bluetooth Transmitter is an adapter that enables Bluetooth functionality in non-Bluetooth devices like your TV and DVD. It is built with aptX low latency technology to eliminate audio delay and guarantee perfect synchronization in gaming.
Connect the transmitter to a power source with 5V power cable and plug the transmitter with 3.5mm AUX or RCA cable to your TV. Long press for 3 minutes to turn on the adapter. Prepare your headphones or speakers for pairing with the transmitter. Once paired, you can stream uninterrupted audio even while charging.
1Mii features volume control buttons to control headphones without volume control function. Plus, you can pair with two Bluetooth speakers or Bluetooth headphones one by one easily.
1Mii Bluetooth Transmitter Features
Equipped with dual antennas for improved signals.
Once connected to your TV, you can pair two headphones or speakers simultaneously.
Sale
1Mii B06TX Bluetooth 5.2 Transmitter for TV to Wireless Headphone/Speaker, Bluetooth Adapter for TV w/Volume Control, AUX/RCA/Optical/Coaxial Audio Inputs, Plug n Play, aptX Low Latency & HD
【ENTER WIRELESS AGE w/ minimal COST】Upgrade non-smart/non-Bluetooth TV to pair headphones for enhancing your hearing or get an undisturbed personal space.Connected TV to Bluetooth Home Stereo, no need to replace your old TV, our Bluetooth audio transmitter for TV-RANGER help you upgrade the old one and CUT OFF the budget for a new.
【MINDLESS OPERATION】No need to be a tech junkie,Simply press the power button to start, and the Bluetooth adapter will automatically connect.Compatible with 99% of TVs, headphones or speakers on the market,supports Optical/ AUX / RCA Audio output.
Fosi Audio Bluetooth Transmitter
The Fosi Audio Bluetooth Transmitter is a Bluetooth adapter designed for non-Bluetooth devices like some old model TVs and DVD players. This transmitter was designed to answer the growing demand for high-resolution audio. It supports 24-bit music quality over Bluetooth, meaning, you will hear even the smallest details while streaming.
This transmitter is equipped with dual antennas to extend its transmission range. You can pair up to two Bluetooth headphones simultaneously to share your favorite music or movies.
The Fosi Audio Bluetooth Transmitter delivers audio in sync with what you are watching on your TV. The package comes with Type-C power cable, 3.5mm audio cable, and 3.5mm to RCA cable. You will also get an optical cable and a user manual. The bypass mode easily converts audio format between 3.5mm AUX and optical. Plus, it is ideal for the home streaming sound system.
Fosi Audio Bluetooth Transmitter Features
Built-in battery can last up to 10 hours
Reduces delay and improves the end-to-end speed of the audio transmission
Easily pair it with two headphones simultaneously
How to Connect a Bluetooth Adapter to a TV
There are two main ways to connect an adapter to your TV, depending on what kind of outputs are on it.
3.5mm Audio Port
Some TVs have a 3.5mm audio port for connecting to. This is the same connection that traditional headphones plug into.
If you have this, plug the right cable from your Bluetooth adapter in to this spot on your TV.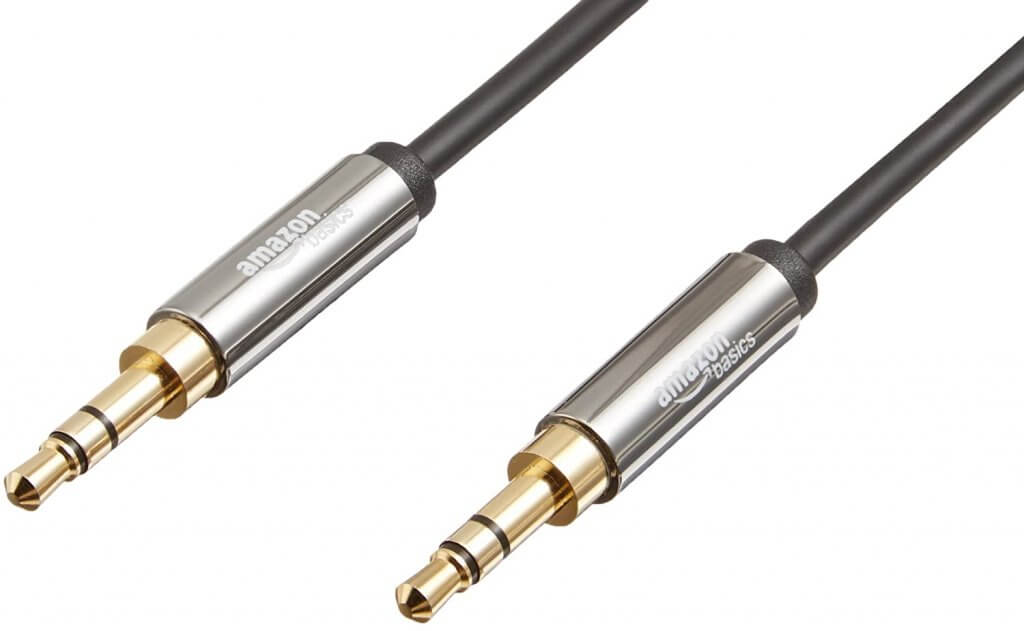 Red and White AUX Ports
Other TVs have red and white audio output ports on the back. The red and white plugins separate your left and right ear audio into separate connections.
Again, plug the attached AUX cable into this spot on your TV.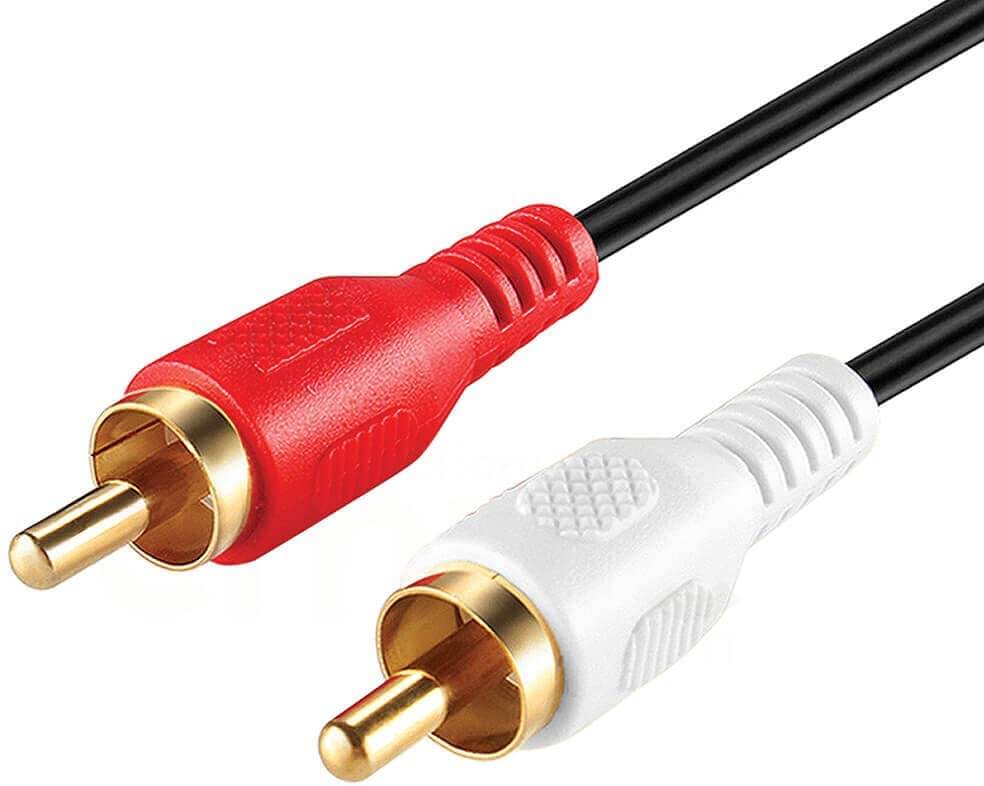 Pay attention to what cable your Bluetooth transmitter comes with. If you need a conversion cable to get into the right format for your TV, check out the one below.
Have you used a Bluetooh adapter to stream media to your headphones? Comment below and let us know what you've found work well.