If you buy, sell, or collect NFTs, then knowing your rarity is important to know the value of your portfolio. In this guide, we go over the top NFT rarity tools that you need to know about.
Specifically, we go over:
5 best NFT rarity tools to try today
Key features you should know about in each tool
How NFT rarity is calculated
If you have a favorite NFT rarity tool, comment down below and let us know.
Best NFT Rarity Tools
Here are our picks for the best NFT rarity tools:
Rarity Tools
Most Popular NFT Rarity Tool
Rarity Tools is the most popular NFT rarity tool in the world today. Rarity Tools will help you rank the rarity of art NFTs and collectibles in real-time. You can use this platform to sort NFTs by average price, volume in ETH, and the available collections.
All of the most popular NFTs are on Rarity Tools, including Bored Ape, CryptoPunks, and Mutant Ape Yacht Club. In fact, we searched for a few obscurew pieces from our collection and were surprised at how well Rarity Tools worked.
All the collections listed on Rarity Tools have their individual pages, where you can see all the NFTs and their various attributes through their detailed cards. This platform also gives each NFT a rarity score, which makes it easy for NFT traders to easily find rarest assets.
So, if you are looking for a platform to help you analyze an NFT collection, Rarity Tools has got you covered. However, keep in mind that the platform charges creators 2 ETH to list digital collectibles.
Click here to view Rarity Tools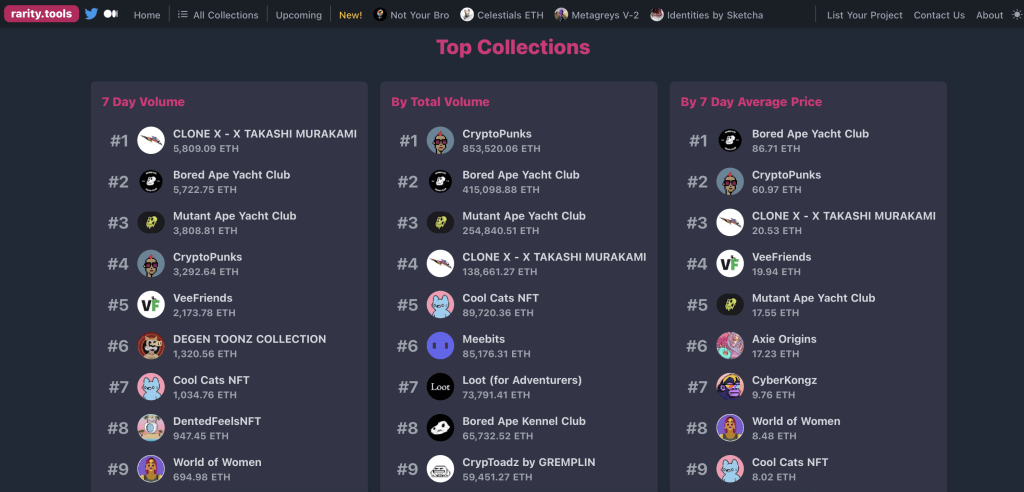 HowRare.is
Best Solana NFT Rarity Tool
HowRare.is is the most suitable NFT rarity tool used to check the rarities of all the NFTs created on Solana blockchain. HowRare.is features over 255 Solana NFT collections based on the floor price, holders, sales status, as well as the number of items.
It is similar to Rarity Tools in that you can find NFTs based on their individual rarity in different collections. When you click on an NFT, you can find the NFT's rarity score, rarity rank, and attribute details.
HowRare.is has a sales history section where users can easily find all the details of the sales that occured on the platform. The site can also let you use the asset ID to check the rarity of your NFT. Plus, you will get the details of all upcoming Solana collections at your fingertips.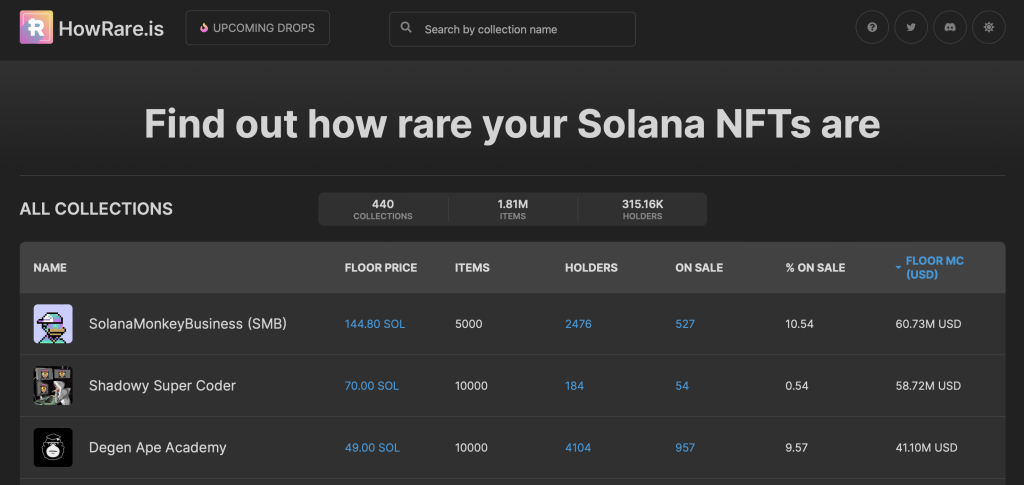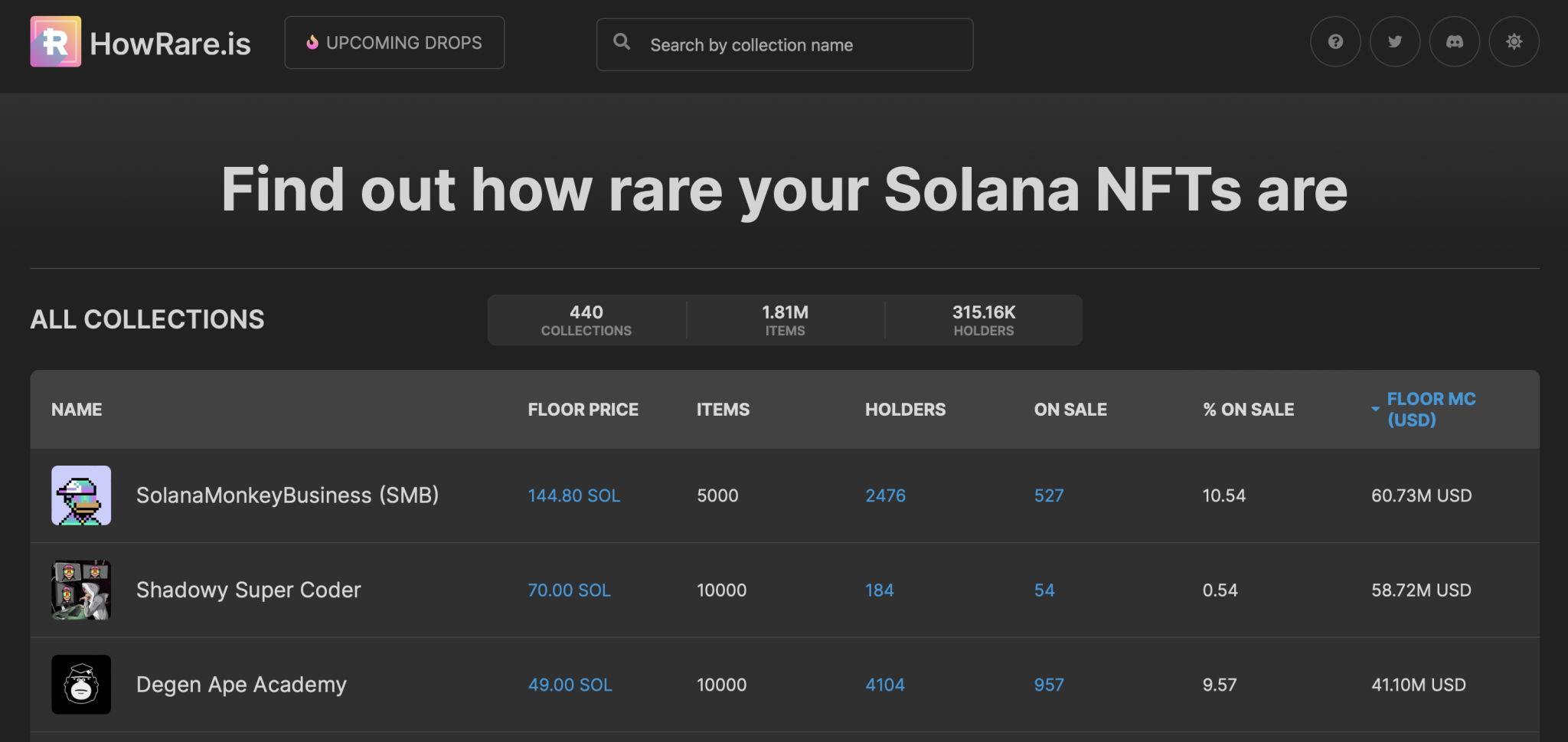 Rarity Sniper
Best Developer NFT Rarity Tool Platform
Rarity Sniper is a popular NFT rarity platform accessible to developers, content creators, and NFT traders. With Rarity Sniper, you can easily find the rarity of NFTs and their individual attributes.
Rarity Snipe features over 774 collections across a wide range of blockchains, including Ethereum and Solana. With your first visit to the site, you will see NFT rarity rank, score, and all the traits. It has an attractive and user-friendly interface.
Rarity Sniper also boasts of a solid Discord channel where you can meet and network with other users. The Discord channel gives you the opportunity to find the rarity of NFTs.
To check the rarity of an asset, go to the "rarity-check" tab and enter this bot command:
!rarity [collection] id/rank [id].
In this command, collection is the name of the collection while id/rank is the asset number. For instance, to check the rarity of Bored Ape with number #9606, type this command in the space provided:
!rarity boredape id 9606.
Click here to view Rarity Sniper


Traitsniper
Best NFT Rarity Tool with Opensea Integration
Traitsniper is an NFT rarity checker that you can leverage to search for specific details on new NFT projects. Traitsniper really focuses on ongoing and upcoming projects.
Once you query Traitsniper bot, within a few minutes, it will analyze the rarity of new NFTs and display their rankings, rarity score, and other attributes. You can then make an informed decisions on the NFTs you see.
Traitsniper comes in both free and paid versions, with the paid version offering real-time notifications of new projects and their scores.
Traitsniper provides a wide range of information about NFTs, including rarity rank, rarity score, OpenSea Highest Offer of a specific NFT, as well as OpenSea Price. You can even use the platform to check for individual traits with their corresponding rarity score.
Click here to view Traitsniper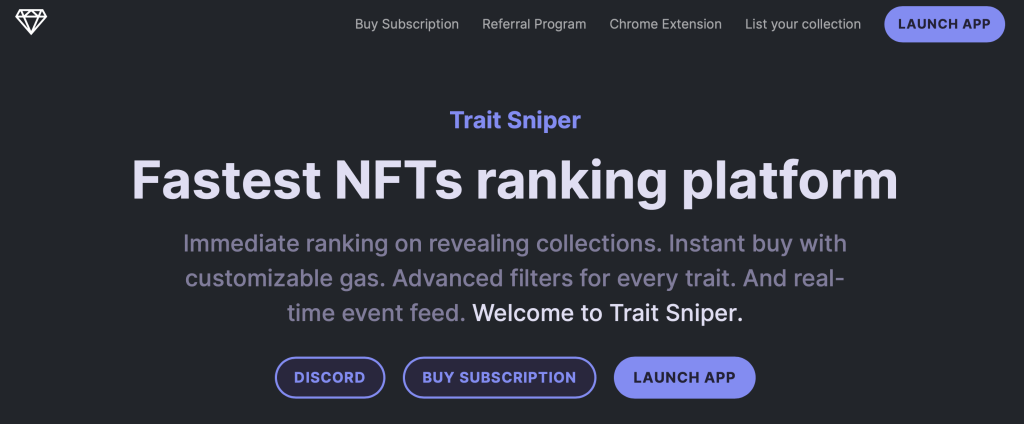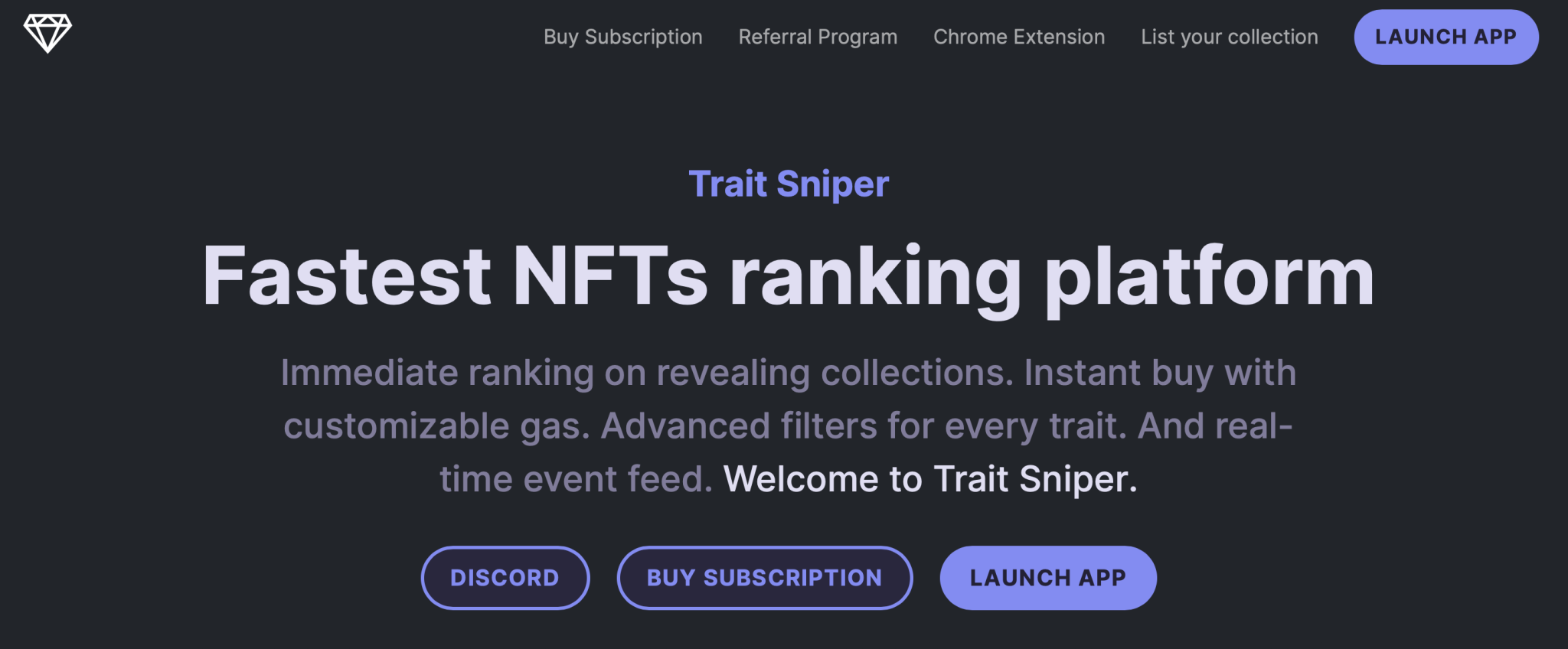 NFTinit
Best NFT Analytics
NFTinit is a user-friendly platform for analyzing and revealing various NFT collections on the market. Once you click on any of the available NFT collections, their individual data will enable you to gain better insights about an asset. From there, you can see an NFT rarity rank and rarity score. Using NFTinit, you apply different metrics to analyze any NFT of your choice.
NFTinit lets you create and build your portfolio so you can easily track the progress and performance of your favorite NFTs. At the moment, it tracks more than 300 NFT collections across different blockchains.
NFTinit also provides users with a list of the top ranking NFT collections. This means, just by glancing through the landing page, you will know the NFTs that are booming on the market.
NFTinit has a new pricing calculator feature as well. You can input your buy and sell price, gas fees, and other information and see exactly how much profit you earn or lose in a trade.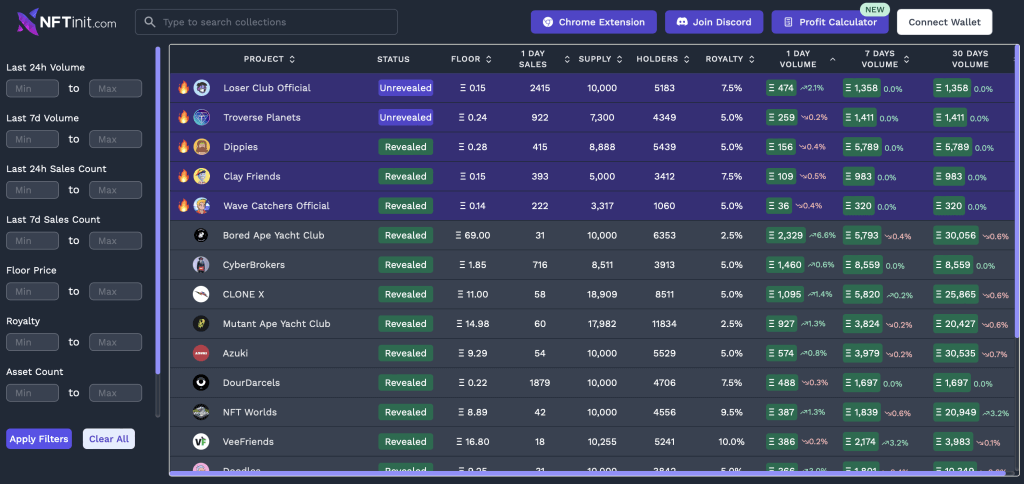 And that is our list of the top NFT rarity tools. Next, we go through these tools in a little more detail, teaching you how rarity is calculated and how to maximize your earnings.
What is NFT Rarity?
Rarity is the unique trait of an NFT that makes it stand out from the crowd. Rarity is a measurement of how unique your NFT is. If an NFT is both unique and popular, It has a high rarity.
NFT rarity is one of the most important factors crypto enthusiasts consider when looking to purchase or sell NFTs. Rarity is the top factor that pushes the price of an NFT high.
How is NFT Rarity Calculated?
Several formulas have been developed to help NFT traders to easily calculate individual NFT rarity. Some of these formulas include:
Average Trait Rarity: This formula is used to calculate the average value of the rare traits present in an NFT. If an NFT has two different traits, you can use this formula to get the average rarity trait by dividing the two of the traits by 2.
Trait Rarity Ranking: This formula is used to compare the rarest traits of different NFTs. The least figure from the computation is the rarest.
Statistical Rarity: You can use this formula to compute the overall rarity of an NFT. All you need to do is to multiply its trait rarities.
Rarity Score: This is a rarity ranking formula. It is the most accurate in the NFT space. Rarity Score gives a balanced ranking and takes into consideration factors that trait rarity, average rarity, and statistical rarity missed out.
Generally, to calculate the rarity of an NFT, divide the rarity score of a trait value by the total number of items in collection.
What are Rarity Tools?
Rarity tools are websites or platforms that help you find rare and valuable NFTs from a collection. They classify each NFT and give it a rarity rank based on various attributes for each collection.