This is the ultimate guide to the FTX Crypto Exchange. Newer than Binance or Coinbase, FTX has risen in popularity and is one of the most popular places to trade cryptocurrencies.
FTX has some special features that we cover in this guide, including:
The FTT crypto token
The different types of trading options on the exchange
A breakdown of all of the fees on the site
Features of FTX Pro
How to use FTX's special features
If you think we've missed anything about the FTX crypto exchange that others should know, make sure to comment at the bottom of this guide.
What is FTX?
FTX is a young cryptocurrency exchange that was created by crypto traders to cater to users. Since inception in May 2019, it has gained a massive reputation due a few easy features:
ease of trading
clawback prevention
universal stablecoin settlement
a centralized collateral pool.
The FTX crypto exchange offers a wide range of financial instruments, including options, derivatives, leveraged tokens, and volatility products. Whether you are a professional crypto trader or a beginner, FTX has enough resources that will help you better navigate the world of cryptocurrency.
Headquartered in Bahamas, FTX has listed over 130 coins and more than 10 fiat currencies. Also, FTX parades a team of experienced and dedicated customer service personnel that will hold you by the hands and walk you through every stage of the crypto trading process.
Signing up on the FTX crypto trading platform is a breeze. Simply follow the steps below.
First, visit the official website of FTX and click on the "Register" button in the top right corner.

A window will pop up for you to enter your email and other personal information. Ensure your details are correct, then hit on the account creation button.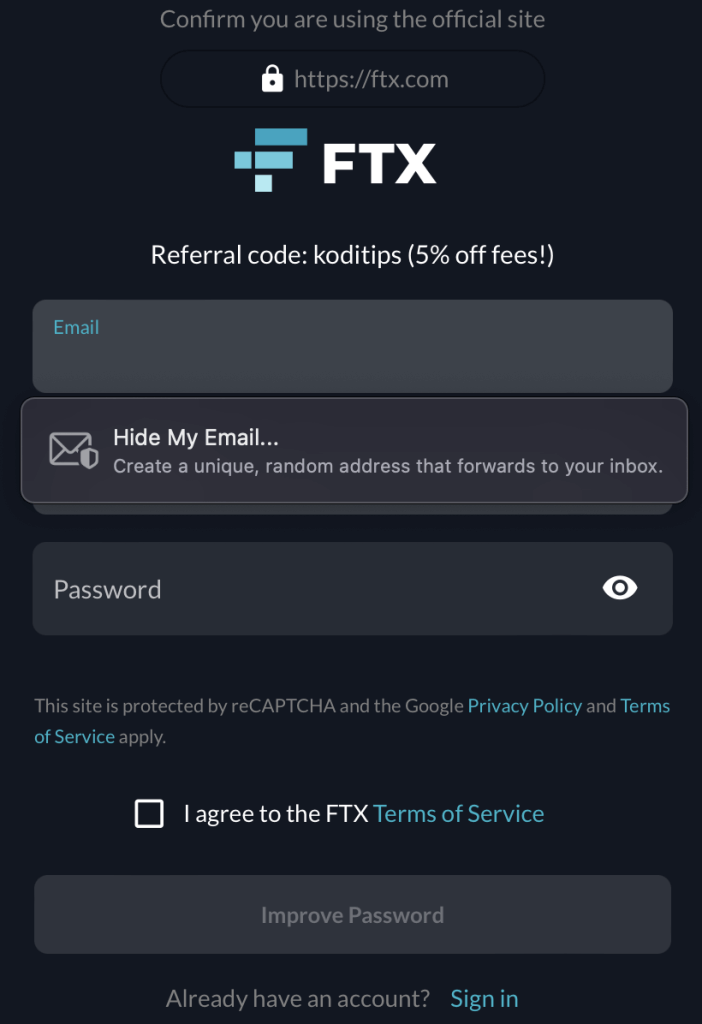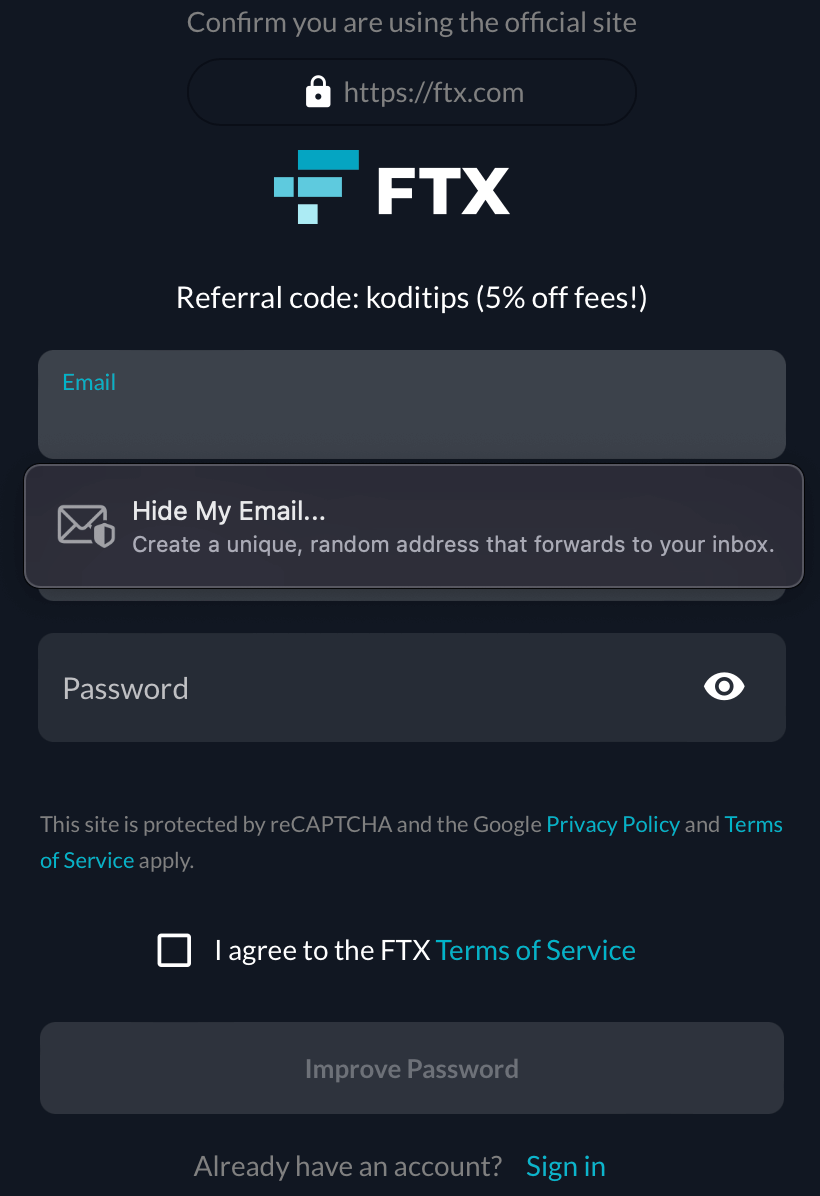 You will receive an email telling you that your registration is successful.
Log into your account, click on the blue button account email, and select Settings to head to your profile settings page and set up two-factor authentication (2FA).
Go to "Account Security," and complete the 2FA process. You can use Google Authenticator or SMS to complete the process.


Follow the instructions on your screen to complete the two factor authorization process.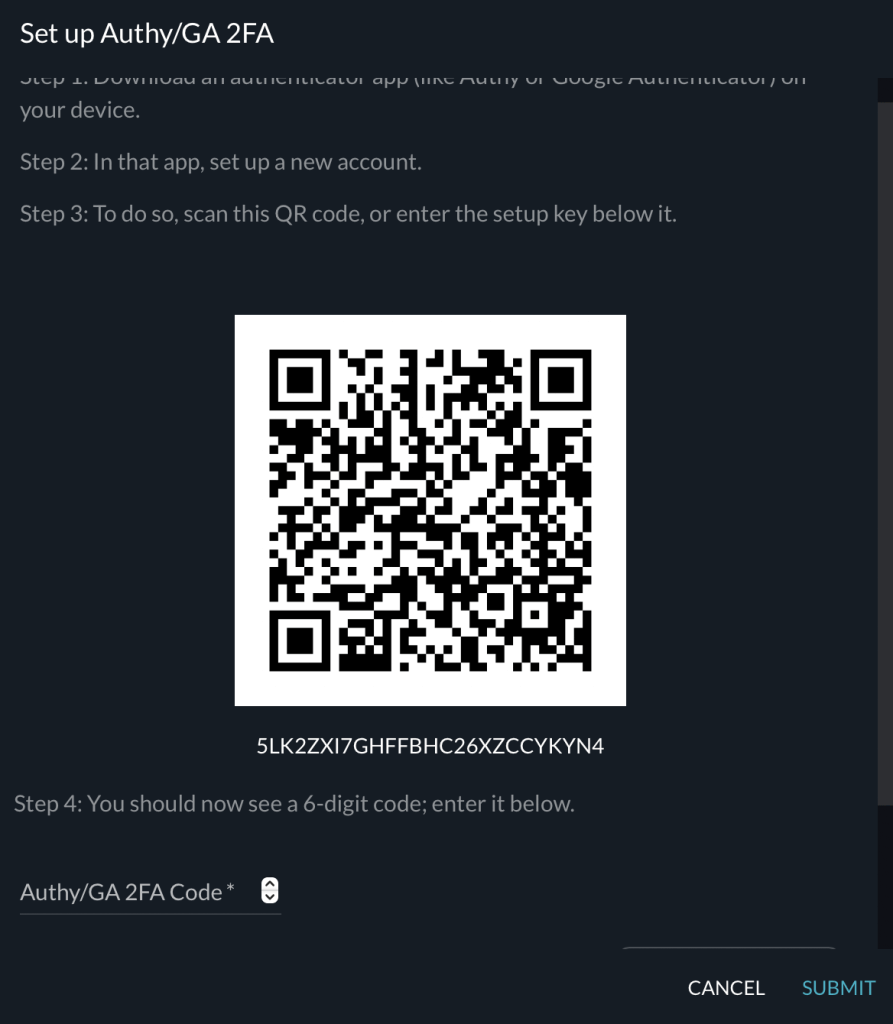 Next, go to Identity Verification and complete Level 1 KYC protocols to enable you to deposit funds into your wallet and start trading.


After the KYC processes, your account is now ready to start trading.
What is the FTT Token?
FTT is the utility token of the FTX crypto ecosystem. It was designed to increase network effects and give crypto traders a native token to pay for goods and services on the FTX protocol.
The total and circulating supply of FTT was about 345 million and 94 million respectively as of February 2021. FTT lets traders directly put leveraged positions instead of relying on margin trade.
Advantages of FTT
The FTT token has different advantages:
Holding FTT will earn you a discount on trading fees on the platform.
FTT can be used as collateral in futures trading to increase its demand in the long run.
FTT holders can enjoy price appreciation as the token price increases when FTT is adopted.
Whenever there's big market fluctuations, FTT holders will enjoy the FTX backup liquidity fund.
FTT is the home token on the FT crypto exchange, similar to the BNB coin on Binance.
FTX Fees
The FTX crypto exchange charges different fees as broken down below:
FTX Deposit Fees
Depositing both cryptocurrency and fiat currencies into your FTX wallet is free of charge.
FTX Trading Fees
This exchange charges 0.07% for takers and 0.02% for makers, with discounts depending on your trading volume. When trading as a FTT holder, you will enjoy a discount based on the amount of FTT in your wallet.
FTX Fiat Withdrawal Fees
There's a fee for withdrawing your fiat earnings or profits. The withdrawal fees are as follow:
BRL Withdrawal: 0.3% + R$10.
USD Withdrawal: If transaction is less than $10,000, there is a $75 fee.
No fee charged for other fiat currencies.
FTX Crypto Withdrawal Fees
The fees charged by FTX for crypto withdrawal are:
No fee for crypto withdrawal over BTC 0.01
One free withdrawal per day for BTC less than 0.01. Then, you also pay blockchain fees.
ERC-20 token: You will pay blockchain fees
ETH: user pays blockchain fees (unless FTT staked)
Other tokens are free.
For staked FTT, you will receive free a ERC-20 or ETH withdrawals per day.
FTX Pro Features
FTX Pro comes with unique features to elevate your crypto trading experience. Some of the features include:
Leveraged Tokens
FTX Pro provides crypto traders with leveraged tokens so that they can enter into leveraged or short positions without trading on margin.
For example, to buy 6x short Ethereum, you can buy a 6x short ETH leveraged token on FTX Pro. Users can purchase other ERC-20 based leveraged tokens like USDT, EOS, and BTC.
Universal Stablecoin and Centralized Collateral Pool
Collateral is usually dispersed over margin wallets and several distinct tokens in many futures exchanges. It is challenging for traders to rebalance and avoid liquidating holdings.
But with FTX Pro, traders will enjoy universal stablecoin and centralized collateral pool. FTX Pro traders only need one universal margin wallet to scale this problem.
Clawback Prevention
A bankrupt account triggers clawbacks, socialized losses, and auto-deleveraging. These are some of the challenges that FXT Pro seeks to resolve by employing a three-tiered liquidity strategy that reduces the probability of clawback.
FTX Crypto Exchange How To
How to Short Crypto on FTX
Shorting crypto means that you are betting that the price will go down.
Follow the steps below to short a crypto on FTX:
Go to your wallet and click on "Convert" to convert your tokens to stable USD tokens.
Set your stop-loss and target price accordingly.
Wait for the price field to fill or you can later change the value to your desired price. The "amount" field is your collateral.
Click "Sell" if you are happy with the transaction.
When a seller sells their coins for the price you submitted, your order will be filled.
How to Set Stop Loss on the FTX Crypto Exchange
A stop loss order is important when setting up a trade. It's one of the risk management measures so that you don't lose your investing capital. Here is how to set stop loss on FTX:
Create a trade position or order
Enter your desired trigger price in the stop loss field.
The order will be sent when the price exceeds your trigger price if you're buying.
The opposite will happen if you are selling.
How to Deposit on FTX
To deposit funds (fiat) on FTX, follow the steps below:
Head to your wallet and click on the "Fiat" tab. This will bring up a list of supported fiat currencies.
Choose from the list the fiat currency you want to deposit and enter the amount you want to deposit.
Enter your credit/debit card details if you are depositing through your card.
Then click on the "Deposit" button and the exact amount will reflect in your wallet.
Please note that you must be Level 2 KYC verified for you to be able to deposit fiat on FTX.
How to Deposit Crypto
Navigate to your wallet and select the coin you want to deposit.
Copy the crypto address and paste it where it is required on the exchange/wallet you're sending the crypto from.
Review your transaction and click on "deposit"
FTX is a full-featured cryptocurrency exchange with a lot of great features. The user interface and mobile app are both some of the best in the business.
What other features and information on the FTX crypto exchange do you want us to go over? Comment down below and let us know today.