If you can't install Kodi addons or Kodi and are receiving error messages such as "could not connect to repository", this guide is for you.
Sometimes when you try to install a Kodi addon, you are met with an error message such as "Could not connect to repository" when you are trying to add the repo source or access files inside of the repository. This error can appear for a number of reasons. This guide is meant to help you if you can't install Kodi addons for some reason.
Check out some of the reasons you see the "could not connect to repository" error in Kodi below:
Must-read: 9 Best Kodi Addons for Live TV in 2022
Protect Yourself While Using Kodi
Streaming services and cord-cutting application users need to be extra wary of their online privacy. These apps steal users' usernames and passwords and sell their private information to data companies, obviously without their consent. 

The best way to safeguard yourself and your personal data from these hackers operating on your device through the addons and repositories is to use a Kodi VPN. 

A Kodi VPN carries a number of advantages geared towards streaming users. It redirects your internet connection to private encrypted servers so that anything you view on your computer routes through these servers before hitting the public internet.

VPN software masks your IP Address and physical location, allowing you to view content that would not normally be available in your area. 

We recommend using NordVPN, the most reliable VPN you will ever find. And we say this for a multitude of reasons; here are a few:

✔ Apps for Android, iOS, Mac, Linux & more
✔ Zero Logs
✔ Unlimited bandwidth
✔ Tier 1 hardware (no speed slowdown)
✔ Access to servers hundreds of VPN servers
✔ Most trusted VPN by Kodi users

Sign up for a premium Kodi VPN and access the internet unrestricted. We offer exclusive discounts for NordVPN, the highest respected VPN in the Kodi community.
Why You See "Could Not Connect to Repository" Error in Kodi?
Following are the reasons why you see the "Could not connect to repository" Kodi error.
1. Your repo HTTPS address is incorrect
The number one thing you should do is verify that your http address is correct. In other words, if you have a typo in your address, you may be trying to connect to a repo address that doesn't exist.
Sometimes, mistakes happen when manually copying an address found from a guide on our site. Make sure that you are copying the address exactly. Pay attention to specific characters in the http address such as https or extra or missing forward slashes.
2. The Source is down or offline
If you believe your address is correct and you still can't install Kodi addons or a specific repository, there is a good chance that the source is down or offline. Try to visit the repository address in your web browser. Does it work? If not, don't expect it to work in Kodi.
If you know the repository git address, you can also try to access that. For example, Exodus' git address is http://offshoregit.com/exodus/. Once again, if you can't access that in your web browser, you won't be able to add it in Kodi.
Sometimes git websites or file hosts go down for maintenance.
3. You are probably not connected to the internet
If you are not connected to the internet, you may receive this same error message.
You can verify that you are connected to a network by attempting to launch a stream or by trying to install something from a different known repository address. If nothing seems to be working (even after a reset), then you can check in your Android or chosen OS settings to see what your network status is.
Suggested read: Best Filelinked Alternatives in 2022
4. Incorrect proxy configuration
While it is a good practice to use a VPN to protect yourself while streaming Kodi, incorrect proxy configuration can invite a lot of problems. And if you fail to configure your proxy settings properly, one of those problems could well be internet access issues on Kodi.
Kodi cord cutters use a VPN for a variety of reasons:
To access geo-blocked content on Kodi
To protect the connection when using torrent or .acestream files
To anonymously stream and download content
All you need to do to eliminate the "Could not connect to repository" error on Kodi is to configure the proxy settings correctly. To do so:
Step 1:
Go to Settings on Kodi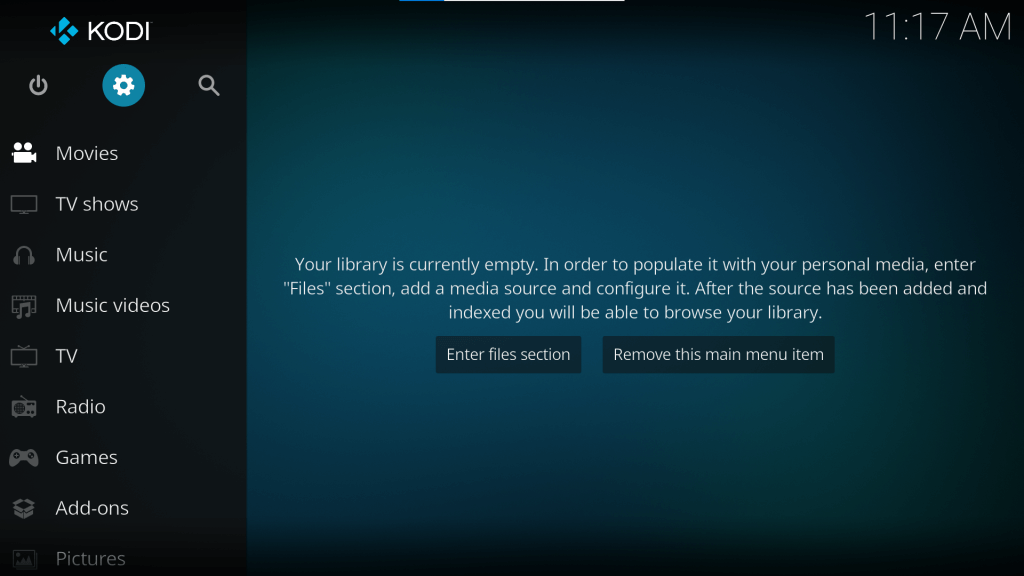 Step 2:
Select System in the Settings menu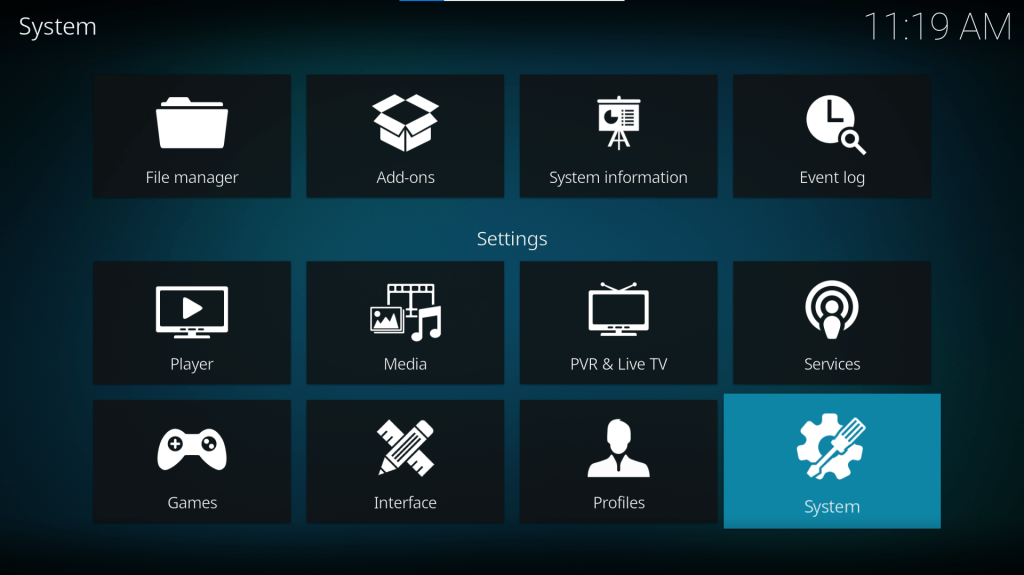 Step 3:
Go to Internet Access and turn the toggle on for Use Proxy Server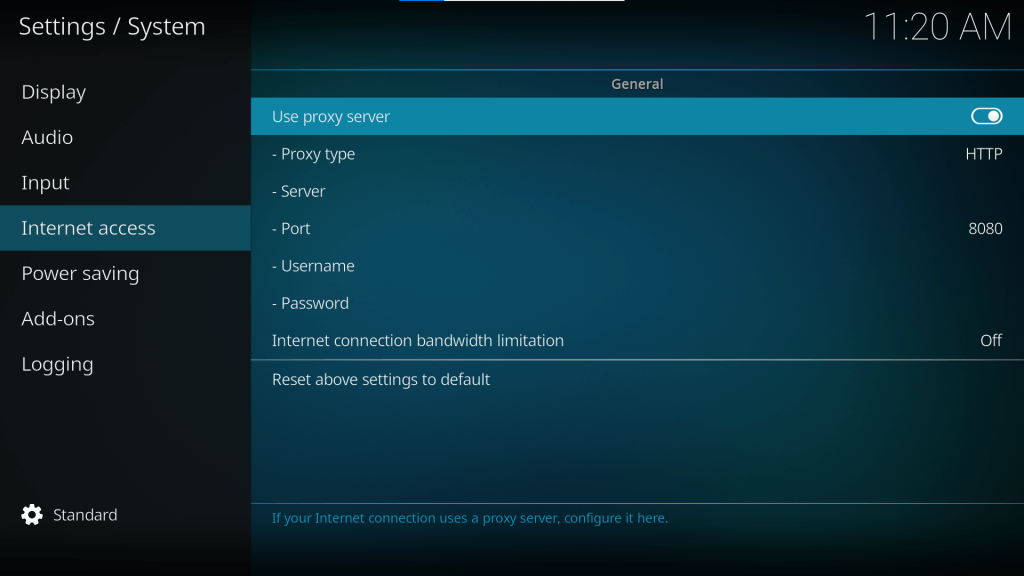 Step 4:
Enter the exact proxy server address string in the "Server" field and proxy server port number in the "Port" field.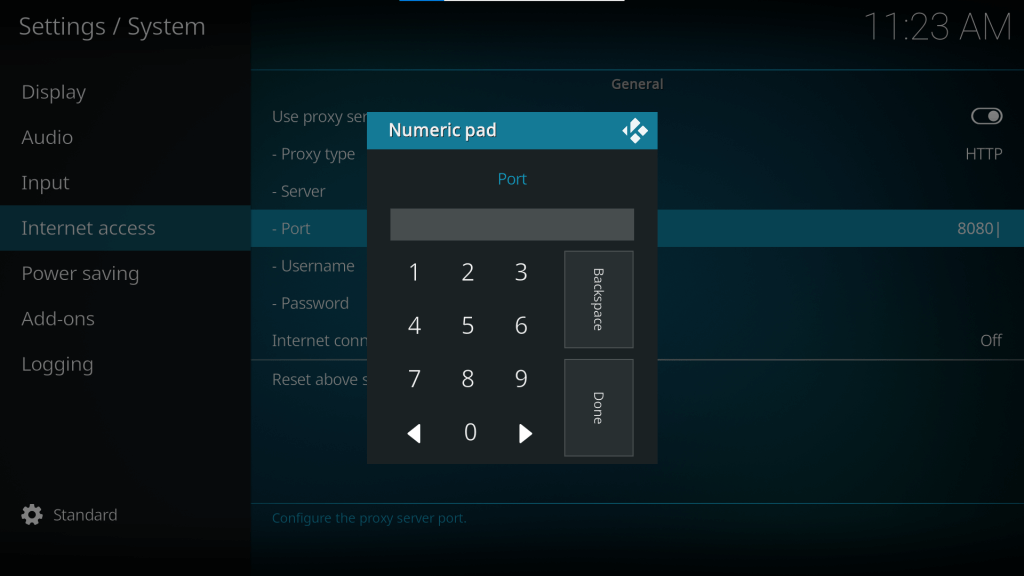 Also, if you have a username and password for your proxy service, type them in their respective fields.
Finally, for the best streaming experience and to avoid buffering, leave the toggle off for Internet connection bandwidth limitation. However, if you plan to save data for other apps or devices, consider turning this feature on.
The "Could not connect to repository" error should no longer occur on your Kodi account.
5. Older Kodi version
Most Kodi addons these days are compatible only with the Matrix update. For example, a Kodi Leia-compatible addon might not work with Matrix, as Kodi now uses Python 3 interpreter.
It is advisable to keep Kodi updated with the latest version for best performance. Using outdated Kodi versions can also put you at risk for a potential data breach by unofficial third-party addons and bugs, among other risks.
So if you are facing the "Could not connect to repository" error, try updating Kodi to the latest version. Check out our detailed guide to updating Kodi in 2 minutes.
6. Firewall could be the culprit
If you are streaming Kodi on your Windows PC, chances are you might have an unstable connection between the Kodi app and the repository. And more often than not, the reason is the pre-installed Firewall.
The firewall is a prominent security feature that protects your Windows device from malware and third-party malicious programs. It monitors incoming and outgoing traffic and blocks or allows specific traffic, depending on a set of defined security rules.
However, incorrect configuration or conflict between apps may cause unforeseen problems with the applications. Furthermore, it can slow down internet speeds and limit network bandwidth considerably.
Here's an easy fix to the problem.
Step 1:
On your PC, go to Control Panel
Step 2:
Select Network and Internet and open Network and Sharing Center
Step 3:
Now, click on Windows Firewall and select Allow a program or feature through Windows Firewall option
Step 4:
Finally, Allow Kodi through Public
Tip: Disabling Firewall on Windows might put you at risk of potential attacks from intruders. So we recommend using Kodi on other devices like Amazon Fire TV, Firestick, or Roku instead.
Also read: Best IPTV and Sports Kodi Addons to Install For Streaming
Solutions to Can't Install Kodi Addons Error
Try these solutions to fix the "Can't Install Kodi Addons" error.
1. Check Your Kodi Error Log
Sometimes when you can't install Kodi addons, along with your "could not connect to repository" Kodi error, you also get a message telling you to check your log.
Follow our guide here to enable debug logging and check your error log for any errors that point to a reason for not being able to install Kodi repos.
2. How to Fix Kodi Script Failed Error
The Kodi script failed error occurs when your addon fails to execute its function in a proper manner. The most likely cause of this error is that you are running an old or outdated version of Kodi. The addon is trying to use a dependency or script newer than what is installed on your machine and is giving you an error.
Always look to upgrade Kodi to its latest version to maximize success with your Kodi addons.
3. How to Fix Kodi Download is Stuck
When installing a Kodi addon, your installation may fail to progress further beyond 0%. There are two main causes for this:
You are using an old version of addon or of Kodi that is unable to read the installation files
You have connected to the installation server, but it is not returning files or is timing out your request. If this occurs, try to install again.
The download stuck Kodi error is generally different than a could not connect to repository error. Kodi IS connecting to the repository, but it is getting stuck during the next step.
You might also like: Best Kodi Addons to Install For Movies, TV & Media
Frequently Asked Questions
How do I install third-party addons on Kodi?
To install Kodi add-ons, first enable downloads from unknown sources. To do so, go to Kodi Settings > System > Add-ons and turn the toggle on for Unknown sources. Next, go to Add-ons on the Kodi homepage and select Install from zip file. Enter the repo address and install the repository. Now, select Install from repository and select the repository you want to install the add-on from. Then, go to Video add-ons and select the addon to install. Finally, click Install and wait for the add-on to download. 
Can you be tracked if you use VPN?
No. If you have a reliable VPN setup, third-party users cannot track your IP address and web traffic. A good Kodi VPN protects you from malware and unwanted spying. Also, it lets you access geo-blocked content on Kodi.
Why does my Kodi say "Unable to connect"?
There are quite a few reasons why Kodi sends a "Could not connect to repository" error. Some of the reasons are as follows:
– Repo HTTPS address might be incorrect
– Repo source might be down or offline
– You might not be connected to the internet
– Proxy settings might be incorrect
– You might be using an older Kodi version
– Firewall could be blocking access
If you are having Kodi repository issues and can't install Kodi addons, do NOT uninstall them thinking a re-install is what is needed. This won't fix your issue and you'll be missing an addon until the issues are fixed.
PROTECT YOURSELF ON THE INTERNET
Sign up for a premium Kodi VPN and access the internet unrestricted. We offer exclusive discounts for NordVPN, the highest respected VPN in the Kodi community. It has some great features for users:
Apps for Android, iOS, Mac, Linux & more
Zero Logs
Unlimited bandwidth
Tier 1 hardware (no speed slowdown)
Access to servers hundreds of VPN servers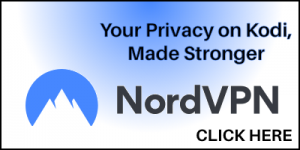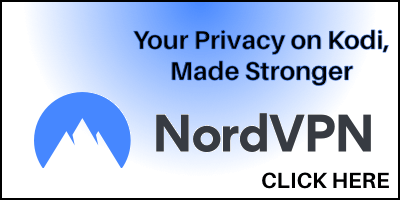 Click here to learn more about Kodi VPN protection