This is the ultimate guide to PancakeSwap. If you are curious, confused, or just want a crash course on this awesome crypto website, this article is for you.
Specifically, we'll go over:
What is PancakeSwap?
How to use PancakeSwap?
How to Connect Trust Wallet to PancakeSwap
A break down on the CAKE coin, staking, IFOs, and other popular terms
Common issues like how to fix "No Provider Was Found" and "Insufficient Output Amount" errors
If you have any other questions about the service and how to use it, comment down below and we will make sure to answer your questions.
What is PancakeSwap?
PancakeSwap is a decentralized exchange where crypto traders can swap their BEP-20, or Binance Smart Chain, tokens. Unlike other exchanges like Binance or Coinbase, PancakeSwap is only connected to the Binance Smart Chain (BSC), which is popular for crypto games.
Once you have an account, you can easily trade between BSC coins and transfer them to and from a wallet such as Metamask. PancakeSwap is an automated market maker where there are no bid/ask system, order books, or limit/market orders. The experience is easy and flawless to users.
In the world of crypto swapping, Pancakeswap is the most secure decentralized finance network on the Binance Smart Chain. Crypto traders can buy, sell, or even hold CAKE crypto for the long-term to enjoy price appreciation. They can also stake their tokens to gain hefty rewards.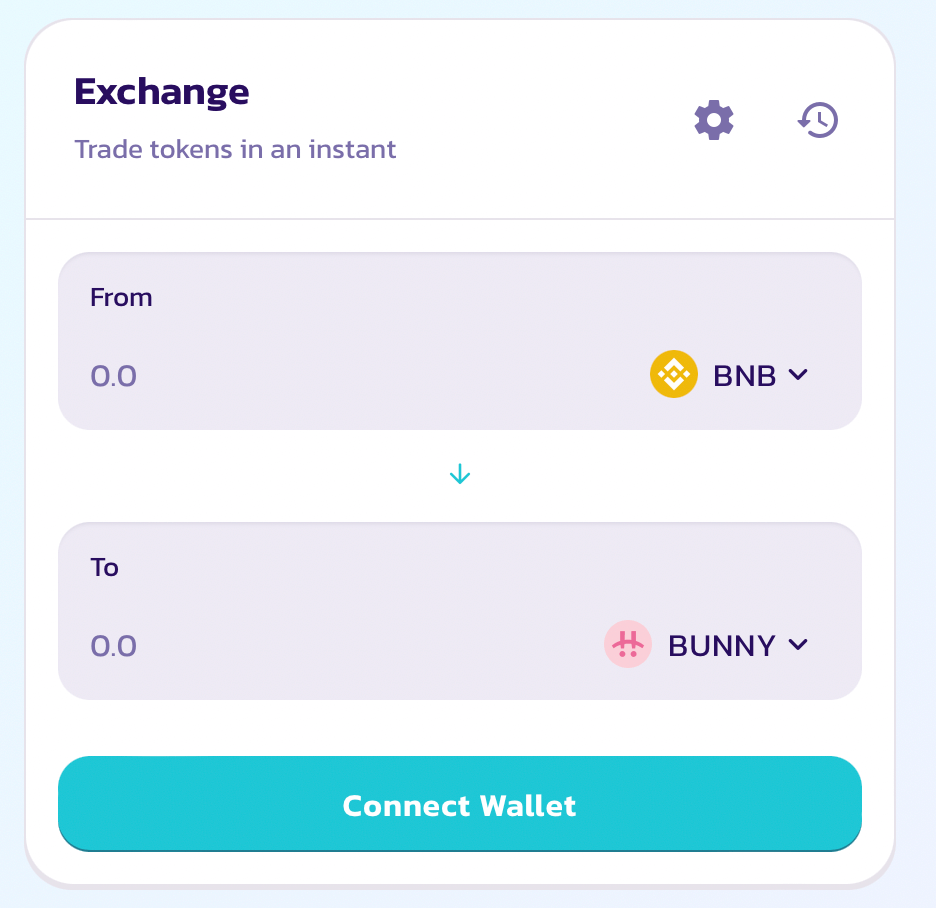 What is CAKE?
CAKE is the utility or native token of the PancakeSwap protocol. It has different functions, including staking, yield farming, and participating in the PancakeSwap Lottery.
AKE can also be used to pay for goods and services on the PancakeSwap protocol. CAKE holders have the right to vote and be voted for in the project's community governance portal.
When you don't need your crypto game coins, you can convert and store them as CAKE and earn money.
How Does PancakeSwap Work?
PancakeSwap uses an automated market maker model to enable potential crypto traders to trade against a liquidity pool through smart contracts. In essence, PancakeSwap doesn't rely on an order book to match you with another user to fulfill trades.
As an exchange based on Binance Smart Chain, PancakeSwap lets you swap your tokens with ease. You can also earn rewards by keeping your coins in the pool. The liquidity pools are also known as SYRUP pools.
PancakeSwap only supports BEP-20 tokens that are running on the Binance Smart Chain. Before transferring any tokens to the site, you have to first wrap the tokens as a BEP-20 for compliance sake.
PancakeSwap Staking
Staking on the PancakeSwap platform is the process of locking your assets in a liquidity pool for a specific period of time. Staking helps to support the proper functioning of the PancakeSwap protocol.
It pays interest to stakers based on the predetermined percentage. The more you stake your assets, the more profit you will earn.
Here is how the process works. The first step is to buy the CAKE token, then go to the Pools tab to stake the tokens in the SYRUP pools. The next step is to approve the withdrawal of your token, then enter the amount of CAKE you want to stake. Select the length of time you want to stake your assets and hit on the confirm button.
Now that you have staked your CAKE, you will passively earn rewards tokens from your investment.
Click on Harvest to cash out your earnings.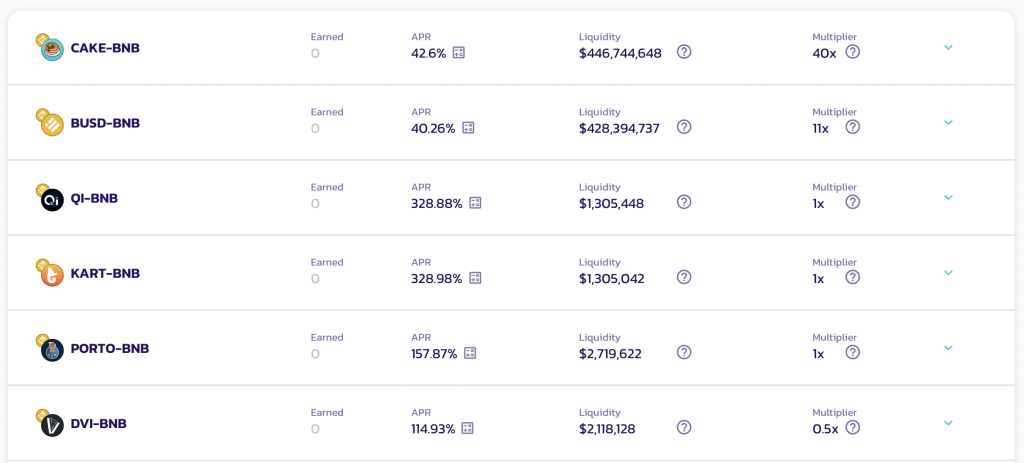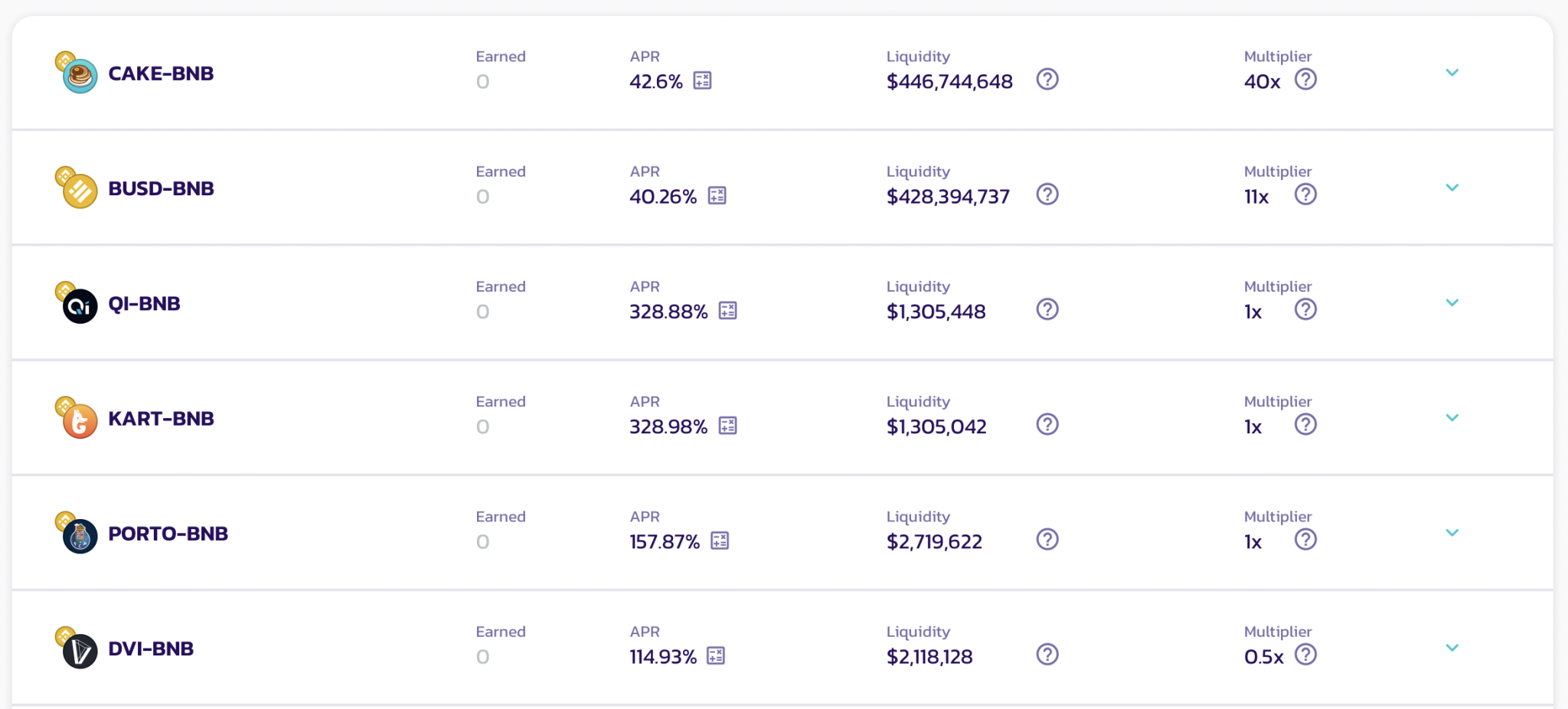 PancakeSwap Fees
PancakeSwap is one of the decentralized exchanges that does not charge an outrageous fee in order to trade. This exchange charges 0.25% per transaction regardless of whether you are a taker or a maker. The fee is broken down below:
0.05% – Sent towards CAKE buyback and burn.
0.03% – Sent to the Treasury.
0.17% – Returned to the Liquidity pool for liquidity providers.
This low fee is one of the reasons why PancakeSwap is so popular.
PancakeSwap IFOs
IFO is the acronym for "Initial Farm Offering." IFOs grant you access to new tokens that are added onto the network. You can benefit from higher rewards by being one of the first persons to have a new token. IFOs are only available for a very limited time, so you have to keep your ears and eyes open on the site.
Before joining any PancakeSwap IFO, there are a few things you need to do to get started. First, you have to create a PancakeSwap profile. Creating a profile protects the security of the event when it eventually goes live. We explain the process of creating an account on PancakeSwap in the next section.
Once you have successfully created an account, the next thing is to get CAKE-BNB liquidity tokens. You will need the CAKE-BNB token to purchase the new tokens that will be added during the IFO. You are now read to join the IFO whenever it goes live.
Knowing When an IFO Will Start
We already mentioned that PancakeSwap IFO is a limited time event. It usually lasts only one hour.
You don't want to miss out on the next event; Therefore, ensure you follow up with the time. One way to do this is to check the top of the IFO page. There's usually a timer counting down in seconds.
You can also check PancakeSwap official social media handles for updates on upcoming IFOs. This will give you plenty of time to prepare.
IFO Advantage
The advantage to participating in initial farm offerings is that you get the earliest accest to new coins on the Binance Smart Chain. If you invest in a coin for a crypto game that becomes popular, you can cash those coins out for serious profit.
The IFO gives you another way to earn money in crypto.
How do I create a PancakeSwap account?
To create an account on PancakeSwap, you need to first set up a BSC-compliant wallet. Wallets are available both on smartphone devices and desktop computers. When setting up a wallet, ensure:
You download and install only the latest version and from official sources.
You safely backup the recovery phrases.
Follow the instructions carefully.
We recommend the MetaMask wallet and we have full MetaMask setup instructions here.
After successfully setting up your wallet, navigate to the PancakeSwap dashboard.
You will see the "Connect Wallet" button at the top of the page. Hit on the button to link your wallet to the exchange.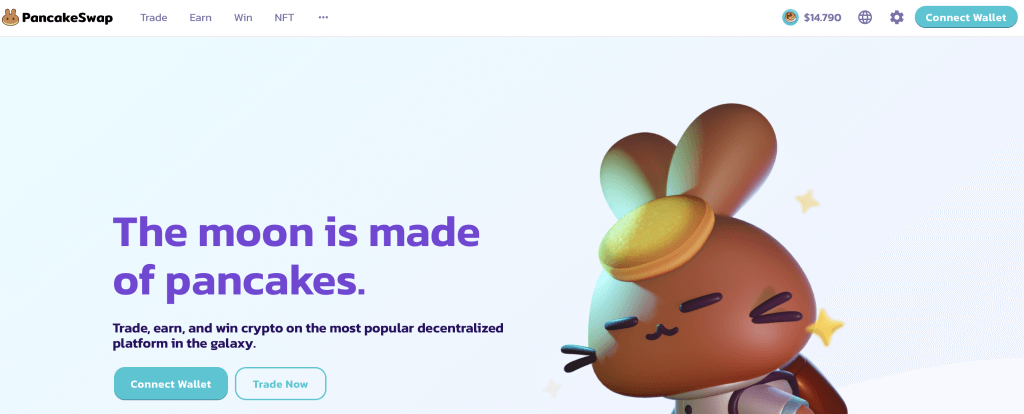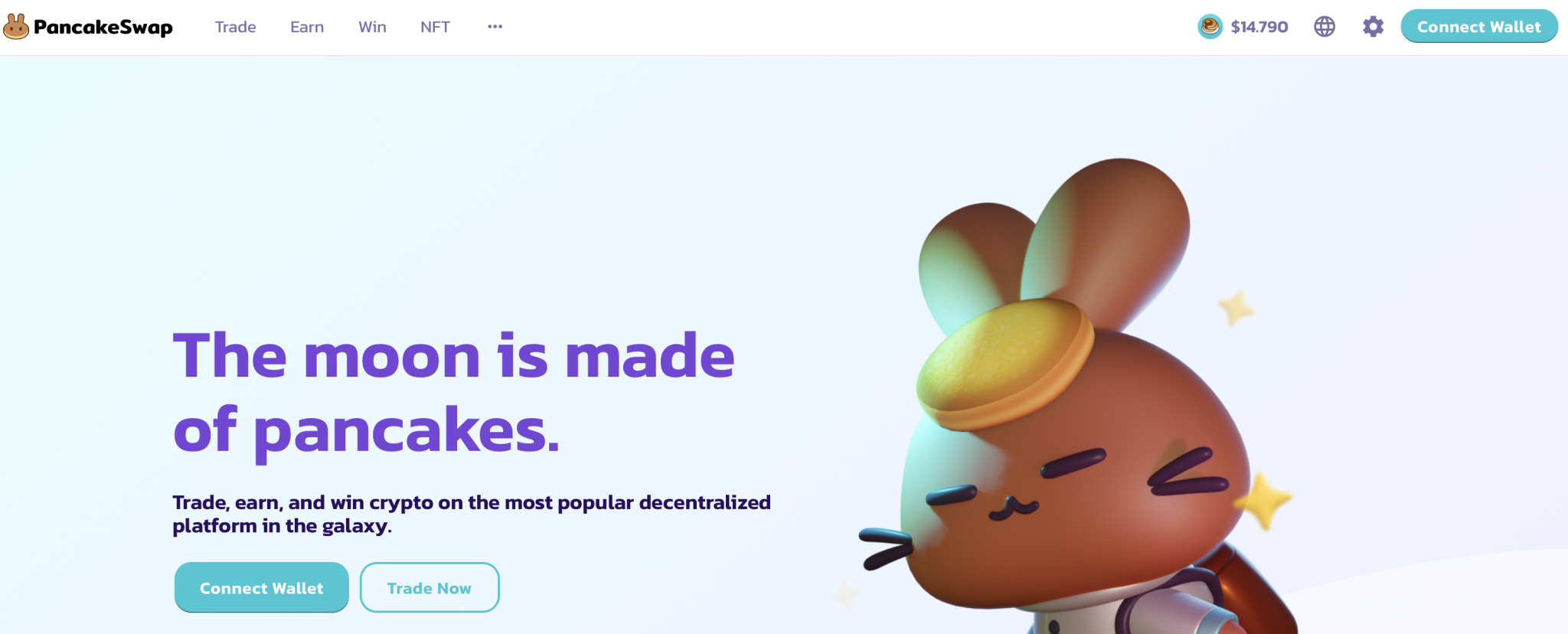 You have now created a PancakeSwap profile!
How to Use PancakeSwap
There are four main ways to use the service:
Trade
Earn
Win
NFT
Trade
The Trade area of PancakeSwap is where you convert one BSC coin, like BNB or a game coin, to another BSC coin. Like we mentioned above, the market does not run on a traditional order book. Trades are executed against the site's liquidity pool.
Earn
The Earn area of the website is where you perform staking. This is the process of locking your coins in the liquidity pool in exchange for earning interest.
Each coin has its own APR interest rate, which is based on the inflation rate of the coin and how many people are staking at a time.
On the website, staking is called farming, which is unique. The "earn" section that lists all of your staking coins is known as your "farm".
Win
The win section on the site allows you to bet money and coins for the chance to win big.
The Prediction area has you guess whether the price of the BNB coin will increase or decrease in five minute intervals. Losers of the bet pay out the winners of the bet.
The PancakeSwap Lottery allows you use CAKE to buy tickets in a daily lottery. You win money in exchange for matching numbers up with your lottery tickets.
Both of these options are completely optional and are not required to use the service.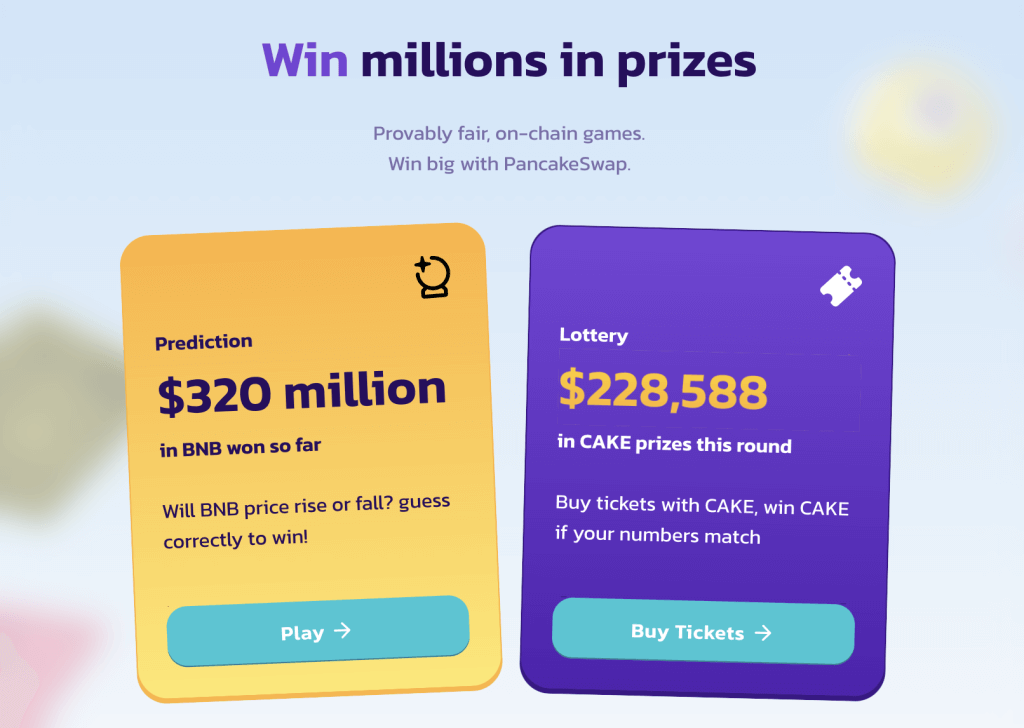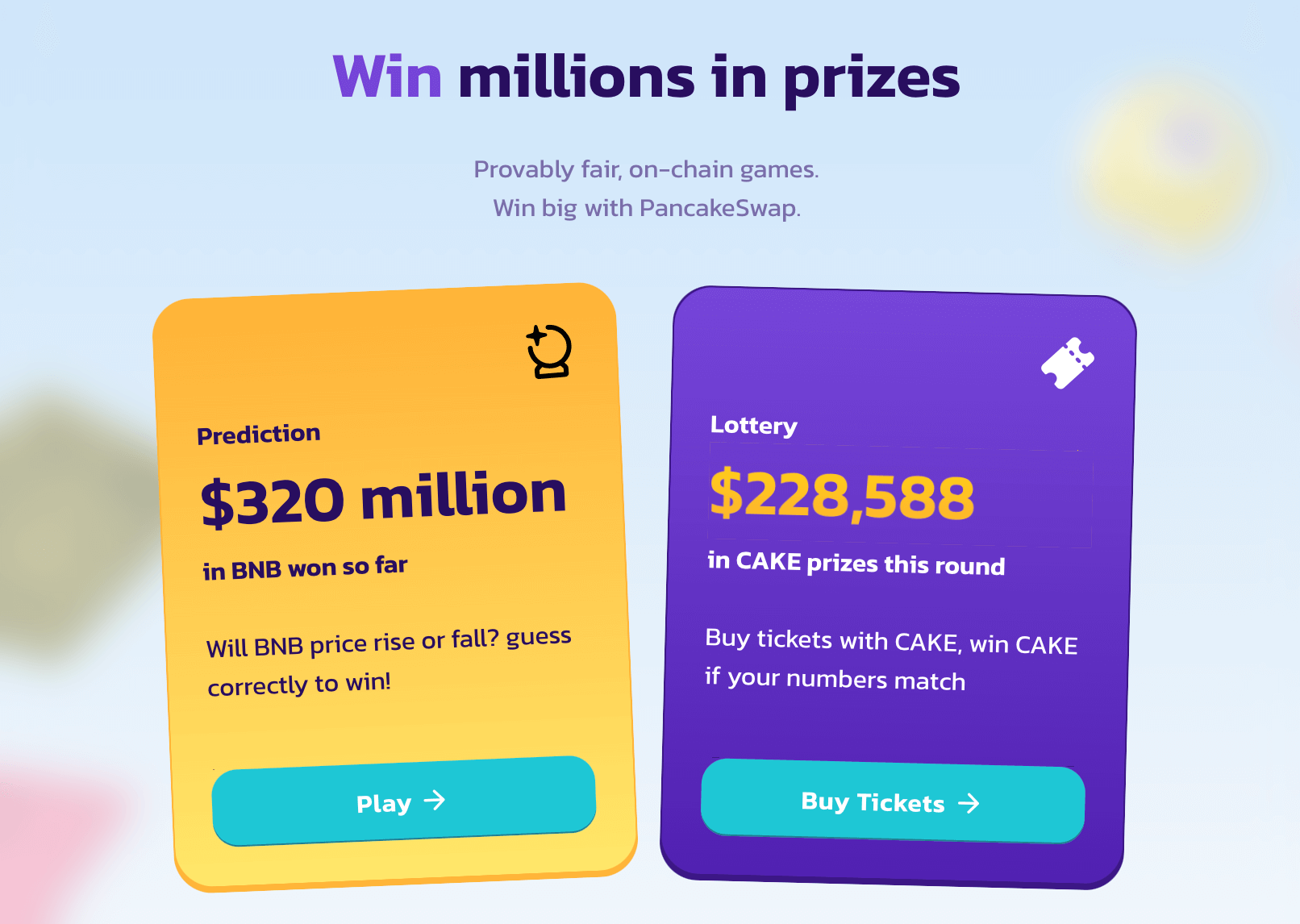 NFT
NFT stands for non-fungible tokens. This section of the site is a marketplace filled with NFTs that were minted on the Binance Smart Chain.
You can see an overview of all of the NFTs available to buy on the marketplace. You can also view the top users collections on the website.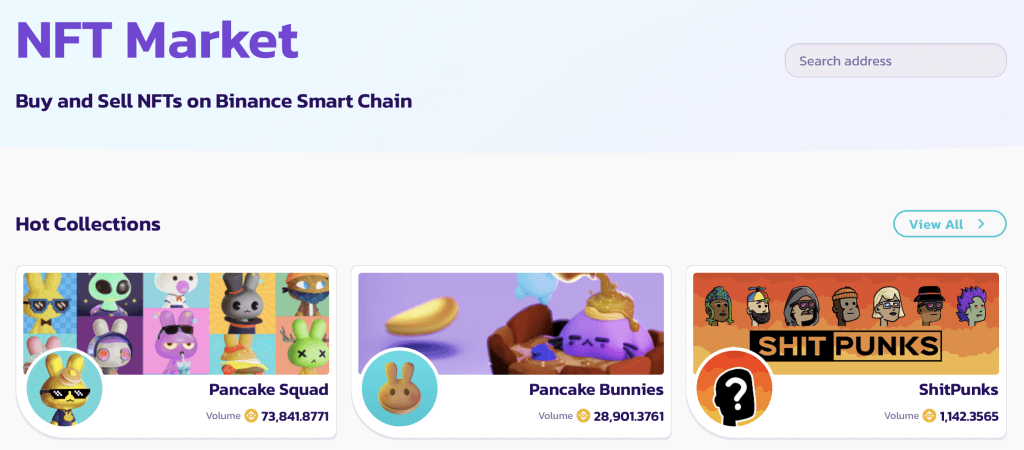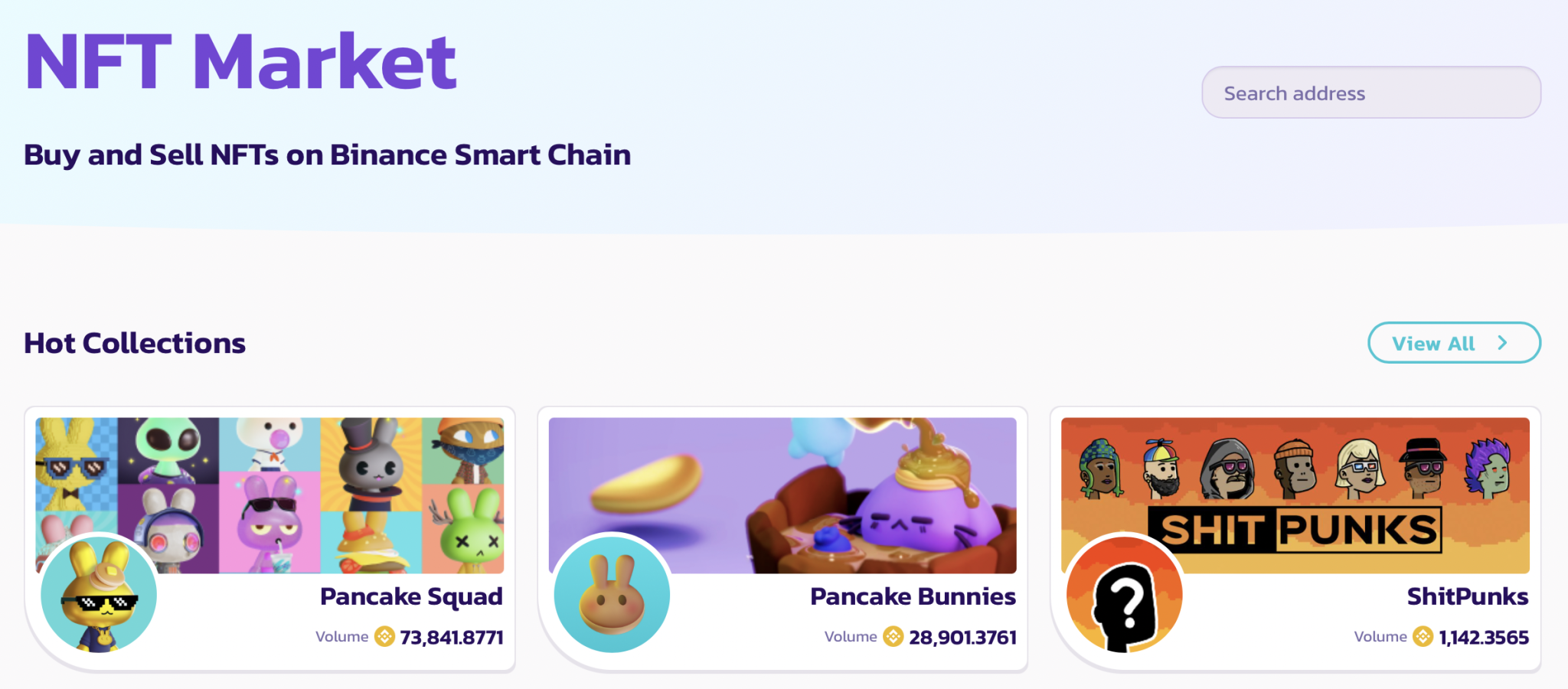 How to Connect Trustwallet with PancakeSwap
Trustwallet is a popular Metamask alternative that is mobile based. Connecting Trustwallet to PancakeSwap is a popular thing for crypto users.
The first step is to download the latest version of TrustWallet from the Google Play Store or Apple Store to your smartphone or PC. The following steps will guide you to connect your Trust Wallet with PancakeSwap:
Launch your TrustWallet on your device.
Tap on the "DApps" button. This button is located at the bottom of the screen.
Scroll down to where you will find "Popular" and then tap on "PancakeSwap." If you don't see it here, you can navigate to "Exchanges" to look for it.
Once you hit on "PancakeSwap," a new page will pop up with the logo.
Tap on the "Connect" button to connect Trustwallet safely.
How to Fix "No Provider Was Found" Error on PancakeSwap
The "No Provider Was Found" error is a result of using PancakeSwap on a mobile browser. Browsers like mobile Chrome and mobile Safari do not support DApps.
To resolve this error, you have to first stop using Pancake your mobile browser. Enable the DApp browser on your Trust Wallet and the error should clear.
To be sure the error has cleared, open PancakeSwap on the DApp browser and attempt to link your Trust Wallet. If everything goes smoothly, that means the error has cleared.
How to Fix "Insufficient Output Amount" on PancakeSwap?
This is another common issue that you may face while using PancakeSwap. The "Insufficient output amount" error is caused by a low slippage tolerance, which won't allow your order to execute.
To fix this error, you need to increase your slippage tolerance to at least 12%. You can do this by increasing the slippage tolerance by 1% in steps until you can swap your tokens.
What other questions about this decentralized exchange do you want us to answer? Comment down below and let us know.