There is a growing list of websites where you can buy, sell, trade, and earn non-fungible tokens (NFTs). In this guide, we show you the best NFT marketplaces available today.
Breaking each down, we will go over:
The features of each NFT marketplace
Some of the NFTs that you can buy and sell on the marketplace
Special features you should know
If you use a different NFT marketplace and you'd like us to highlight it, get in touch with us today.
The Best NFT Marketplaces to Buy, Sell, and Trade On
These are the best NFT marketplaces you should check out today.
Below, we go into each marketplace in more detail.
OpenSea
OpenSea is the world's first marketplace for NFTs and crypto collectibles. OpenSea lets you buy, sell, and discover exclusive digital items. Founded in 2017, this platform is built on the Ethereum blockchain and supports ERC-20 based tokens like ETH/WETH, USDC, and DAI.
The marketplace is easy to navigate, as it has a filter feature to help beginners find their way to trade their preferred NFTs.
OpenSea began operation as a market for CryptoKitties. As the business gained traction, it expanded beyond collectibles. Users can trade a wide range of NFTs, including domain names, art, game items, music, among others.
Being an Ethereum-based marketplace, you need an Ethereum wallet to trade on OpenSea. It also supports other blockchains like Klatyn (KLAY) and Polygon (MATIC). OpenSea supports more than 241 payment options, including stablecoins.
In terms of transaction volume, content creators have traded more than $10B on OpenSea. Top celebrities using OpenSea to showcase their talents include Lindsay Lohan, Snoop Dogg, and Emily Ratajkowski.
OpenSea Features
OpenSea lets you send NFTs as a gift to other users.
Users can mint NFTs on the platform.
Minting fees are reasonable relative to other platforms.
It supports more than 200 payment options.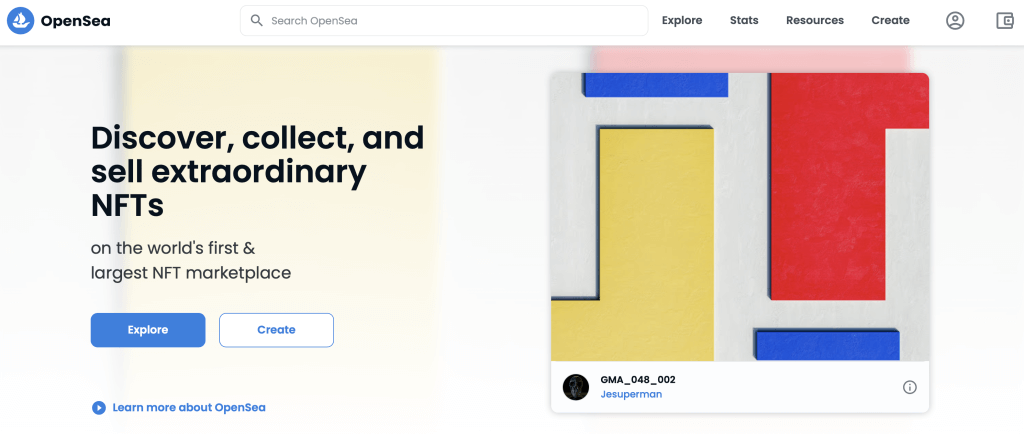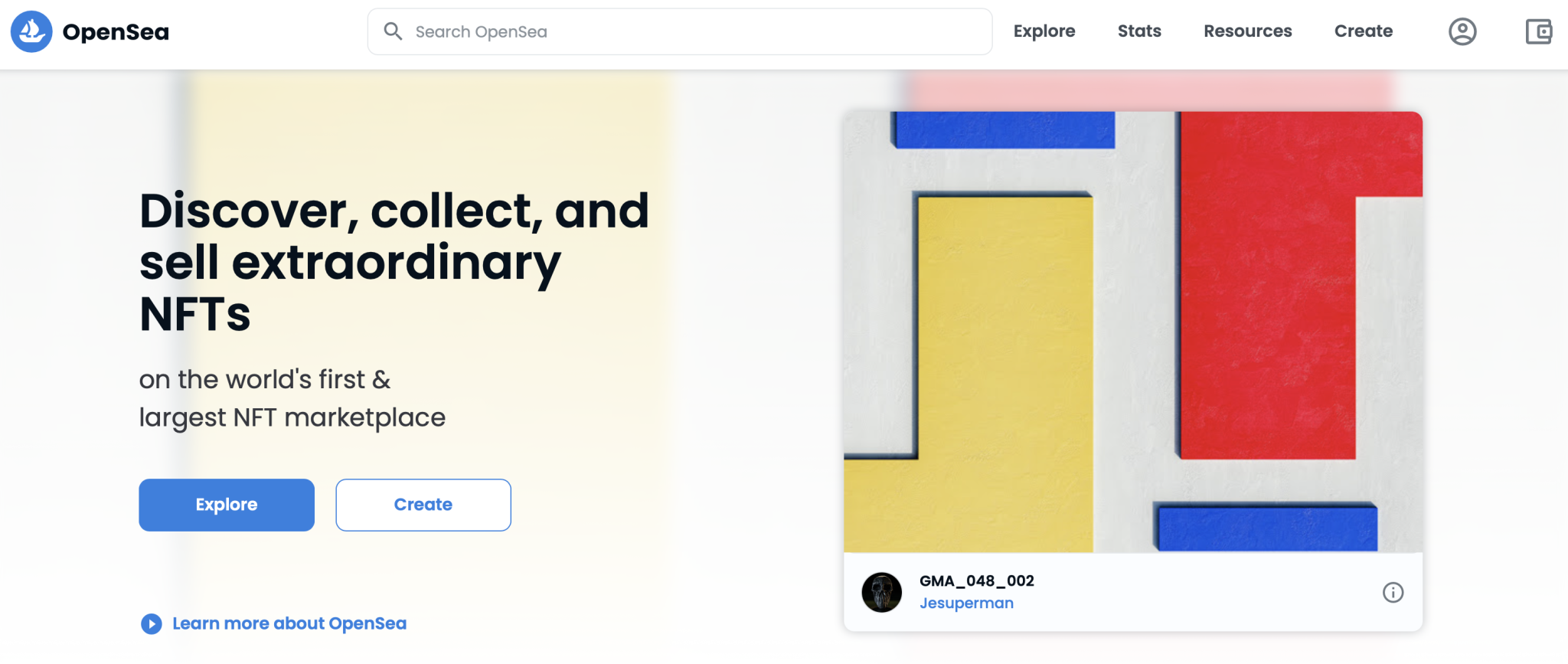 Nifty Gateway
Nifty Gateway was founded in 2018 by the Winklevoss brothers, who also founded the Gemini Exchange. It's a marketplace for Non-fungible tokens built on the Ethereum blockchain with support from Gemini. Like OpenSea, it supports tokens like ETH and DAI. As opposed to the free-for-all that some marketplaces are, Nifty Gateway focuses on exclusivity.
NFTs on Nifty Gateway are referred to as "Nifties." Usually, every three weeks, the team at Nifty Gateway organizes and launches drops for users to participate. After the drops, those that didn't participate can buy the NFTs directly on the marketplace.
Nifty Gateway lists NFTs from popular and celebrated artists like Steve Aoki, Kenny Scharf, Grimes, and Beeple. If you are based in the US, the platform accepts credit/debit cards. For those in other parts of the world, you will need to open an account on Gemini to get started.
Regardless of the artist fee, Nifty Gateway takes 5% + 30 cents of every secondary transaction. The total transaction volume recorded on Nifty Gateway as of the time of writing this post is roughly $303.8 million.
Nifty Gateway Features
Reselling your NFTs after drops is very easy and straightforward.
There are exclusive artists on the platform.
You need to connect an Ethereum-based wallet to get started.
Click here to access Nifty Gateway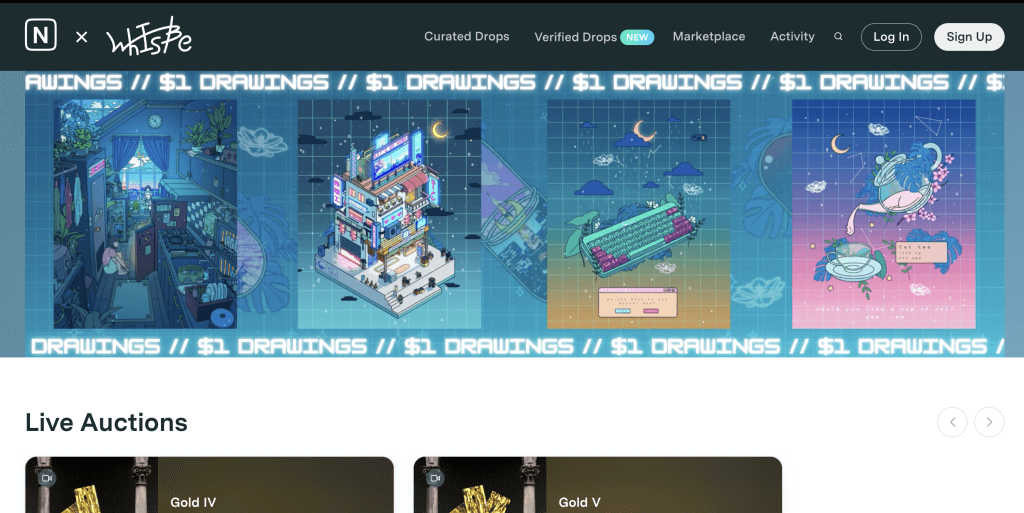 Mintable
Mintable is an NFT marketplace where users can create, buy, sell, and distribute digital items. If you are a beginner in the world of NFTs, Mintable is the perfect platform to start your career.
Founded by Zach Burks in 2018, Mintable supports ERC-721 tokens and has recorded more than US$10.67 billion in transaction volume since inception.
A long list of crypto celebrities have registered their presence on this platform, including Weird Al Yankovic. Collectibles listed by these artists include art, game items, music, videos, templates, and domains.
Mintable Features
Mintable is free and easy to use.
It is free to list an NFT on the platform.
You don't need any coding knowledge to create an NFT.
Mintable supports a wide range of payment methods.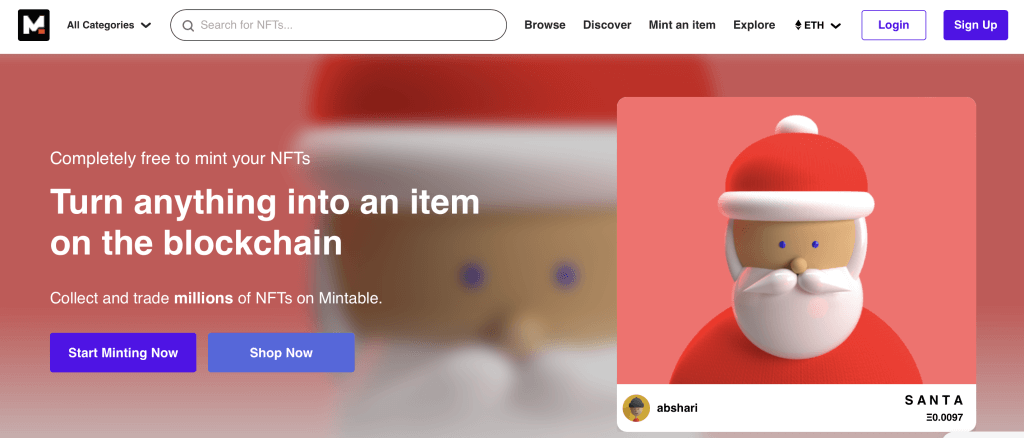 Rarible
Rarible is an all-in-one NFT marketplace where content creators, sellers, buyers, and NFT enthusiasts meet to conduct business. Rarible lets these players create and sell NFTs or keep the digital collectibles to hold long term. Celebrity Lindsay Lohan sold an NFT on this platform in February for US$57,290.
Rarible provides its services at a decent fee.
Rarible supports a wide range of tokens split into different categories, including games, photography, music, metaverse, DeFi, and domains. Created only in 2020, Rarible has recorded more than 89,469.83 ETH in trading volume. This figure is equivalent to $278 million.
Rarible lets you connect any of your existing wallets. The wallets supported are Fortmatic, Wallet Connect, Portis, Torus, MyEtherWallet, and Coinbase.
Rarible Features
Rarible lets you create NFTs as you wish.
Content creators can adjust the price of an already listed digital item.
The integration with OpenSea allows you to also sell your NFTs on OpenSea.
Rarible has a solid royalty system, which allows artists to continue earning passive income from their creations.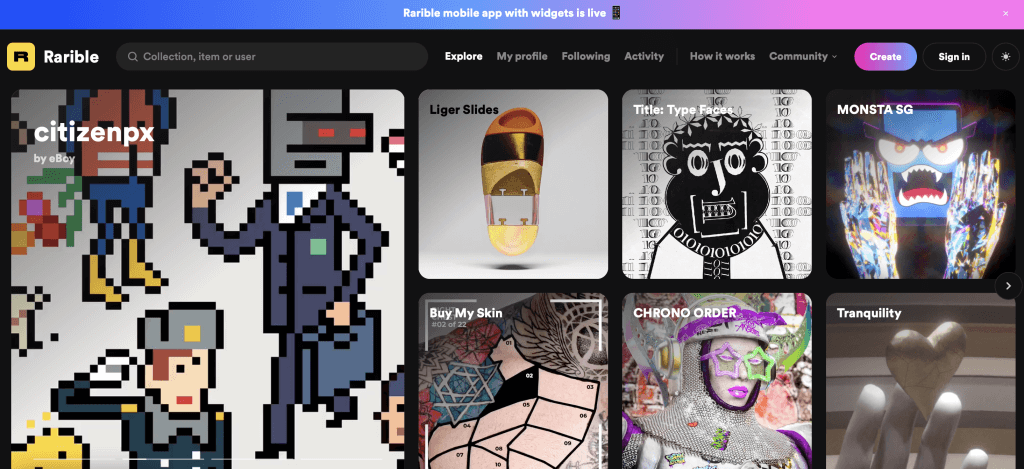 SuperRare
SuperRare simplifies the process of creating, selling, buying, and distributing digital collectibles in the crypto space. SuperRare allows artists and other content creators to release limited-edition of their creations on the blockchain. NFTs on the platform are verified unique and special.
Established in 2018 on the Ethereum blockchain, SuperRare supports ERC-721 tokens like DAI and ETH. If you're looking for cheap digital collectibles from unknown artists, SuperRare is the perfect place to begin.
Some artists that have minted and listed their digital assets on SuperRare include David Bianchi, Billelis, and Marco Grassi.
As of the time of writing this post, SuperRare has recorded more than $44,580,497 in trading volume. Importantly, this platform gives artists an opportunity to earn royalties upon future transactions.
SuperRare Features
SuperRare continues to pay royalties to artists even after the first transaction.
It's super easy to create rear digital collectibles.
It supports NFTs from unknown artists.
Click here to access SuperRare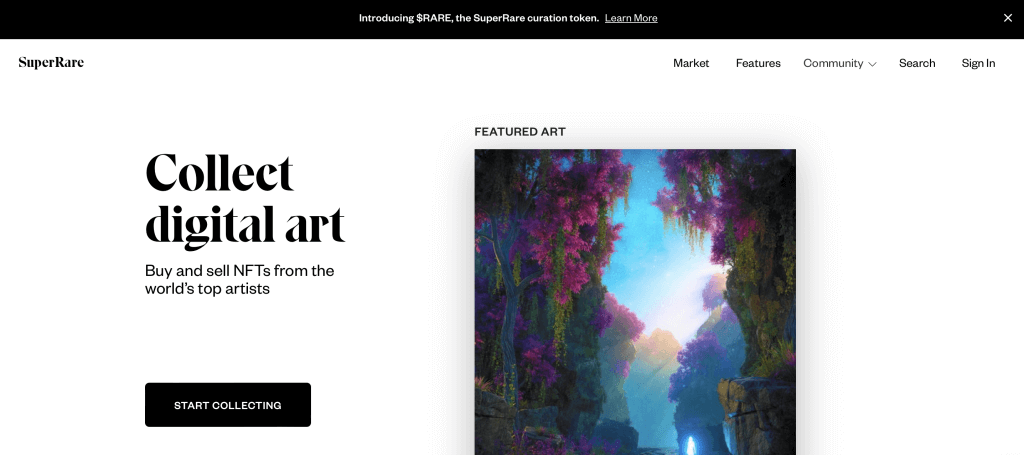 Foundation
Foundation is a newer Ethereum-based NFT platform launched in 2021. It allows artists and digital content creators to build a new creative ecosystem and connect with their supporters or fans.
Foundation has more than 100,000 NFTs for sale and the number keeps increasing as the day goes by.
All NFTs on the Foundation marketplace are traded using ETH. You need an Ethereum-based wallet, such as MetaMask, to join and bid on an auction. Foundation supports only three types of NFTs – 3D artwork, videos, and images.
Since inception, the most valuable digital asset on this platform has been that of Edward Snowden. The asset sold for $5 million. Other notable auctions on Foundation include the Nyan Cat, which was sold for $1.2 million.
Foundation Features
Foundation is an invite-only NFT marketplace.
You need an ERC-20 address like MetaMask to trade on Foundation.
NFTs are transferable to a private wallet for resale.
Click here to access Foundation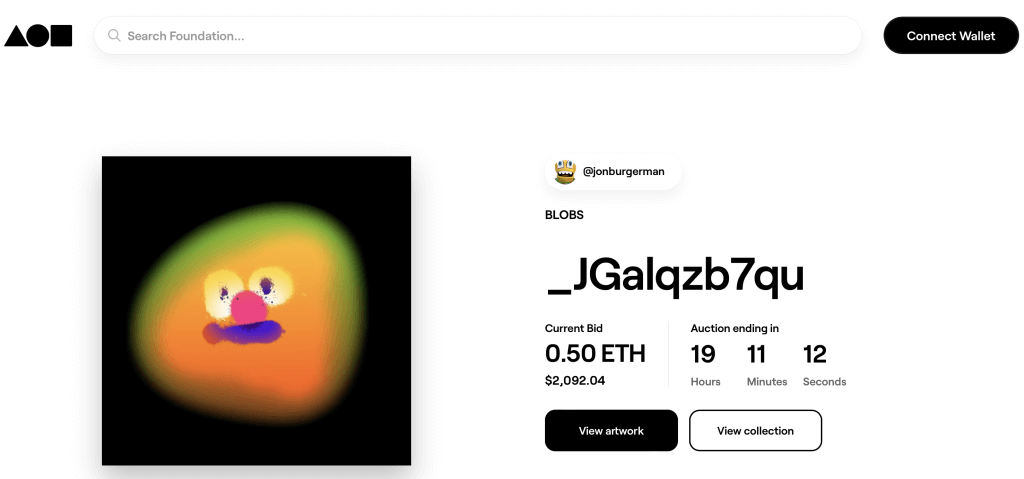 KnownOrigin
KnownOrigin is one of the best NFT marketplaces where content creators can mint and sell their digital assets for real-world money. Founded in 2020, KnownOrigin was built on top of Ethereum blockchain. It allows users to buy, sell, or even collect digital art NFTs. Artists have the opportunity to create authentic and unique digital collectibles to promote their brands.
KnownOrigin's mission is to disrupt the creative industry and empower content creators to benefit from the new digital revolution. It also gives content creators an opportunity to engage and sell their craft to a global audience.
As of the time of writing this post, KnownOrigin has recorded over $417,000 in transaction volume. Notable artists using the platform to reach out to their fan base include Charles Uzzell Edwards and Pure Evil.
KnownOrigin Features
KnownOrigin lets you digitally sign your work by creating a tokenized certificate.
It supports tokens like DAI and ETH.
You have the opportunity to create authentic and unique digital assets.
Click here to access KnownOrigin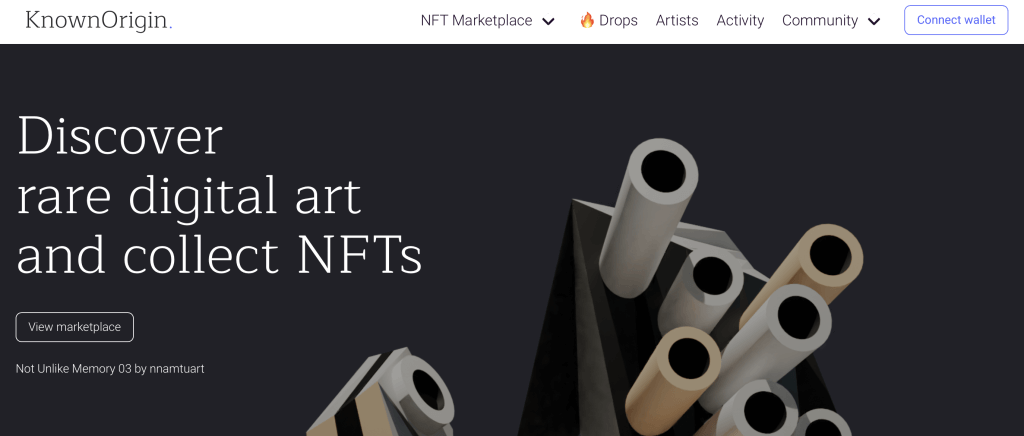 MarkersPlace
MakersPlace is a big NFT marketplace for minting, buying, and selling digital assets in exchange for real-world money. Founded in 2018 and based in San Francisco, MakersPlace is home to some of the most talented artists. According to OpenSea rankings, MakersPlace is regularly in the top 3 in the list of the biggest NFT platforms by trade volume.
Being an NFT marketplace built on Ethereum blockchain, MarkersPlace lets you share and collect rare and verified digital assets. At any time, you can produce documentation that you are the real owner of a digital collectible. Content creators can choose to accept payment from credit/debit cards or ETH.
MarkersPlace has recorded over $100 million in trade volume since inception. The platform takes a 15% commission for every successful sale. If the sale is through credit/debit cards, an additional 2.9% fee will be charged.
MarkersPlace Features
MakersPlace has a very easy onboarding experience.
Every digital asset is digitally signed by the creator.
You can carry out transactions via credit/debit cards or ETH.
Click here to access MarketsPlace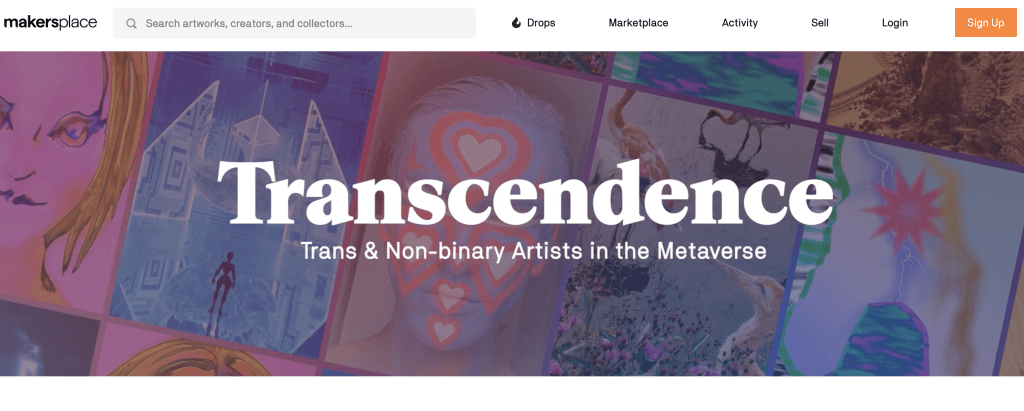 Solanart
Solanart is a fully-fledged NFT platform built on the Solana blockchain. It's a marketplace where content creators can freely create unique digital assets, buy, and sell their Solana-based NFTs for real-world money.
Solanart uses both off-chain and on-chain data. While the on-chain data is used when showcasing NFTs one after the other, the off-chain data is used to display the NFTs on the home page. The on-chain data provides top-notch trading experience.
This NFT platform is home to the Aurory NFT collection. The collection is an upcoming multiplayer NFT game that promises to reward gamers with in-game assets that they can convert to real-world money.
More than 400,000 SOL has already been recorded on Solanart, amounting to $60 million.
Solanart Features
It supports more than 200 payment options.
Solanart lets you send NFTs as a gift to other users.
Users can mint NFTs on the platform.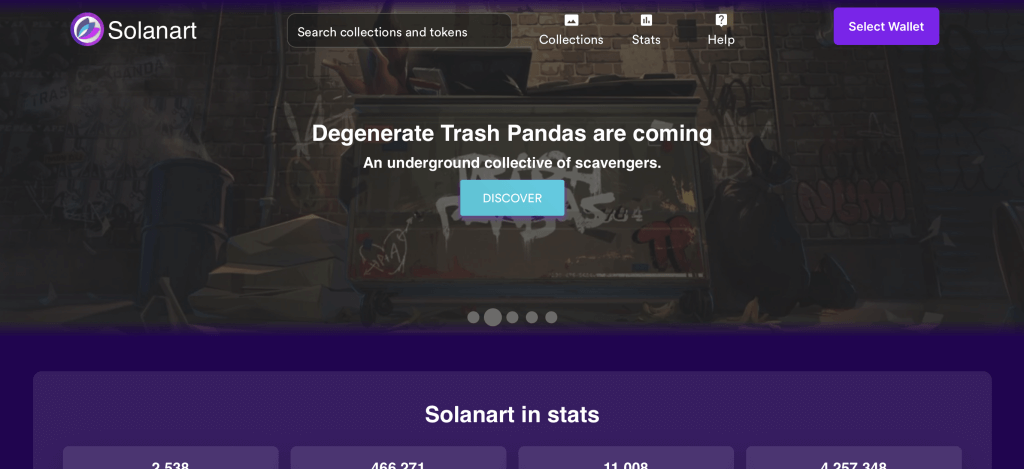 NBA Top Shot Marketplace
NBA Top Shot is a blockchain-based NFT marketplace where content creators can list, buy, and sell officially licensed NBA video highlights. It allows basketball fans to own pieces of history forever. The NBA video highlights are known in the marketplace as a "moment." They are digital-only tokenized video clips issued on the Flow blockchain.
Like trading cards, fans will be able to own the video highlights by trading them. NBA Top Shot is easy to use and trading is only limited to the official marketplace.
Each moment comes with a different price tag. As of the time of writing this post, this platform has sold more than $308 million in trade volume. It charges 5% for every successful transaction.
If you sell a moment for $100, you will receive $95 in your wallet connected to the NBA Top Shot Marketplace.
NBA Top Shot Marketplace Features
Unlike other marketplaces, NBA Top Shot doesn't require you to set up an Ethereum-based wallet like MetaMask.
There is less risk of scams and counterfeits since you can only buy NFTs on the official website.
Is the official home to NBA highlight NFTs
Click here to access NBA Top Shot Marketplace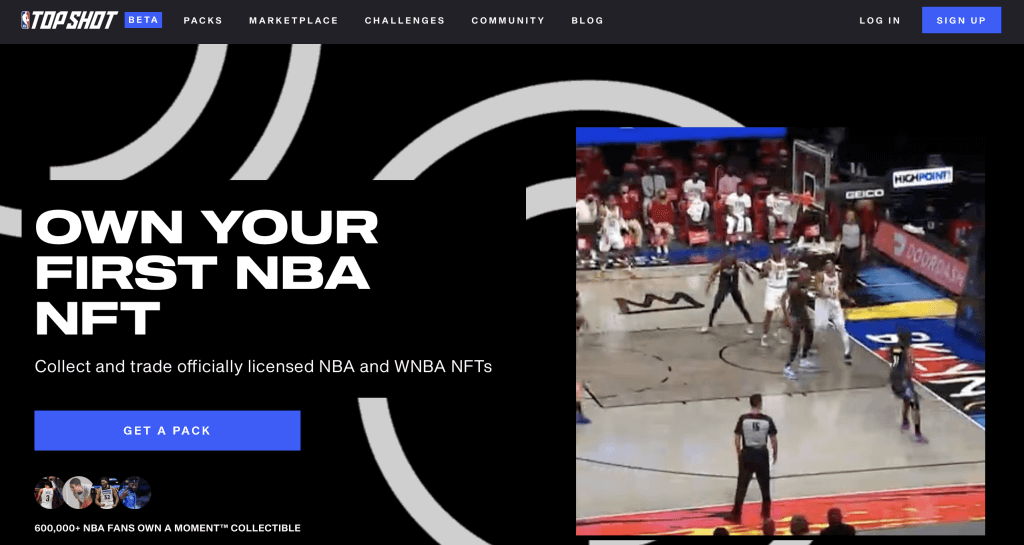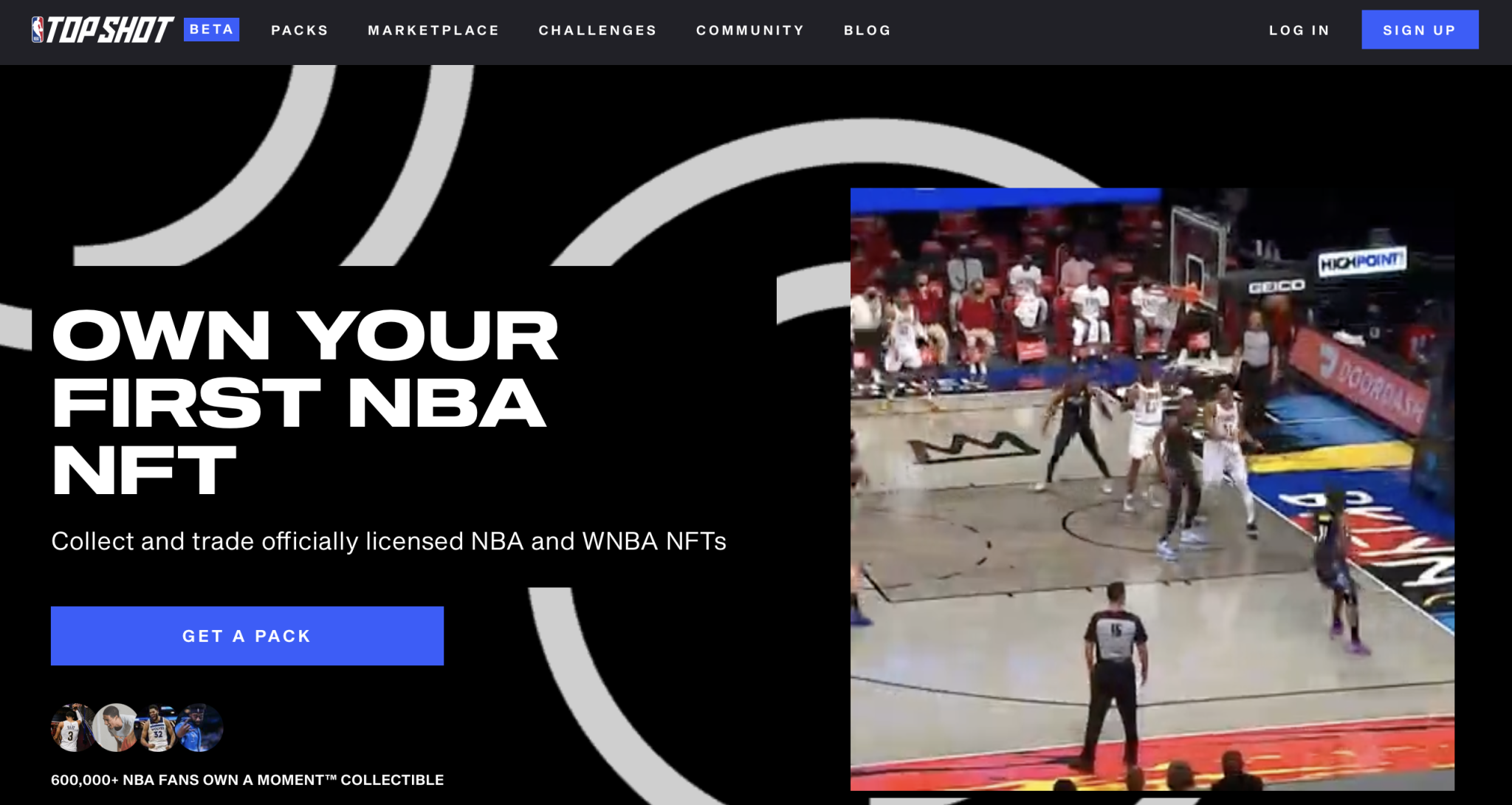 If you would like to start buying, selling, or viewing NFTs, click on one of the links above to get started. If you want to know more about NFT marketplaces and what they are used for, we have more information below.
What is an NFT?
A non-fungible token is a specific piece of digital data that is stored on the blockchain. The blockchain verifies that your data is unique and one of a kind. Common NFTs include:
Images
Audio
Video
Domain names
Characters for crypto games
And other media file types. The predominant usage for NFTs is image collections. Artists and brands have minted NFTs out of their work and sold them on NFT marketplaces.
The price of an NFT is determined completely by supply and demand, much like individual media in real life.
Have other questions about non-fungible tokens? We have an FAQ section below.
NFT Marketplace Frequently Asked Questions
What type of NFT is most popular?
Art is the most popular and most common type of NFT sold. Just like real art, NFTs ensure that digital art is one-of-a-kind and a lot of artists have jumped onto NFTs because of this. Nearly every NFT marketplace open today lists digital art for sale and auction.
Is it profitable to sell NFTs on a marketplacea?
Just like all real world and digital assets, the price of NFTs is completely speculative and based on supply and demand. You buy NFTs with the hope that they will go up in value as you store your asset. NFTs are all unique and one of a kind, so you can store what you own forever and it will always be unique.
How hard is it to create an NFT?
Creating an NFT is a straightforward process that anymore can do. A lot of the NFT marketplaces we listed above give you the option to mint NFTs for free. Once you create them, you can list your NFT on the marketplace or show it off to other users.
How do you get NFTs for free?
Companies, brands, and artists release NFTs for free or at a base cost on initial release. In order to get your hands on one of these, you have to watch for NFT airdrops on each of the marketplaces. These airdrops are distributed to those who sign up and usually by random. These are the best chance to get free NFTs.