In this guide, we compare Trezor vs Ledger in order to determine which crypto hardware wallet is better for you In 2022.
We'll compare all aspects of Trezor vs Ledger, including:
The latest models for each brand
Features we like in both options
Pricing
Supported cryptocurrencies by Trezor and Ledger
Ease of use for each hardware wallet
And a lot more!
If you've recently purchased one of the hardware options in this guide, comment down at the bottom of this post and let us know.
How to Buy the Trezor and Ledger Crypto Wallets
The Ledger Nano S and Nano X can both be purchased worldwide off of Amazon or directly off of the Ledger website. Both options are listed below.
On the contrary, Trezor wallets are only available through the official website. They do ship worldwide.
Click here to buy the Ledger Nano S from the official website.
Click here to buy the Ledger Nano X from the official website.
Click here to buy the Trezor Model One from the official website.
Click here to buy the Trezor Model T from the official website.
If you need more information before deciding, we have a full comparison of Trezor vs Ledger below.
What is a Crypto Hardware Wallet?
A crypto hardware wallet, such as Ledger or Trezor, is a digital device that stores a user's cryptocurrency private keys in a safe manner. Unlike crypto exchanges, which stores and controls your crypto in combined accounts, wallets store only your coins in a private way that is not connected to the internet.
Why do you need a hardware wallet?
Hardware crypto wallets are key for crypto holders who meet at least one of these requirements:
You want to hold your coins long term and not trade them
You don't want your coins stored on the public internet
You want to be as safe as possible with your coins and avoid losing them
What is cold storage?
Cold storage is another term that is synonymous with crypto hardware wallets. Cold storage means that all coins are stored offline, with no active connection to the internet. This prevents hackers from being able to access any of the data on your hardware wallet.
Now that you know a little more about crypto hardware wallets, let's compare Trezor vs Ledger in full detail.
Trezor is a cold wallet created in 2013 by SatoshiLabs. Being a hardware wallet, it stores your crypto holdings offline, keeping them off the prying eyes of internet hackers and scammers.
Unlike other cold wallets, Trezors makes your private keys completely private and has different security features to protect your digital assets. It lets you send and receive cryptos, and also manage your crypto with ease.
To carry out any transaction, you can always check the screen for confirmation of the address, amount, and transaction fees before hitting the send button.
Trezor Models
Trezor has the following two models:
Trezor One
Trezor One has advanced features like U2F two-factor authorization and Password Manager; plus, it offers everything needed to maximally protect your crypto holdings.
It comes in 3 variants – white, black, and a limited Metallic aluminum finish. The third variant was added to the collection to commemorate the company's 5th anniversary.
Trezor Model T
This is the premium model. Trezor Model T has all the features and functionalities of the Trezor One, plus an SD card slot, modern design, a colored touchscreen for secure on-device input, as well as more advanced features.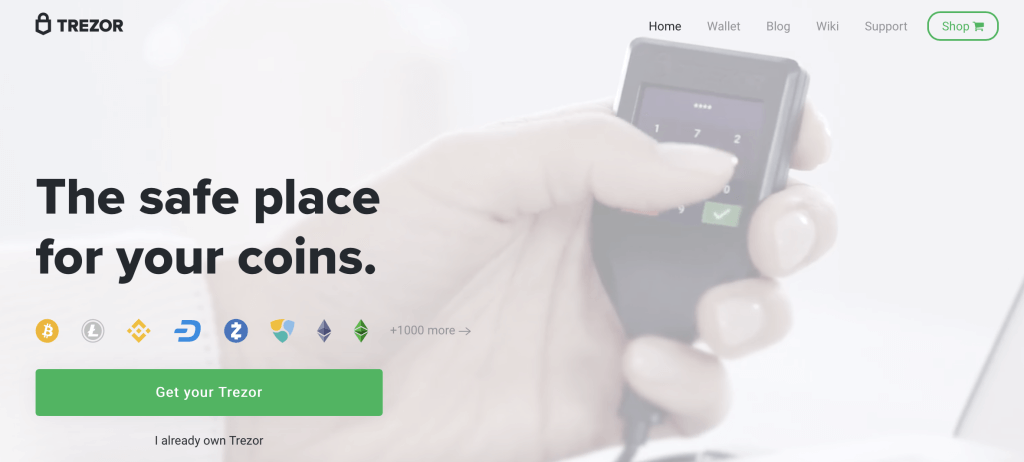 Ledger is a hardware wallet for cold storage that was created way back in 2014 by the Ledger Company. Being one of the earliest crypto wallets on the market, Ledger guarantees the safety of your private keys and also helps you facilitate different transactions on the blockchain.
Crypto traders and enthusiasts love Ledger because it is equipped with chips known as "Secure Elements" and Operating System known as "BOLOS." These features have high-security capabilities.
Ledger Models
As with Trezor, Ledger also has the following two models:
Ledger Nano S
Ledger Nano S is the basic model. It is made of brushed stainless steel and plastic and has a USB type Micro-B connector. For maximum security, you can connect the Ledger Nano S with the Ledger Live app. This gives you control over your crypto holdings. You can safely install and uninstall any application on your device to optimize the device's capacity.
Ledger Nano X
Ledger Nano X is the premium model. It has all the features highlighted for the Ledger Nano S and lets you take total control of your crypto assets.
Compared to Ledger S, this premium model has Bluetooth and a built-in battery for mobile use via smartphones.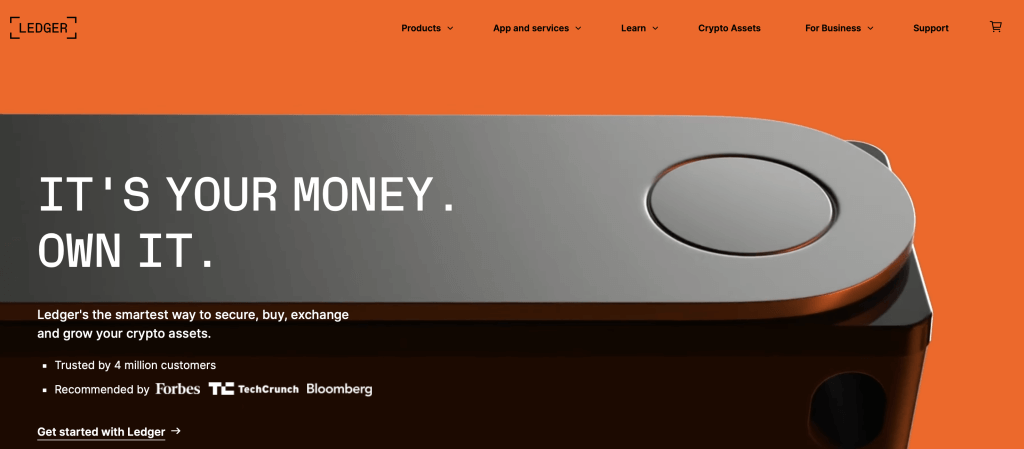 Trezor vs Ledger: Price
The price for the basic models of both wallets, Trezor vs Ledger, is quite identical. The Trezor One runs at $60 while the Ledger Nano S costs about $59 before shipping.
For the premium models, the Trezor Model T goes for $187 while the Ledger Nano X costs $119. While some users might prefer the cheaper models, there are still a couple of reasons to choose the more expensive wallets. For instance, if you dabble into different cryptos, you will enjoy using the more expensive wallets due to its improved security features.
Also, if you are looking for a cheap hardware wallet for cold storage, you will enjoy the low-cost Ledger Nano S or Trezor One. If you prefer a touchscreen, opt for the Trezor Model T. For those who desire Bluetooth features, you will prefer the Ledger Nano X.
Trezor vs Ledger: Displays
The Trezor models are equipped with larger displays, making it seamless and easy to view or access your crypto holdings. The Ledger Nano X has a 128×64-pixel OLED screen compared to the Nano S' 128×32-pixel OLED display.
The difference between Trezor and Ledger wallets is more noticeable on their premium models, as the Trezor Model T offers an LCD color touchscreen that's 240×240 pixels. On the other hand, the Ledger Nano X is equipped with an OLED display that's 128×64 pixels.
Winner: Trezor
Trezor vs Ledger: Supported Cryptocurrencies
Ledger is superior to Trezor for supported cryptocurrencies, allowing users to store up to 1,800 digital coins compared to 1,649 coins supported by Trezor. You can store popular coins like Bitcoin, Polkadot, Ethereum, and Stellar using both wallets.
While the Ledger Nano X and Nano S supports similar coins, the Trezor Model T supports more cryptocurrencies than the Trezor One.
The Trezor One doesn't support a few coins, including:
Binance Coin (BNB)
Tezos (XTZ)
EOS
Monero (XMR)
Ripple (XRP
Cardano (ADA)
Additionally, neither Trezor device support:
Reef Finance (REEF)
Ocean Token (OCEAN)
Celo (CELO)
yearn.finance (YFT)
Graph Token (GRT)
Avalanche (AVAX)
Uniswap (UNI).
Both Ledger devices support all of these coins.
Ledger and Trezor users can access exchange to trade coins while actively using their hardware wallets.
Winner: Ledger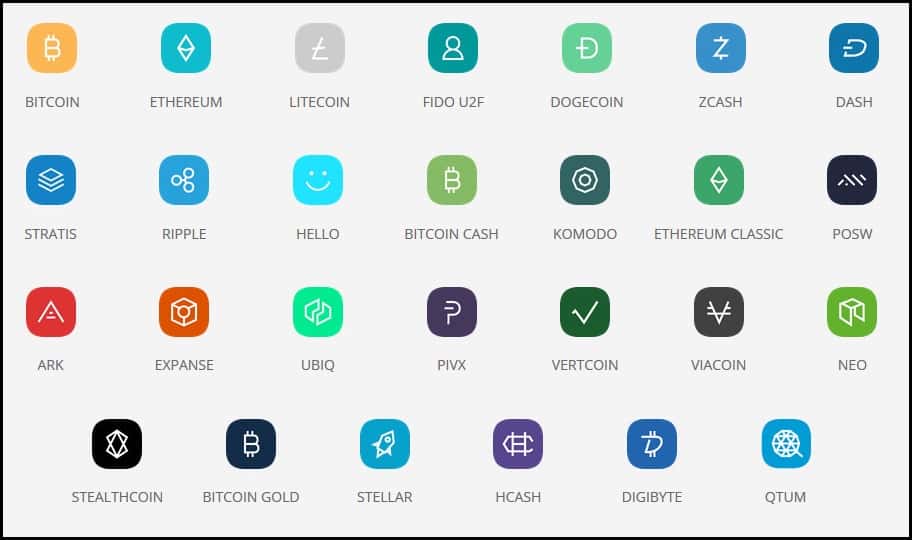 Trezor vs Ledger: Security
When it comes to security, these two hardware wallets provide similar security features. Both wallets guarantee that your private keys are safe from the prying eyes of internet scammers or hackers. The Ledger wallet has a double chip base and Secure Element (SE), which makes it safer against physical attacks. However, Trezor devices have a single chip base but do not boast of a Secure Element.
Trezor wallets use closed-source firmware, which means third-party individuals cannot test or review its vulnerabilities. However unlike Trezor, Ledger uses an open-source framework known as (BOLOS).
Trezor One wallet requires users to use a keyboard to enter their password, whereas this is not the case for Ledger users. Both wallets support Bitcoin Improvement Proposals (BIP39), except the Trezor Model T that offers Shamir Backup for improved security.
Since both Trezor vs Ledger use best-in-class security, we call this one a draw. Both hardware crypto wallets have a top tier reputation for security and privacy, which is why they are both so popular today.
Winner: Draw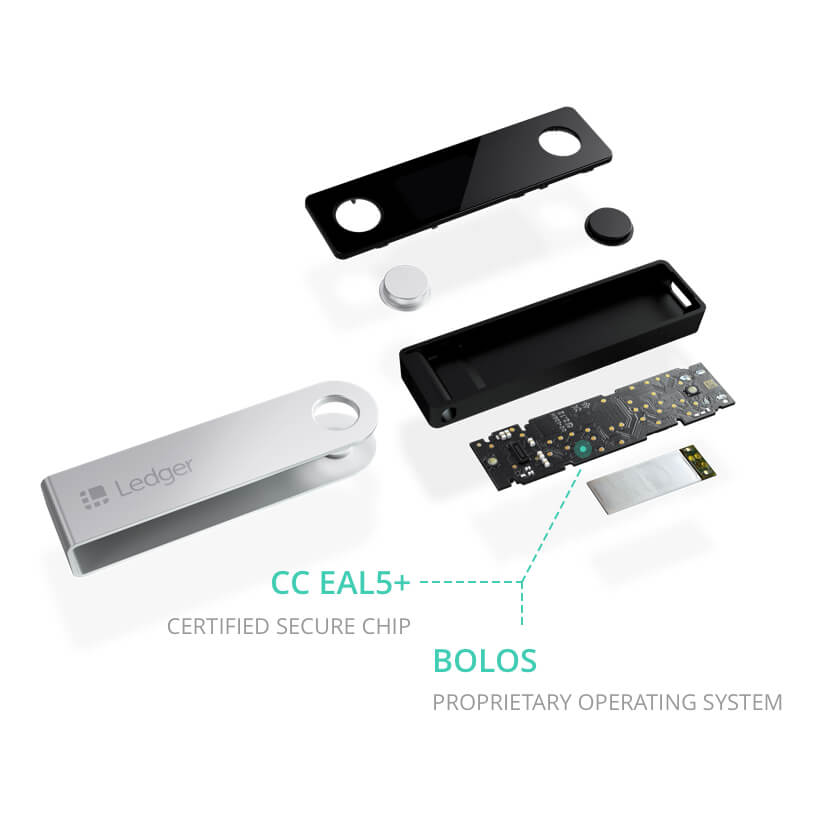 Trezor vs Ledger: Ease of Use
Ledger and Trezor wallets are relatively easy to set up and start using. Both wallets follow strict passphrase and account verification. The lower-end models have smaller screens and 2 physical buttons, which can be a bit challenging for users who enjoy using larger displays and touchscreens. However, the actual set up process and use are almost the same between the devices.
Due to the color touchscreen, the Trezor Model T has an edge over the Ledger Nano X. The screens of both Ledger Nano S and Nano X are still harder to read than the Trezor, even though there is a bit more spacing between the physical buttons. However, connecting the Ledger Nano S via Bluetooth to a cell phone is very much easy, as the Trezor models require the use of a USB cable.
Winner: Trezor (unless you need Bluetooth)

Trezor vs Ledger: Staking
Staking is the process of locking your digital assets in a liquid pool to secure the network for a specific period of time to earn passive income. It takes place on Proof-of-stake networks. Hardware wallets also support staking of digital assets.
Trezor devices do not support crypto staking directly in their platform, but you can link the wallet to staking pools through middlemen. On the contrary, the Ledger wallet lets you stake up to 7 coins at once directly in their platform or using an external wallet.
Winner: Ledger
Trezor vs. Ledger: Mobile App
Ledger wallets use a Ledger Live application. The app is available for download for mobile and desktop devices. With the app, users can send and receive funds, check real-time crypto balances, and manage your account. All Ledger models must connect to the Ledger Live application to complete the initial setup.
On the other hand, Trezor doesn't have a mobile app. However, there are plans by the company to launch one in the future. Instead of a mobile app, users install either the Trezor Bridge or Chrome extension that matches their operating systems. Additionally, Trezor offers the Trezor Suite, which users can use as a desktop app. The app provides access to portfolio information.
Both wallets support third-party wallet applications like MyCrypto, MetaMask, and MyEtherWallet.
Overall, Ledger offers 24 third-party wallets versus 15 offered by Trezor. This, in addition to the mobile app, gives it a nice advantage.
Winner: Ledger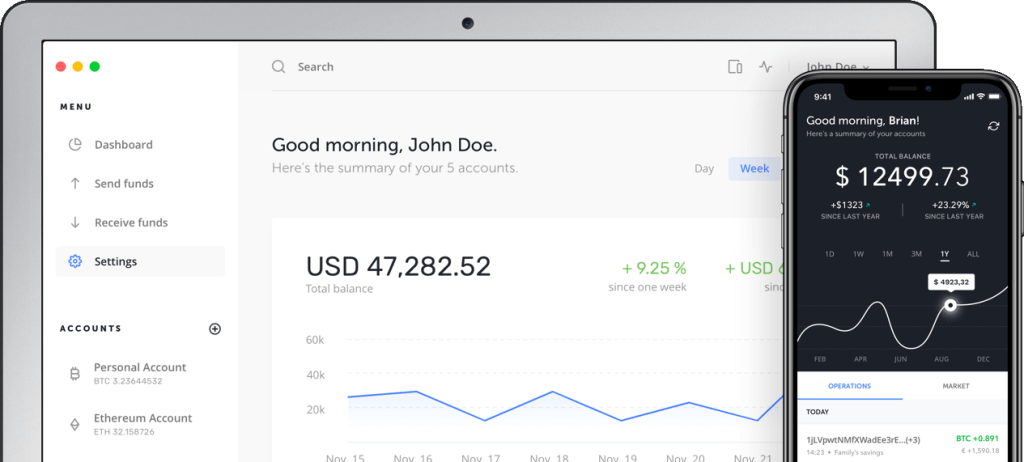 Conclusion: Which Hardware Wallet in Better Trezor vs Ledger
Between Trezor vs Ledger, both hardware wallets do a fine job storing our crypto coins in cold storage. Which wallet you want depends on what features you think are important.
Buy Trezor if you want:
A better display
More ease of use
Buy Ledger if you want:
A cheaper wallet
More cryptocurrency support
The ability to stake right from the wallet
Both devices have been kings for a while now and you'll find plenty of recommendations for both.
If you are a blogger or have a following, both Trezor and Ledger offer crypto affiliate programs that you can join and earn some extra revenue with.
Comment down below and let us know which wallet you own today.