Crypto staking providers allow you to invest in the highest staking crypto coins and earn serious income for holding them. In this guide, we take a look at the best staking providers and how to get started earning money today.
Specifically, we'll go over:
The benefits of using a staking provider
The best crypto staking providers today
Features in each provider we really like
How to get started earning money today
If we missed anything, make sure to comment down at the bottom and let us know.
Related: Here are the best NFT marketplaces where you can buy and sells NFTs and earn money that way.
What is a Staking Provider?
A staking provider is a company or platform that offers a proof-of-stake service where you can stake your digital assets and earn passive income in return.
Staking providers have the best infrastructure for running the validator nodes. Plus, they help you take care of the whole value chain of the staking process.
In simple terms, these providers understand all of the technical requirements so that you can focus on just making money by staking crypto.
Staking providers charge a fee for this service, typically a certain percentage of the rewards you will receive at the end of the staking process. Whether or not you have staking technical know-how is insignificant when you are using staking providers. These companies have simplified the staking processes for a beginner to easily get started.
Click here to see what crypto coins are the best for staking.
The Best Crypto Staking Providers
Here is our list of the best crypto staking providers:
Next, we go into each option in more detail.
MyCointainer Review
MyCointainer is a well-regulated and trusted staking provider that enables you to stake a wide range of digital assets through a user-friendly online platform. Founded in 2019, this staking-as-a-service provider has removed all complexities surrounding crypto staking.
All you need to do is to choose your preferred coins, stake, and start earning.
MyCointainer also offers the best airdrops so that you can get a chance to own tokens before they are launched. Some popular stakable assets on this provider's list include:
Phore (PHR)
PinkCoin (PINK)
Bitbay (BAY)
CloakCoin (CLOAK)
PIVX (PIVX)
Particl (PART)
NavCoin (NAV)
OKCash (OK)
Wagerr (WGR)
BlackCoin (BLK)
and many more.
MyCointainer charges a staking fee between 0% – 28%. Zen, Polygon, Harmony, Truelayer, and Trustly are some popular investors using their platform to invest in the crypto world.
MyCointainer Features
MyCointainer supports more than 100 cryptos in one simple wallet.
This provider is connected to over 10 popular decentralized exchanges.
You can start your crypto staking journey using cash, cryptos, or various global payment methods.
Click here to view MyCointainer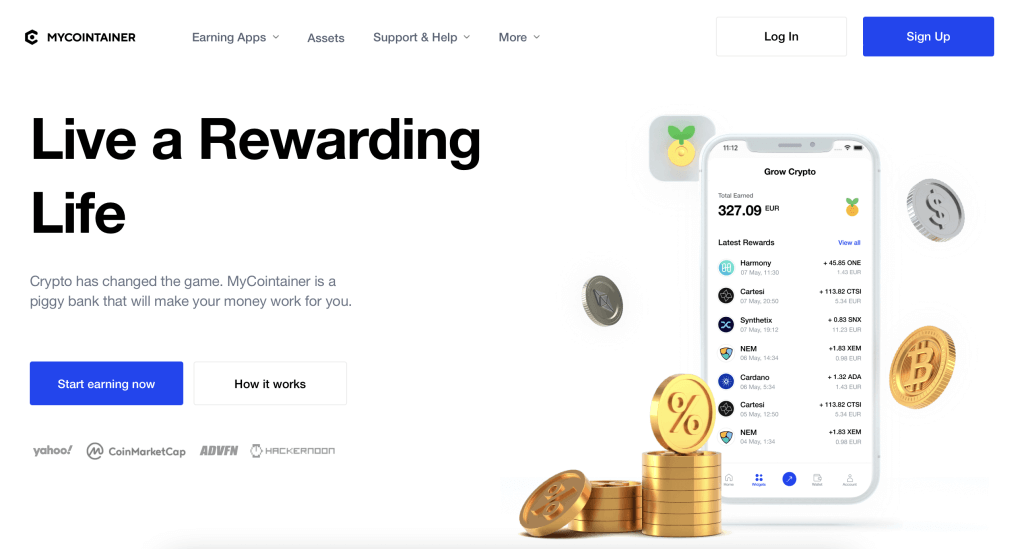 Binance Earn Review
Binance Earn is a staking feature of Binance, the top crypto exchange in the world. Binance has managed to carve a niche for itself as the best go-to platform for crypto staking. The company offers crypto staking for a wide range of coins, including its native token, BNB.
Under the Binance Earn feature, there are two staking options:
Locked staking
DeFi staking
While the former locks your digital assets for a certain period, the latter helps you stake your assets in decentralized finance projects.
One major advantage of using Binance Earn is that it charges zero staking fees. It supports a long list of cryptocurrencies, including:
Bitcoin (BTC)
Binance Coin (BNB)
Dai (DAI)
Tether (USDT)
SushiSwap (SUSHI)
Tezos (XTZ)
and many more
Binance Earn Features
Binance Earn has an easy to use staking platform. You don't need to acquire resources, manage private keys, or perform other complicated tasks.
Investors can earn generous rewards without having to keep an on-chain wallet.
Binance Earn has a risk management measure in place to help you reduce the risk associated with crypto staking.
The fees charged are decent so that you can earn the highest possible returns on your investment.
Click here to view Binance Earn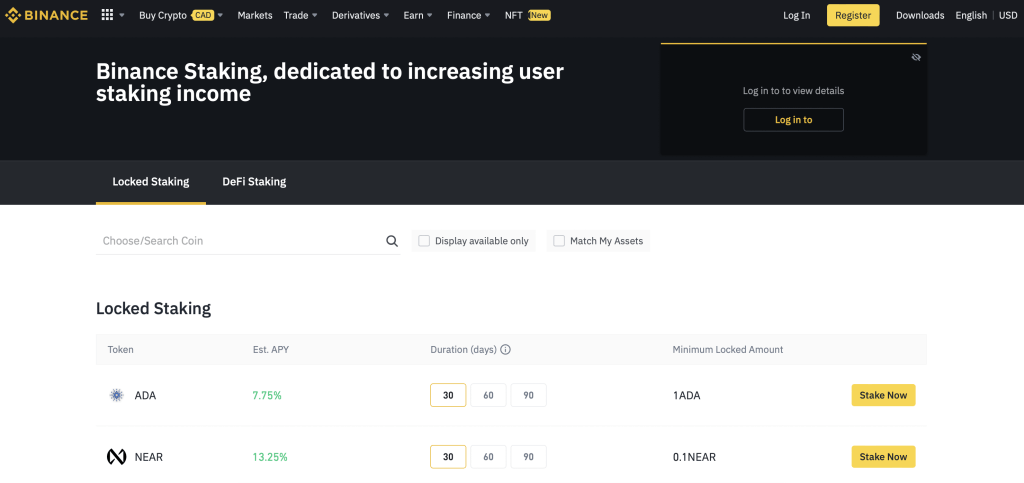 Staked.us Review
Staked.us is a New York-based staking provider founded in 2019. It's a fixed income solution for crypto asset investors.
Staked.us lets you earn easily earn interest from DeFi projects and staking. The company also helps investors earn money in their crypto holdings by 7-20% annually via lending and staking.. Staked.us has has a great setup which is easy for the average crypto enthusiast to participate in ETH2 staking.
You can stake a long list of coins on the platform, including:
Tezos (XTZ)
Livepeer (LPT)
Decred (DCR)
Cosmos (ATOM)
Solana (SOL)
Cardano (ADA)
Polkadot (DOT)
Polygon (MATIC)
Dash (DASH)
You can enjoy an interest rate of up to 48% APR using Staked.us. The fees charged are between 0% – 54% of your rewards.
Pantera, Multicoin Capital, Digital Currency Group, and Continue Capital are some popular investors using Staked.us to invest in the crypto world.
Staked.us Features
Staked.us has a robust infrastructure with no extended downtime or slashing.
The company's activities have been audited by security and devops teams to comply with standard protocols.
Staked.us supports more than 30 digital assets with 15 more coming soon.
The company uses custom software to optimize rewards.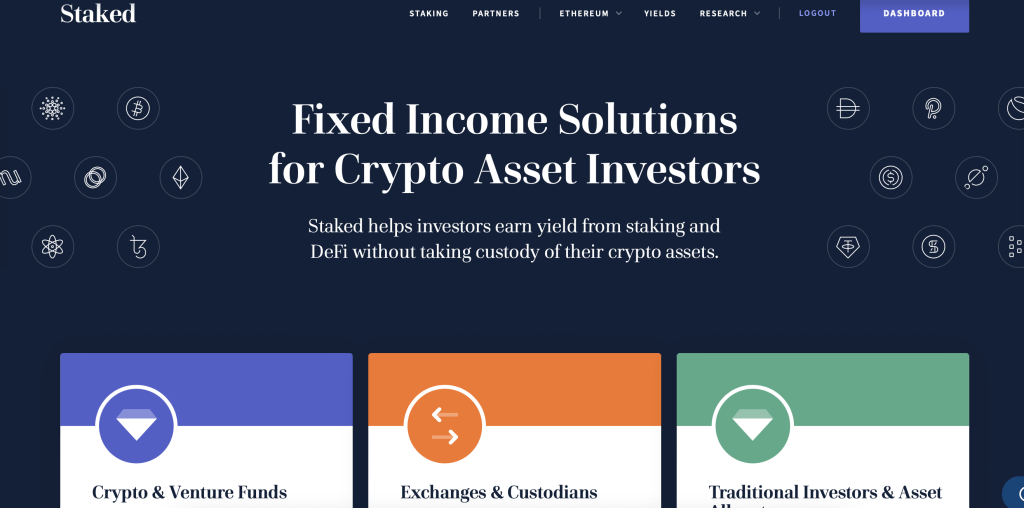 Coinbase Custody Review
Coinbase Custody is one of the products of Coinbase, one of the most reputable decentralized exchanges. Coinbase Custody offers clients the most sophisticated crypto offline custody solution in the world. It helps investors to benefit from the crypto ecosystem.
As the first company to offer crypto staking from a safe, Coinbase Custody lets you stake on your preferred coins and earn passive income without lifting a finger. You can stake up to 3 coins by leaving your tokens in the Coinbase wallet.
Other assets will follow suit as Coinbase expands its operations.
Currently, the stakable coins include:
Ethereum (ETH)
Tezos (XTZ)
Cosmos (ATOM)
You can earn up to 25% by using Coinbase as your crypto staking provider.
Coinbase Custody
Coinbase Custody has a good insurance policy, so there's no way you can lose your money.
External firms regularly audit the company's financial and security capabilities for compliance.
Coinbase Custody offers a higher interest rate than other providers.
You will enjoy superior customer service whenever you encounter any challenge.
Click here to view Coinbase Custody
Everstake Review
Everstake is a trusted and reliable crypto staking service. It's owned by a team of experienced developers, blockchain enthusiasts, and financial experts under the brand name Attic Lab.
Everstake runs reliable nodes and highly secure PoS protocols to ensure maximum security and efficiency. The company helps regular token holders and institutional investors to profit off their crypto holdings.
Everstake operates in a variety of PoS blockchains, providing investors with an opportunity to choose from numerous options. You can pick from the most trusted projects and make between 5-20% annually. Everstake boasts of over 465,000 users across the world, with over $6,200,000,000 digital assets staked.
Everstake supports a wide range of coins, including:
Tezos
Cosmos
ICON
Polkadot
Cardano
Near
Kusama
Chainlink
And more!
Everstake Features
Has an updated dashboard where you can view staking data in real-time.
High-performance servers, advanced network topology, and broadband channels allows Everstake to operate up to 99.9% uptime.
Everstake guarantees automatic payouts of your rewards.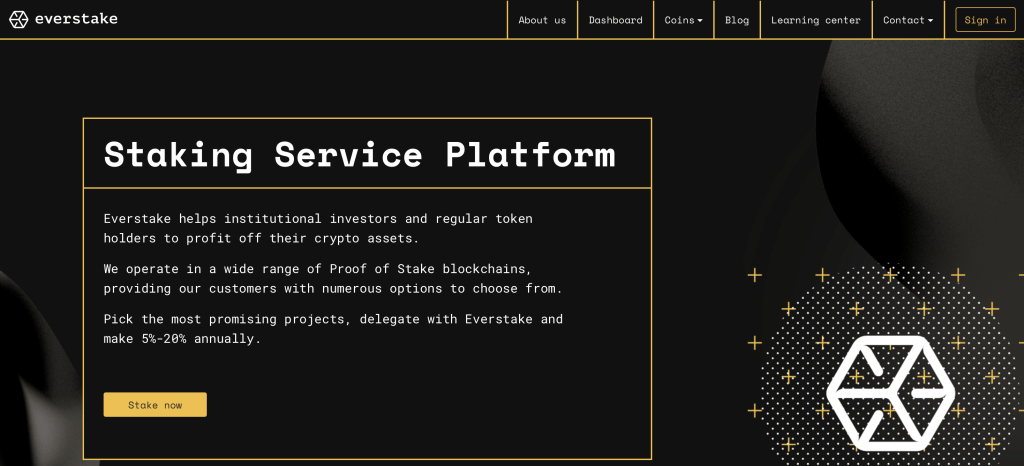 Kraken Staking Review
Kraken is a San Francisco-based decentralized exchange that serves millions of crypto traders across the world. Since inception, the company hosted some of the biggest and earliest crypto projects.
In 2019, Kraken added a crypto staking service known as "Kraken Staking" to its portfolio, so that users can profit off their crypto holdings. The staking service first started with Tezos (XTZ).
Currently, the service supports a wide range of stakable assets, including:
Ethereum (ETH)
Cosmos (ATOM)
KAVA (KAVA)
Algorand (ALGO)
Polkadot (DOT)
Kusama (KSM)
Flow (FLOW)
and much more.
The fee charged to stake your digital assets with Kraken is 15% of your earned income.
Kraken Staking Features
You will receive rewards twice a week from your staked assets.
Kraken has a risk management system to prevent fraud and system hacking.
Easy deposits and withdrawals.
They parade an efficient customer support team to help you resolve any challenge.
Click here to view Kraken Staking

P2P Validator Review
P2P Validator is a secure and non-custodial staking. Founded in 2018, P2P Validator is capable of compounding your crypto holdings through secure staking.
This staking-as-a-service provider offers high uptime with advanced monitoring and support. It gives investors and crypto enthusiasts access to over 25 networks to stake their assets.
This provider lets you see your expected annual yield as a gross percentage. Plus, your rewards start counting from day one. Major stakable assets include:
Ethereum (ETH)
Cosmos (ATOM)
Polkadot (DOT)
Tezos (XTZ)
Solana (SOL)
Cardano (ADA)
Marlin (POUND)
and many others.
If you are looking for a staking provider with the highest level of security and performance optimization, P2P Validator has got you covered. In fact, this provider is the best place for investors with digital assets greater than $500k.
The fee charged by P2P Validator is between 3% – 15%.
P2P Validator Features
P2P Validator lets you calculate and compare your income using live buttons.
Earn staking rewards from day one on the P2P Validator platform.
The company maintains an average uptime of 99%.
Click here to view P2P Validator

Hashquark Review
HashQuark, a member of HashKey Group, is a leading staking-as-a-service provider that offers secure and convenient enterprise-level staking services. It focuses on public chains built on PoS and DPoS. With HashQuark, you simply need to store your digital assets in your account and receive staking rewards in return.
Whether you are a beginner or a professional investor, HashQuark has simplified the process to participate in the staking ecosystem. The company is committed to the safe and smooth operation of mainstream PoS blockchains. All you need to do is to delegate your digital assets to the supernodes to earn passive income.
Some of the coins available on Hashquark are:
Polkadot
Flow
Ethereum 2.0
Cosmos
Tezos
Kusama
Solana
Ava Labs
Near
MATIC
In all, there are over 60 coins available to investors with varying interest rates.
HashQuark Features
Uses an enterprise-level financial security system to provide guaranteed safety.
High quality blockchain infrastructure and automated maintenance system to ensure system efficiency.
HashQuark guarantees fast and hassle-free withdrawal.
Dokia Capital Review
Dokia Capital is a crypto staking provider that lets you delegate your digital assets to start earning staking rewards. Founded in 2019, Dokia Capital aims to remove all the impediments surrounding crypto staking so that the average person can earn off their crypto portfolio.
Just delegate your crypto assets and start earning rewards from the get-go. The staking process is easy and straightforward.
The company parades a team of highly skilled blockchain experts and developers with vast years of experience in the Fintech space.
Stakable assets under Dokia Capital's portfolio include:
Cosmos (ATOM)
Terra (LUNA)
NEAR Protocol (NEAR)
Polkadot (DOT)
Solana (SOL)
IRISnet (IRIS)
and many more. For staking fees, the company charges anything between 5% – 15% on your earned rewards.
Dokia Capital Features
Dokia Capital operates a 99.82% guaranteed availability. Plus, there's extensive fire prevention and protection equipment in their datacenters.
This staking-as-a-service provider operates at the optimum levels of security, meaning you cannot lose your tokens to hackers.
The company offers superior customer service, plus fast payouts.
Click here to view Dokia Capital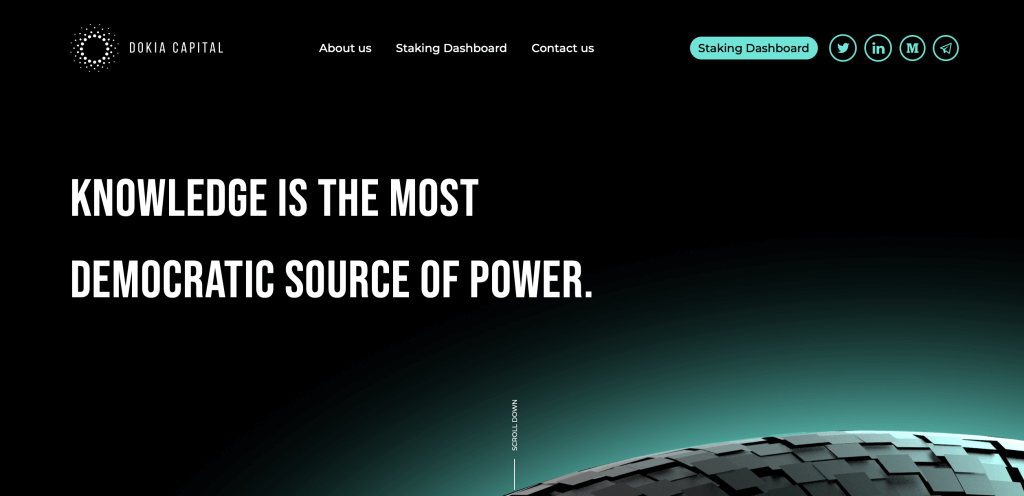 As you can see, crypto staking providers have become very popular. Even beginners can get started earning interest on their crypto coins.
Benefits of using a Staking Provider
Some of the benefits of using a staking provider are:
Passive Income Generation
Staking providers have what it takes to help you generate passive income without lifting a finger. Whether you are a crypto guru or a beginner, staking providers provide you with an enabling environment to earn real-world money from your crypto holdings.
Low Entry
Crypto staking would have traditionally been for only big-time investors or institutional investors. However for the services offered by staking providers, everyone can participate.
Whether you have $50 or $20,000 worth or digital assets, you can participate in the staking ecosystem and still earn money from your crypto holdings.
High Interest Rate
Another major benefit of using staking providers is that their interest rates are way above what financial institutions offer. For instance, there are some staking providers that offer as high as between 40-50% interest on your locked cryptos.
Next, we take a look at the best crypto staking providers you should look at to get started.
If you check out and sign up for any of the crypto staking providers above, make sure to comment down below and let us know.