The Colossus Repo and Ares Wizard appear to have gone offline, taking with them the code for URLResolver, Covenant, Bennu, and hundreds of other Kodi addons and dependencies. Read more details below. 
The story below has been updated and we have added a summary to the bottom of the post with a list of all addons and repositories that have gone offline.
Warning to all Kodi Users
As you read the updates below to some of your favourite Kodi addons, we want to caution you against installing new and unknown repositories. Some people have setup new repositories to host some of the addons below without any programming knowledge or permission from the original developer. The only person who should advertise a new version of Covenant, for example, should be the existing Covenant developer.
Do NOT install any new repos from people claiming to have updates to old addons. The Cerebro Repository is one repo that we saw that was setup with new versions of popular Kodi addons that had nothing new added to them.
Colossus Repo Gone
Around 1pm EST on November 15th, the Colossus Repo went offline, taking with it a ton of Kodi addons and dependencies such as URLResolver, Covenant, Bennu, and more. Accessing the official Colossus Github Page shows no repositories listed. The GitHub page was the only official method for accessing the addons and repository and was constantly being updated before it went down.
On Twitter, jsergio123, one of the main developers for URLResolver, had the following to say:
Sorry to say but I am stopping all development of the urlresolver, metahandler, and my other addons. I am not responsible for covenant and bennu but colossus has agreed to delete the repo too.
The community needs to support @tvaddonsco legal battle. That's all I'm going to say.
Multiple reports indicate that jsergio was contacted with a cease and desist order from the MPAA, where they called them responsible for promoting piracy via their addons in their repositories. A quick reminder that Kodi addons do not host any content and simply act as search engines to the public internet.
@TheAlphaP Twitter Account
A cryptic Twitter message by @TheAlphaP this afternoon ended up being a sign that Alpha was also in some trouble.
https://twitter.com/TheAlphaP/status/930911943887482880
A few hours later, a letter that was supposedly sent to Alpha was posted online. In it, a collection of companies from Disney, Netflix, Sky, Warner Bros, and others calling themselves the "MPA" (Motion Picture Association) warn Alpha against doing any more Kodi development and accuse him a copyright infringement amongst a few other things.
The letter can be read in full below. TheAlphaP's Twitter account is still active.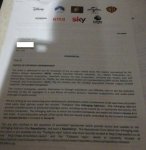 @EchoCoder's Twitter Account
EchoCoder was a developer in the Colossus Repository, working on a number of addons like Bennu and his Echo __ (Streams, Sports, Movies, etc) brand of Kodi addons. As of right now, EchoCoders Twitter account has disappeared and does not exist.
A few reports surfaced that Echo was also hit with a cease and desist order for his role in the Colossus Repo, but there is no confirmed truth to that story.
@Ares_Wizard's Twitter Account
The Twitter account for Ares_Wizard also no longer exists and there is no official word on its status.
UPDATE: As of November 17th, the URLs to the Ares Wizard pages online here and here have been taken offline.
Smash Repository
The Smash Repository has gone offline. Smash confirmed that he will be moving away from Kodi addons and focusing on a new venture in the future.
Shani_01 / ZemTV Developer
Coincidentally or not, Shani_01, the developer of ZemTV who was named in the Dish Network lawsuit along with TVAddons creator Adam Lackman, also reappeared today on Twitter. Shani pledged that he wanted to fight and clear his name to support all Kodi developers who haven't done anything wrong and are being targeted by large companies.
Shani also posted a link to a GoFundMe page to raise money for legal fees, which was mistakenly taken down by GoFundMe for violating terms and conditions; they thought Shani was raising money for a criminal court case, which he was not.
As soon as Shani reposts his fundraising campaign, we will pass that information along to everyone.
URLResolver
URLResolver is an important Kodi dependency that resolves links from a wide list of file hosting websites. URLResolver was previously hosted and developed through the Colossus GitHub, which no longer exists.
The TVAddons GitHub page is currently online and hosting a copy of URLResolver for reference, but without developers to update the individual resolvers, they will degrade over time and you will see less links in addons that use it (Covenant, Bennu, etc).
DandyMedia Repo & Addons
DandyMedia has taken his repository offline, which included popular Kodi addons such as Myriad, 1080p, Openload Movies, and others. A Twitter message from @noobsandnerds said the following:
You may notice that from today our repository looks a little smaller. DandyMedia is taking a little bit of Gardening Leave. #DontPanic
DandyMedia's Twitter account has also been deactivated as of this time. There is no indication that Dandy received any threatening letters at this time. Just a reminder to NOT uninstall Dandy's addons if you have them installed.
Mr. Blamo / Death Streams
Mr. Blamo, the developer of the Death Streams Kodi addon (which used to be in Colossus) is the first to pop up in another repository. Death Streams can be found inside of the Looking Glass Repository, the formal name for Gracie242's team.
Project D
Project D was a popular playlister in the Bennu Kodi addon. According to Twitter, he has joined the Looking Glass team. As of right now, he does not have an addon in the repo but if and when something if release, we will pass that information on.
Caz_Wallace Wizard / Repo
Caz Wallace, a popular Youtube video creator who also had a wizard for installing Kodi builds, announced on Twitter that he received a letter from the MPAA warning him against support for any "grey area" Kodi addons.
He announced on Twitter that we will only host legal addons from now and will not have a wizard any longer.
Pulse Build / Wizard
A few of our followers have contacted us to say that upon launching their Kodi box with the Pulse build installed, a popup has let them know that Pulse is going offline and will no longer be maintenance. There is no word whether the Pulse team also received a formal letter warning them or if they are simply going offline as a precaution.
Mucky Duck Repo & Addons
On Twitter, Mucky Duck released the following message:
Mucky Duck will no longer be developing the mdrepo or duckpool repo. Ive shut them down due to unforeseen legal actions that I'm not at liberty to discuss.

So farewell for now but hopefully i can find another project that isn't in such a legal grey area to continue my learning of the addictive language that is python.

on the plus side im getting married in the new year. thinking maybe a stag do in amsterdam anyone welcome.
Mucky Duck was the dev for some popular Kodi addons such as M4U and DuckPool.
Noobs and Nerds
Noobs and Nerds, home to such addons as Bob Unleashed and Elysium, announced that they will no longer be active on public Twitter and will only be taking help, support, and updates on their forums. All addons are moving forward with development.
Vortex
Rockcrusher announced on Twitter that the "Special Events" section in Vortex is being taking down for the time being. This removes the legal "grey" area from Vortex and the rest of the addon can continue to be enjoyed
FAQ: If I have these addons installed, what should I do?
If you already have Covenant, Bennu, or any other addon installed which is no longer alive, LEAVE IT ALONE. There is no risk in keeping the addon installed at this time and they will continue to function. Kodi addons are simply search engines to the public internet and host no content. Without developers, addons degrade over time and you will see less and less links returned by them.
If you uninstall an addon, you will not be able to install it again easily. If you are setting up a new Kodi box, you will not be able to install any repo that is currently down.
Summary of Repositories & Addons Down
Repositories
Colossus
Mucky Duck
Ares
DandyMedia
Addons
Colossus
Bennu
Fear of the Dark
Icefilms
1Channel
Myriad
M4U
Sportie
Yes Movies
Duck Pool
Imperial Streams
123Movies
Openload Movies
1080p Movies
DandyMedia
Film Emporium
HEVC VideoClub
Ares Football
We will update you on KodiTips as soon as we have more information. Some other addresses have hosted mirror copies of the Colossus repository and some of its addons, but without the official source for updates, those repos are now unsupported.
Let us know on Twitter or Facebook if you have any further information.
Hide yourself on the internet with a reliable VIP VPN service. A VPN can make hide your internet traffic and make you appear as if you are from anywhere in the world. We offer 53% off IPVanish, which has some advantages too:
Native apps for Amazon Fire Stick, Android TV, Android, iOS, Mac, Linux, and more
Unlimited bandwidth
Tier 1 hardware (no speed slowdown)
Log-free, so you can't be tracked
7 day money back guarantee
The ability to be configured right at your router, for a hassle-free experience.
If you are interested in signing up, receive an automatic 53% off your first IPVanish bill by clicking here!
Live Updates: Colossus Repo, Others Offline, Shani Returns
was last modified:
November 25th, 2017
by