In this guide, we will show you how to buy NFL All Day NFTs with a step by step tutorial. NFL All Day offers a whole new world of collection as it lets you collect officially licensed NFL highlights as an NFT.
Specifically, we will go over:
What is NFL All Day?
Strategies on buying NFL All Day NFTs
How to buy NFL All Day NFTs (step by step)
If we've missed anything, or you have more questions, comment down below at the bottom of this guide and let us know!
What is NFL All Day?
NFL All Day is a new way to collect in the NFT world. Much like Topps NFT Baseball cards and NBA Top Shot, NFL All Day allows you to collect officially licensed NFL highlights by purchasing packs. You can keep these NFTs in your collection or sell them on a marketplace.
NFL All Day is the official home of football NFTs.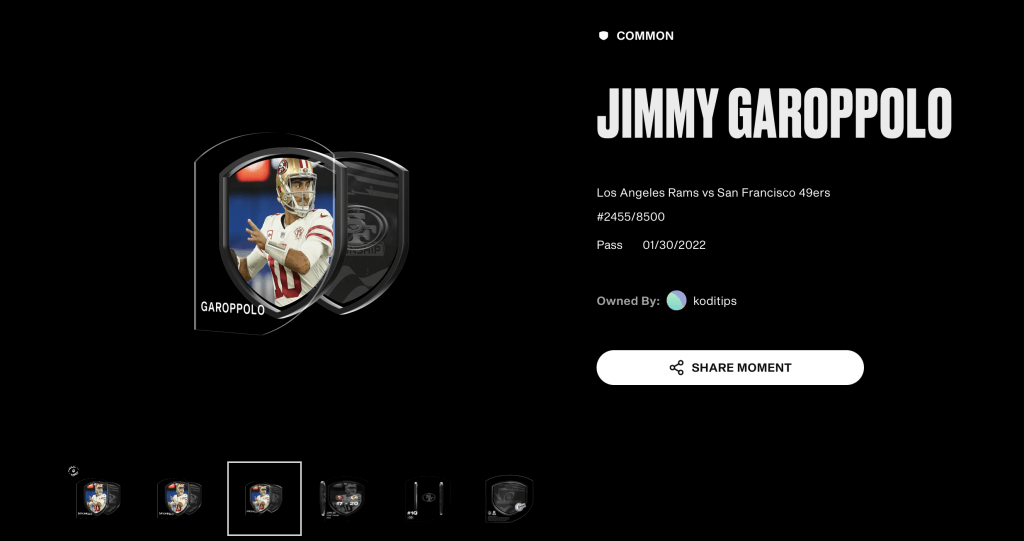 How does NFL All Day Work?
NFL All Day is created by Dapper Labs, which is the same company behind NBA Top Shot. NFL All Day NFTs are purchased in packs that consist of a series of NFL video highlights based on rarity. The more rare the type of highlight, the higher the cost to purchase the NFT.
Rarity Tiers
As of right now, there are three rarity tiers for NFL All Day NFTs.
There are two different packs that will be available to purchase in NFL All Day: Standard and Premium packs.
Standard Packs include 3 highlights inside which a very small chance at a Legendary highlight
Premium Packs include 4 highlights with 3 common and 1 Rare or Legendary
Currently, All Day is in a closed beta state where you must be registered in order to have the limited chance to purchase NFTs. This means that it is a good time to get in, because there is less competition.
Who Owns NFL All Day?
NFL All Day was created by Dapper Labs, the same company who created NBA Top Shot NFTs. Dapper Labs created their own Flow blockchain technology.
One of the most important benefits of the Flow blockchain is that it is gasless. This means that customers do not need to pay a fee for each transaction completed.
Dapper Labs has also worked with companies such as the UFC and NBA to create digital collectibles and they also have created their own NFT wallet to use for NBA Top Shot and now NFL All Day. This means you can use the same funds for both and they are interchangeable.
NFL All Day vs Topps NFT Baseball Cards vs NBA Top Shot
Topps NFT Baseball Cards, NBA Top Shot and now NFL All Day are all very similar in that they are digital items that you can purchase, hold, trade or sell online digitally. They are all also based on a blockchain with NFL All Day and NBA Top Shot on the same one.
Much like NBA Top Shot, All Day is very similar in that you are getting an officially licensed NFL highlight when you purchase a pack. You can get multiple different highlights such as a Wild Card playoff touchdown, or Tom Brady's final touchdown pass. Once you click into the highlight, it will automatically start playing for you. Each highlight is based on rarity of the moment in real-life and the price will correlate with that.
Topps NFT Baseball cards are much more like the traditional collection of trading cards. They are trading cards, but just a digital image of it. NBA Top Shot and All Day are much more dynamic.
Requirements to Buy NFL All Day NFTs
There are two requirements that you must meet in order to buy All Day football NFTs:
You must create an NFL All Day account
You need to open up a Dapper Wallet for storing your NFTs
How to Create an NFL All Day Account
Visit the official website at nflallday.com
Click the Get Started button in the top right hand corner
Here you can either sign up with a Google account or else with an email and password
Once signed up you will be prompted to agree to the Terms of Use and Privacy Policy
You are now good to go!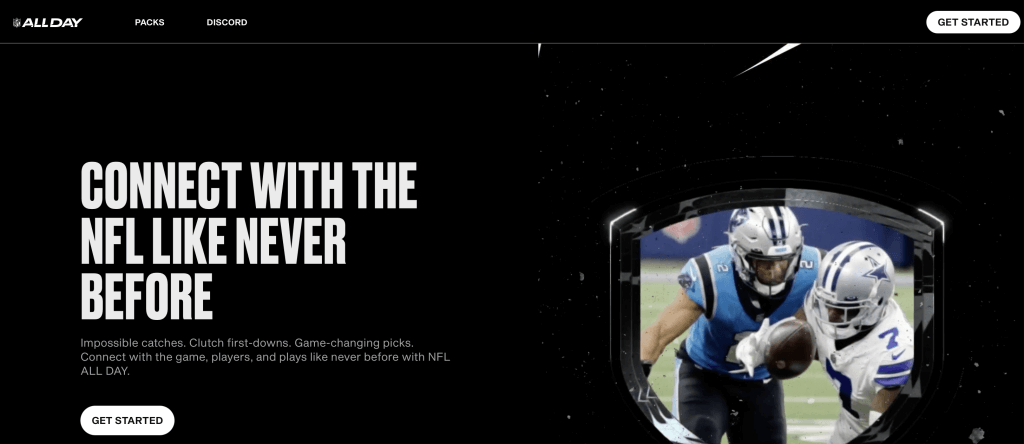 How to Open Up a Dapper Wallet
NFL All Day NFTs are stored on the Flow blockchain because they are moving highlights instead of still images. Therefore, you will not be able to store them on an Ethereum wallet like other NFTs.
To open up a Dapper wallet:
Visit the official website at meetdapper.com and download the Dapper wallet
Head back to nflallday.com and click into your account in the top right hand corner
Click My Dapper Wallet and you will be able to link your wallet to your account

How to Officially Buy NFL All Day NFTs
As of right now, All Day is still currently in a Closed Beta phase. Once you are signed into your account, you will be prompted to join the waitlist. This will add you to the waitlist for the next drop of packs and if you are invited you will be able to have access to purchase the packs.
They are adding people into the Closed Beta weekly so be sure to keep an eye out on that invite.
If you do get the chance to enter the Beta, you will be given a chance to purchase a pack that All Day offers. They have been offering new packs each weekend to coincide with the NFL Playoffs.
The packs usually start at around $49.99 USD with Premium packs costing closer to $299 USD. The higher priced packs have a higher chance at a rarer highlight.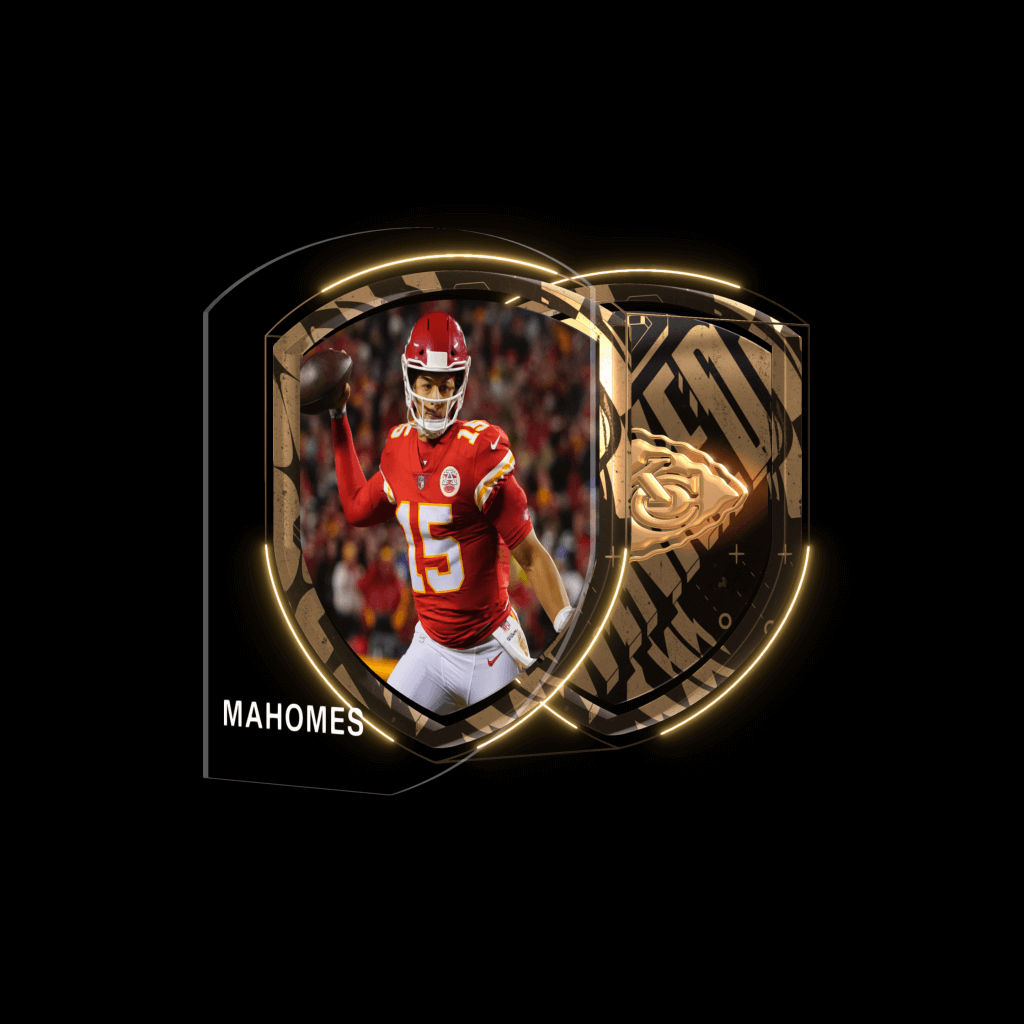 NFL All Day NFT Marketplace
As of right now, there is no word on a release date for the NFL All Day NFT Marketplace. Make sure to keep up to date on their official Twitter. What we do know is it will look quite similar to the NBA Top Shot Marketplace.
This is where you will be able to search for individual highlights and purchase them for your collection. Clicking into each one will show the rarity and Mint of each highlight. You will also be able to filter based on different sets and cards.
We will keep an eye out for the release of this!
NFL All Day NFT Strategy
When starting out NFL All Day, it is a good idea to have a strategy when purchasing these NFTs, but it depends on what your end goal is and how much time you want to put in.
As of right now, the best strategy would be to hold everything that you purchase. As NFL All Day is still in a Closed Beta stage, it is not open to the public yet. This means that only a certain number of people are added in each week which limits the amount of buyers. Once more packs and highlights are in circulation, and the Marketplace is fully operable, you will have more options available
A good idea would be to study this years (and next years) Rookie draft class. Rookies, especially ones taken in the early rounds, will be more rare and in higher demand. The more Rookie highlights you can get your hands on, the better
If you see Superstar highlights for cheap, you should purchase whenever you can. Any sort of highlight from Tom Brady will definitely appreciate in value especially with him recently announcing his retirement
Once the Marketplace is open, buy the cheapest NFTs you can find ($1). These are fairly risk-free break-even investments. If they appreciate in value then it is straight profit to you
Let us know if you have gotten your hands on any NFL All Day NFTs by commenting below!