If you are looking for NFL Football streams on Kodi or Android TV, then we have the #1 guide on the internet for you to follow. Find live HD NFL Football streams that are reliable and work great..
No other site will have as in-depth of a 2022 NFL Kodi guide as KodiTips.com. We have full coverage including legitimate sources, game replays, and other football content.
So, jump to a section directly below or start reading our brand new soccer Kodi streaming guide.
Table of Contents
2022-23 NFL Football Television Broadcast Rights
In the United Stations, the National Football League is broadcast on five major television sources and two online sources:
NBC / Fox / NFL Network / Amazon Video (Thursday Night Football)
NBC (Sunday Night Football)
ESPN (Monday Night Football)
CBS and Fox (Sunday Day Football)
Both Sky Sports and BT Sport are available in online format on Android TV and Kodi and via a television subscription. Amazon Video is an online video service streaming Football games for the first time ever.
In addition to the channels above in the USA, NFL Football is shown on a number of other major services around the world:
Sky Sports (UK)
DAZN (Canada)
NFL Gamepass (Worldwide)
CTV and Global (Canada)
Between all of the options above, you have plenty of options to stream HD football games.
Not sure where to get started? We have information on how to set yourself success Kodi streaming below.
First off, let's review something really important!
Do You Need a VPN to Stream NFL Football?
When using Kodi and geo-blocked P2P (Acestream) links, which share your connection with other users in order to minimize buffer for everyone, make sure you have a VPN connection active. These events are in high demand all over the world and that makes it more important to protect your internet connection.
Check out NordVPN and sign up today.
NordVPN boasts the following features for Kodi users:
Access all Kodi add-ons
Hide your internet connection and streams
Works on Android TV and Amazon Fire!
Tier 1 (no speed slowdown)
Click here to read more information about a Kodi VPN.
Live Streaming Kodi Tips
Here are some general Kodi streaming tips to help you when accessing media and content you are legally able to view:
Make sure your internet connection is a minimum of 10mbps and recommend 20mbps in order to have the bandwidth required for live streams.
Always make sure your media box is plugged in with hardwire Ethernet back to your router. The latency on wi-fi is 10x worse than hardwired Ethernet, which leads to more buffering.
When using peer-to-peer or acestream links, use a VPN to hide your connection and access content safely.
Test your streams well in advance of any event. Don't wait until the last minute once an event has started.
USA NFL Football Streams
fuboTV
FuboTV is a streaming online IPTV service that includes every single NFL Football channel with the exception of ESPN. That means that you can watch NFL football every single day except for Monday nights. And other options exist below for NFL ESPN streams!
The standard fuboTV package includes the NFL Network, regional Fox Sports networks, NBC Sports, Fox Sports, NBA TV, CBS Sports Network, and much more.
To get NFL Network, you'll need to get fuboTV's "Sports Plus" package, which costs $9/month. This includes NFL RedZone, as well as NBC Universo, regional PAC12 college football stations, and a number of FOX Sports affiliates.
Visit our Fubo TV Android TV guidefor information on how to setup and get going with Fubo TV.
Click here to sign up for Fubo TV directly.
Sling TV NFL Streams
Sling TV is one of the most popular NFL streaming options for IPTV.
The Sling Blue package offers both NFL Network and NFL RedZone for just $25/month, making it the cheapest way to watch NFL football without cable.
However, Sling Blue does not include any ESPN, ESPN2, or ESPN3 channels. You have to add the $25/month Sling Orange package to get access to those channels.
If you would like to sign up for Sling TV, click here. Sling TV has a free 7-day money back guarantee so you can try the service and make sure you like it before committing long term!
Sling TV on Kodi Box Install Guide (Android TV)
NOTE: The following process is for Android TV Kodi boxes.
Access the Google Play Store by clicking on its icon on the main Android menu. Log in or create an account if necessary.
Search for "Sling TV" using the search bar. You can also use the Android voice control feature if you have it (Nvidia Shield does, for example).
Click on Sling TV and then press Install.
Click Accept when prompted to accept the terms and conditions of the app.
USTVNow Plus
USTVNow is an online service that provides cheap American television to those in the military or stationed overseas. Luckily for every day fans, anyone can sign up for the service and take advantage of the streams.
CBS and Fox are both available in the USTVNow Plus plan, which means that you'll have multiple games on Sunday to watch.
Check out our full USTVNow Plus Kodi addon guide for more information.
Worldwide NFL Kodi Streams
Canada has one of the best sources online for watching NFL Football games online. And luckily for fans, this method is available to all of the world if you use a VPN!
DAZN NFL Football Streams For Kodi
DAZN is the "Netflix of Sports", an online service that has licensing agreements with many sports including the NFL, Premium League, Boxing, racing, and other sports.
In Canada, DAZN is the official licenser of the NFL Sunday Ticket platform, which offers online streams for every single game each week. In addition, DAZN shows NFL Redzone.
If you don't live in Canada, you can activate your VPN to a server in Canada and still stream from the service.
To sign up for DAZN:
Visit the DAZN website by clicking here.
Select monthly payment ($20) or the yearly subscription offer ($150) button.
Enter in your credentials and follow through with the registration process.
After registering, you'll be asked to confirm your account. After that, you can log in and access your streams from anywhere you have an internet browser or use one of the DAZN Apps below.
NOTE: Your first month is completely free to try and you can cancel anytime in the first month. Your credit card will be charged after the first month is over.
To get the DAZN Android App:
Visit the app store on your device (Google Play Store on Android).
Search DAZN
Click Download or Install
After it is done installing, find it on your home screen and launch the DAZN App.
The first time you launch the DAZN App, you will be asked to enter in your login details.
To get the official DAZN Kodi addon:
From your Kodi home screen, select Add-ons > Add-on Browser
Select Install from Repository > Kodi Add-on repository > Video Add-ons > DAZN > Install
Wait for Add-on enabled notification
NFL Game Pass
NFL Game Pass is the NFL's official service for live games online, plus NFL Red Zone if you live outside of the USA and Canada.
Prices and features vary by region, which means you can again setup your VPN to take advantage of better pricing in different areas around the world.
Check out our full NFL Game Pass guide for full information, pricing, and sign ups.
Unofficial Kodi Addons
There are some third party add-ons outside of the official Kodi repository that may advertise NFL Kodi related content. These add-ons host no streams and are purely search engines that pull in links from the public internet and display content like a web browser. Third party addons for popular live sporting events are generally laggy and unreliable, so be aware of that.
Lots of these addons rely on Acestreams, which use the BitTorrent network to share load between concurrent viewers. Sharing your connection will expose your IP address, so a VPN is recommended for these.
Note that these add-ons might not be illegal to use in every country. It is up to you to understand your country's streaming laws. Some examples of these third party addons include:
Football NFL Kodi Replays & Highlights
The following Kodi addons provide Football highlights, replays, news, and other auxiliary information for Football fans:
With the options above, there are plenty of ways to watch NFL streams online throughout this season. The NFL has been aggressive in branching out into the IPTV internet market, which is great news for those looking to cut the cord and get NFL Kodi streams on their Android box.
Visit us on Twitter, or by commenting below for more Kodi updates.
Disclaimer
We don't host any links or support any content. Kodi addons don't host any links. They are nothing more than search engines that search the public internet.
Kodi is nothing more than a media center and stores no content, legal or otherwise. KodiTips does not support software piracy, and bears no responsibility for what you decide to do with the contents of this article. The intent of this post is to help users find content that they are already legally entitled to view but can't for some reason and need an alternative.
For more information, please see our full disclaimer here.
PROTECT YOURSELF ON THE INTERNET
Sign up for a premium Kodi VPN and access the internet unrestricted. We offer exclusive discounts for NordVPN, the highest respected VPN in the Kodi community. It has some great features for users:
Apps for Android, iOS, Mac, Linux & more
Zero Logs
Unlimited bandwidth
Tier 1 hardware (no speed slowdown)
Access to servers hundreds of VPN servers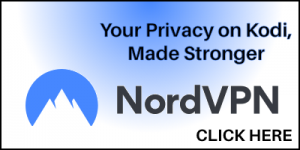 Click here to learn more about Kodi VPN protection