Topps NFT baseball cards let you collect digital cards for the top baseball players of all time. In this guide, we'll show you how to buy Topps NFTs with a step by step tutorial.
If you like baseball but don't understand how NFTs work, then this guide is for you.
We'll go over:
What are Topps NFTs?
Benefits of NFTs over other digital card pictures
Requirements to buy NFT baseball cards
How to buy Topps NFTs (step by step)
If we've missed anything, or you have more questions, comment down at the bottom of this guide.
What are Topps NFTs?
Topps is an American company that is most commonly known as the leading producer of all sports related trading cards. They have recently entered the NFT world, in which they allow you purchase NFT trading cards that are created on a blockchain.
These baseball NFTs are most commonly created on the Ethereum blockchain. You then hold the deeds to these digital trading cards in hope that they appreciate in value. You can also trade these cards with others or sell them directly for a profit.

How do NFTs work?
NFT stands for non-fungible token. NFTs are usually some sort of artwork or digital image but can also be collectible items, digital items used in video games, real estate and more.
Some perks of NFTs over traditional assets are that:
they are created on a blockchain and are not able to be fraudulently replicated
in some cases, only a certain number of NFTs are created for a single item
the price of an NFT could appreciate due to the rarity of the item. You can then sell these if the price goes up from what you initially paid
NFTs can be purchased directly from a seller, or you can buy and trade on popular NFT marketplaces. You can also mint your own NFTs in a bunch of different ways.
Benefits of NFTs
Authenticity
With NFTs, you are now able to create digital images and attach evidence of creation right away. This allows you authenticate the NFT right away without jumping through hoops. All NFT transactions are also traceable which confirms proof of the value along with confirming the rarity of the item.
Security
NFTs are able to be purchased and stored digitally in a very secure and transparent way. NFTs are stored on the blockchain, but still must be done so properly. The way blockchains work is anyone can see transactions that are completed which takes away any chance of fraudulent activity.
Accessibility
The world is moving more and more online. With NFTs, you can now simply view your collection anywhere online through whichever wallet you are holding the NFTs. Others can also view collections of NFTs online without having to leave the house.

Requirements to Buy Topps NFT Baseball Cards
Buying Topps NFT baseball cards is very simple. You need the following:
A link to the Topps MLB website.
A WAX Cloud Wallet
An Atomic Hub or NFTHive account if you want to purchase individual NFTs
Once you sign up for a Topps account on the official website, it will walk you through the steps to setup or login to your WAX Cloud Wallet. Your wallet is where you store any NFT baseball cards you buy or trade for.
WAX Overview
WAX is one of the most popular decentralized blockchains. It was designed to make e-commerce transactions faster, simpler and safer for all parties involved.
They have safely facilitated the trade of more than 100 million digital items. WAX is hyper-focused on video games and virtual collectibles and this is the main reason that Topps chose to partner with them for NFT baseball cards.
Anyone can also see the details of the NFTs information and trading history. This means you don't have to blindly trust another seller. Using WAX, on each baseball NFT you can see the date it was created, how rare it is, proof of authenticity and more.
What is WAX Wallet?
The WAX Cloud Wallet is where you store all of your Topps NFT baseball cards that you purchase or trade for. Once you have your WAX Cloud Wallet set up, there are a few different ways that you can fund it in order to make purchases:
Buy WAX directly using your credit card
Buying WAX on a cryptocurrency exchange and sending it to your Wallet
Sending WAX from another WAX account
WAX Wallet is very easy to setup and get started with and only takes a few minutes.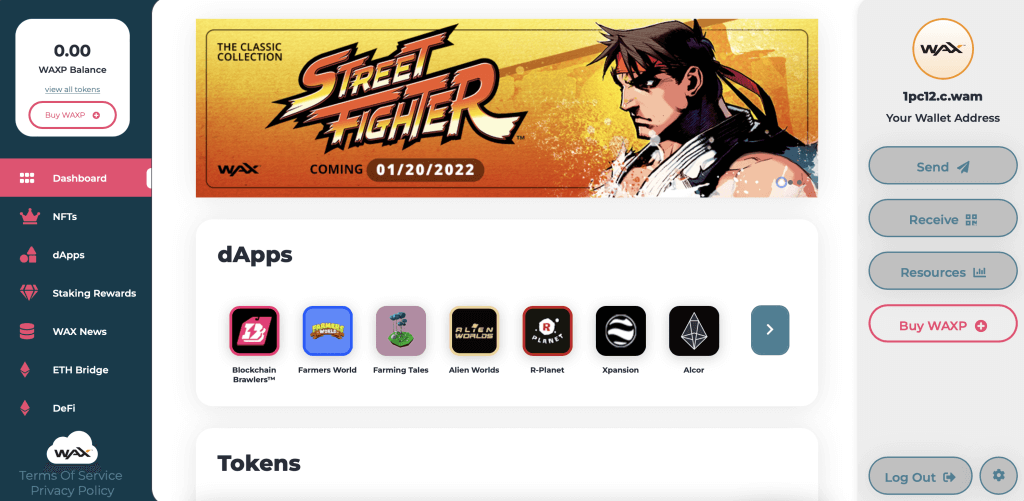 How to Officially Buy Topps NFT Baseball Cards
Full series card packs can be purchased from the official Topps website, but only on the official drop date. Topps initially announced the MLB Series 1 Topps NFT packs. These packs released back on April 20th, 2021 and sold out in a span of 96 minutes.
Series 2 Topps NFT packs were released on October 4th, 2021 and also sold out within minutes with more than 22,000 unique buyers during the sale.
For up to date information on Topps NFTs, we would highly recommend that you follow them on Twitter @ToppsNFTs and put notifications on so you don't miss the release date of the next series! You can also join the Topps NFTs Discord channel for up to date news and information.
When the next launch drops, you should make sure that you have your WAX wallet and Topps account setup and ready to go. You will want to move fast, as the series will sell out quickly.

To purchase individual MLB Topps NFTs, you must visit a third-party Marketplace such as Atomic Hub or NFTHive. We have step by step guide instructions on how to use these marketplaces below.
Best Topps NFT Marketplaces
In this section, we go over the top Topps marketplaces for NFT baseball cards:
Like all NFTs, there are multiple different third-party marketplaces you can use in order to purchase Topps NFT baseball cards. On each of these marketplaces, you can list your Topps NFT cards for sale or trade.
For trades, you list your wallet address in the description of the card. Others can then send you trade offers to your wallet address where you can then accept or decline.
Atomic Hub
Atomic Hub is the official marketplace that is linked directly with toppsmlb.com. Unlike the official website, you can browse and purchase individual baseball cards on Atomic Hub. You can search the marketplace, filter for the type of card you want, and buy what you want.
To buy a card on Atomic Hub:
Once on the website, click Login in the top right in order to log into your preferred wallet. WAX Cloud Wallet will work the best for Topps NFT cards.
Click Market in the top bar
Over on the left hand side, scroll down in Collections until you find mlb.topps
Click mlb.topps and it will take you into the Topps NFT marketplace
Here is where you can filter whatever you want or else search directly for specific cards
Click into Details of each card to see Rarity, photos, trade offer ID and price
If you find a card you wish to purchase, pay the required WAX amount and you will then be able to add the card directly into your wallet collection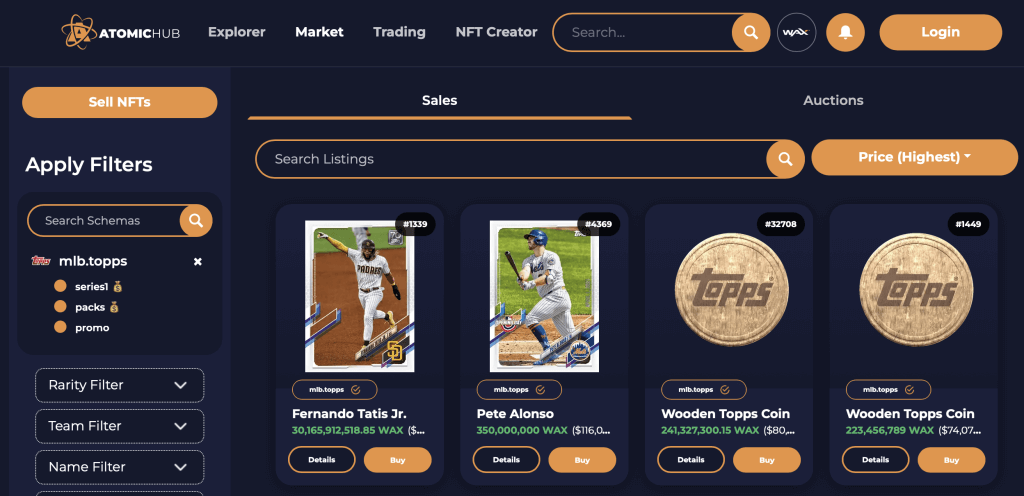 NFTHive
NFTHive is another popular WAX Marketplace where you can purchase Topps NFT baseball cards. Just like Atomic Hub, you can buy individual cards on NFTHive as well.
To buy an NFT baseball card on NFTHive:
Once on the NFTHive website, click Market on the left side
Once inside the Marketplace, scroll down and find Collection on the left side
Scroll down in the Collection tab until you find MLB Topps and click that
You will now be in the Topps NFT marketplace where you can filter and search for specific cards
Click into the card of your choice to find all of the details such as Rarity, Number of Assets, owner and more
Scrolling down will also show you the most recent Price History of that specific card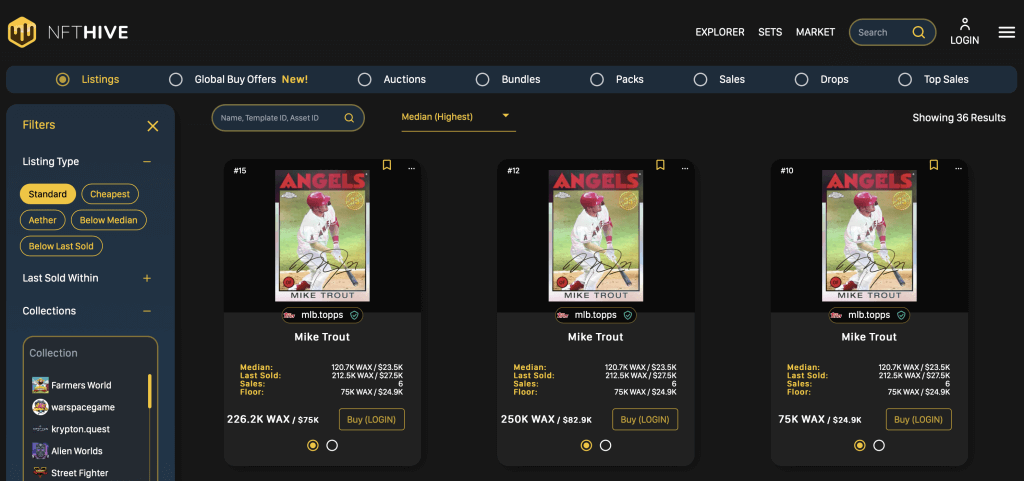 The official Topps baseball card packs are extremely high demand. So for most people, the marketplaces are the only place to get NFT baseball cards.
How to Trade Topps NFT Baseball Cards with Others
If you have your hands on any Topps NFTs, trading them to others and exchanging cards is fairly easy and can be done on Atomic Hub.
Log in to Atomic Hub by clicking Login and linking with your WAX Cloud Wallet
Access your Inventory to see your available cards
Access the Marketplace and find the card that you are interested in
Clicking into details of the card will show the seller of the card and right underneath is the Trade Offer ID
Click into this and it will bring up a new screen showing the card you are interested in trading for
Here is where you then choose a card from your existing Inventory to trade
Write a message to the other person and send the Trade Offer and wait to here
If accepted, you will now own the new card in your Inventory and the card you traded away will be gone
Topps NFT Baseball cards give us a whole other way of trading baseball cards without physically trading them.
Let us know below if you have purchased any Topps NFT Baseball cards! Also comment down below if you have any questions.