Check out how to install the Bob Kodi addon, one of the top playlist addons! Stream new movies and TV shows with the brand new Bob Unleashed Kodi add-on and see who else has joined the team.
January 14th: The Bob Kodi addon has been updated to v1.0.13 for everyone. Some of the functions in the plugin have been updated. Check out Bob today, one of the longest running Kodi addons today!
__
The Bob Unrestricted addon has been completed rewritten from scratch and is now the Bob Unleashed addon. Featuring new playlisters, new playlists, new goodies, and more, this is one of the top playlist addons currently for Kodi.
Uninstall your old Bob addon and install Bob Unleashed from the repo in the instructions below. The old Bob addon has been discontinued.
Amongst some of the changes we've noticed:
Within the General addon settings under Filtering Options you can enable or disable openload, thevideo, and vidup links, depending on whether you like to visit their website and follow the pairing options procedure.
Under the same Filtering Options, Debrid users can enable the service.
Under the Customization addon settings under Display, enable and disable showing a quick Trailers link in your context menu.
Bob Unleashed brings brand new TV shows and new HD movie streams, music, and live TV together in one add-on. As well, the team also added some specialty playlists for everyone to check out. Together, there is a great amount of content and the history of this group means that you should expect quality.
New Releases
Amazing TV (New Shows)
Bob Sports
Blue's Place (Female-themed)
Costa
TA Streams (Music)
TNPB
Valhalla
TNPB Boxsets (movies)
Music TV
Walk of Fame (Actors and Actresses)
Bobs Kids
Happy Halloween
Follow Blue, Valhalla, Costa, TA, and TNPB on Twitter for add-on support and if you are interested, install the Bob Kodi add-on with our guide below.
The add-on is part of the Noobs and Nerds repo.
NOTE: Bob Unleashed stores no content within the addon. It only knows how to search the public internet for data and information.
How to Install Bob Unleashed Kodi Addon
This addon is a third-party Kodi addon not supported by the Kodi Foundation. Though Kodi add-ons don't store any files or host any content, streams from this addon are scraped from websites that fall in a grey legal area.
Because it is not legal to stream this content in every country and location, we are not posting a how-to guide on this website. We believe that this is the safest move for KodiTips.com because we know that there are parties looking to crack down on websites promoting piracy and we are not one of those.
KodiTips.com has plenty of add-on installation guides for things that are completely legal and we encourage you to check out our home page for more information.
Bob Unleashed Setup Wizard
Upon running Bob Unleashed for the first time, you will be asked if you want to run the Setup Wizard. If you select yes, here is what you will find.
First, you will be asked to choose your meta provider: Trakt or TMDB. Trakt is preferred if you have an account setup, but TMDB is a nice no hassle backup.
Next, you can choose your selector type: Link selector or HD/SD. If you prefer to choose your individual link and host manually, select this option. If you want to simply select HD or SD quality and have Bob find and start playing your link, select accordingly.

If you choose the HD or SD option, you'll be asked to pick whether HD or SD is the default choice.

Next, you'll be asked to select a specific skin for Bob Unleashed.
Next, you can enable or disable GIF support. GIFs are animated icons throughout the addon and will perform worse on older or weaker devices (e.g. Fire Stick).
And that's it! Go enjoy Bob Unleashed.
What do you think about the brand new Bob Kodi add-on? If you have any feedback or need any help, let us know on Twitter or Facebook and we will do out best.
PROTECT YOURSELF ON THE INTERNET
Sign up for a premium Kodi VPN and access the internet unrestricted. We offer exclusive discounts for NordVPN, the highest respected VPN in the Kodi community. It has some great features for users:
Apps for Android, iOS, Mac, Linux & more
Zero Logs
Unlimited bandwidth
Tier 1 hardware (no speed slowdown)
Access to servers hundreds of VPN servers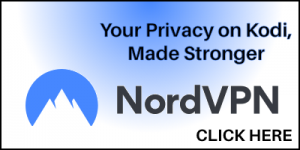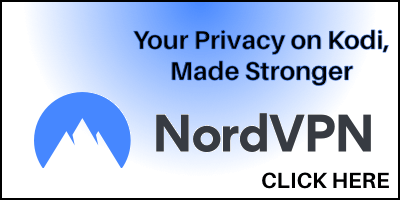 Click here to learn more about Kodi VPN protection