This is the ultimate guide on how to play the Upland crypto game. Upland is a real estate ownership and trading game where all transactions take place on the blockchain.
In this guide, we'll walk you through all the steps you need to take to get started playing the play to earn game Upland successfully, including:
How does Upland work?
What are the best features in the Upland crypto game?
How do Upland NFTs work?
How to download and play Upland
How do you earn real money playing Upland?
We'll walk you through step by step on how to play the Upland crypto game. If you want to know anything else, make sure to comment down at the bottom of this guide.
Related: Check out Upland on our list of top play to earn crypto games.
What is the Upland Crypto Game?
Upland is a play-to-earn NFT game where players can buy, sell, and trade NFT properties that are mapped to real-world addresses. Created and operated by Uplandme, Inc, Upland parades a team of professionals from gaming, technology, and real estate industries.
The game features a 1:1 mapping of popular USA destinations, including:
San Francisco
Manhattan
Brooklyn
Oakland
Fresco
Staten Island
Bakersfield
Chicago
Cleveland
You don't need to physically be in those cities to play the Upland crypto game. you can join Upland from anywhere in the world and buy properties to earn a profit. You can develop buildings on your properties by staking Spark, an in-game resource token.
If this sounds confusing to you, don't worry. We'll go over the main features in the game, what you can do with your land, and how you can earn real life money by holding property in Upland.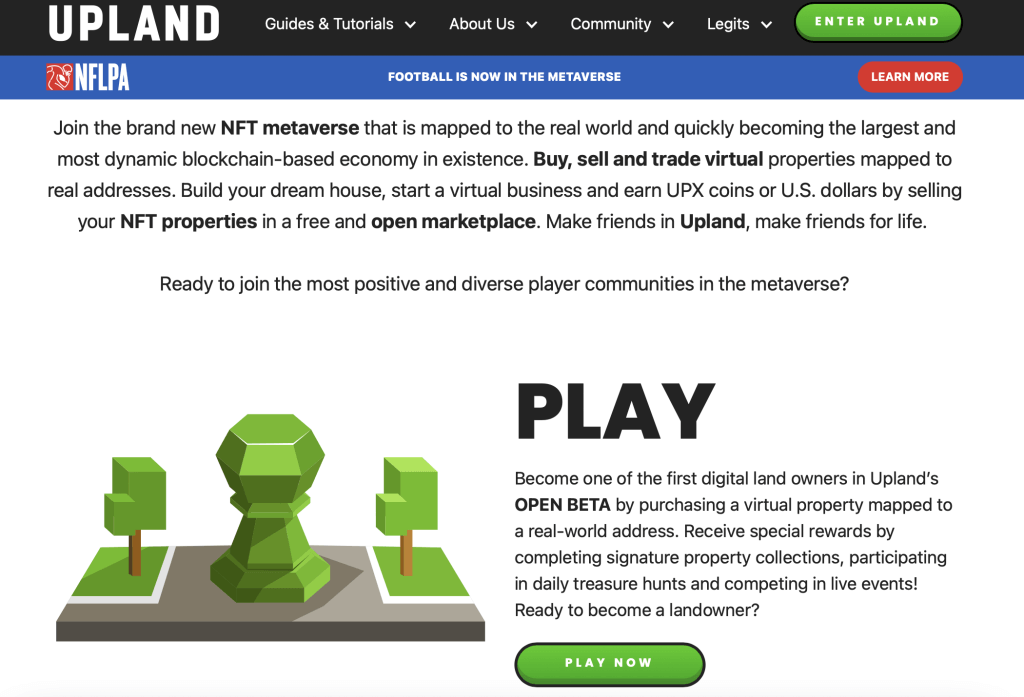 Upland Features
The Upland crypto game is packed with the following features:
Build Now
You can collaborate with like-minded Uplanders to build homes, develop neighborhoods, or estates to earn more tokens. Just like real life, development of your property can open up new revenue streams.
Block Explorer
Blocks are the trusty sidekicks of Upland. They are the major keys to unlock exciting features in the game.
Blocks are the game pieces on the map that take you round a city, allowing you to buy, sell, and trade properties. Your Block Explorer will be dropped in San Francisco at a random starting location once selected.
Property
Properties are the digital assets in Upland. You acquire or own a property in the game by purchasing it from other players using the game's currency, UPX. You can then use your properties to earn passive income as the game progresses.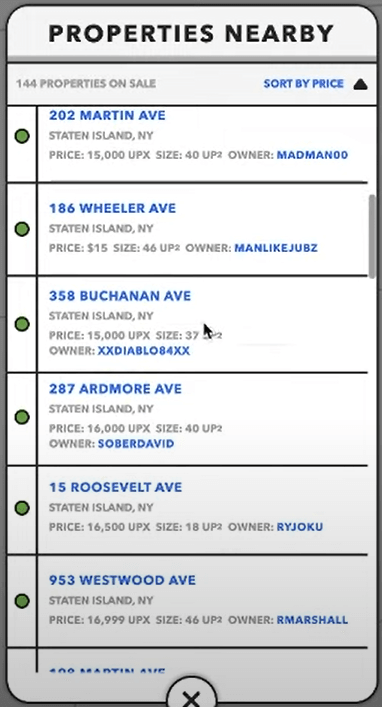 Treasure Hunts
One of the more novel ways to enjoy playing Upland is to treasure hunt. This gives you the opportunity to make some UPXs. Treasures are invisible until discovered.
Treasure Hunts come in 3 tiers:
Standard
Limited
Exclusive.
The Standard tier is open to everyone for free once every 24 hours. The Limited tier is exclusively for visitors and Uplanders. The Exclusive tier is only for Uplanders.
Travel
There's a lot of traveling in the game. Players can travel between cities by air or train. Traveling between San Francisco and New York is majorly by air. To travel by air, find the airport on the map and select the terminal you wish to use. A window will pop up for you to choose the terminal you want to land. The flight between San Francisco and New York costs 2,580 UPX and the duration is approximately 42 minutes.
Train travels are slower and less expensive. There are train terminals in San Francisco and Fresno. It costs about 95 UPX to travel between San Francisco and Fresno and the duration is about 25 minutes.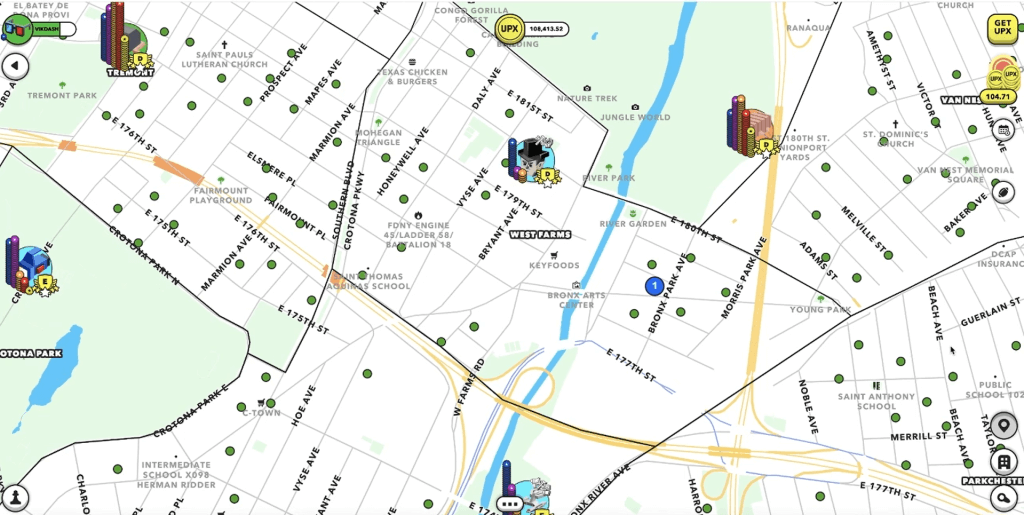 Community Events
Upland is equipped with a lot of special in-game events and social engagement to commemorate holidays and special occasions. These events are a variation of the Treasure Hunt and require the use of in-game mechanics, social media, and puzzle solving. The events are usually announced on Twitter or Discord, so keep an eye for the announcement.
Partnerships
The development team at Upland partnered with different organizations to realize the game's potential. For instance, the team recently partnered with EOS Authority and ClimateCare for blockchain sustainability and to offset a year's worth of carbon emissions for the entire EOS Mainnet.
The partnership will also help to reduce poverty, improve health, promote gender equality, and create jobs. These partnerships will also help to fight climate change and protect species.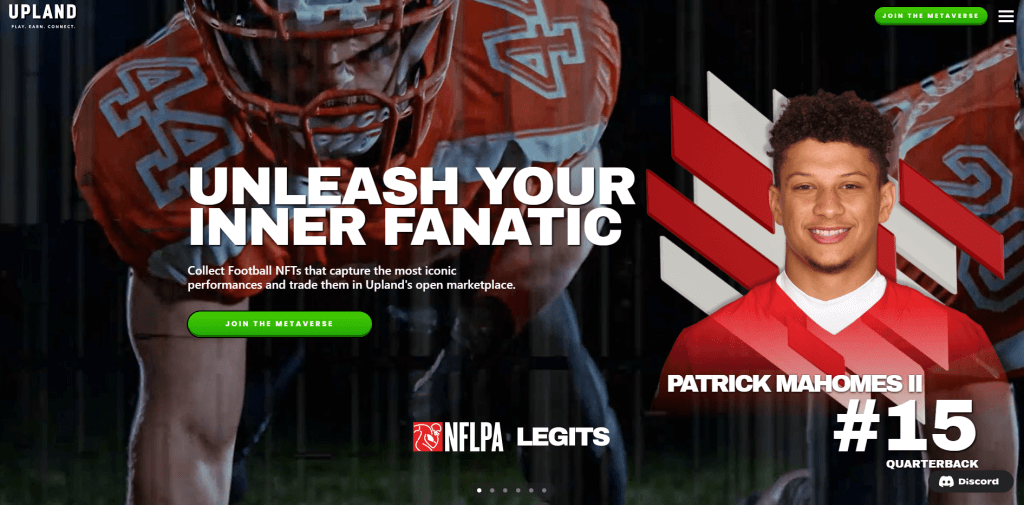 Upland Crypto Upcoming Features
According to Upland's roadmap, the team behind the game has proposed lots of features for 2022. Some of the exciting features to expect this year include:
UNFT Swaps: This will enable the exchange of digital collectibles between players.
Block Explorer Shops Beta: This will enable players to leverage their assets for the opportunity to earn UPX and USD.
NFLPA Memento Primary Markets: This feature will introduce location-based minting events to the game.
NFLPA Essentials Primary Markets: This will give players the ability to purchase Essentials in the game.
NFT Portal: This feature will allow players to easily import select assets from the WAX blockchain directly into the Upland metaverse.
Property management tools will be introduced in the game.
The development of Spark exchange will be completed.
Upland Crypto Gameplay
Upland is a blockchain-powered NFT game that lets you buy, sell, and trade NFT properties mapped to real-world addresses. Upland's gameplay is simple to comprehend. Your mission is to become a digital landowner so that you can build properties on your Lands and earn UPX coins from your tenants.
The project ties each property to an NFT using blockchain technology. Players can buy digital assets in Upland with cryptocurrencies (using the UPX coin) or fiat currencies (using USD) and trade the assets with other players to make a profit.
Before now, it wasn't possible to withdraw your earnings, the only option available was to re-invest them into acquiring more properties. However, you can now convert your UPX token to real-world money using a peer-to-peer trustless method of exchange.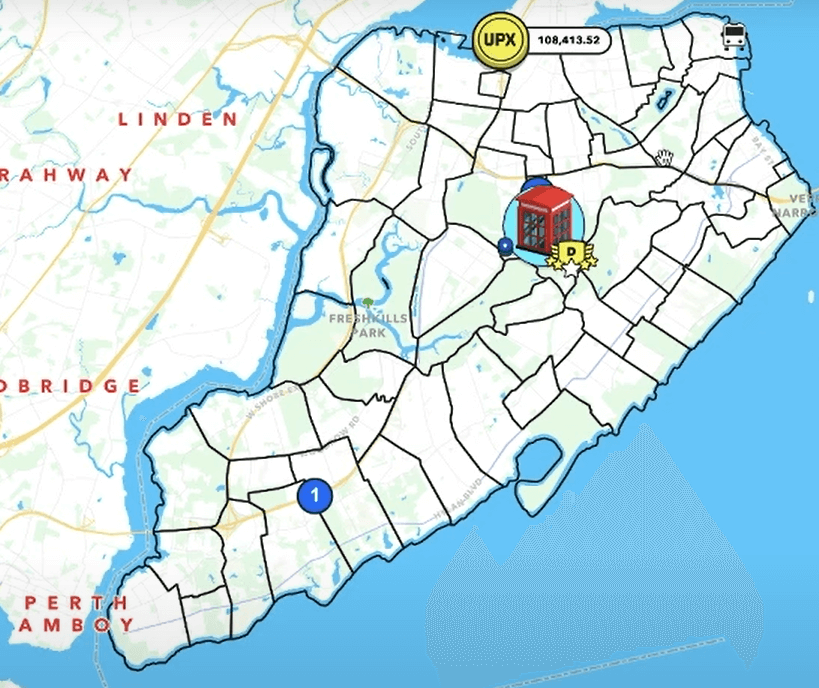 Upland Coin (UPX)
Upland Coin (UPX) is the native token of the game's ecosystem. Players use this token to purchase and trade digital assets in the game. You can earn UPX as interest on your properties.
You can withdraw UPX for fiat currencies like the USD. As of the time of writing this guide, 1 USD is equivalent to 1,000 UPX.
Once you hit Uplander status (by accumulating up to 10,000+ UPX), all your UPX transactions will be recorded on the EOS blockchain. You will be considered as a visitor if you cannot achieve the Uplander status. Please note that only Uplanders truly own their UPX and NFT properties.
There are several ways to get UPX in the game:
by purchasing it with fiat currencies, certain cryptos, or earned through property sales
by completing collections and treasure hunting
Spark Coin
Spark Coin is a resource token that's built on the EOS main net. The token makes property development to be possible in Upland. It brings opportunity and creativity to the core of Upland's experience. It allows for the building of any inanimate object like cars, statues, or buildings.
You don't spend Spark Coin, but you stake the token for the duration of your property development. Once you are done developing a property, you will get your Spark Coin back, ready to be staked for the development of another property, and the cycle continues.
One good thing about Spark is that you can lease it to other Uplanders if you want to take a break from building. Leasing Spark is made possible through the Spark Exchange. Once you are ready to lease your Spark, the exchange will help you determine the current market value. The system will also match you with potential Uplanders that are ready to trade for UPX income.
How to Download and Play Upland Crypto
Upland crypto is an easy to play game. The process starts with an email sign up. Find the step-by-step guide below:
Visit the official Upland website using your preferred browser or download the Upland app in the Google Play or Apple Store and follow the sign up instructions.
If you are a beginner, there's a video tutorial to learn the nitty-gritty of the game. You can replay the video in the settings section.
Your first task is to select a Block Explorer, the key to unlocking the game features.
New players will receive 3,000 UPX as a starting bonus after selecting a Block Explorer.
The game then throws you to a random starting location in San Francisco. From there, you can travel the world, purchasing any available properties for a limited time only.
Your UPX bonus offers you the freedom to buy, sell, and trade properties to make real-world money.
Starting Out as a Visitor
New players will be assigned a visitor's status. To become an Uplander, you need to accumulate at least 10,000 UPX. Being an Uplander lets you enjoy true ownership of your digital assets.
Renewing Your Upland Visa
To maintain ownership of your digital assets, as a visitor, you will need to renew your Upland visa once every 7 days. Renewing your visa doesn't have any limit. However, if you fail to renew your Upland visa, your digital assets and UPX balance will be recycled back into the game's ecosystem.
How to Buy, Sell, and Trade Property
The backbone of Upland is property trading. All the properties listed on Upland correspond to a real-life address or location. You can view these properties by toggling the Google Street View function. As a beginner, we suggest you concentrate on trading in Brooklyn or Fresno before moving to expensive areas.
Buying Property
Before you buy any property, select the property on the map. This will enable you to see all the relevant information about the property. If the property is for sale, you can either pay the listed price or make a new offer to the seller. If you offer to buy the property in UPX, your money will be deducted from your UPX balance and put into escrow. In the event the seller rejects the offer, the money would be returned to your wallet.
In Upland, you can also buy properties using fiat currencies like USD.
FSA Properties
FSA (Fair Start Act) properties periodically unlock so that new players can get an opportunity to access low-priced properties. For seasoned Uplanders (those with net worth of less than 100,000 UPX) and visitors, when in range, a wandering block explorer will unlock previously un-minted properties and display them in light green.
Once your net worth reaches 100,000 UPX and above, you will no longer be entitled to purchase FSA properties. You will be left with the option of purchasing resale properties at a higher markup.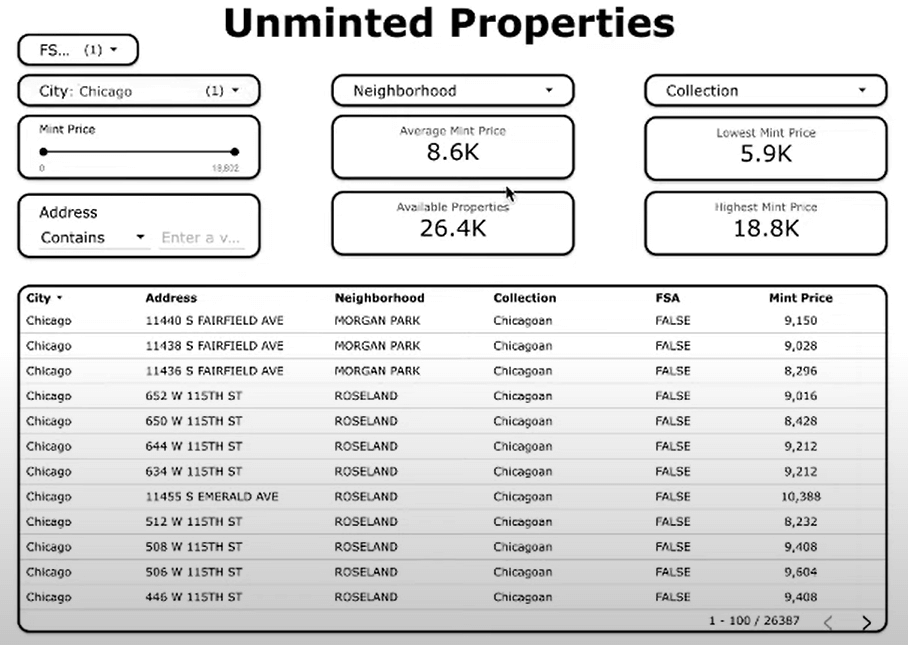 Selling and Trading Property
The process of selling properties in Upland works in reverse to the purchase process. If your properties are listed for sale, other players will submit their offers or pay for them outrightly. A small percentage of every sale is deducted from the final price and allocated to the blockchain pool.
You will be notified via email when other players indicate interest to buy your listed properties. From the email, you can choose whether you want to accept each offer individually.
How to earn money playing Upland
There are different ways to earn money in the Upland crypto game. You can either earn UPX or US dollars within the game. Earning USD takes the following forms:
Selling your properties for US Dollars
Renting our Spark to earn USD
Selling your properties with a house on it for USD.
Similarly, you can earn UPX in the game in the following ways:
Owning a property to earn yield.
Selling your properties to earn UPX.
Selling your properties with additional assets on it to collect UPX.
Earning a boosted yield on collection properties
Completing a collection
Finding a pinata or treasure through a treasure hunt
Receiving visits to your property
Finding a pinata or treasure through a treasure hunt
Renting out spark
Unlike most P2E games, you can directly buy UPX in the game for real fiat money. This allows you to get an advantage in the game right off the start. The idea is that you purchase UPX now and hope that it appreciates in value later on.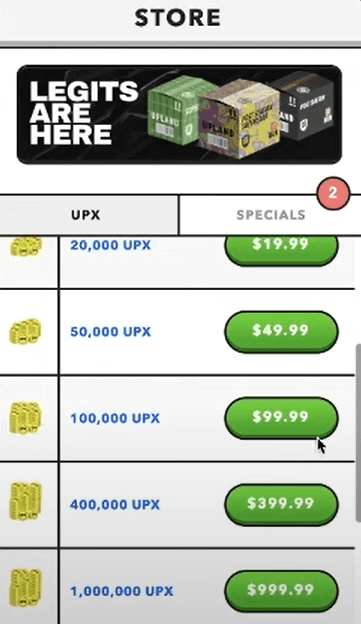 You can convert your UPX token to real-world money using a peer-to-peer trustless method of exchange. Additionally, you can earn Spark by finding a treasure through treasure hunting.
What do you think about the Upland crypto game? Do you think it has long term popularity?
Comment down below and let us know.