Learn and earn crypto websites allow you to earn free crypto tokens in exchange for learning about the technology. It's a great way to get new users interested in crypto.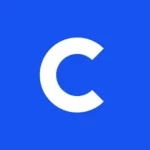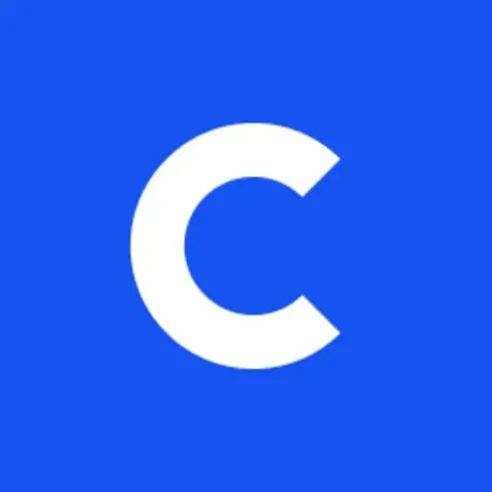 Coinbase Earn
An excellent learn and earn option for new crypto users on a reputable exchange.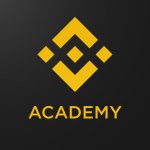 Binance Academy
A platform where tutorials are posted for beginners to learn about crypto.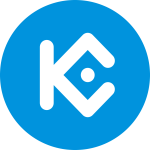 Kucoin Rewards Hub
A knowledgeable program that doesn't focus on any specific coins.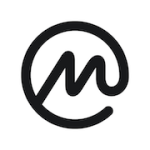 CoinMarketCap Learn and Earn
A low risk way to earn and add new crypto coins to your portfolio.
In this guide, we'll go over:
The basic features of learn and earn crypto websites
The best learn and earn crypto websites to check out today
An overview of the different crypto coins you can earn for free
If you have any questions, make sure to comment down at the bottom of this guide!
What are Learn and Earn Crypto Websites?
Learn and earn crypto websites are platforms designed to reward crypto enthusiasts for learning how to trade cryptocurrencies. They are a way for new crypto users to learn about the technology while also making micro-transactions that earn real money.
Being paid to learn how to interact with cryptos may sound too good to be true, but it's not the case with these platforms.
These platforms are also designed to promote various exchanges and different cryptocurrencies. Some exchanges even create partnerships with different cryptocurrencies, where you will learn about a new coin and earn a small bonus amount of that coin. Much like an airdrop, this raises awareness about the coin and increases initial trading volume.
The Best Learn and Earn Crypto Programs
Coinbase is one of the largest crypto exchanges in the world. It offers an excellent learn and earn program that will reward you watching videos and answering quiz questions.
All you need to get started is to sign up for a Coinbase account and comply with Coinbase's internal fraud detection system. Then, the program rewards you with cryptos for every quiz you complete.
The courses to learn are regularly updated and they run for short periods of time. The cryptocurrencies you can earn from Coinbase Earn include:
Stellar Lumens (XLM)
The Graph (GRT)
Enzyme (MLN)
Bounce Token (AUCTION)
Compound (Comp)
NKN (NKN)
Chiliz (CHZ)
Rally (RLY)
BarnBridge (BOND)
Balancer (BAL)
Ampleforth Governance Token (FORTH)
Polygon (MATIC)
Skale (SKL)
Nucypher (NU)
Celo (CGLD)
Universal Market Access (UMA)
Numeraire (NMR)
Band Protocol (BAND)
Maker (MKR)
Filecoin (FIL)
Algorand (ALGO)
Zcash (ZEC)
EOS (EOS)
Orchid (OXT)
Kyber Network (KNC)
Tezos (XTZ)
DAI (DAI)
Basic Attention Token (BAT)
0x (ZRX).
On average, you can earn anything between $3 to $6 worth of cryptocurrencies from each of these modules. Since Coinbase is one of the most respected cryptocurrency exchanges in the world, the Coinbase learn and earn crypto program is also worth checking out.
Coinbase Earn Features
Let's you earn a wide variety of crypto while learning.
There are a wide range of crypto-related videos to watch.
After every tutorial, you must pass a simple quiz to receive your reward.
Your earnings will be deposited in your Coinbase wallet.
Click here to get started with Coinbase Earn.
Once you create an account, click on Learn and Earn from your account dashboard.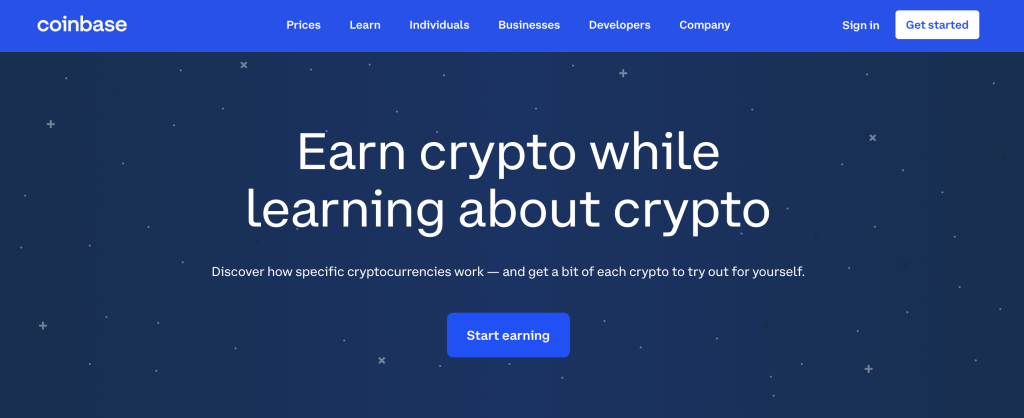 Binance is a leading crypto exchange with millions of active traders exchanging coins to make a profit. The Binance Academy is a platform where tutorial videos and resources are posted through blog posts from time to time for beginners to learn new things about the crypto world.
Binance Academy offers the learn and earn program for beginners who open a new account and verify it within three days. At the moment, a few of the coins available are LUNA, AERGO, SANTOS, and POND. Aside from watching videos, reading articles, and taking quizzes, you will have to make some external and internal transactions as well.
After completing each task using a mobile app or a web browser, your rewards will be credited directly to your Binance wallet. Binance has millions of daily users and their learn and earn crypto program is top notch.
Binance Academy Features
Binance Academy learn and earn program is only available to beginners.
Videos and quizzes are posted through blog posts.
Binance Academy exposes you to the exciting world of blockchain technology and cryptocurrencies.
Click here to get started with Binance Academy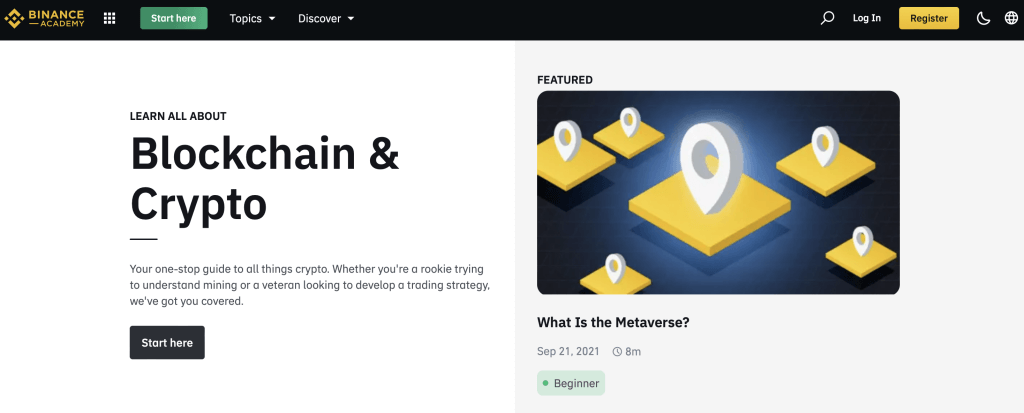 Kucoin Rewards Hub is another fantastic learn to earn program designed to keep beginners abreast with the happenings on the crypto market. The program is powered by Kucoin, a leading decentralized exchange. The program exposes you to a wide range of earning possibilities.
Different modules included on the Rewards Hub include:
the birth of Bitcoin
how to buy cryptos in 50s
how to deposit
the account system on Kucoin
easy fund transfer
There are also video tutorials covering these courses. Unlike other learn and earn crypto programs, Kucoin doesn't focus on advertising specific coins. Its videos are knowledgeable for those who want to learn crypto at a higher level.
To receive a reward for learning these courses, you must learn the modules to the end of the countdown. The reward can only be withdrawn when it reaches the required amount.
To get started, visit Kucoin Rewards Hub, create an account, and learn as much as you can to increase your rewards.
Kucoin Rewards Hub Features
The Rewards has a welcome gift tab where you can win a gift for depositing USDT
The program rewards you after reaching specific thresholds for different pairs.
You can learn more than one course at a time to boost your earnings.
Click here to get started with Kucoin Rewards Hub
After you sign up for an account, click on Rewards Hub from the More toolbar at the top.

CoinMarketCap is a leading crypto price-tracking website, and not a crypto exchange like the other two above. It has millions of followers across the world, visiting the website daily to know the latest happenings on the crypto market.
CoinMarketCap has a learn to earn crypto program to incentivize the experiences of crypto enthusiasts. They partner with several cryptocurrencies and protocols striving to get their names out there.
CoinMarketCap Learn and Earn lets you cryptocurrencies after watching videos and taking a simple quiz to test your knowledge. It's a low-risk way of earning cryptocurrencies. To participate, you need a CoinMarketCap account and a KYC-verified Binance User ID. Upon passing the quiz, your rewards will algorithmically be credited to your connected wallet. However, it takes up to a month for the token to be distributed to users.
As of the time of writing this post, CoinMarketCap Learn and Earn has two campaigns live – LIKE and NEAR. However, previous programs supported SAND, SUSHI, POLS, 1INCH, and LUNA.
Regularly check out their website as their earn and learn crypto programs often last a couple of weeks.
CoinMarketCap Earn Features
CoinMarketCap partners with several cryptocurrencies to bring the learn and earn campaigns to crypto enthusiasts.
You watch videos, have fun, and earn cryptos in the process.
Your rewards will be in the crypto you learned about.
Click here to get started with CoinMarketCap Earn
After you login, click on Learn from the top toolbar.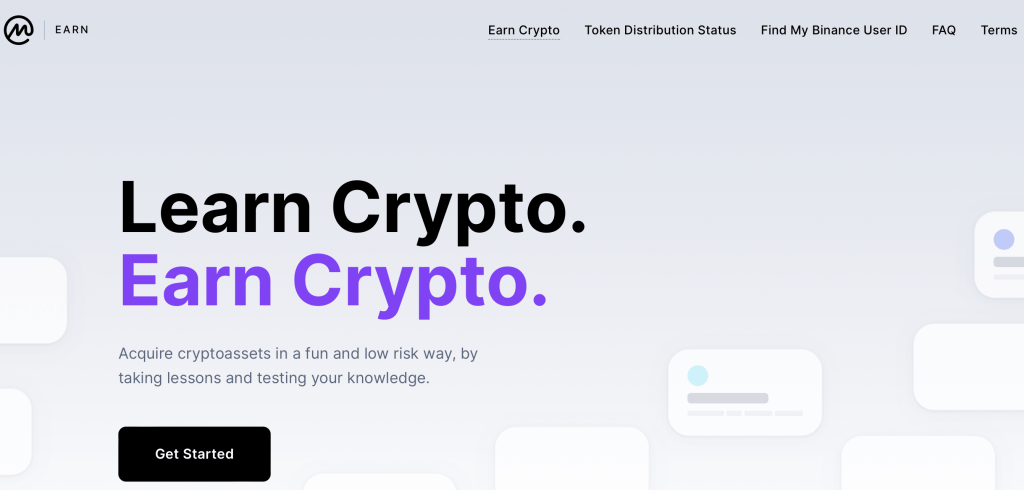 The Phemex Learn and Earn program is a fantastic campaign that beginners or novice can take advantage of to learn about the crypto world. Their program is a little bit different from the ones we have highlighted above. Any rewards earned will be credited to your Phemex account to invest in a coin of your choice. You can earn as much as $16 for watching videos and taking quizzes.
As of the time of writing this post, the programs you complete are fiat currency vs cryptocurrencies and how to buy and transfer cryptocurrencies on Phemex.
So, if you desire a little more freedom with your choice of crypto to invest in, the Phemex Learn and Earn is the one you want to look into more.
Phemex Learn and Earn Features
Phemex Learn and Earn gives you the flexibility of investing your rewards in the cryptocurrencies of your choice.
You can earn a whopping $16 by watching videos and passing simple quizzes.
The rewards are automatically credited to your Phemex account.
Click here to get started with Phemex Learn and Earn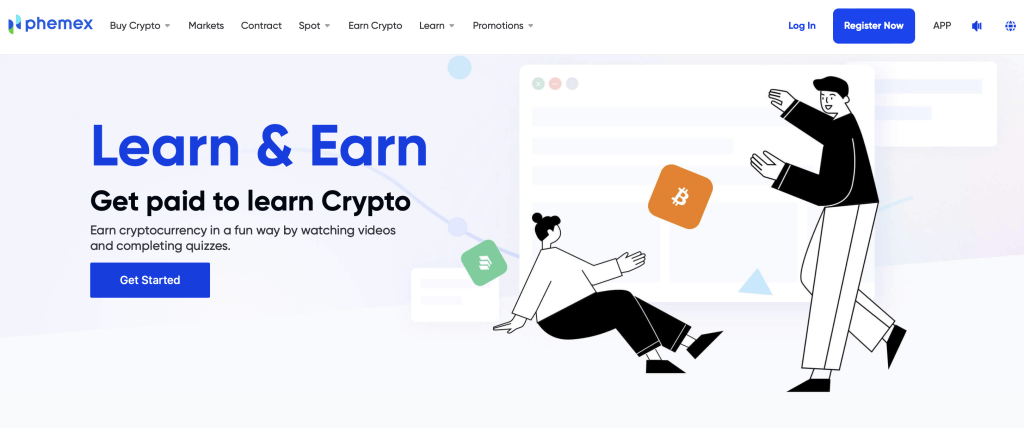 Cake Defi Learn and Earn – Defi Learning
Cake DeFi Learn and Earn is another great way to earn crypto learning your favorite crypto-related courses. There are different cryptocurrencies to earn, but you must complete the module corresponding to the crypto you wish to earn. Anyone can participate in this program, whether you are a beginner or a professional Cake DeFi user.
At the moment, only one module is live, which is learning about DeFiCahin. If you successfully complete this module, you have a chance to earn $5 worth of DFI tokens. However, two more courses are to be launched soon for users to earn both BTC and ETH.
The rewards earned from this program will be locked for a minimum of one month in the Freezer. At the expiration of the one month, you can defrost the reward, access it, and apply it to any of the products available on Cake DeFi.
Cake Defi Learn and Earn Features
The reward is not immediately available until after one month.
The program exposes you to an in-depth knowledge of specific cryptos.
You must sign up for an account to get started.
Click here to get started with Cake Defi Learn and Earn

Earnathon is a dedicated ecosystem driving GameFi and crypto games education. It provides the required tools needed to maximize the opportunities in the play-to-earn ecosystem. So you earn while you learn about the gamefi system to try yourself.
Earnathon provides users with tokens to use in real transactions. After learning different programs, you will be rewarded with its native token, usable for yield farming, staking, and launching products on the platform. At the moment, a module titled 'Evolution of Money' is live on Earnathon. If you successfully complete this course, you can earn up to $20 worth of ENA.
In the coming weeks, other courses for Bantu (BNR), Celo (CELO), ChainLink (LINK), Abit Network (TAT), and Binance Smart Chain (BNB) coins will be introduced.
Earnathon Features
Earnathon comprises hundreds of blockchain based game players across Africa and Asia
You get the opportunity to learn the fast growing blockchain and cryptocurrency industry.
Users earn its native token (ENA) for learning about specific tokens.
Click here to get started with Earnathon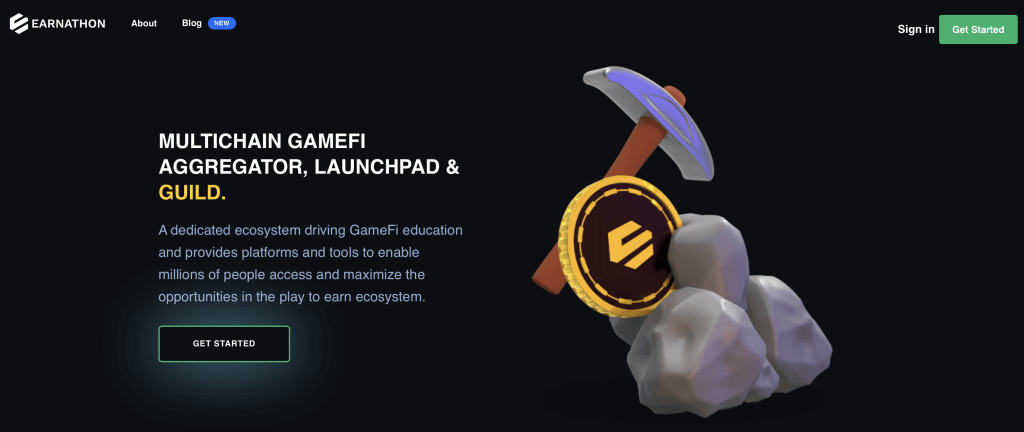 EarnCrypto is a leading learn and earn crypto website where you earn tokens for completing tasks. At EarnCrypto, instead of learning the ins and outs of cryptocurrency trading, you perform simple tasks and earn crypto in exchange for completing tasks. EarnCrypto aims to give its users the first-hand experience of handling small amounts of crypto.
EarnCrypto also offers other ways of earning cryptocurrencies, like watching videos and taking surveys. You can earn over 100 cryptocurrencies through the program. Your earnings will be credited to your wallet, which you can then transfer to crypto exchanges.
A lot of coins are available in the program, including:
Ravencoin
Tron
Litecoin
Digibyte
Komodo
Bitcoin Cash
Waves
EarnCrypto Features
EarnCrypto lets you earn your choice of cryptocurrency by completing actions and tasks.
Your account is immediately credited after satisfactorily completing a task.
Users can withdraw their earnings to their personal wallets.
Click here to get started with EarnCrypto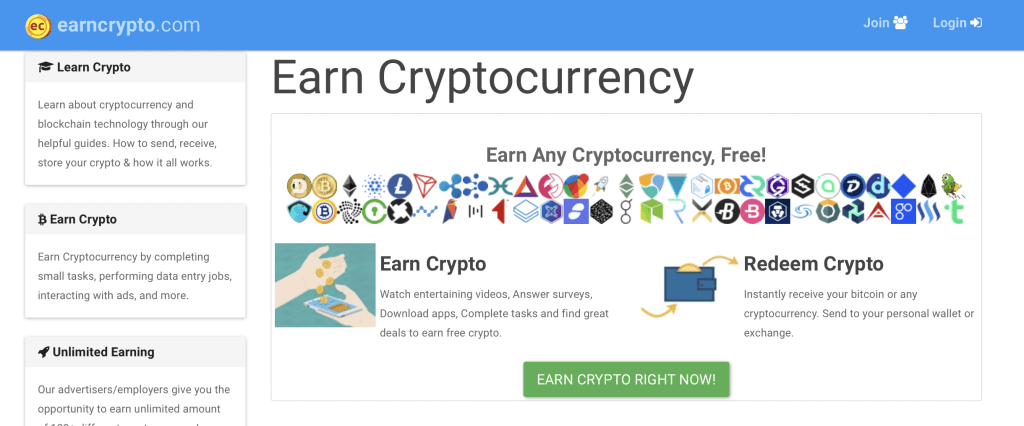 Brave Browser is a web browser and has its native token called Basic Attention Token (BAT). Brave Browser is a new way to connect users, value attention, and also connect content creators and advertisers.
Here, you don't need to learn things about cryptos, but you will earn BAT by watching Brave Ads. Brave ads replace traditional website ads through Brave's built in ad blocker.
The moment you join Brave Rewards, your browser will start tracking the sites you visited to watch ads. Brave Rewards will credit your wallet with BAT based on the number of sites visited. You can tip creators or even remove sites you no longer want to support.
Compared to other learn and earn platforms, Brave Browser requires less personal information to get started.
Brave Browser Features
You can convert BAT to your choice cryptocurrencies.
The startup process is simple and straightforward.
Brave Ads are not intrusive to your browsing experience.
Click here to get started with Brave Browser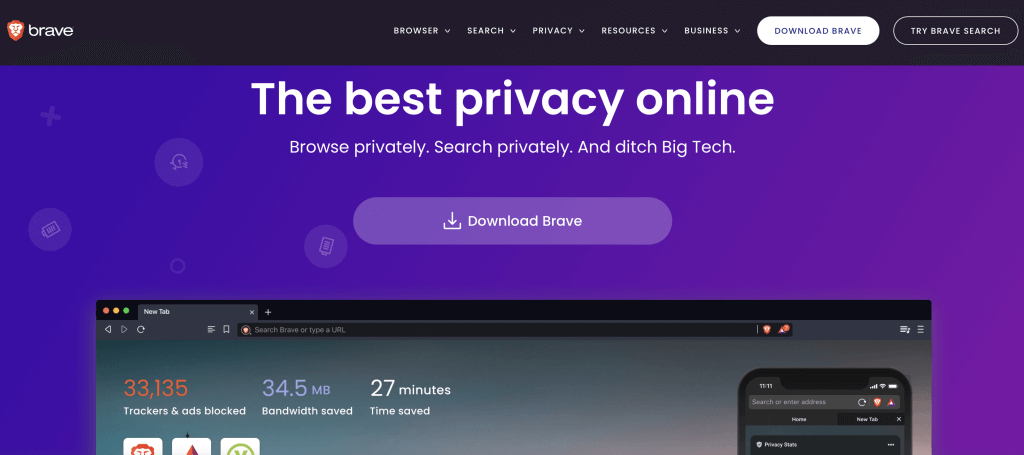 What learn and earn crypto sites have you tried before? Would you recommend any of the ones in our list above?
Comment down below and let other users know!