In this guide, we go over the best DeFi Wallets to store your crypto finance tokens. Specifically, we will go over:
The best DeFi wallets today
Key features your DeFi Wallet should have
Decentralized finance has exploded over the past few years as a modern way to store your financial tokens and information. This article is a really good starting point for all users.
If you have any recommendations, make sure to comment down at the bottom of this guide.
The Best DeFi Wallets
Here are our picks for the best DeFi wallets:
Next, we go into each wallet in more detail, outlining some of the main features that you can use in each.
Crypto.com Defi Wallet
Best DeFi Wallet for New Crypto Users
The Crypto.com DeFi Wallet is a non-custodial wallet that gives you complete ownership and control over your DeFi assets and private keys. This DeFi wallet also lets you access a wide range of DeFi services from a single dashboard. Users can flexibly transfer, store, and swap their assets without the interference of a third-party. You can transfer or send crypto assets to anyone at your desired network fee and confirmation speed.
The Crypto.com DeFi wallet has different security features to protect users' funds. It supports over 100 tokens, including:
Most other ERC-20 tokens are supported in the wallet and more tokens are added regulat. Y
ou can earn interest on your assets with Yearn Earn V2, Cosmos Staking, Crypto.org Chain Staking, Saved, and Compound.
Crypto.com DeFi wallet is also the best place to swap and farm DeFi tokens. Liquidity providers enjoy a wide range of benefits, including Bonus Yield and Swap-fee Sharing for selected pools.
Crypto.com is doing a really fine job connecting new crypto technology with regular users. They have an interface that is user friendly and do a great job walking new users through the onboarding process. If you are new to cryptocurrency, the Crypto.com DeFi wallet is a good starting point.
If you want more advanced options, we have those listed down below.
Crypto.com DeFi Wallet Features
There's great returns and no lock-up term with the Crypto.com DeFi wallet.
The wallet lets you send cryptos at your preferred network fee and confirmation speed.
Your private keys are encrypted locally on the wallet.
Easily import your existing wallet with a 12/18/24-word recovery phrase
Click here to view Crypto.com DeFi Wallet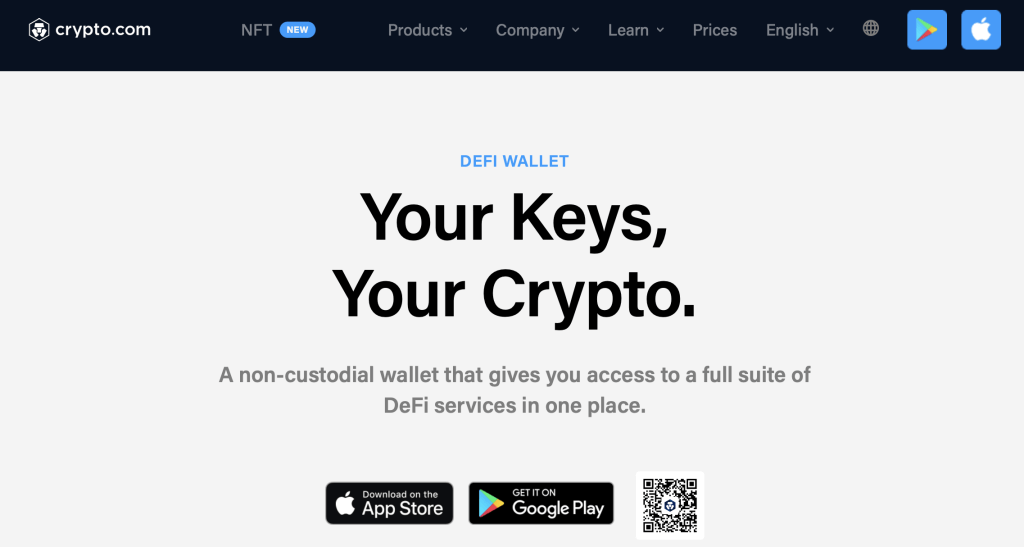 1inch Wallet
Best iOS DeFi Wallet
1inch wallet is a fast and secure decentralized finance wallet for swapping, transferring, and storing crypto assets with your iPhone. It's the easiest entry point to DeFi. Google Play support is coming soon!
1inch gives you access to a wide range of DeFi applications and makes you earn off your DeFi tokens. It supports two major networks: Binance Smart Chain and Ethereum.
The 1inch wallet supports multiple DeFi tokens, including:
Akropolis Token (AKRO)
Alchemix Token (ALCX)
Alchemy Pay Token (ACH
Aleph.im Token (ALEPH)
Security is a top priority with 1inch wallet, as all transactions are protected using secure Enclave technology.
Users can import wallets into 1inch by scanning a seed phrase or private key string using a phone camera and can also approve transactions on their devices without having to log in every time.
1inch Features
Supports flash transactions and gives you complete ownership of your private keys.
The wallet lets users pay by URLs, as it supports EIP-681 payment requests.
Traders can adjust gas prices to speed up transactions.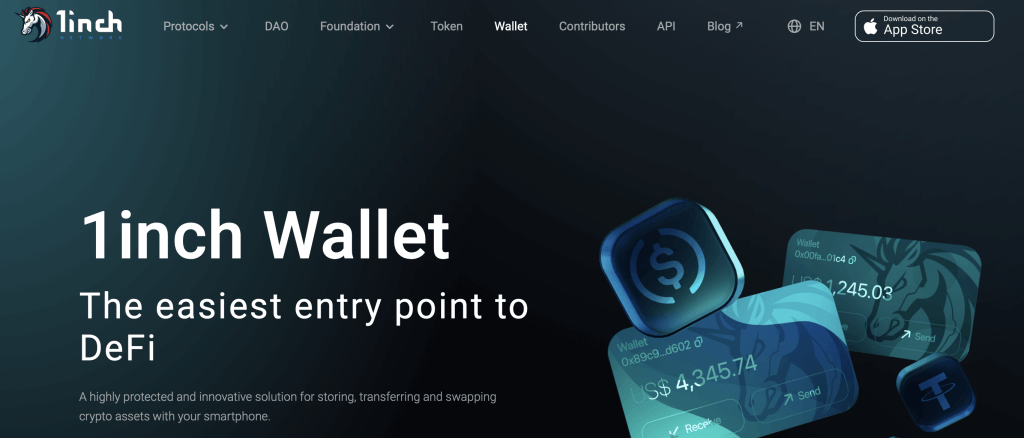 Eidoo
Best DeFi Debit Card
Eidoo is a perfect place to begin your decentralized finance journey. It's a multi-currency DeFi wallet that lets you flexibly store, send, and swap your DeFi coins. This wallet gives you access to a built-in DeFi exchange for atomic swaps and hundreds of ERC-20 tokens.
In fact, you can just better overall manage your crypto portfolio with this DeFi wallet.
Eidoo links with a real life debit card in order to offer you serious cash back in DeFi crypto tokens (up to 10%). It's an interesting choice for those who want a good DeFi wallet and want to merge it with your real world spending.
Eidoo supports a wide range of DeFi tokens, including:
Maker (MKR)
Basic Attention Token (BAT)
Crypto.com Chain (CRO)
USD Coin (USDC)
TrueUSD (TUSD)
Augur (REP)
OmiseGO (OMG)
Chainlink (LINK)
Paxos Standard Token (PAX)
Holo (HOT), 0x (ZRX),
Zilliqa (ZIL)
Eidoo also supports other tokens too if you like to buy Litecoin or Bitcoin. 
Additionally, Eidoo lets you launch or participate in token sales that are compliant with local regulations. You also have a chance to back up unique DeFi projects. The wallet is available for download on different devices such as Windows, OSX, Linux, iOS, and Android.
Eidoo Features
Eidoo lets you place trades on the go and put you in control of your funds.
Users will enjoy 10% cashback by linking their Eidoo wallets to their personal Eidoo Cards.
You can manage multiple accounts straight from the Eidoo app.
Eidoo wallet gives you exclusive access to token offerings.

Argent
Best Advanced DeFi Crypto Wallet
Argent is a non-custodial multi cryptocurrency wallet that lets you better manage your crypto holdings. Argent lets you store Ethereum and DeFi tokens and also gives you access to Aave, Yearn, Lido, Uniswap, Compound, WalletConnect, and more.
Along with that, users can exchange tokens and earn interest off their digital assets with just a few clicks. This wallet gives you full access to DeFi projects.
One good thing about the Argent DeFi wallet is that it doesn't require a seed phrase and has multisig security. Plus, you can display, send, and store high value NFTs.
Argent also lets you buy cryptos using your debit card or bank transfer. Argent supports over 240 ERC-20 and ERC-721 tokens, including ETH, DAI, MKR, BAT and Wrapped Bitcoin.
Most importantly, Argent lets you leverage the functionalities of popular DeFi products. The wallet also has a social recovery functionality that ensures you are not locked out of your crypto holdings.
All of these features make Argent our favorite DeFi wallet for advanced users.
Argent Features
Argent lets you buy, trade, stake, and earn on Ethereum Layer 2
This wallet has high level security and low fees
Fast transactions on zkSync's Layer 2 network
Puts your private keys in your hands
You can leverage the lending capabilities of Maker and Compound in-app.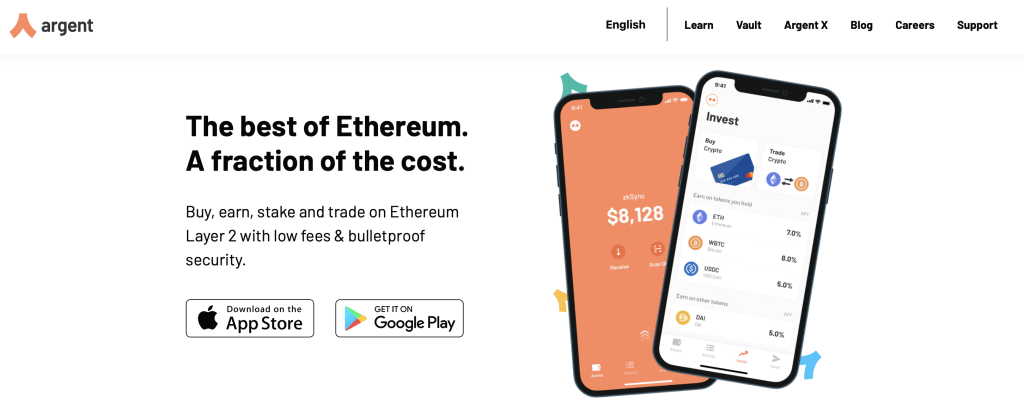 MyEtherWallet
Best DeFi Wallet for Ethereum 2.0
MyEtherWallet (MEW) is a free to use DeFi wallet that gives you instant access to the Ethereum blockchain. With the MEW hub, you can create multiple wallets and interact with the Ethereum chain via smart contracts, trading, and more.
MyEtherWallet has partnered with Bity, Simplex, Changelly, and Kyber Network to allow users easily swap fiat to cryptocurrencies like BTC, ETH, and ERC-20 tokens. Users will enjoy Ethereum 2.0 staking right within the hub. You can profit off your DeFi tokens directly from the wallet.
MyEtherWallet lets you manage your Ethereum portfolio and send coins from your personal wallet. With MyEtherWallet, your privacy is critical since the crypto industry is unregulated. It's also important that you safely keep your private keys to continue enjoying access to your digital assets.
MyEtherWallet Features
MyEtherWallet allows you to exchange traditional fiat money.
Puts the custody of your private keys in your hands.
Supports smart contracts that automate many commonly performed transactions.
Click here to view MyEtherWallet
RELATED: Trezor vs Ledger Comparison Guide
If you'd like to buy the Ledger Nano S from Amazon, you can do so below!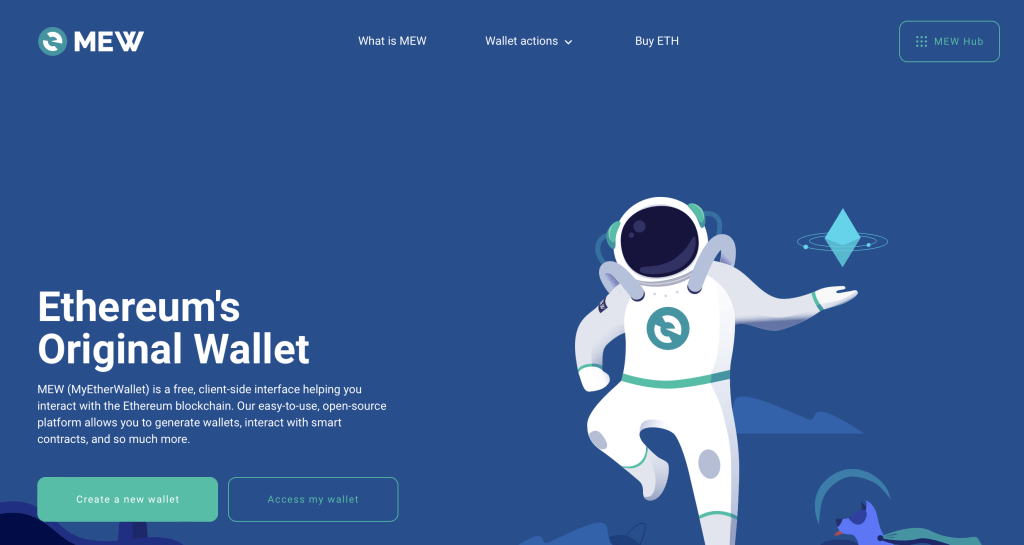 Edgewallet
Best DeFi Wallet for Multiple Assets
The Edgewallet DeFi wallet is a private and secure financial wallet. It allows you to control your private keys and claims that its interface is as easy as regular mobile banking.
Edgewallet uses cutting-edge security measures to secure your digital assets and comes with a user-friendly interface. It's a suitable wallet for beginners looking to start their journey into the DeFi world.
Edgewallet supports a long list of DeFi coins, including:
Dash
Ethereum
Stellar
Monero
Digibyte
EOS
Ripple (XRP)
Bitcoin
Bitcoin Cas
Bitcoin SV
Litecoin
You can manage all these tokens on a single dashboard.
The development team has partnered with top blockchain services so users can maximize their assets. Edgewallet features mobile top-ups, in-app buy/sell, gift cards, and crypto to crypto exchange.
A lot of Edgewallet's features are for managing multiple assets in a single wallet. So if you want to get involved in many DeFi projects, Edgewallet is a good single-source wallet to try.
Edgewallet Features
Supports multiple DeFi tokens and lets you trade digital assets on the go.
Lets you quickly exchange your fiat money for the financial assets of the future.
Seamless login across multiple devices
Click here to view Edgewallet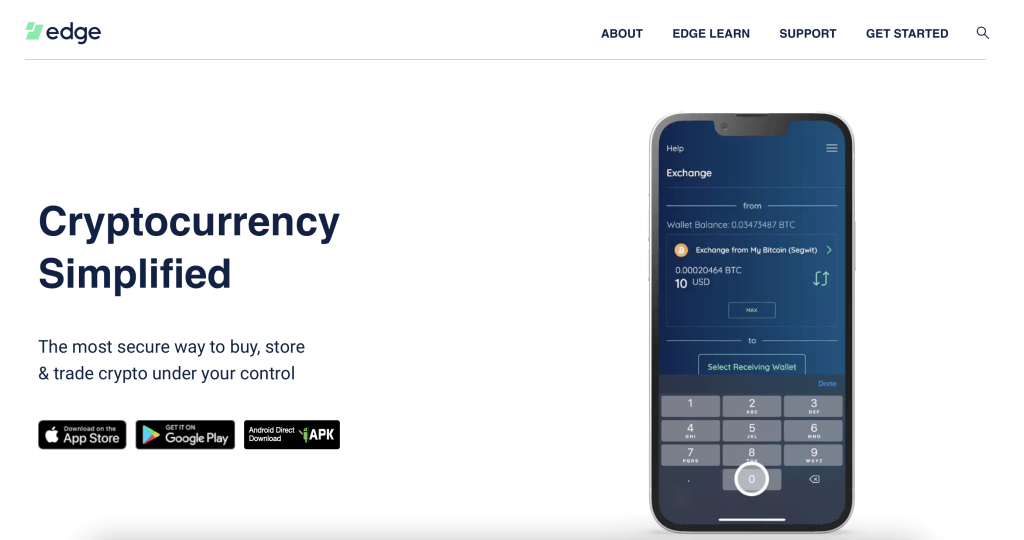 Dexwallet
Best Native Dapp Support
Dexwallet is the mobile wallet for decentralized finance. It allows you to lend, borrow, and exchange DeFi tokens at competitive rates. Dexwallet is the perfect wallet for beginners and professional traders alike looking to build passive income strategies.
The operation of Dexwallet is as simple as a savings account. However, you will enjoy up to three times more gain, with liquidity supply interest rates higher than what banks offer.
Dexwallet lets you buy DeFi tokens with Credit Card via MoonPay to make crypto trading faster and simpler. It supports DAI, xDAI, and over 500 other ERC-20 tokens. You can manage your entire portfolio right within your wallet.
To spur interest, Dexwallet has a feature called Dexpay, which allows businesses and websites to quickly support crypto payments into Dexwallet. This allows you to connect to some of the best play to earn games and apps directly from within Dexwallet.
Dexwallet Features
Partners with native DeFi solutions for maximum integration.
You can check your DeFi positions across protocols with Dexwallet.
This wallet lets you enjoy xDAI and DAI bridge at competitive rates.
With Dexwallet, you can collateralize ETH and borrow DAI in exchanges.

Now that you know more about the best DeFi wallets, we will explain what they are in greater detail. Below that, we go over the difference between DeFi and regular crypto wallets.
What are DeFi Wallets?
DeFi wallets are a key-based solution to store your decentralized finance tokens. They give you complete ownership over your assets.
With DeFi wallets, the responsibility to safely keep your private keys is in your hands. Unlike a traditional bank, DeFi wallets eliminate the need for a third-party and do not require user verification to access your assets.
Plus, they operate a non-custodial background, which allows only wallet owners to access their funds. Most DeFi wallets operate as Web 3.0 wallets and support all different kinds of DeFi applications.
DeFi vs Regular Crypto Wallets
DeFi wallets and traditional crypto wallets are different on several fronts. Here are 4 major differences between the two:
Control Over Funds
Decentralized finance wallets operate as a non-custodial. This meansthat they give you 100% control over your crypto assets and put the responsibility of holding the private keys into your own hands. On the other hand, for regular crypto wallets, the private keys are held by third-party. These third-party entities have the final say in any transaction.
Supported Assets
Both DeFi and regular wallets can hold a large number of cryptocurrencies, but DeFi wallets are focused on DeFi projects only. As most DeFi projects are built on Ethereum, DeFi wallets support most ERC-20 tokens as well as non-Ethereum assets.
KYC Procedures
DeFi wallet users don't share background information or go through KYC protocols. On the other hand, regular crypto wallets are not non-custodial, so they require users to share their ID data before withdrawing their crypto funds.
Security
Security is one of the major differences between DeFi and regular crypto wallets. Regular crypto wallets are susceptible to theft attempts and hacking. Many large exchanges have had to deal with this in the past. However, the narrative is different with DeFi wallets, as users are responsible for the safekeeping of their private keys.
Conclusion
DeFi crypto wallets are required in order to safely store your decentralized finance tokens. Just like a personal wallet keeps your cash safe, DeFi wallets are a secure way to store your digital assets.
Companies like 1inch an Eidoo understand the important of privacy and we highly recommend them. Crypto.com is finding ways to reach regular users who aren't yet comfortable with crypto.
If you used any of the crypto wallets on this website, make sure to comment down below and let us know. We want to know what others are using and what they would recommend as the best DeFi wallet.