The Solana Blockchain has a number of promising play to earn games and NFT projects on it. In this guide, we look at the best Solana wallets available for you to stake, store, and transact with cryptocurrencies.
Specifically, we'll go over:
The best Solana wallets available today
Solana hardware wallets you can try out
What the Solana blockchain is and why it is better than Ethereum
Key features in the top Solana wallets
Why you should consider staking on the Solana blockchain
If you use a different Solana wallet than the ones we talked about below, comment and let us know.
The Best Solana Wallets
Here are our picks for the best Solana wallets available today:
Next, we go into more detail for each best Solana wallet on our list.
Solflare
Official Solana Wallet
Developed by Solana Labs, Solflare is a web-based wallet designed for the Solana ecosystem. It is suitable for both beginners and professional crypto enthusiasts.
Solflare offers excellent security with the Ledger wallet. Its browser extension makes it suitable for desktop and mobile devices. Solflare is ideal for storing, staking, sending, and swapping SOL. Plus, it is compatible with Solana blockchain and suitable for crypto investing.
Solflare has similar functionality with Phantom (see below) when it comes to storing visual and audio NFTs, swapping tokens, staking SOL, and integrating with Ledger for robust security.
However, token swapping is only possible on the web application and browser extension.
In our opinion, Solflare is for you if you want:
Solflare Features
Direct integration to the latest Solana blockchain features
Solflare is a more secure option; it uses a 24-word mnemonic phrase.
Its browser extension makes it easily accessible on the go.
Solflare integrates with Ledger for extra security.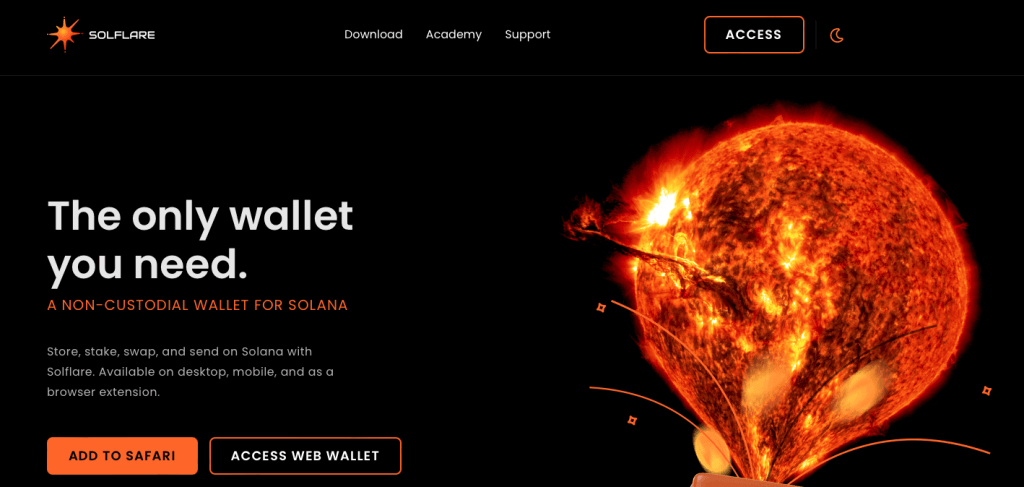 Phantom
Best Simple Solana Walet
The Phantom wallet is designed exclusively for the Solana blockchain. Phantom is non-custodial, which means you are in control of your assets.
The wallet works on popular browsers like Brave, Edge, and Firefox. The app works as an extension to Google Chrome toolbar, making it easily accessible. Its broad functionality combined with the simplicity of the app makes it ideal for Solana blockchain.
The Phantom wallet makes it easy to access your SOL and SPL tokens and also comes with tools to view your NFT collections. It also lets you swap USDC for SOL tokens or participate in DeFi and DApps. It natively supports staking, this is to enable users to delegate their SOL tokens to a validator to earn passive income.
Phantom is one of the most safest browser extensions that you can integrate with the Ledger Nano X wallet. With both wallets installed, you will enjoy all the features that Ledger comes with on the Ledger Live app catalog. If you own a Ledger like us, you'll love the integration that Phantom and Ledger bring.
Click here to read our full Phantom wallet review.
Phantom Features
Phantom lets you swap tokens with low gas fees and instant prices through its integration with Raydium.
Phantom supports a long list of ERC-20 tokens, including SOL, USDC, USDT, ETH, BTC, renBTC.
You can store NFTs and collectibles in different sections of the wallet.
The wallet lets you stake SOL to earn an APY between 5-6%.

Sollet
Best Solana Web Wallet for Developers
Sollet is a web-based wallet that you can rely on to manage, swap, and stake SOL and all SPL tokens. It was created to provide support for the usage of Project Serum, a decentralized exchange.
Sollet is designed only for advanced users and developers. It requires some programming knowledge in order to tap into all of its features.
Sollet comes as a browser extension and connects to the Ledger Nano X hardware wallet. Being a web-based wallet, Sollet is easily accessible from anywhere.
One unique feature that makes Sollet outstanding is the fact that it can hold ERC20 tokens, including LQID, KIN, MAPS, RAMP, Raydium (RAY) and Oxygen Protocol (OXY). You can also add ERC-20 tokens manually by keying in the token contract address at a fee of 0.002039 SOL per token type.
Sollet has strong and robust security, as it uses the 24-word mnemonic seed phrase format. You can link it up with the Ledger hardware wallet for additional security. It lets you farm SPL tokens through Serum.
Sollet Features
Ledger Hardware Wallet integration
Sollet is useful for swapping between SPL tokens and SQL.
It supports SOL and SPL token staking.
It's a web-based wallet.

Exodus Wallet
Best Multi Cryptocurrency Wallet with Solana Support
The Exodus Wallet is a multicurrency software wallet that can be used on Mac, Linus, Windows, as well as iOS and Android devices. It lets you send, receive, and store SOL and other ERC20 tokens. Exodus allows you to stake Solana to earn passive income of approximately 6% annually.
In addition to SOL, Exodus lets you send, receive, and exchange over 150 other cryptocurrencies. The wallet has live charts on every coin and we've had great support from the team.
For extra security, you can connect this wallet with Trezor Model T using the Trezor bridge. Through its integration with the Shapeshift exchange, you can easily exchange cryptos to make real-world money.
Exodus uses a 12-word seed phrase and you can choose whether or not to use 2FA to access your assets. We also love its modern interface.
Exodus Wallet Features
Exodus lets you sign transactions from 3rd party Dapps.
It supports a wide range of ERC-20 tokens.
Use Exodus to monitor market movements on the go.
It works with Trezor Model T for extra security.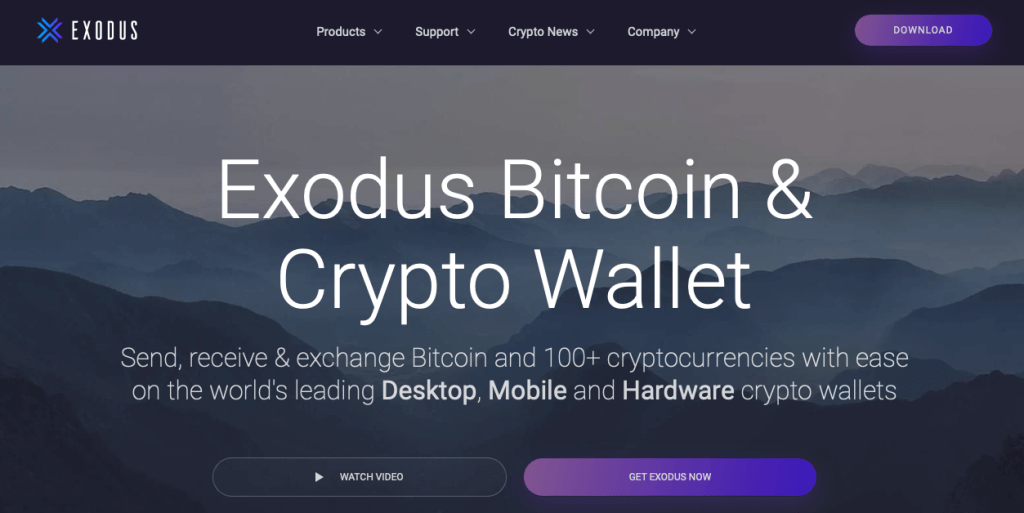 Math Wallet
Best Web3 Solana Wallet
Math Wallet is a multi-platform wallet (browser extension, desktop, mobile, and hardware integration with Ledger) with cross-chain support for over 20 blockchains. Math Wallet lets you send, receive, store, and stake SOL and other supported tokens.
It's a custodial wallet, which means that you don't have control over the private keys to the wallet. However, it uses web3 protocols which increases security and makes it less likely that your keys could be compromised.
Math Wallet is equipped with built-in DApps explorer, which makes it easy for you to access projects like:
Serum, non-custodial decentralized exchanges
Raydium high-speed
SolFarm yield aggregator
Math Wallet features Math DApp, a store that lets you interact with the services built on the major chains. It also features MATHGas, where you can track the gas fees of major chains.
Math Wallet Features
Math Wallet lets you connect to Solana DApps
The Google Chrome extension allows Ledger hardware wallet connection
It supports a large number of networks.
Click here to view Math Wallet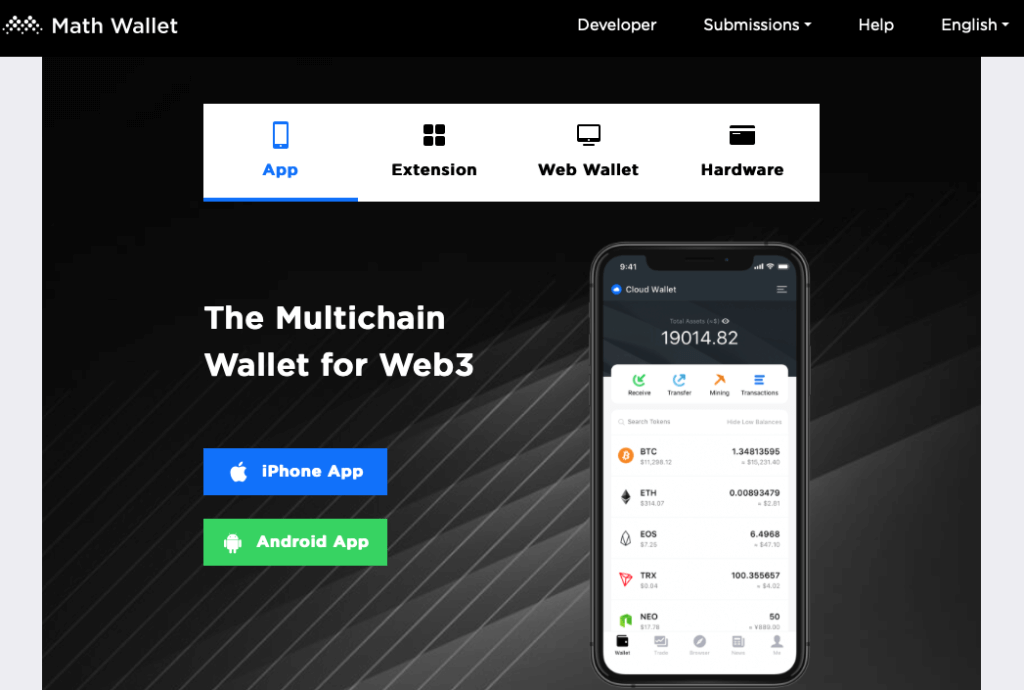 Atomic Wallet
Best Solana Wallet for Staking
Atomic wallet is a Solana wallet for Staking, Defi and NFTs. It is perfect for both mobile and desktop devices, and works with many operating systems, including Windows, iOS, Ubuntu (Linux-based), Fedora, and Mac.
Using Atomic Wallet is a great way to manage Solana and also stake tokens to earn around 7% annually. The staking interface is really great and keeps things nice and clear for you. Yoi'll see stats such as daily, monthly, and yearly profit, and your percentage yield.
Atomic Wallet supports a wide range of blockchains, including Binance Smart Chain, Bitcoin, Ethereum. It lets you access and trade over 300 cryptocurrencies.
Being a 3rd-party wallet, Atomic Wallet has on-ramp capabilities, which means you can purchase cryptos via wire transfers and credit cards. It uses a 12-word seed phrase for extra security.
Atomic Wallet Features
Atomic Wallet lets you easily manage your Bitcoin, Ethereum, XRP, Litecoin, XLM, and over 300 other coins and tokens.
There's no accounts, no verification, no KYC.
Your private keys and backup are encrypted and never leave your device.
Click here to view Atomic Wallet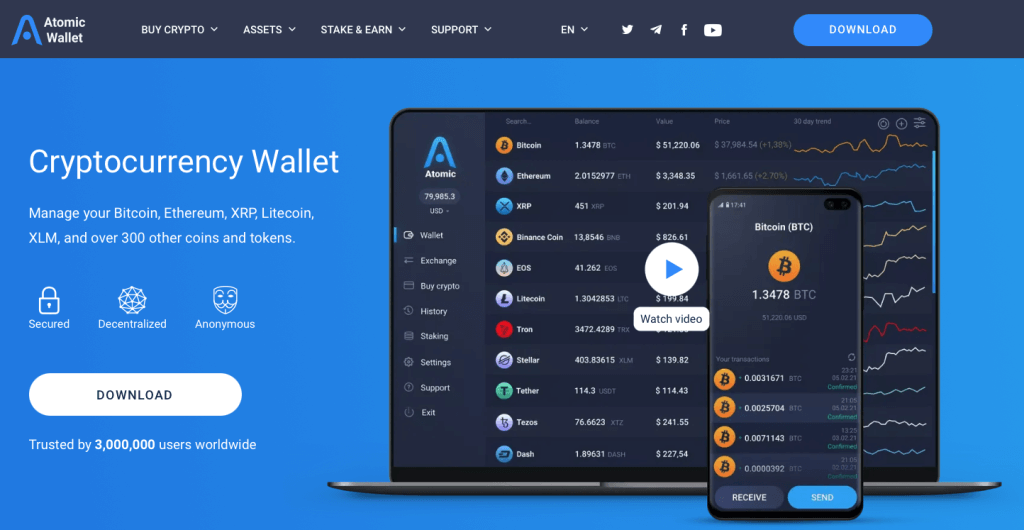 Coin98
Best DeFi Solana Wallet
Coin98 is one of the best Solana wallets that you can use to send, receive, store, and stake SOL and other cryptocurrencies. Considered the gateway to decentralized finance, Coin98 is compatible with Google Chrome as an extension and you can use it with iOS and Android devices.
Coin98 gives you access to dApps from Solana to build and switch between networks. The wallet is a DeFi gateway, making it really easy to connect to other crypto users securely.
Coin98 supports a wide range of blockchains, including Bitcoin, Polygon, Binance Smart Chain, Ethereum, and Solana. It has a point reward system, where users can earn X-point by performing certain tasks.
Coin98 is an excellent Solana wallet for both beginners and professional investors.
Coin98 Features
Coin98 lets you explore multi-chain dApps and swap tokens natively.
It supports more than 26 blockchains.
It works wih top AMMs like Uniswap, SushiSwap, and PancakeSwap.
The app is fully protected by FaceID, Touch ID or conventional passwords.

Hardware Wallets with Solana Support
Solana wallet supports the Ledger Nano X hardware wallet.
Ledger Nano X
Ledger Nano X is a hardware wallet that you can use to manage your cryptos and NFTs on the go. The wallet has a large screen for ease of use and it easily connects to your phone with Bluetooth functionality. It supports the Solana blockchain and provides extra security for your crypto assets.
To use Ledger Nano X with Solana, follow these steps:
Fire, ensure the Ledger Live application is closed
Plug the wallet into your PC's USB port.
Enter your password and launch the Solana app. O
nce the screen reads "application is ready," you can start to use the wallet with Solana functionality.
To send SOL from the wallet, enter the address you want to send the tokens to, and use the keypair argument to choose which keypair is sending the tokens.
Finally, hit the send button to move your assets onto Ledger.
Click here to purchase a Ledger from the official website.
Use the links below to order the Ledger Nano S and Nano X worldwide from Amazon.
What is Solana?
Solana is a public and open-source blockchain that supports smart contracts, a variety of decentralized apps, and NFTs. Its native token, SOL, is used to provide network security through staking. SOL is also a means to transfer value in the Solana blockchain.
Since its inception, Solana has grown in popularity, and its token is now the fourth largest crypto by market cap. Undoubtedly, it has several superior qualities over Ethereum. In particular, its low gas fees and high throughput of transactions make it popular among developers.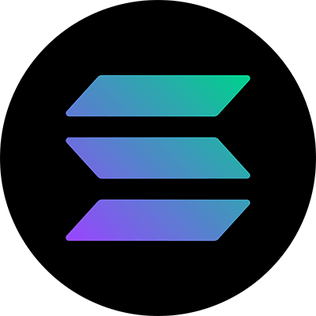 Reasons to Stake Solana
Solona staking is the process of delegating your SOL tokens to validators to earn passive income. Validators are those who run the network and process transactions. Solana's community of validators voted to ensure that stakers receive rewards. Solana uses the proof of stake consensus mechanism.
Today, SOL token holders can stake their tokens to enjoy massive rewards at 5.87 APR. The returns or yield is based on total number of SOL staked on the network, the current inflation rate, and the validator's uptime and fee.
Another reason to stake SOL is so as to support the Solana blockchain, as the blockchain depends on stakers to verify transactions and keep it running smoothly.
As one of the fastest growing blockchains of all time, Solana is in a unique spot to grow in popularity in the future.
What is the best Solana wallet in your opinion? Comment down below and let us know about your experiences.