Do you want to see more working links in Kodi and speed up your searching time? Enable the best working Kodi scrapers and disable all those ones returning wrong episodes and bad links now!
This little bit of Kodi customization will help you see and watch more media. Searching inside of Kodi addons will be quicker with less sources to look through.
But first..
if you are new to Kodi, you may want to know:
What the heck is a Kodi scraper and why should I care?
When you use a Kodi addon to look for media links, it searches websites on the public internet for media files that match the name of your query. These websites are called scrapers and they are a big part of the magic behind Kodi.
Remember, Kodi addons do not store any content and videos are not found from thin air.
Popular Kodi Scrapers & Latest Update
The most popular updated scrapers on the internet are the Universal Scrapers.
The Universal Scrapers list is what is used by all Jen-based Kodi addons. It is maintained by a list of people in the Kodi community and is the reason why your Jen-based addons all seem to work or not work at the same time.
July 2nd Update: An update to Universal Scrapers, v1.1.8. Various scrapers have been fixed and updated, which means that your Kodi addons will return more links than it did before!
Let's get back to the goods..
Best Working Kodi Scrapers
Open Scrapers
A new project called Open Scrapers has come out, which combines working scrapers from various sources into a single spot. Open Scrapers can be integrated into any multi-source Kodi addon and you would not need to follow the instructions below.
Manual Lists
The original list below come from reddit_reaper and highlight which scrapers are working best in Kodi. We've updated the list to reflect recent updates to Universal Scrapers. Enable these scrapers and disable the rest today and Kodi won't have to search through bad scrapers for bad content.
Good scrapers = good content.
This list is up to date as of November 2nd
Not sure how to enable or disable these scrapers? Check out underneath each list for a guide on how to setup scrapers in Kodi.
Best Working Universal Scrapers
Animetoon
BNWmovies
CoolMovieZone
CoolTV
Extramovies
Filu It
Hdpopcorn
Hdvix
M4UFree
Movie321cc
Movie4u
Moviefisher
MovieFull
MovieNoLimit
MyVideoLinks
OceanofMovies
Openloadmovie
Putlocker Online
PutlockerHD
Releasebb
SeeHD
SeriesOnline8
Serieswatch
Streamango
Streamdreams
TheWatchSeries
TvMovieStream
TwoDDL
VKflix
Watchepisodes
Watchfree
WatchStream
WatchTVSeries
How to Enable/Disable Scrapers
Depending on what addon you use, there are two different spots to adjust scrapers:
Universal Scrapers Settings (Program Addon)
Gaia Addon – Gaia has imported both sets of scrapers
To find your scraper settings, you need to head into the video addons (Gaia) or program addons (Universal) section of Kodi.
From your Kodi main menu, click on Add-ons.
Click on the Add-on Bowser gear wheel icon.
Click on My Add-ons
Enter your Program or Video Addons
Next, hover on the addon you want to change and hit the menu ('c') button.
Click on Settings
Depending on what addon you just opened, head to the scrapers section as follows:
Gaia: Scraper Settings > Provider Settings
Universal Scrapers: Scrapers 1 or 2 Sections
Keep the working Kodi scrapers listed above enabled and disable the rest!
It's probably not a bad idea to clear your cache and userdata folder. You can find these options in each addon setting as well!
One other thing..
It is a good idea to clear out any old scrapers from your Kodi addons to ensure that the list you configured above is what will be accurate.
To clear out old scrapers:
Launch the Kodi addon you are working with (Gaia, Placenta, or the Universal Scrapers/jen based addon).
Navigate to Tools > Providers
Click the Clear button.
Now you will be good to go!
Still Not Seeing Good Kodi Links?
We noticed that some areas of the world, the United Kingdom in particular, block a lot of the popular Kodi scrapers. That means that no matter what you do, you will NEVER see links returned from these sites.
We did a full guide a while back on scrapers being blocked in the UK.
What can you do in this case?
We highlight recommend a premium Kodi VPN. You will open up your internet, bypass service provider restrictions, and see content from these scrapers again.
Use the links below to sign up for one of our two recommended Kodi VPNs:
And that's it! Enjoy a better and faster Kodi setup.
Let us know on Twitter or Facebook if we can help you out!
PROTECT YOURSELF ON THE INTERNET
Sign up for a premium Kodi VPN and access the internet unrestricted. We offer exclusive discounts for NordVPN, the highest respected VPN in the Kodi community. It has some great features for users:
Apps for Android, iOS, Mac, Linux & more
Zero Logs
Unlimited bandwidth
Tier 1 hardware (no speed slowdown)
Access to servers hundreds of VPN servers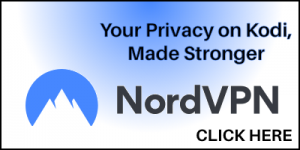 Click here to learn more about Kodi VPN protection