Do you want to setup an M3U playlist in Kodi and watch live IPTV channels fast and easy? Our guide shows you the quickest way to get up and running with M3U files in Kodi. Read the full details in our guide.
An M3U playlist is a popular way to load multiple live IPTV channels. If you have an M3U player that can read these files, you have an interface to setup live TV. Kodi has multiple M3U playlists built right in so you don't have to install any Kodi addons!
An M3U playlist is a plain text file. Inside of it are addresses to live streams and tagged channel names. If you go a google search for "new M3U playlist" or something similar, you will see hundreds or thousands of these files logged on the internet.
The Kodi cCloud service just recently announced cCloud Atom, an M3U playlist file that copies the cCloud live IPTV channel list. The cCloud Atom M3U file is located at http://ccld.io/atom.m3u
Fluxus TV is an example of another great M3U source.
Suggested read: Best Filelinked Alternatives in 2022
Protect Yourself While Using Kodi
Streaming services and cord-cutting application users need to be extra wary of their online privacy. These apps steal users' usernames and passwords and sell their private information to data companies, obviously without their consent. 

The best way to safeguard yourself and your personal data from these hackers operating on your device through the addons and repositories is to use a Kodi VPN. 

A Kodi VPN carries a number of advantages geared towards streaming users. It redirects your internet connection to private encrypted servers so that anything you view on your computer routes through these servers before hitting the public internet.

VPN software masks your IP Address and physical location, allowing you to view content that would not normally be available in your area. 

We recommend using NordVPN, the most reliable VPN you will ever find. And we say this for a multitude of reasons; here are a few:

✔ Apps for Android, iOS, Mac, Linux & more
✔ Zero Logs
✔ Unlimited bandwidth
✔ Tier 1 hardware (no speed slowdown)
✔ Access to servers hundreds of VPN servers
✔ Most trusted VPN by Kodi users

Sign up for a premium Kodi VPN and access the internet unrestricted. We offer exclusive discounts for NordVPN, the highest respected VPN in the Kodi community.
Kodi M3U Playlist Advantages
There is no need to go through the effort to install separate IPTV Kodi addons.
Playback is passed directly to Kodi from the M3U file. There is no chance that a Kodi addon is somehow to blame for non-working streams.
It is easy to switch to a new M3U playlist and reload your live TV.
Kodi M3U players have built in Program Guide (EPG) capabilities)
Check out our simple guide below for details on how to setup an M3U playlist in Kodi without needing to install any addons!
How to Setup M3U Playlist in Kodi
From the Kodi home screen, navigate to Add-ons > My Add-ons > PVR.
Click on PVR IPTV Simple Client > Configure
Under M3U Play List URL, enter in your .m3u file address and then click on OK.
If you had the PVR IPTV Simple Client Enabled already, it should refresh and tell you how many channels were loaded in the top right corner.
If PVR IPTV Simple Client is Disabled, click on the Enable button.
Back on the Kodi home screen, click on TV to launch your M3U playlist and view what live IPTV channels have loaded.
If you don't have the TV icon on your home screen, navigate to Settings > Interface > Skin > Configure Skin > Enable TV and it will now be added to your main menu.
Advanced M3U Playlists in Kodi – Playlist Loader
The method above is perfect for loading M3U files into Kodi in a simple and fast way. However, the PVR IPTV Simple Client only allows you to load in more lists at a time.
if you want to load in multiple M3U Playlists, as well as some other nice features, check out the Playlist Loader Kodi addon today for more information.
NOTE: The instructions above are valid for the default Estuary Kodi skin. If you use a custom build or setup, these screens may look slightly different but you should be able to accomplish the same result.
Frequently Asked Questions
How is M3U Player of use to me?
Kodi can access numerous built-in M3U playlists, and you don't need to install any Kodi addons. You can set up an unlimited number of playlist URLs to access many media content in different languages. Also, you can stream unlimited content like movies, TV, and music. M3U player helps you access all of this content.
What is the best way to find the M3U file address?
Use this list of Fluxus TV M3U file addresses below to set up your M3U Playlist in Kodi.
1. Fluxus IPTV = https://dl.dropboxusercontent.com/s/36b1wtkkee3mced/iptv.m3u
2. Fluxus Radio = https://dl.dropboxusercontent.com/s/a4ugvxpl47zap3z/radio.m3u
3. Fluxus Cinema = https://dl.dropboxusercontent.com/s/mqare8si7ov9r3i/cinema.m3u
4. Fluxus Faith = https://dl.dropboxusercontent.com/s/f7gjt8xvnr9j3nx/faith.m3u
5. Fluxus CCTV = https://dl.dropboxusercontent.com/s/icvdd7l37veh1xv/cctv.m3u
6. Fluxus Lust = https://dl.dropboxusercontent.com/s/bz0f3lo9qi6rltt/xxx.m3u
Why are M3U playlists better than Kodi addons?
1. M3U playlists for channels are constantly being updated with live content and media sources.
2. M3U playlists are faster to set up and try out versus Kodi addons.
3. IPTV playlists can be viewed in a TV guide format, which makes it easier to see what you want to watch.
Let us know on Twitter or Facebook if we can help you out!
PROTECT YOURSELF ON THE INTERNET
Sign up for a premium Kodi VPN and access the internet unrestricted. We offer exclusive discounts for NordVPN, the highest respected VPN in the Kodi community. It has some great features for users:
Apps for Android, iOS, Mac, Linux & more
Zero Logs
Unlimited bandwidth
Tier 1 hardware (no speed slowdown)
Access to servers hundreds of VPN servers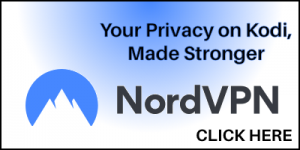 Click here to learn more about Kodi VPN protection