Mirandus is an interesting MMORPG crypto game where you can own your own assets in the game to earn rewards. In this guide, we go over how to play the Mirandus crypto game with step by step procedures and full details about the game.
Specifically, we'll go over:
What is the Mirandus crypto game?
How do you earn real money playing Mirandus?
Key features in Mirandus you should know about.
How to install and play Mirandus, step by step.
If you play the Mirandus crypto game and have some tips to share, comment down below and let us know. If you play any other crypto games that you want us to focus on, let us know.
RELATED: How to play the Axie Infinity crypto game.
What is the Mirandus Crypto Game?
Developed by Gala Games, the Mirandus crypto game is a massively multiplayer online role-playing game (MMORPG). The game gives you the opportunity to own a wide range of assets, ranging from the entire cities to in-game shops. You also get to own lands in the game to earn rewards.
However, this comes with responsibilities since you need supplies like meat, wood, and other materials to maintain and keep the land attractive. With such ownership rights and a thriving gaming ecosystem, Mirandus is making a lot of waves in the play to earn crypto community.
To make progress in the game, you must regularly interact with the gaming community, for example, by buying supplies for a dungeon adventure or by getting your armor repaired. Other players may even benefit from your interaction by providing relevant goods and services.
Being a play to earn crypto game, Mirandus offers an extra layer of immersion by letting you participate in a virtual ecosystem without participating in combat or interacting with monsters. Most importantly, 5 player-owned citadels will form the largest cities, with their owners having the exclusive right to levy taxes on trade and leading or creating their own factions.
Overall, there are not a lot of MMORPG crypto games, so the Mirandus crypto game has a lot of excitement. There is an upcoming MMORPG game as part of the Axie Infinity Builders program that we are exciting about too.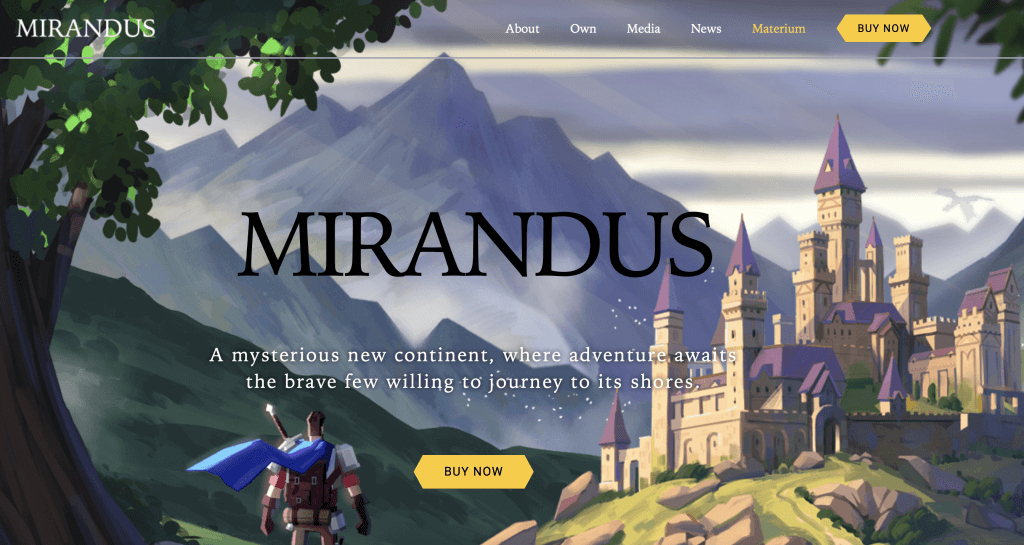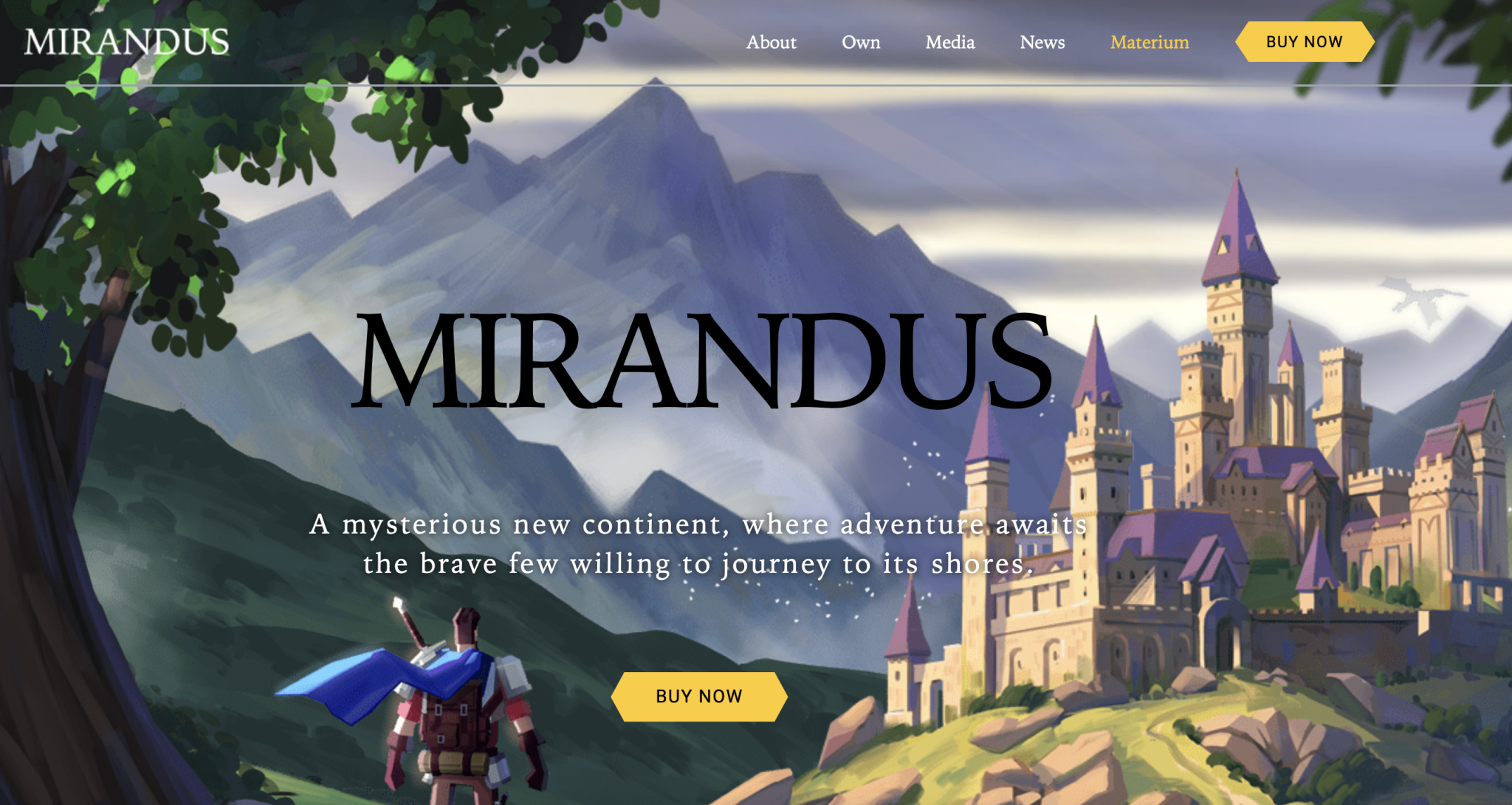 Mirandus Storyline
Mirandus is a crypto game set in a massive world ruled by 5 player-monarchs. The game gives players absolute freedom of choice. There are no quest givers and no maps. Players can sojourn into the wilderness alone to fight against the monsters of the deep woods and dungeons. They can also join one of the monarchs to serve in their courts as a knight, or set up a shop in any of the 5 citadels.
You can be an avatar and also choose to purchase an exemplar avatar with the abilities and powers beyond other players in the game. Owning in-game assets is a central mechanic, with players having the opportunity to hold land deeds. Land deeds give you the leverage to claim parts of the wilderness and also set up massive cities and small farms.
While there are risks in the game, the rewards are also great. Mirandus is rich in Meterium, a utility token that powers the gaming ecosystem. In the Mirandus crypto game, you decide what to represent and choose your own quest in the epic fight against evil.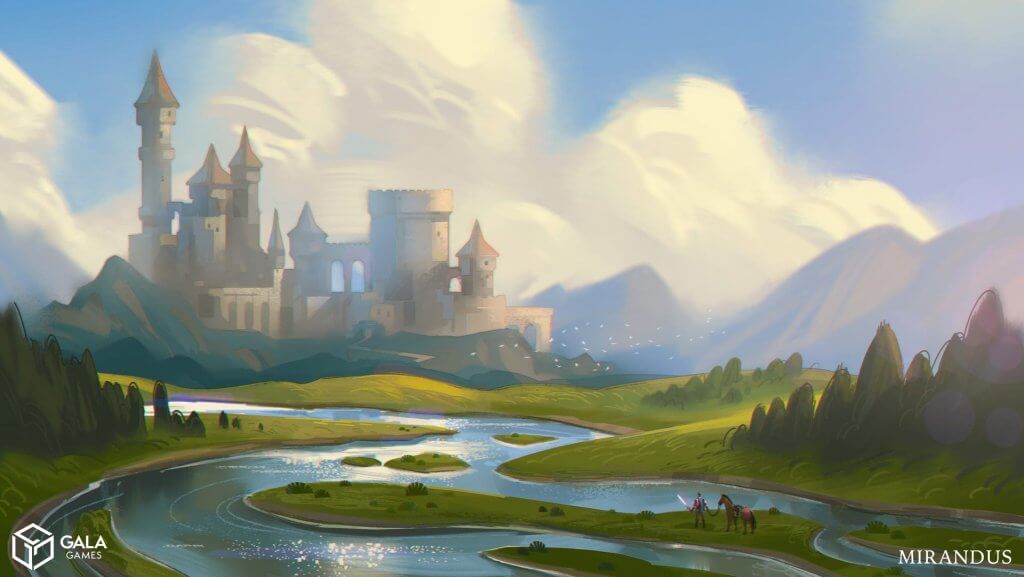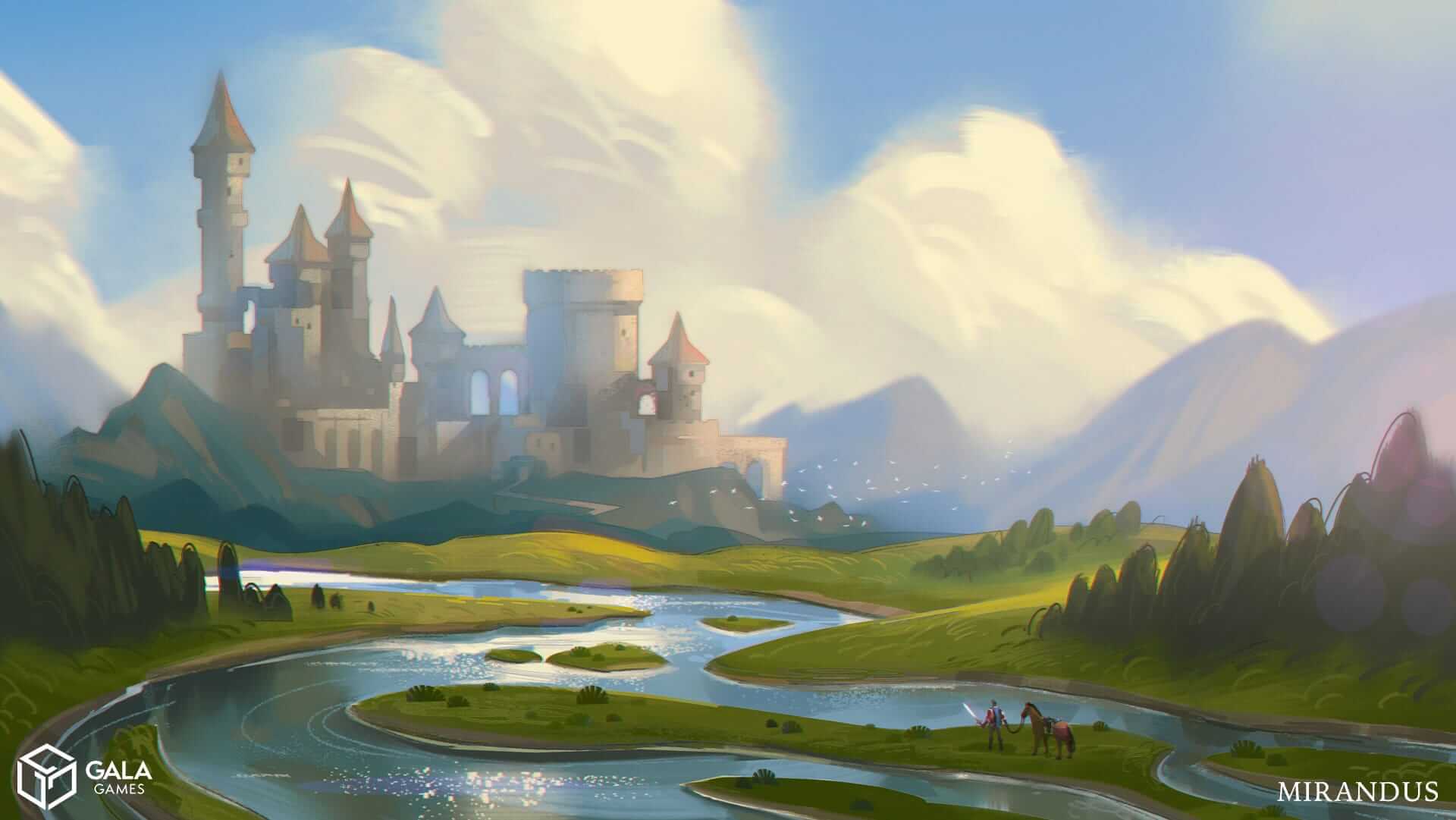 How does play-to-earn work within Mirandus?
Players can earn Meterium as they play Mirandus. To earn the in-game token, you must hold an exemplar, an NFT character. You must own more characters to earn more Meterium.
While Meterium is the in-game currency, you need GALA, Gala Game's token, to buy and sell NFTs within the game. You can speculate on NFT assets by buying them low and selling at a high price for profits. You can also sell your earned tokens and NFTs for GALA.
Mirandus Crypto Features
Mirandus crypto comes with lots of exciting features, including:
Exemplars
Exemplars are elite avatars that gamers wishing to perform abilities unique to only their faction can leverage. In other words, exemplars give players the abilities to perform better than others.
Dwarves, orcs, halflings, and elves are all available in the game, with each exemplar having unique traits depending on personal strengths and rarity. Exemplars possess unique traits like increased resource gathering, less energy use while traveling, and a bonus to fighting styles.


Deeds
Land ownership is key in Mirandus. Players who own deeds in the game can decide what to build and how to interact within the gaming ecosystem. Citadels, towns, outposts, and homesteads are all examples of properties that you can buy in the game.
There are around 1,625 deeds in Mirandus. Each deed gives you a share of the profits from the goods and services traded there. To enjoy better deeds, you should put efforts to create better walls to protect your properties from monsters.
Buildings
In Mirandus, players can build properties on their lands. However, you must own a plot that corresponds to the size of your building. You can also build on another player's land after paying the agreed fee to the land owner.
Breweries, jewelers, armorer's, and temples come in varying sizes and rarity and can be placed within towns and citadels depending on the location of your property.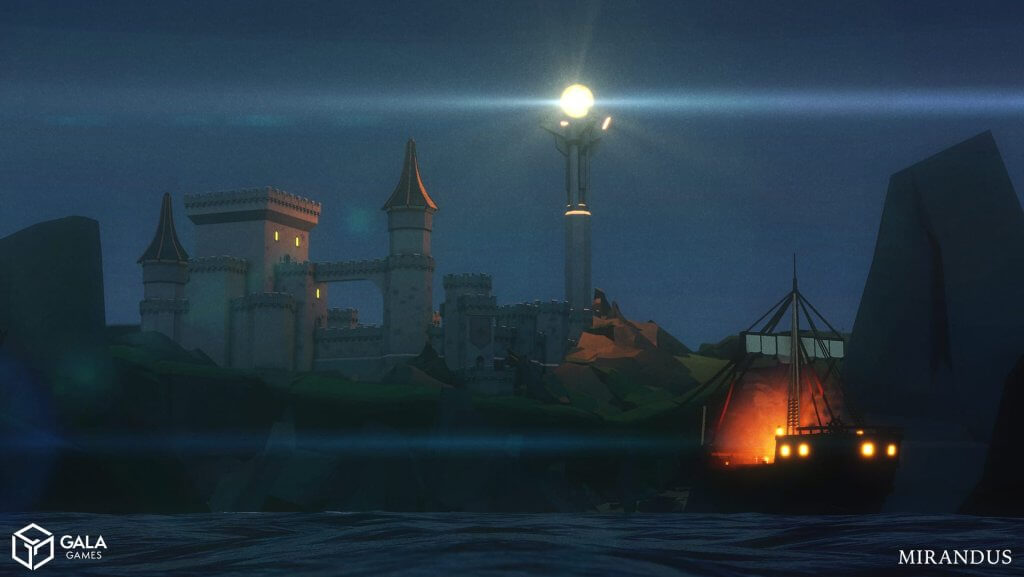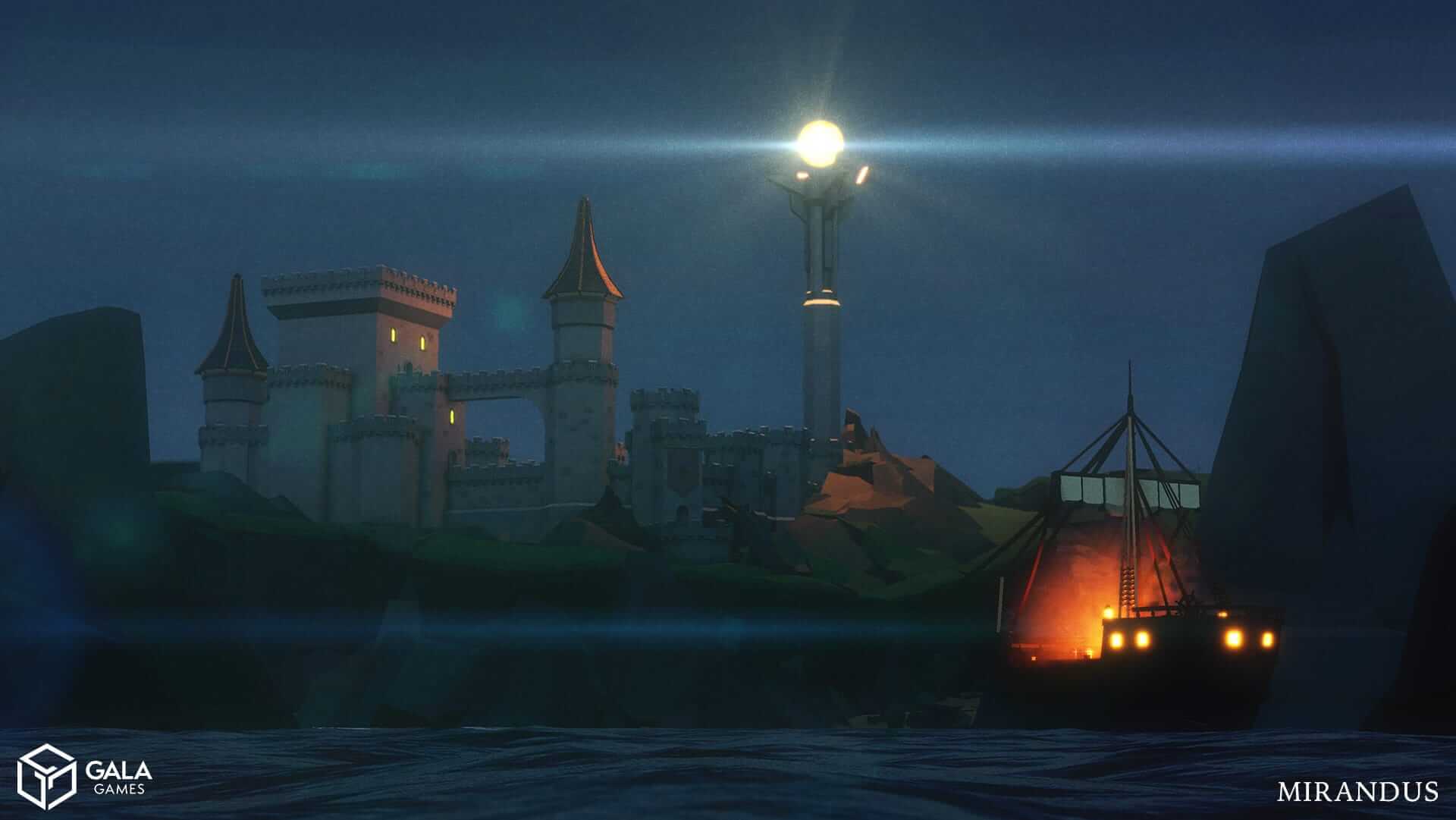 Ships
You may need a solid sea vessel to reach certain locations in the game, as not all wonders of the game can be found on foot. Instead, there are ships to ferry you around in the game. Keep
Strategy in mind when purchasing a ship, because some ships are swifter than others.
Docks
Players need a dock to anchor ships or unload cargo, just as you need a deed to place your building. Keep in mind, also, that there are docks that can accommodate a few ships. There are also large size docks that can contain both small and large ships like the cog, caravel, or carrack.
Materium Token
Materium is an ERC-20 token built on the Ethereum blockchain. This token allows players to channel powers to craft the impossible, cast spells, and even raise a slain hero from death. You can exchange NFT characters for Materium on the Mirandus crypto Marketplace and vice versa.
How to Play Mirandus
To play the Mirandus crypto game, you must complete the following basic steps:
Create a Gala Games Account
Create a MetaMask wallet
Deposit ETH to your MetaMask wallet.
Buy an Exemplar
Download and install the game
Play Mirandus.
How To Create a Gala Games Account
Follow these steps to create a Gala Games account:
Head over to gala.games using your preferred web browser and click the register button.
Complete the account creation form.
Read through the terms and privacy policy and agree to the terms to proceed.
Verify your email address and proceed to set up 2FA to secure your account.
Proceed to create a MetaMask wallet.
How To Set up a MetaMask wallet
Visit https://metamask.io/ to download MetaMask on your device.
Launch the app and click on the "create a wallet" tab.
Create a strong password
Securely store the seed phrase for your wallet.
Click on the MetaMask extension and click on "Get Started".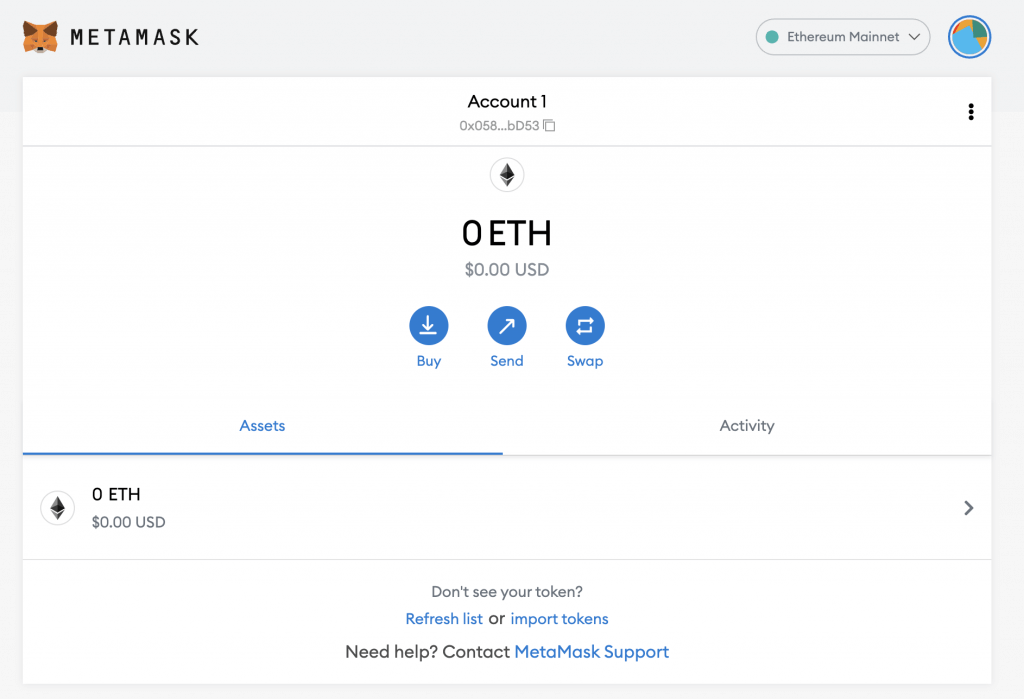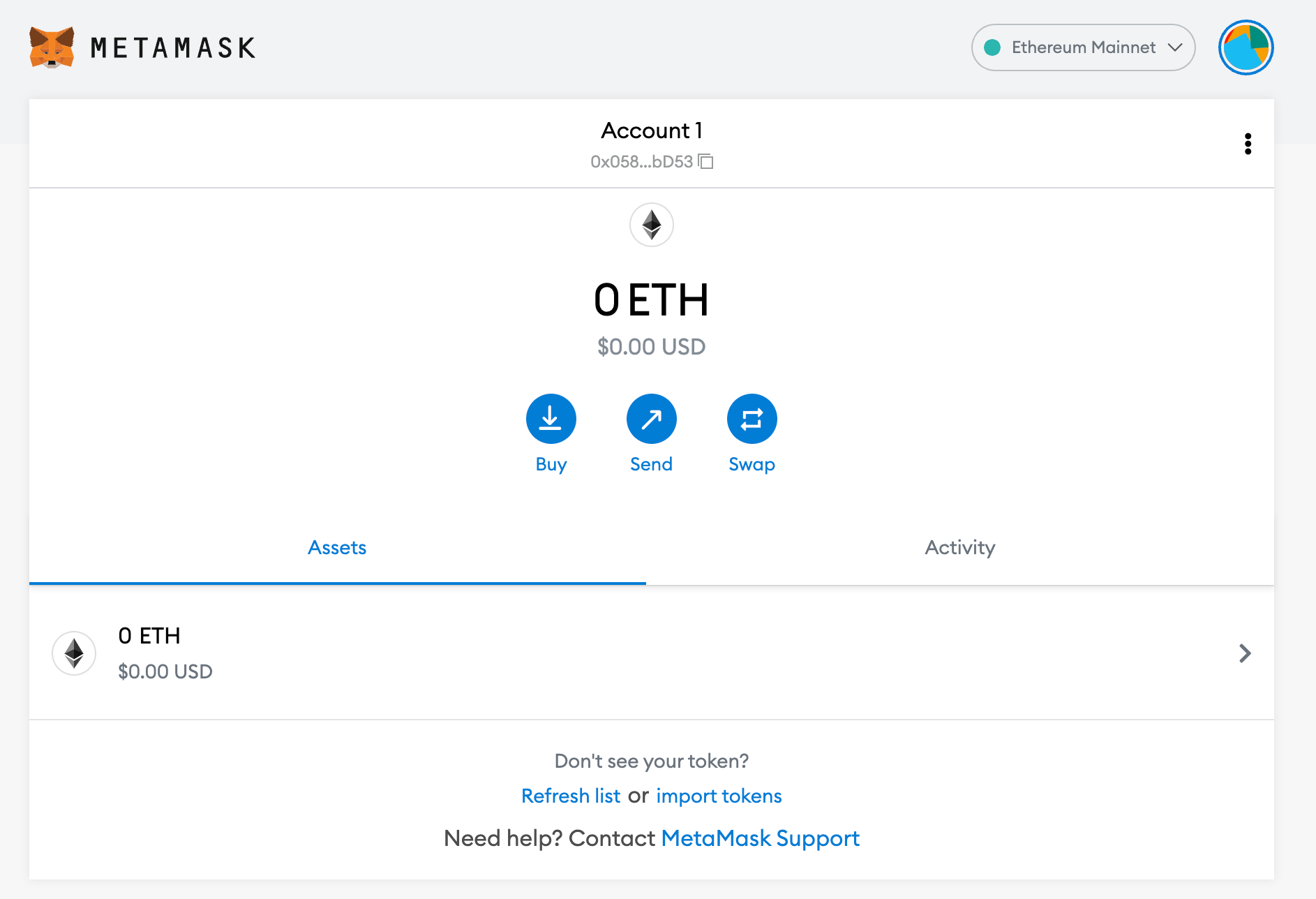 How To Deposit ETH In Your MetaMask
The easiest way to deposit ETH into your MetaMask is to buy from a reputable exchange like Binance. Follow these steps to buy ETH on Binance.
Visit the official Binance website
Login into your account if you have an existing account or create a new account if you are a new user.
Deposit funds to your Binance balance using credit/debit card or bank transfer.
Navigate to your dashboard and click on the buy button.
Select ETH from the list of tokens displayed.
Enter your MetaMask Wallet address and enter the amount of ETH you wish to purchase.
Review the transaction and hit on the transfer button.
Wait a few seconds to receive the tokens in your MetaMask Wallet.
With ETH in your MetaMask wallet, you can then proceed to buy an exemplar. Remember, you need to have an exemplar before you can play Mirandus.
How To Buy an Exemplar
Follow these steps to buy an exemplar:
Head over to https://app.gala.games/games/mirandus
Login to your Gala Games Account.
Click on "store" from the menu bar.
Select the exemplar type you want to purchase and enter the amount as shown on the screen.
Set your payment method to ETH.
Review the transaction
Place your order.
With an exemplar in your possession, you're now ready to play Mirandus.
Play Mirandus
The game will automatically download on your device.
Launch the installed game and start playing!
Mirandus Marketplace
Mirandus marketplace is a store where players visit to buy, sell, or trade a wide range of in-game assets, including Land Deeds, Docks, Ships, Halloween, Buildings, Lantern, and Exemplar. The exemplars listed for sale in the store are of different types, with some already sold out.
Some popular exemplars include:
Picard
Latern of the sun
Crayer
Hoy
Pier
Caravel
The rarity of all the assets listed on Mirandus marketplace include Common, Uncommon, Rare, Epic, Legendary, and Ancient. The store supports GALA and ETH tokens.
Do you have any questions about the Mirandus crypto game? Comment down below and let us know.