Farmers World is a play to earn crypto game on the WAX blockchain that has a huge following and a lot of potential. In this guide, we go over how to play the Farmers World crypto game and tips for earning real money.
Specifically, we'll go over:
What Farmers World is and key features you need to know.
How to install and play the Farmers World crypto game.
An overview of the Farmers World tokens.
How to earn real world money playing Farmers World
If you are a fan of the Farmers World crypto game and have anything else to share, comment down at the bottom of this guide.
RELATED: Check out other top play to earn crypto games: Blankos Block Party, The Sandbox, and Gods Unchained.
What is Farmers World?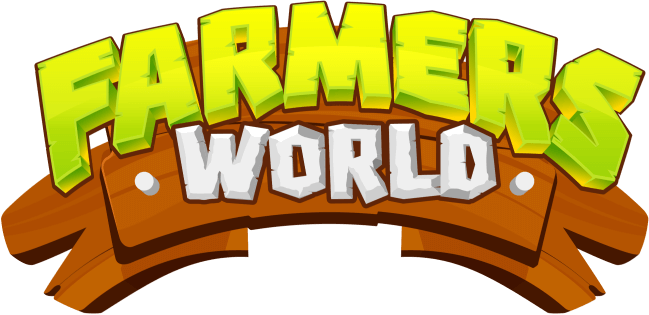 Developed by G.JIT Japan, Farmers World is a crypto play to earn game built on the Worldwide Asset eXchange (WAX) blockchain. Since its inception, the game has gained massive popularity among crypto and NFT enthusiasts.
In Farmers World, farmers (you) spend most of your time getting three in-game resources (Food, Wood, and Gold) using NFT tools. You can also raise NFT animals and buy NFT land plots to cultivate food. The game also lets you sell your earned NFTs for WAX on the secondary market.
While Farmers World doesn't have a storyline to follow, the game takes inspiration from an ancient document called "Manuscript №4848" housed in Brazil's National Library. The document describes a mysterious civilization that has adapted to life in the wilderness. The game takes place when the ancient, mysterious civilization was in its infancy.
Players are tasked with the responsibility of catching fishes, chopping wood, farming, and mining gold.
The developers are busy adding new mini-games and features that expand the Farmers World in new ways.
Before we show you how to play the Farmers World crypto, we'll go over some of the key features found in the game.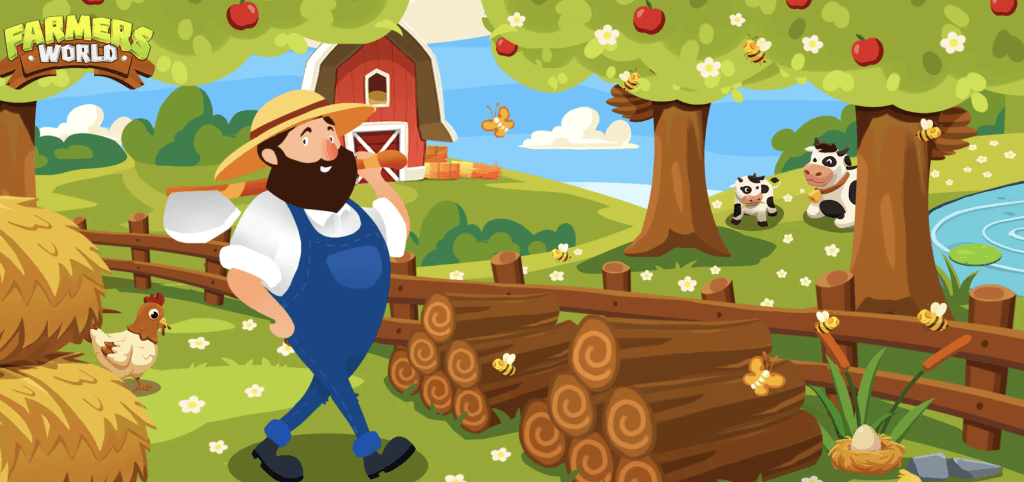 Farmers World Crypto Game Features
Farmers World comes with lots of exciting features, including:
Mining
Mining is the process of growing gold and NFTs using different in-game tools. To start mining in Farmers World, you need to purchase a virtual land, which you can also use to build your farm.
There are energy losses in the mining process depending on each tool. One way to recover energy is to use Gold and Wood to create tools and repair equipment. Also, there's a countdown time, which shows the period it will take to continue after mining. Items cannot be changed or removed in countdown status.
Breeding
In Farmers World, farmers can breed livestock to produce food. You can store the food to have enough energy to prepare for the coming war with jungle monsters. Mature cows can also interbreed to produce calves.
Other things to note about breeding are:
Baby Calves need milk to survive
Calves need Barley to survive.
Dairy Cows need to consume Barley for survival.
Chickens and Chicks need to consume Barley to stay alive.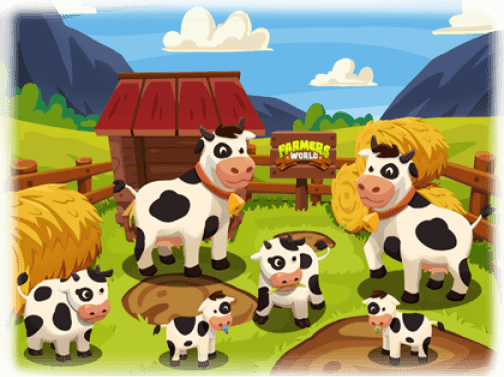 Building
In the game, you can build farms of different sizes. Build cow stables and chicken coops to expand any of your farm. Build solid cages to protect your animals from the attacks of jungle monsters. A cage will also help them to grow fast and healthy.
Building is the main way to expand your operations, so you'll want to become familiar with these Farmers World crypto features.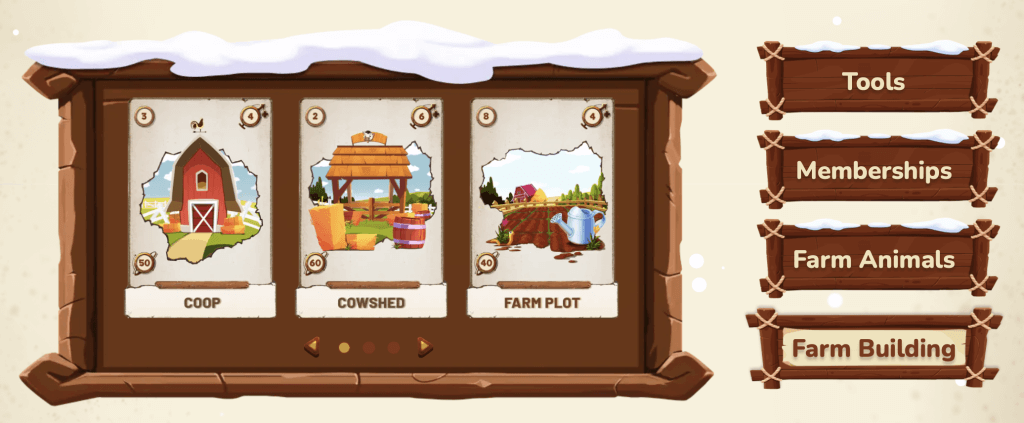 Cultivation
Cultivation and farming was added to Farmers World in late 2021. In the game, you need to harvest crops to take care of your livestock. You need at least one farm plot to plant seeds, harvest food crops, and exchange fruits with other players.
You will receive valuable rewards for successfully harvesting all the required fruits in the game.
Wild Animals
There are wild animals in the game in form of jungle monsters. They appear on land to destroy trees, livestock, and cause disharmony within the ecosystem. You can use your pets to fight them in exchange for different rewards.
Tools in Farmers World
There are different tools available in the game to enable you to raise NFT animals, buy NFT land plots to cultivate food, and earn in-game tokens. The tools include:
Chainsaw
Mining excavator
Fishing boat
Fishing net
Axe
Fishing rod
Saw
Stone Axe
Ancient stone axe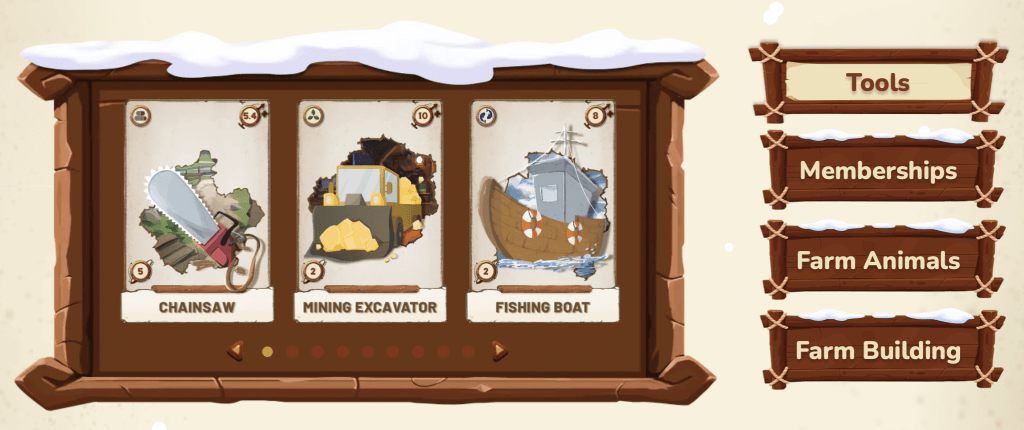 Here is how to use the above tools:
Use Chainsaws, Saws, and Axes to get Wood
Use Fishing Rods, Fishing Boat, and Fishing net to get food
Use a mining excavator to get gold.
All tools in Farmers World have a durability index. The durability index of all the tools in the game varies between 25 and 1,600. As you mine gold, the tool's durability index reduces. You need Gold to repair a tool with a durability index of zero.
Also, each tool has a cool down period of one hour after every successful mining. You can't use the items until the countdown is over.
Furthermore, there are 2 ways to get these tools – either you purchase them on AtomicHub (Drops or secondary market) or you use the craft feature in the game to create them.
Farmers World Crypto Tokens
Farmers World has three different crypto tokens which correspond to the three primary in-game resources: Wood, Food, and Gold. These tokens work in a cycle of sorts:
use the available tools and energy to mine
use resources to replenish energy and repair tools so you don't stop mining
mine the resources to buy better tools
earn rewards, as well as get more energy
And the cycle continues!
The tokens are represented with FWW (Wood), FWF (Food), and FWG (Gold). You need tokens to exploit the in-game resources. For instance:
FWW
You need the FWW token to exploit the Axe, Saw, and Chainsaw.
FWF
You need the FWF token to exploit the Fishing Rod, Fishing Net, and Fishing Boat
FWG
You need the FWG token to exploit the underground mining excavator.
Players can purchase these tokens from other players or on decentralized marketplaces such as Alcor.
How to Play Farmers World
To start playing Farmers World crypto, you need to complete these basic steps:
Learn basic information about the game, the mining process, and the consumption of game's mining results.
Create a WAX Cloud Wallet account.
Learn how to deposit to Wax Wallet
Buy your tools at Farmers World Collection to start playing.
Access Farmers World to play.
How To Create WAX Cloud Wallet
Follow these steps to create a WAX Cloud Wallet:
Head over to the WAX Cloud Wallet official website: https://wallet.wax.io
Click on the "sign up for an account" button. You can set up an account using your email and password or a variety of social media accounts.
Read and accept the terms and conditions before hitting the "accept and continue" button.
Wait to log in to your WAX wallet.
Congratulations! You have just created your WAX Cloud Wallet.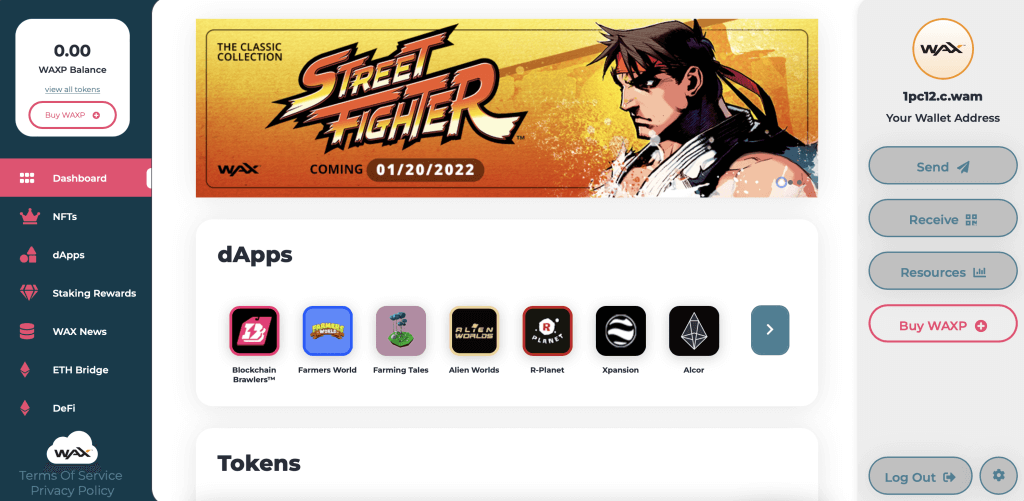 Now, proceed to deposit WAX in your newly created WAX Cloud Wallet to play Farmers World.
How to Deposit to Wax Wallet
There are different ways to fund your Wax Wallet:
Credit card
Buying on exchanges
sending WAX from another account.
Of these methods, the easiest is to purchase from decentralized exchanges like Binance or Bittrex.
Follow these steps to deposit WAX into your wallet from Binance:
Visit the official Binance website
Login into your account if you have an existing account or create a new account if you are a new user.
Deposit funds to your Binance balance using credit/debit card or bank transfer.
Navigate to your dashboard and click on the buy button.
Select WAX from the list of tokens displayed.
Enter your Wax Cloud Wallet address and enter the amount of WAX you wish to purchase.
Review the transaction and hit on the transfer button.
Wait a few seconds to receive the tokens in your WAX Cloud Wallet.
With WAX in your wallet, the next step is to access the game's website.
Access Farmers World to play
Follow the instructions to sync your wallet.
Buy tools at Farmers World Collection to start playing.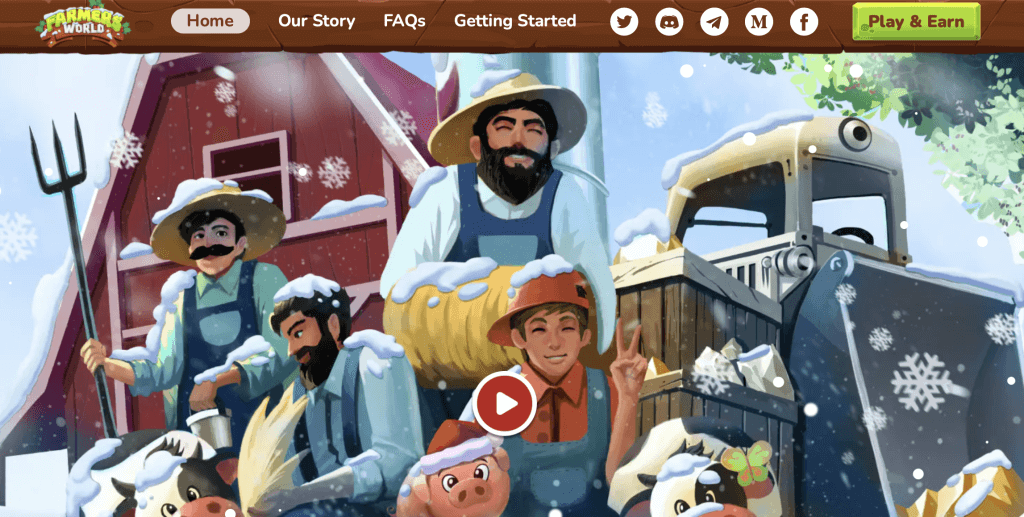 How To Buy Tools at Farmers World Collection
You need a tool to start playing Farmers World crypto. Follow these steps to purchase at least an Axe and a fishing rod:
Head over to Farmers World Collection.
Select the type of tool you wish to purchase.
Select the tool's rarity and level.
Enter the WAX amount as listed in the offer.
Review the transaction and click on the "Buy" button.
If everything goes smoothly, you will have the selected tools to start playing the Farmers World crypto game.
How To Earn In Farmers World
There are two primary ways to earn in the Farmers World crypto game:
Raise animals and cultivate crops: You can sell farm animals and food on the secondary marketplace to make a profit. There are chickens, cows, barley, corn, and much more. You can also exchange resources from animals such as Barley and milk.
Mine resources: Mine gold, get food, or wood to sell on the marketplace for money. You can also exchange in-game resources for each other using the Exchange option. For instance, you can exchange Wood for Gold.
Selling your NFTs is very easy. All you need to do is to select the blue Atomic button on your menu, link your WAX Cloud Wallet, and list the assets for sale.
If you have any other questions about how to play the Farmers World crypto game, comment down below and let us know!