Are you looking for WWE WrestleMania 38 Kodi PPV streaming information? Kodi Tips has news, card, summary, and info for watching WWE WrestleMania Kodi in HD on your Android TV box.
Get the best WWE PPV Kodi content information for the next PPV in this guide below. This year, WrestleMania 37 takes place over two days on this April 2nd and 3rd.
Have a look at the card below and then scroll down to find a bunch of places where you can find WWE WrestleMania Kodi information such as news, card, summary, and more.
Disclaimer: We don't host any links or support any content. The Kodi addon below don't host any links. They are nothing more than search engines that search the public internet. Kodi is nothing more than a media center and stores no content, legal or otherwise. KodiTips does not support software piracy, and bears no responsibility for what you decide to do with the contents of this article. For more information, please see our full disclaimer here.
WWE WrestleMania 38 Card
How to Stream WWE WrestleMania 38 on Kodi
Check out the following third party WrestleMania Kodi addons for WWE WrestleMania streams and information
Below, we go into more detail about all of these addons you can use to stream Wrestlemania on Kodi.
SportsDevil
The Sportsdevil Kodi addon is the longest running live stream addon for Kodi, with a long history of over 5 years. Many Kodi addons that offer live sports streams actually just take them right from Sportsdevil and repackage them into a different order for Kodi users. So, if you are interested in live sports on Kodi, Sportsdevil is the first place you should look to.
Click here to install SportsDevil.
The Crew
The Crew Kodi addon is a simple and efficient television addon with some one-click movie playlists as well. It is a lot similar to Exodus and Venom but with custom-curated playlists included as well. The IPTV section is well known and contains free streams of worldwide channels.
Click here to install The Crew.
Rising Tides
Rising Tides is a live sports and events Kodi addon. It contains free IPTV streams of live events and sports channels around the world. The addons has a good selection of both US and UK streams. Everything in the Rising Tides Kodi addon is scraped from the internet from publicly available sites. Like other Kodi addons, Rising Tides does not own or host any of its own content. The addon has been a fan favorite for free IPTV content for a while now.
Click here to install Rising Tides.
Limitless
Do you want to try out a really nice all-in-one Kodi addon filled with movies, TV, sports, IPTV, and more? The Limitless Kodi addon has all of these and more. There are a few nice live sources loaded into Limitless as well for those IPTV fans who are always on the hunt for free channels. It is a good all-in-one playlist style addon.
Click here to install Limitless.
Sportowa TV
Are you looking for a nice Sportsdevil alternative for live sports and IPTV scraped from the internet? The Sportowa TV Kodi addon has multiple sources loaded into the addon and is full of working links! Read more information about Sportowa TV in our guide below.
Click here to install Sportowa TV.
Do You Need a VPN to Stream WWE WrestleMania?
When you install an unofficial add-on or a build, Kodi warns you of the data access these third-party add-ons and builds will be given access to.
Streaming services and cord-cutting application users need to be extra wary of their online privacy. They steal users' usernames and passwords and sell their private information to data companies, obviously without their consent.
The best way to safeguard yourself and your personal data from these hackers operating on your device through the addons and repositories is to use a Kodi VPN.
When using Kodi and geo-blocked P2P (Acestream) links, which share your connection with other users in order to minimize buffer for everyone, make sure you have a VPN connection active. These events are in high demand all over the world and that makes it more important to protect your internet connection.
A Kodi VPN also carries a number of advantages geared towards streaming users. It redirects your internet connection to private encrypted servers so that anything you view on your computer routes through these servers before hitting the public internet.
This private server does not store any information about where your computer and location are and acts as a middle man to protect user internet connections.
VPN software masks your IP Address and physical location, allowing you to view content that would not normally be available in your area.
Users choose to activate a VPN connection for a number of reasons. For Kodi and Android TV users, we believe there are three main reasons:
✔ You'll be able to access all geo-blocked content in Kodi from all of the best Kodi addons.
✔ Your connection is protected when using torrent or acestream files.
✔ Stream and download content anonymously
We recommend using NordVPN, the most reliable VPN you will ever find. And we say this for a multitude of reasons; here are a few:
✔ Apps for Android, iOS, Mac, Linux & more
✔ Zero Logs
✔ Unlimited bandwidth
✔ Tier 1 hardware (no speed slowdown)
✔ Access to servers hundreds of VPN servers
✔ Most trusted VPN by Kodi users
Sign up for a premium Kodi VPN and access the internet unrestricted. We offer exclusive discounts for NordVPN, the highest respected VPN in the Kodi community.
Check out NordVPN and sign up today.
Check out our complete guide on Kodi VPN.
WWE WrestleMania Live Streaming Tips
Here are some general Kodi streaming tips to help you when accessing media and content you are legally able to view:
Make sure your internet connection is a minimum of 10mbps and recommend 20mbps in order to have the bandwidth required for live streams.
Always make sure your media box is plugged in with hardwire Ethernet back to your router. The latency on wi-fi is 10x worse than hardwired Ethernet, which leads to more buffering.
When using peer-to-peer or acestream links, use a VPN to hide your connection and access content safely.
Test your streams well in advance of any event. Don't wait until the last minute once an event has started.
So, where are you getting your WWE PPV Kodi information from and for WWE WrestleMania 37 on Kodi? Let us know on Facebook and Twitter!
Note: Kodi does not support any unlicensed watching of the WWE PPV and we do not host any files or links on this site.
If you need a brand new Kodi box, check out our Kodi box recommendations now.
PROTECT YOURSELF ON THE INTERNET
Sign up for a premium Kodi VPN and access the internet unrestricted. We offer exclusive discounts for NordVPN, the highest respected VPN in the Kodi community. It has some great features for users:
Apps for Android, iOS, Mac, Linux & more
Zero Logs
Unlimited bandwidth
Tier 1 hardware (no speed slowdown)
Access to servers hundreds of VPN servers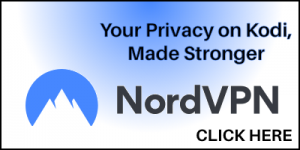 Click here to learn more about Kodi VPN protection