Is your Real Debrid not working on Kodi? Are you seeing no Real Debrid streams in Kodi? Read some of the causes and solutions in our guide and get premium working media links again today.
Real Debrid is a premium file locker service, which gets you access to premium uploaded files. For a single fee, you get access to over 20 different file hosts and servers. In Kodi, these premium file hosts offer more bandwidth than free options. Using Real Debrid means that you will see faster and higher-quality links. The service is solid and most issues with Real Debrid not working are due to corrupted Kodi settings.
So, if you are having Kodi problems with Real Debrid not working, especially if you had Real Debrid working in the past and it doesn't anymore, we have a fix for you.
Kodi services that decode these premium file locker links and grab the raw media file are called Resolvers. There are two common Kodi resolver programs: URLResolver and ResolveURL. Both essentially work the exact same and addon developers are free to pick and choose the option they would like to include. It is safe to have both installed and they work separately from each other.
The fix for Real Debrid not working can be performed in both URLResolver and ResolveURL and involves resetting the function cache. Check out the fix below and let us know on Twitter or Facebook if we can help you out!
Must-read: Real Debrid vs Premiumize vs All Debrid vs LinkSnappy Comparison Guide
Why is Real Debrid not working?
Real Debrid not working is a common error, but there are some easy fixes to it. If your Real Debrid is not working, one of the following could be the reason:
Real Debrid server is overloaded
Real Debrid server is down or unreachable because of a network problem
Real Debrid website might be under maintenance
There might be a VPN pairing problem
Kodi Real-Debrid Not Working Solutions
If your Real Debrid is not working on Kodi, try these 5 quick fixes.
URLResolver Fix
Launch the URLResolver settings by navigating from the home menu to SYSTEM > Add-ons > SYSTEM > Dependencies > URLResolver > Configure
Click the Reset Function Cache option.
ResolveURL Fix
Launch the URLResolver settings by navigating from the home menu to SYSTEM > Add-ons > SYSTEM > Dependencies > ResolveURL > Configure
Click the Reset Function Cache option.
Direct Addon Real Debrid Not Working Fix
If you are using a custom skin, the steps above may not work to get you into your resolver settings because menus may be different. In that case, you can usually go directly through each Kodi addon to reset the cache for Debrid. Most multi-source addon forks put links right into the settings which you can access as follows:
Launch your chosen Kodi.
Click Tools
Click Settings: Accounts
Under Accounts, scroll down to Debrid Service and click on URLResolver/ResolveURL Settings.
Click the Reset Function Cache option
Clear the cached data within the app
Clearing function cache can help you resolve the Real Debrid not working error. To clear function cache or reset, go to the URLResolver settings and select Clear Function Cache. Following are some instances when you should clear this cache function:
When you have recently updated the resolver
When you make changes to the addon
When there are playback issues or sources skipping, which happens when Real Debrid needs an update
Also read: Death Streams RD Kodi Addon: Real-Debrid Content
Reauthorizing Real Debrid on Kodi may help you fix the Kodi not working error. Follow these simple steps to reauthorize Real Debrid on Kodi and get working links on your favorite video addon.
Step 1:
On your Kodi, click on the Settings icon on the homepage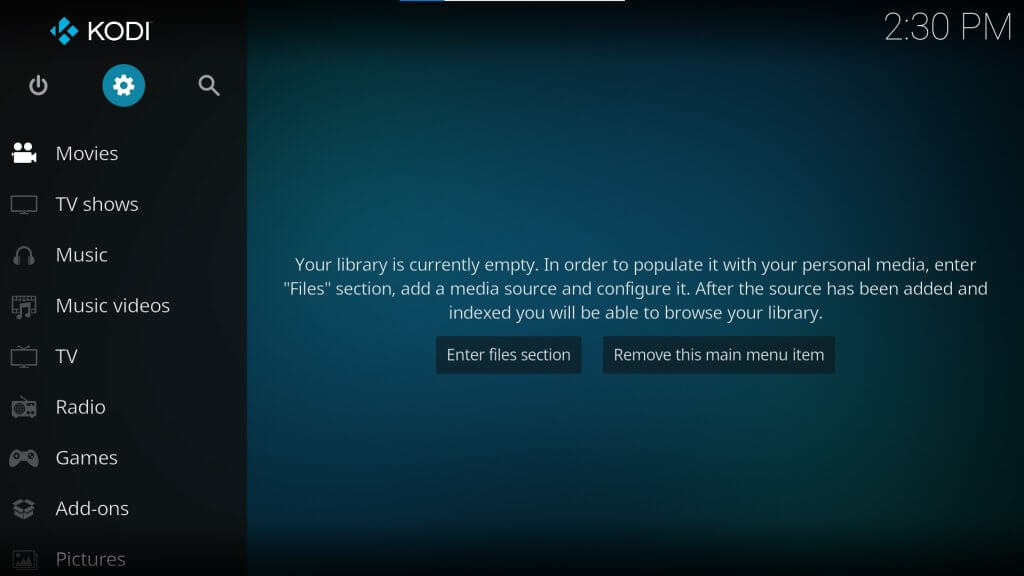 Step 2:
Select System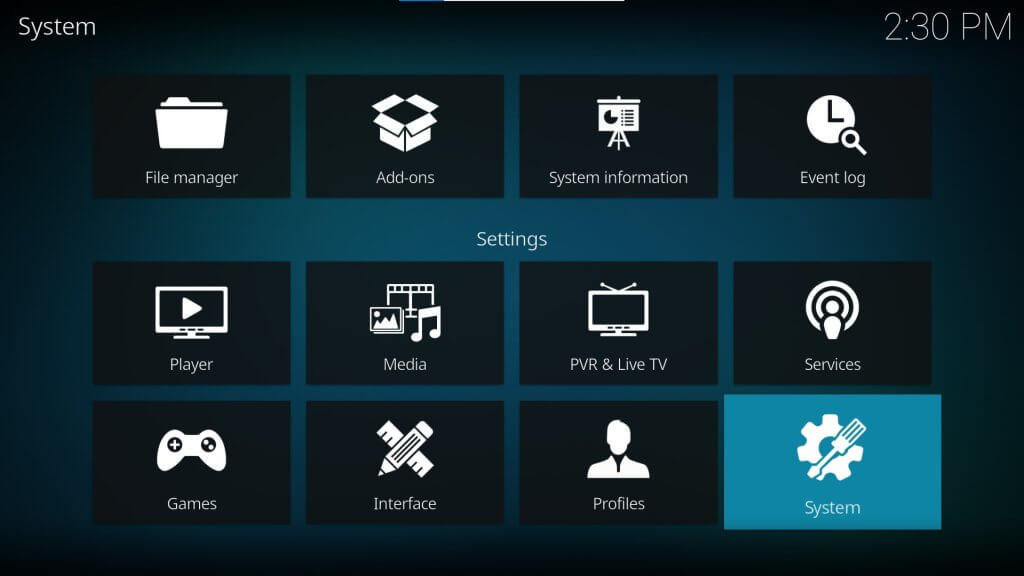 Step 3:
Change the button on the right bottom to Advanced or Expert by clicking on the Basic or Standard option. Now, hover over Add-ons on the left menu and select Manage Dependencies.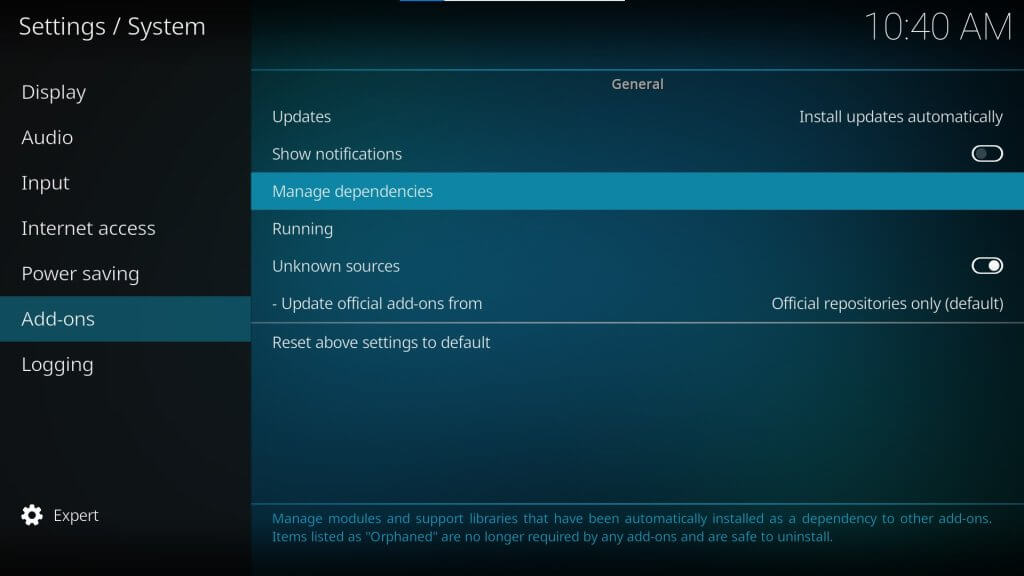 Step 4:
Under Manage Dependencies, scroll down to URLResolver and select it. Next, click on the Configure option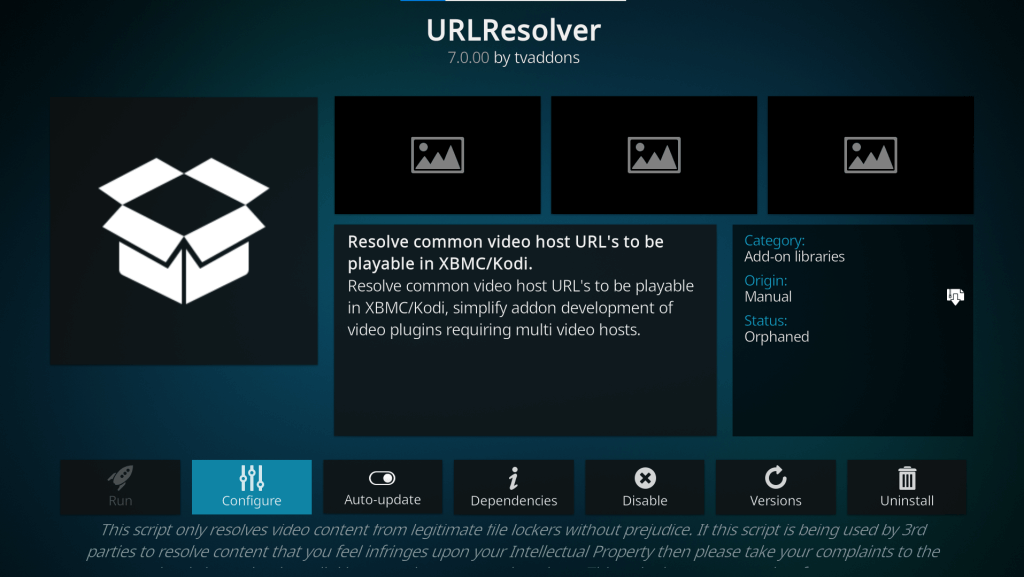 Step 5:
In the Settings – URLResolver window, go to Universal Resolvers and scroll down to Real Debrid
Step 6:
In Real Debrid, set the Priority to 90 and click on (Re)Authorise My Account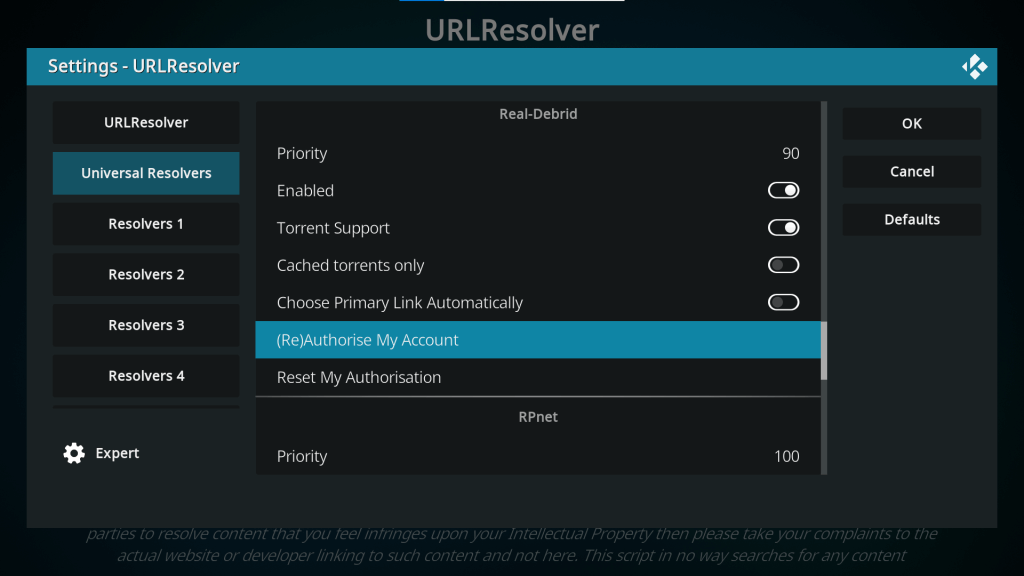 Step 7:
Now, follow the instructions in the URLResolver Real Debrid Authorization window. Open https://real-debrid.com/device on a browser of your choice on any device and enter the code there when prompted.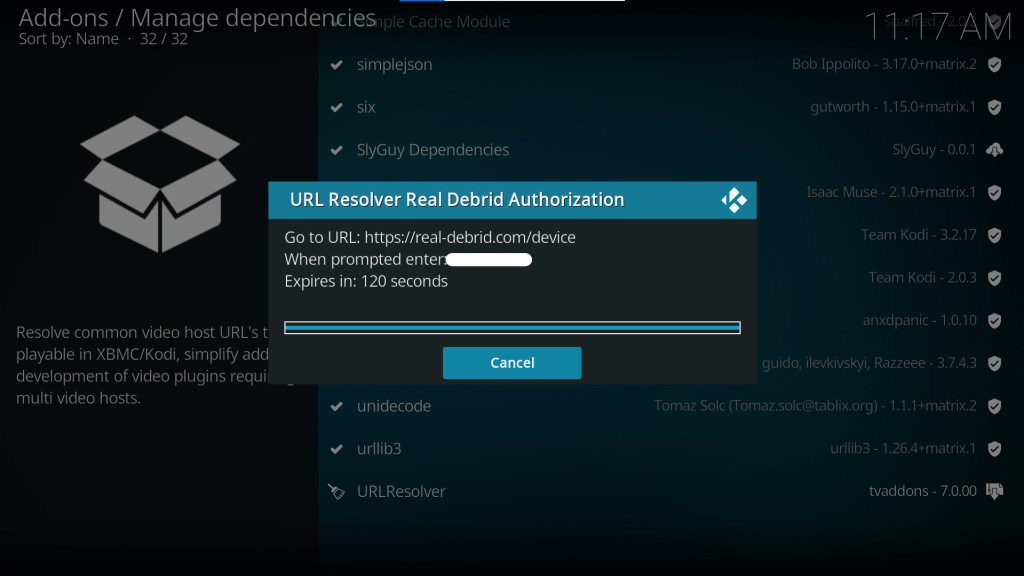 Note that the code is only valid for 120 seconds, so you have to be quick while doing this.
Step 8:
Real Debrid will be reauthorized on Kodi. Now, to get the premium links from premium sites, relaunch the Kodi app and select your favorite video add-on.
You will find the Real Debrid links with initials the 'RD.' Open any link and you must be good to enjoy your favorite movies and shows.
Note that you might face buffering issues if your internet speed doesn't meet the requirements for the stream quality available.
You might also like: The Ultimate Guide to Real Debrid: All You Need to Know
Sometimes the issue might be with the browser you are using. To resolve browser-related issues, try the below fixes:
Perform a full site refresh
To force refresh the full site, press the Ctrl + F5 keys simultaneously with the browser open. Or, you can do it manually by following the below steps on your Chrome browser:
Step 1:
On your Chrome browser, click on the menu button on the top right corner in the browser toolbar
Step 2:
Go to Tools and select Clear browsing data
Step 3:
Select the data you want to remove in the dialog box that appears
Step 4:
On the top, select the time range of the data to be deleted. Back up all the important passwords and information and select All time.
Step 5:
Finally, click Clear browsing data
Tip: Clear your browser's cache and cookies and close your browser before you log back into Real Debrid. This is done to make sure you are on the most recent version of the page.
DNS error
A Domain Name System (DNS) is typically a directory for websites. It stores site IP addresses in an alphabetical format for easy reference. The DNS is usually provided by Internet Service Providers.
DNS problems can often lead to Real Debrid not working issues. You may try the below fixes to resolve the error:
Clear local DNS cache
Clearing the local DNS cache is critical for ensuring you have the most recent cache your ISP provides. To clear the local DNS cache on Windows, go to Start > Command Prompt, and type in "ipconfig /flushdns" and press enter.
And then wait for the "Successfully flushed the DNS Resolver Cache" message.
If you find that the Real Debrid is not working on your device, but you can access it from another device or even on a 3G network, consider choosing an alternative DNS service like Google Public DNS or OpenDNS. These are highly reliable and free public DNS services.
You might also like: Authorize Real Debrid Kodi Addon Guide
If resetting your cache does not fix your Real Debrid not working issues, you can manually reauthorize your account again as follows
Launch your URLResolver/ResolveURL settings by using step 1 in the first two guides above or by going through the direct addon method also posted above.
Under Universal Resolvers scroll down to Real-Debrid and click on (Re)Authorize My Account.
Follow the instructions on your screen to visit the Real Debrid authorization page and re-sync your account. When you are done authorizing, make sure you set the Real-Debrid priority to 99 or less (so that they appear at the top).
Frequently Asked Questions
How do I fix Real Debrid needs resolve error on Cinema HD?
Try the below steps to fix the Real Debrid needs resolve error on Cinema HD.
1. Log out of Real Debrid on Cinema HD
2. Turn off the enabled VPN
3. Log in to Real Debrid on Cinema HD
4. Go to Real Debrid website and enter the code for the new device (if you're using Real Debrid on Cinema HD on a new device)
5. Finally, check if the Cinema HD links load. If yes, turn the VPN back on.
What are the best Real Debrid alternatives?
There are lots of Real Debrid-like downloaders available to download files instantly. Some of them are: MyDebrid.com (Paid), Premiumize.me (Paid), LinkSnappy (Paid), Alldebrid (Paid), Put.io (Paid), Leech Space (Free), and PLG (Free). Check out our guide on the comparison of Real Debrid, Premiumize, All Debrid, and LinkSnappy.
What is ResolveURL in Kodi?
ResolveURL is an essential dependency most Kodi video add-ons use these days. It is used to resolve media links from file hosters to video streams into Kodi addons. It is a part of URL Resolver that scrapes links from different sources. It has been discontinued and replaced with ResolveURL.
Hopefully, now your Real Debrid not working errors are fixed and you no longer get Kodi no stream available either.
Let us know on Twitter or Facebook if we can help you out!
PROTECT YOURSELF ON THE INTERNET
Sign up for a premium Kodi VPN and access the internet unrestricted. We offer exclusive discounts for NordVPN, the highest respected VPN in the Kodi community. It has some great features for users:
Apps for Android, iOS, Mac, Linux & more
Zero Logs
Unlimited bandwidth
Tier 1 hardware (no speed slowdown)
Access to servers hundreds of VPN servers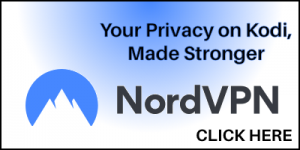 Click here to learn more about Kodi VPN protection