This is the ultimate game on how to play The Sandbox crypto game. Specifically, we will go over:
An overview of the game
The main components and features in The Sandbox
The Sandbox Marketplace
How to play The Sandbox
How to earn real money by playing The Sandbox
The Sandbox is an open ended game that features games and experiences created by players of the game. You need to own land in order to create an experience, so the design of the game is completely fluid. We'll show you everything you need to get started playing.
If you have any questions about the game, comment down below and we will help you out.
What is The Sandbox Crypto Game?
The Sandbox crypto game is a multiplayer virtual world where players can create, own, and monetize their gaming experiences on the Ethereum blockchain to earn real-world money. This GameFi game enables developers, content creators, and artists to own NFTs, explore a vast metaverse, and play in different games and experiences. 
A big part of The Sandbox crypto game is the Game Maker. It is a set of tools for players to create assets on the platform and games that other users can interact with. Players can craft their own universe by finding and using resources such as:
Water
Soil
Lightning
Lava
Sand
Glass
Similar to Minecraft, The Sandbox is open ended and comes with endless possibilities.
The original Sandbox game was launched in May 2012. In 2018. It was rebranded to be a play to earn crypto game that utilized blockchain components.
Down below, we will explain the game in more detail, show you how to play The Sandbox crypto game, and tips on how to earn real life money in the game.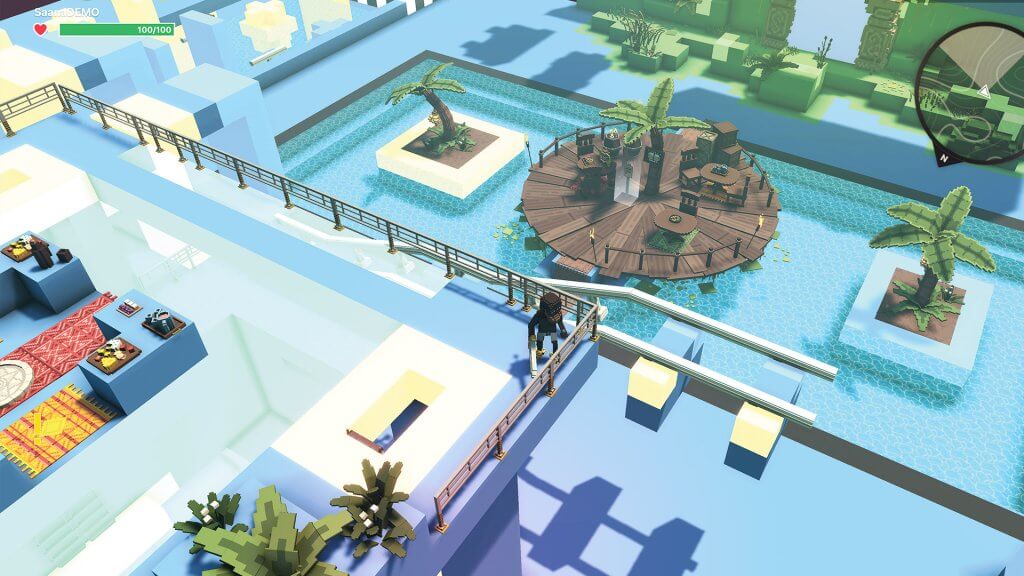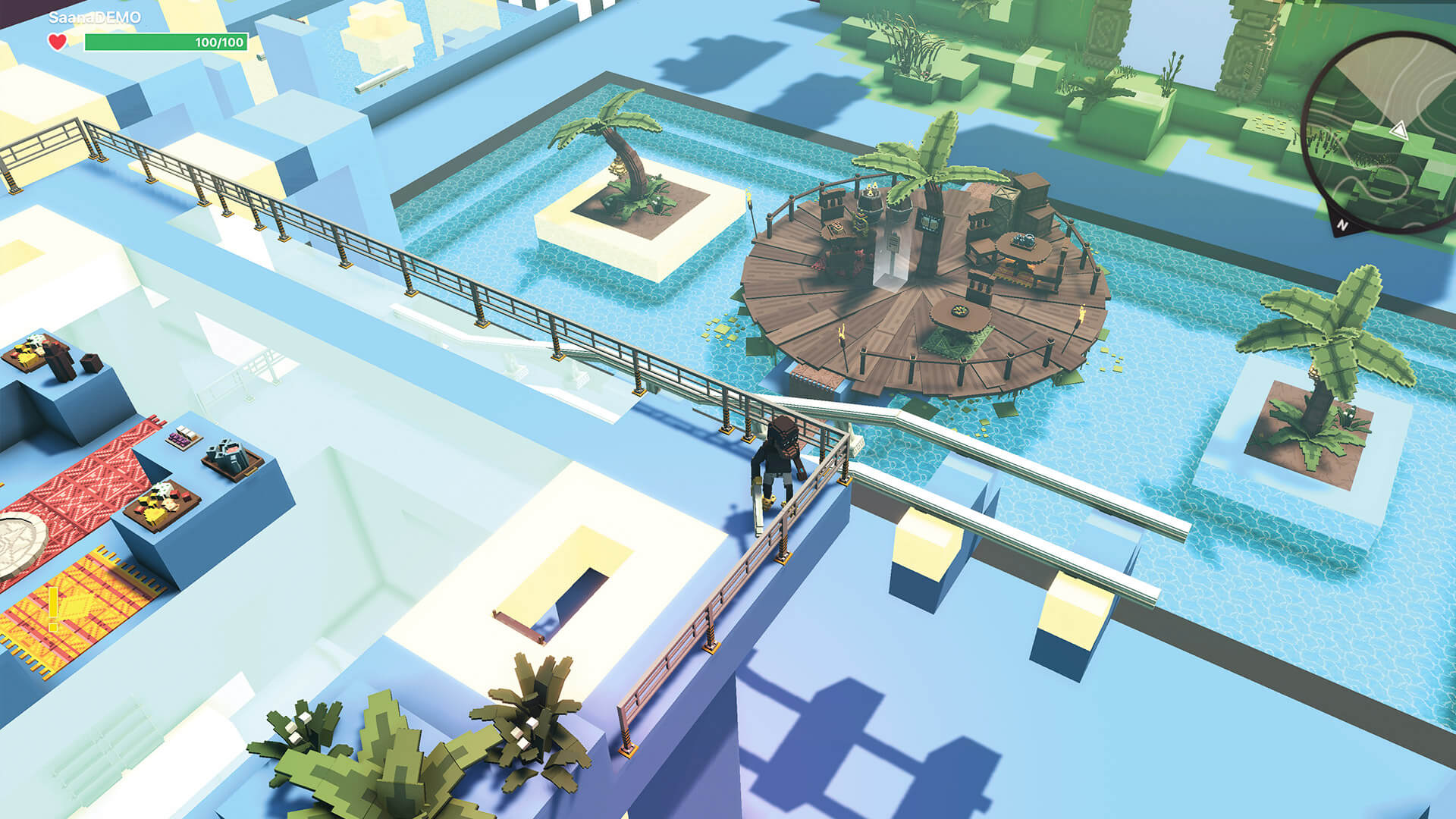 Components of The Sandbox Crypto Game
There are a few important components that all players should know about in The Sandbox.
Assets
Assets are standard tokens created by players who assemble user generated content. Assets serve as creation elements in the Sandbox Game Maker and they can be traded on the Sandbox Marketplace.
Assets are NFTs that are indivisible, unique, and not interchangeable.
LAND
LAND is a virtual property in the game's metaverse that players can buy to build interactive experiences. Each block of land is also a token on the Ethereum blockchain. 
LAND is power in The Sandbox. When you own LAND, you can do a number of cool things with it:
Host contests and events for your brand
Stake SAND to earn more token coin to spend in the game
Monetize your assets and make money from others in exchange for access
Vote in the Sandbox's governance system
Play games and experiences that others have created.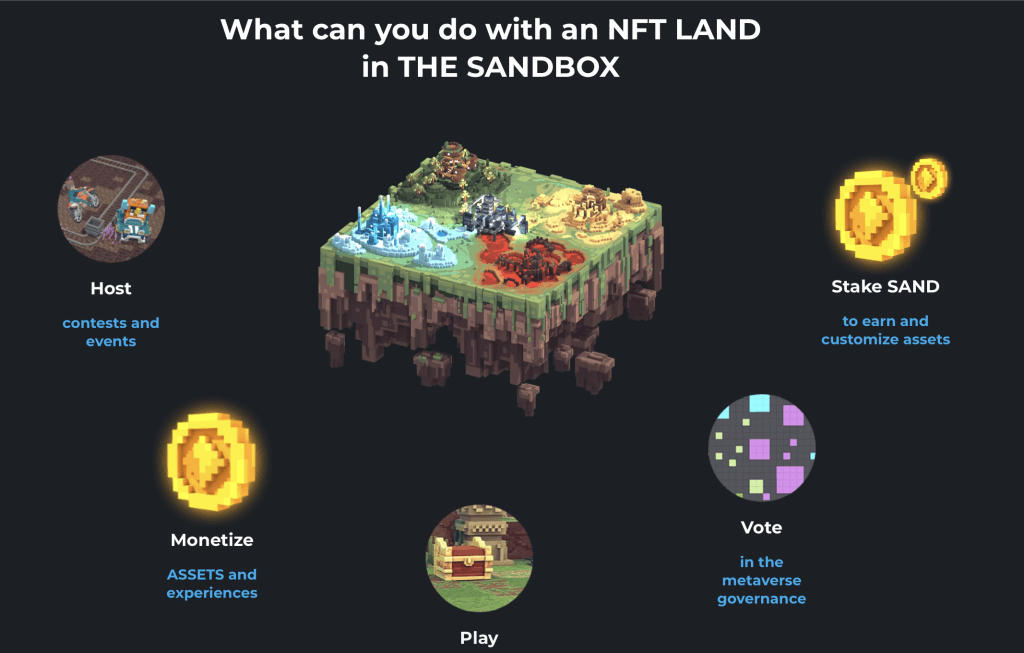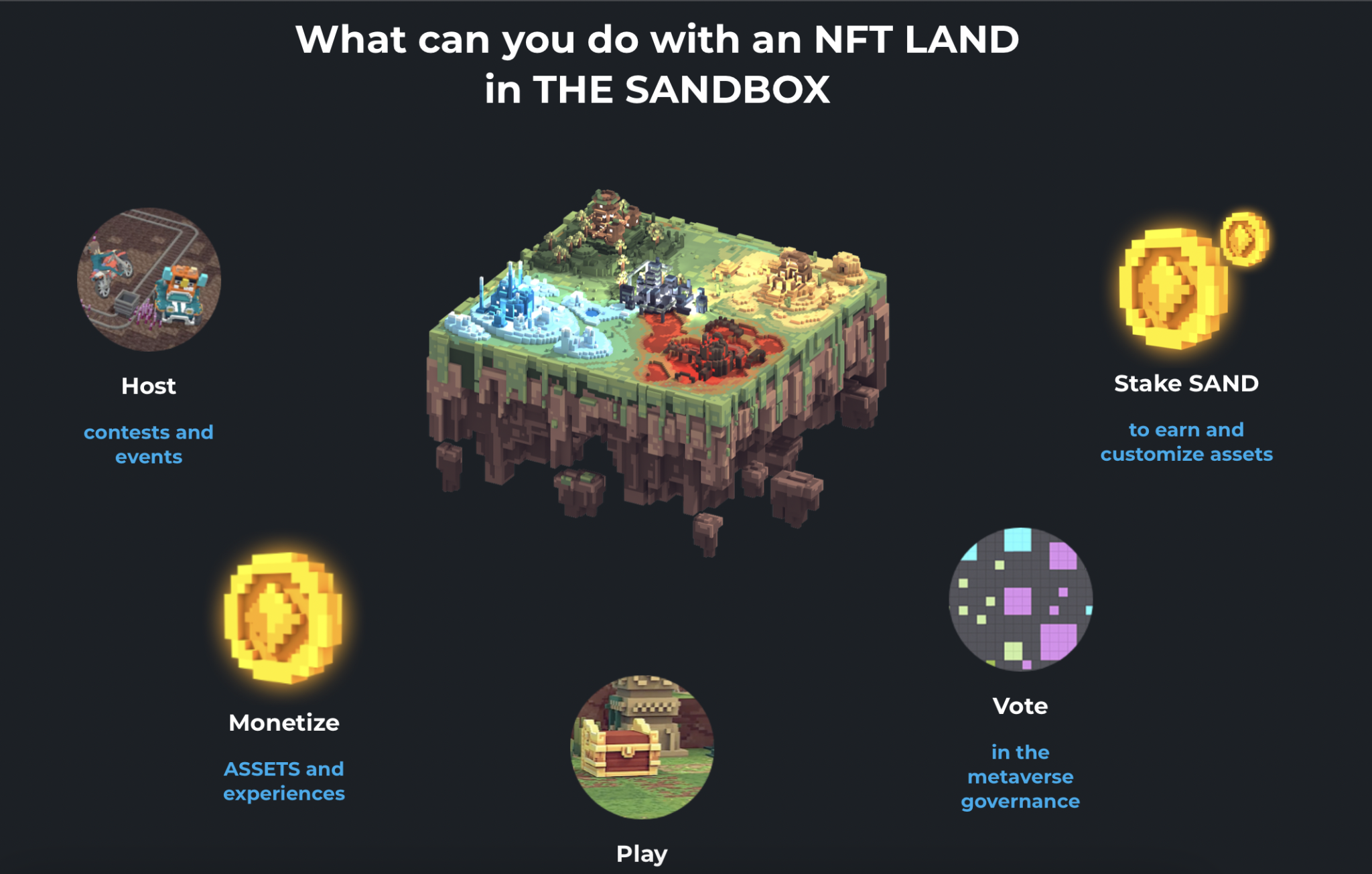 There are a total of 166,464 LANDs within the Sandbox metaverse. Acquiring multiple lands makes you a virtual estate owner. Owning an estate means you can create larger and more immersive online experiences.

VoxEdit
VoxEdit is a tool within the Sandbox metaverse that lets you create, rig, and animate your own voxel-based NFTs.
After creating NFTs, you can sell them on the Sandbox Marketplace to earn real-world money. In other words, VoxEdit is the only software that enables players to export assets to the Sandbox Marketplace. You must become an artist first to use VoxEdit to create virtual experiences.
Game Maker
Game Maker is another powerful tool in The Sandbox crypto game. This tool lets anyone easily create amazing 3D games free of charge. Whether you are a coding or programming expert or not, you can use Game Maker to create anything you want in 3D in minutes.
After creating 3D games, you can share them in the gallery with your friends so that they'll appreciate your craft.

The Sandbox Marketplace and NFTs
The Sandbox Marketplace is an NFT platform where players can search and purchase their favorite assets using SAND to enable them to populate their LANDs. The Sandbox Marketplace is also a place where artists can tokenize their voxel Assets for players to purchase.
The marketplace allows for the trading of tokenized Assets which are interoperable between different platforms and games. By spending real world money in the marketplace, you can own some unique and high value assets without earning them manually in the game.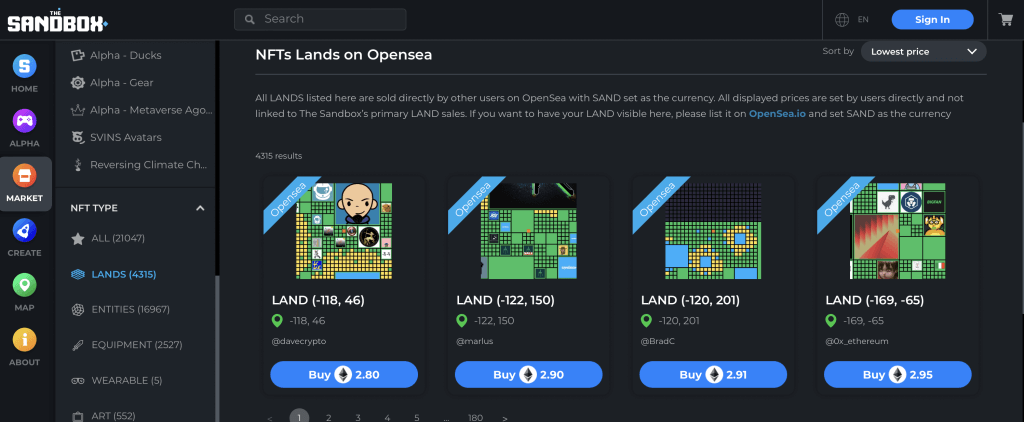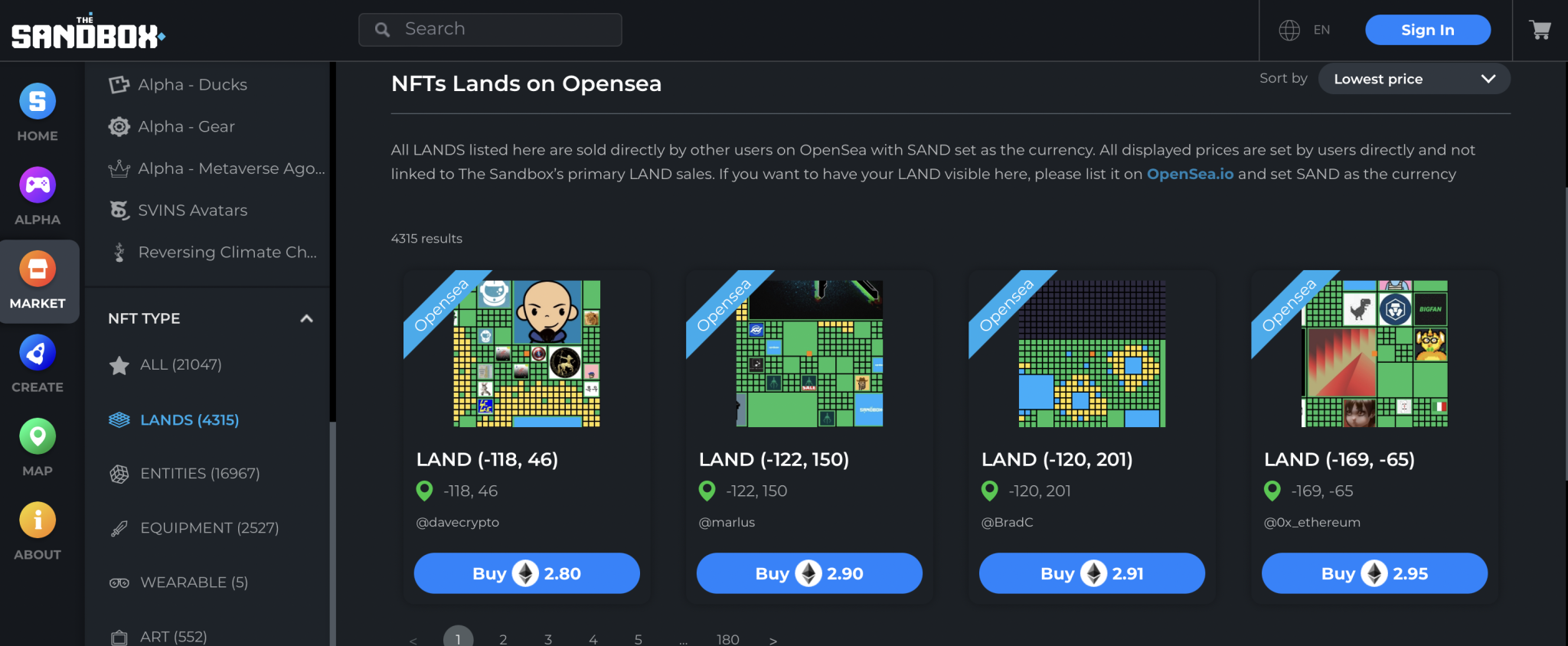 SAND Coin
SAND is the native coin or currency of the Sandbox metaverse. It is an ERC-20 token built on the Ethereum blockchain and has a finite supply of 3,000,000,000 tokens in circulation. Gamers can use SAND to exchange or trade NFTs in the Sandbox Marketplace for real-world money.
SAND is also used to develop and manage the game's metaverse, purchase lands, customize avatar designs, and buy in-game resources. Additionally, SAND is required to build and monetize your own NFTs and hire game designers and artists.
Just like real life currency, SAND denotes how rich you are in The Sandbox.
SAND holders also have the right to vote and be voted for in the development of the Sandbox ecosystem. The game also has grants for developers and content creators which can be voted on by SAND holders.


The Sandbox Partnerships
The team behind the Sandbox Crypto Game boasts of eminent partners across the world. Some of the partners working with The Sandbox crypto game are:
Adidas
Atari
Bored Ape Yacht Club
Binance
Snoop Dogg
The Smurfs
The team intends to leverage the partnership with these reputable brands to reach 100 million users over the next 10 years. For instance, the partnership with Atari involves building games using their intellectual property like PONG, Rollercoaster Tycoon, and other licenses.
All the brands that the Sandbox has partnered with have purchased their own LANDs and real estates and were the first to create multiplayer experiences in the Sandbox.
The Sandbox also contains some unique NFTs based on the partnerships listed above.


The Sandbox Game Requirements
There are a few requirements you must meet to start playing the Sandbox Crypto Game. First, you must have a PC, laptop, or a smartphone to play on. You must also be connected to the internet.
Next, you need a MetaMask wallet with Ethereum loaded onto it.
If you intend playing the game with a PC or laptop, the following minimum system requirements are required:
OS: Windows XP
Processor: 1 Ghz
Memory: 512 MB RAM
Storage: 256 MB available space
Network: Broadband Internet connection
Graphics: OpenGL 1.5 or higher
If you want to play the game on iOS or Android, you can download the game from your local app store.
How to Play The Sandbox
Below is a step-by-step guide on how to play The Sandbox. It goes over 4 specific subjects:
Creating a MetaMask wallet

Transfer Ethereum from a crypto exchange to MetaMask
Convert your Ethereum to SAND in MetaMask for The Sandbox.
Creating a Sandbox account and syncing to your MetaMask wallet
How to Create a MetaMask Wallet
Visit the official Metamask website at https://metamask.io/. Both Chrome and Firefox are supported by MetaMask, so make sure you are using one of those browsers.
Click the Download button in the top right corner of the Metamask home page.
Click on Install MetaMask for Chrome/Firefox.
In the Metamask store listing page, click on Add to Chrome or Add to Firefox, depending on which browser you are using.
Your browser will make sure that you actually want to install MetaMask in your browser. Read the disclaimer and then click on Add extension.
After MetaMask is done installing in your browser, click on MetaMask in your Extensions area to launch your wallet. You may have to restart the browser in order for MetaMask to show up in here.
How to Transfer ETH to MetaMask
Login to your main MetaMask dashboard and make sure the Ethereum Mainnet is selected.
Under the ETH section of the dashboard, hover over the account address and click on it to copy your address to your clipboard.
Go to Binance (or Coinbase or FTX another crypto exchange) and log in if you aren't already. Click on the Buy Crypto button.
Enter in an amount in the currency box and then change the Receive option to ETH. Then, click on Continue.
Confirm your chosen source of payment on the next screen and then click on Continue. If you don't have valid payment info, you will have to load it here and then click Continue a second time after that is done.
Review your order details and then click Confirm to complete the transaction.
From the top menu, go to Wallet > Fiat and Spot to see your crypto balances. Under ETH, where you should see your deposity, click on Withdraw.
In the Address box, enter in the address of your wallet you copied from MetaMask. Set the amount you want to send and then click on Withdraw.
How to swap Ethereum to SAND in MetaMask
From the MetaMask main menu, click on Swap
Under the Swap to token area, select SAND.
Enter in how much Ethereum you want to transfer and then click on Review Swap
Verify your details and then click on Complete
You now have SAND which you can use in The Sandbox crypto game.
How to Create a Sandbox Account
After you have SAND in your MetaMask wallet, you can sign up and play The Sandbox. To do this:
Visit the Sandbox official website, and then click on the "Sign in" button at the top-right corner of the page.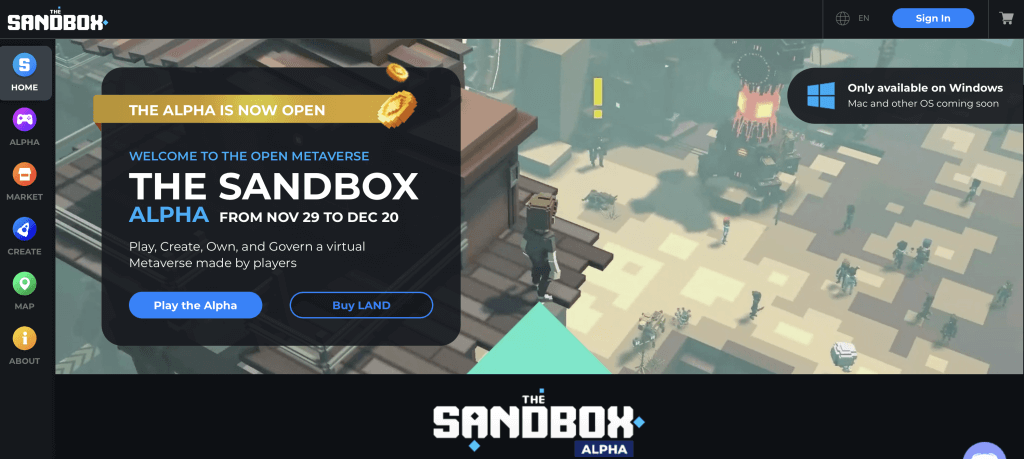 Click the Web 3 (MetaMask) option. This will generate a sign in request, which upon approval will enable MetaMask to log you into The Sandbox.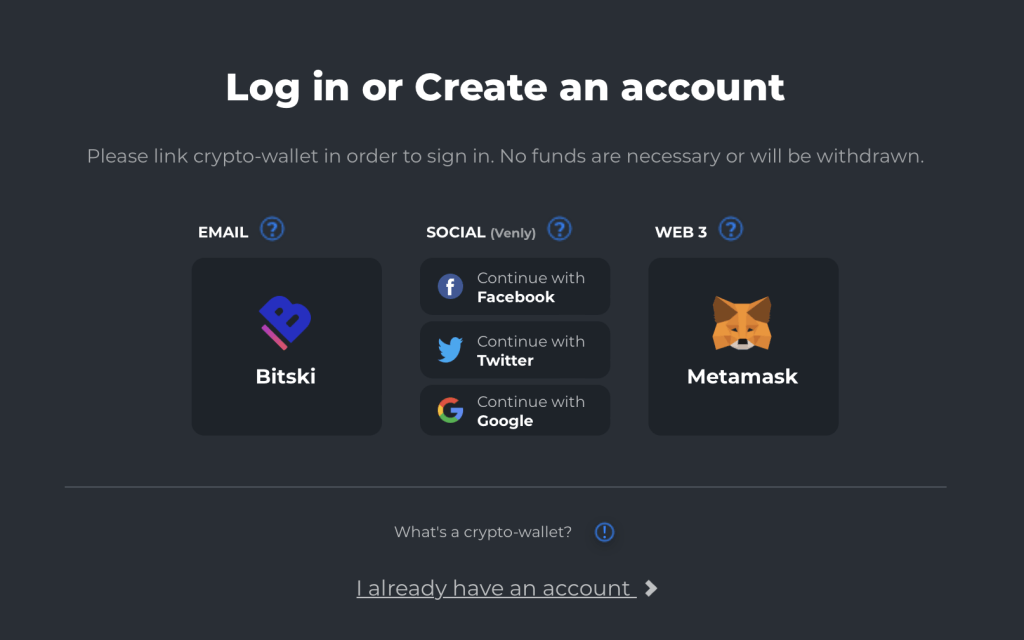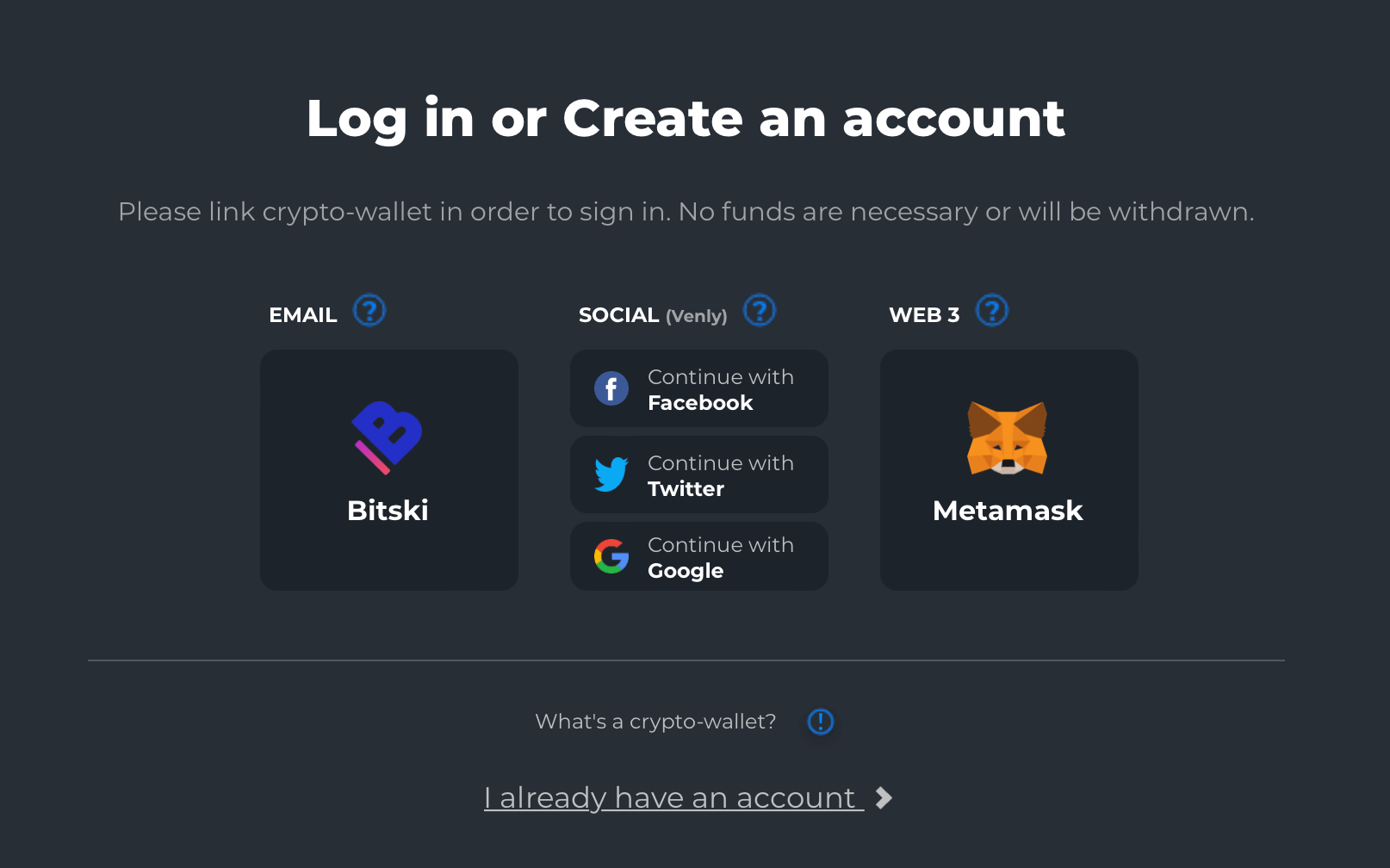 Enter your preferred username and email address, and then click on the "Create Account" button.
That's it, you now have a Sandbox account. You can proceed to buy LANDs using $SAND. When you join the game to play for the first time, you will be given a tutorial to get you comfortable with the controls and gameplay.
How to Earn Money in The Sandbox
There are four different ways to earn real world money in The Sandbox crypto game.
First, you can purchase a LAND, develop the LAND, and rent your virtual properties to other players to earn a commission. This feature is under development in the game and is not fully implemented yet. Once you rent your land, the renter can build a unique experience on top of it.
Secondly, you can monetize your skills and gaming experiences to earn real-world money. Players will be able to earn SAND just by playing games as soon as pre-season 0 begins in the game. The start date of this is coming soon as soon as the game comes out of its alpha state.
Third, you can create and sell Voxel assets on the Marketplace. Voxels are unique characters and assets that you can create with VoxEdit.
Lastly, players can charge a fee in order for other players to play the experience located on your land. You can charge a small fee of SAND in order to play your game.
The Sandbox Crypto Map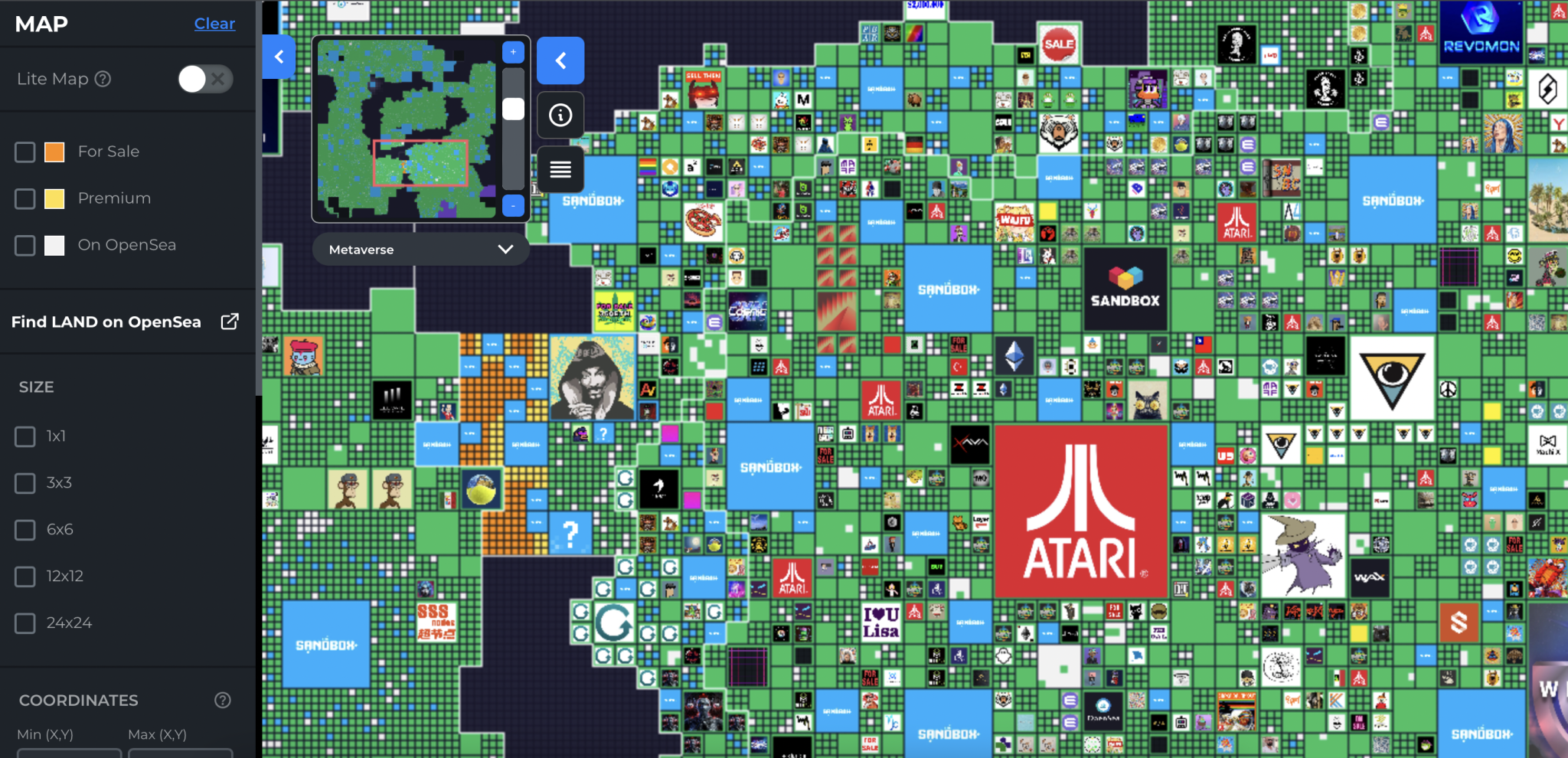 The map is the main hub in the game. You can search and explore the entire metaverse in The Sandbox on this map. You can discover parcels that are for sale to buy. From here, you can launch games and experiences and see what users and brands have set up on their parcel.
If you have any tips on how to make money playing The Sandbox crypto game, comment down below.
Overall, The Sandbox is a full-featured crypto game comprised of thousands of different experiences. It is one of the most ambitious games on the blockchain.
Would you like to know anything more about the game? Do you have any more tips to share? Comment down below and let us know today.