This is the ultimate guide on how to play the Alien Worlds crypto game. Alien Worlds is an exploration and crypto game where all transactions take place on the blockchain.
In this guide, we'll walk you through all of the steps you need to take to get started playing Alien Worlds successfully, including:
How does Alien Worlds work?
What are the best features in the Alien Worlds crypto game?
How do Alien Worlds NFTs work?
How to download and play Alien Worlds
How do you earn real money playing Alien Worlds?
We'll walk you through step by step on how to play the Alien Worlds crypto game. If you want to know anything else, make sure to comment down at the bottom of this guide.
What is the Alien Worlds Crypto Game?
The Alien Worlds crypto game is a play-to-earn (P2E) NFT mining game built on the WAX blockchain. Players travel across different planets seeking fortune and use different tools to mine Trillium Coin (TLM) for real-world value.
Players can perform a number of tasks including:
lease space crafts
go on missions across the Alien Worlds metaverse
compete with others to earn in-game assets, which can be exchanged on the in-game store for real-world money.
If you're looking for a P2E GameFi crypto game that will fetch you real-world value, Alien Worlds is a great place to start.
Alien Worlds Features
Alien Worlds is a promising crypto game that players can earn passive income while having fun. The game is packed with lots of exciting features, including:
Teleport
This feature lets you transfer your TLM tokens to and from Binance Smart Chain to WAX Cloud Wallet. But you must connect a Metamask wallet to achieve this.
Rarity
Alien Worlds has six different levels of rarity:
Abundant
Common
Rare
Epic
Legendary
Mythical
Everything you find and use in the game has a rarity which is tied to its value.
Shininess
Shininess refers to the process of shining NFTs to become either Gold, Stone, Stardust, Antimatter or XDimension.
You can forge together lower level items to increase their attributes and shine, except XDimensions. XDimension can only be found by opening a rare pack.
Story
Alien Worlds crypto is a play-to-earn DeFi and NFT metaverse where players earn Trillium Coin (TLM) by competing in different quests using unique digital items (Non-fungible tokens). Players will also travel on Alien Worlds Missions to different planets and have the opportunity to mine NFTs using different tools and in-game assets.
You need the TLM tokens to be able to control competing Decentralized Autonomous Organizations (DAOs).
Staking
Staking is the process of locking your digital assets in a liquidity pool for a specific period of time to support the network. Stakers earn passive income for committing their tokens to the development of the game.
In Alien Worlds, you can stake your Trillium Coin (TLM) on a planet to increase your rewards on that planet. You can also stake TLM to support the operations of planet DAOs and earn passive income in return.
Planet DAOs
Planet DAOs (decentralized autonomous organizations) are a major feature of Alien Worlds. Token holders will have the opportunity to stand for an election in the DAO to be elected as a councillor in the planet.
Being a councilor gives you an edge over other candidates. Plus, you will be able to distribute the planetary treasury to various token holders.
Game Cards
Alien Worlds has different game cards that players can deploy to win a battle. Game cards can be used for fighting, mining, and to complete missions.
Alien Worlds NFTs
There are a number of NFTs assets in the Alien Worlds crypto game that you should learn.
Learn
Land is a game card on a planet. Landowners use their lands to represent their game cards. There are different types of land in the game, Including:
Plains
dormant volcanoes
active volcanoes
rocky crater
rocky coastline
mountains
dunes
icy desert
tree forest
geothermal springs
Land owners earn a commission for giving out their lands for mining purposes.
Tools
Tools are game cards that you can deploy to mine Trillium Coin on land. Tools differ in terms of weaknesses and strengths. For instance, a Standard Drill works better than a Lucky Drill. Tools are very important because they effect how much Trillium you earn by playing the game.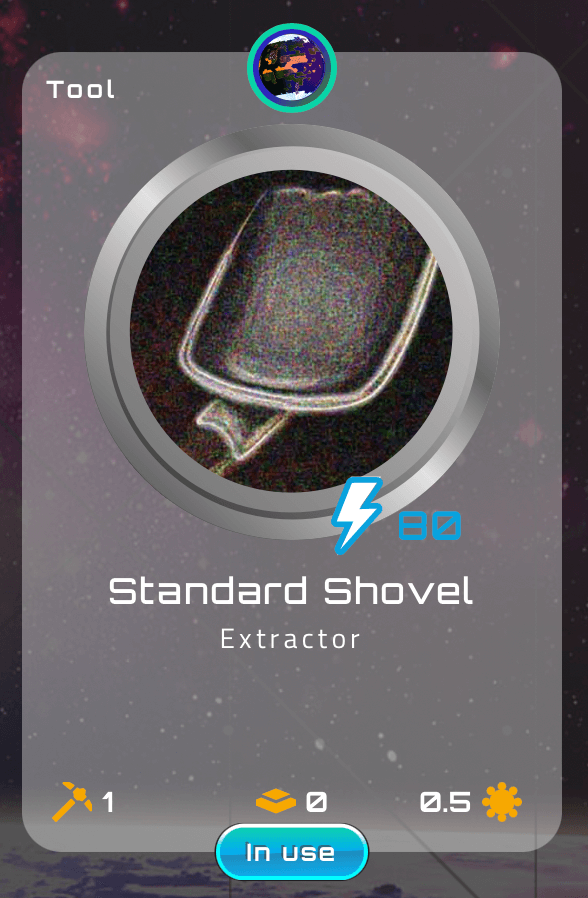 Minions
Minions are NFTs that you can deploy in battles. They can gain extra power from specific weapons.
If you're on the losing end of a battle, your minions will lose their health. To heal them, you need to take them to the Federation Hospital.
Weapons
Weapons are also NFTs that minions rely on in battles. They have a defense and attack rating. You can repair your weapons at the Weapon Repair Shop to restore their usefulness if they are damaged during battles.
Avatars
Avatars are game cards that represent the players (you) in the game. There are different types of Avatars in the game, including Greys, Nordics, Robotrons, Little Green Persons.
Alien Worlds Upcoming Features
This upcoming year, the team behind the success of Alien Worlds crypto will be adding a few more features to give players a more rewarding playing experience. The features being added to the Alien Worlds metaverse include:
Governance structure
Artifacts NFTs
A new fighting game and system
More Landowner items and customization
Alien Worlds Crypto Gameplay
Alien Worlds is a crypto game where you earn Trillium Coin from mining activities in Planet DAOs and also have an opportunity to mine an NFT game card each time you mine. After creating an account on the Binance Smart Chain and getting a WAX Cloud Wallet login, you will receive a tool to start mining.
In other words, you will receive one Trillium Coin, a blockchain token with a simple mining activity. You can then stake the token in one or more of six planets to become a planetary councilor and potentially rule the planet.
Trillium Coin (TLM)
TLM is an ERC-20 token that connects the Metaverse and allows for voting and the transfer of value in Planet DAOs. It is also the native currency of the game. The token motivates players to participate in the game.
Players need to stake their tokens to be part of the game's governance. Trillium Coin has several use-cases, including:
NFTs: Players need TLMs to purchase or mine NFTs.
In-game quests: You also need to hold TLM to participate in all in-game quests.
In-game currency: TLM holders can use their tokens to purchase and upgrade items, participate in battles, and other related activities.
Staking: You can participate in NFT mining by staking your TLM tokens on a selected planet.
You can purchase TLM on Binance or other major decentralized exchanges. If this is confusing for you, don't worry. We will walk you through the steps to install and play Alien Worlds next.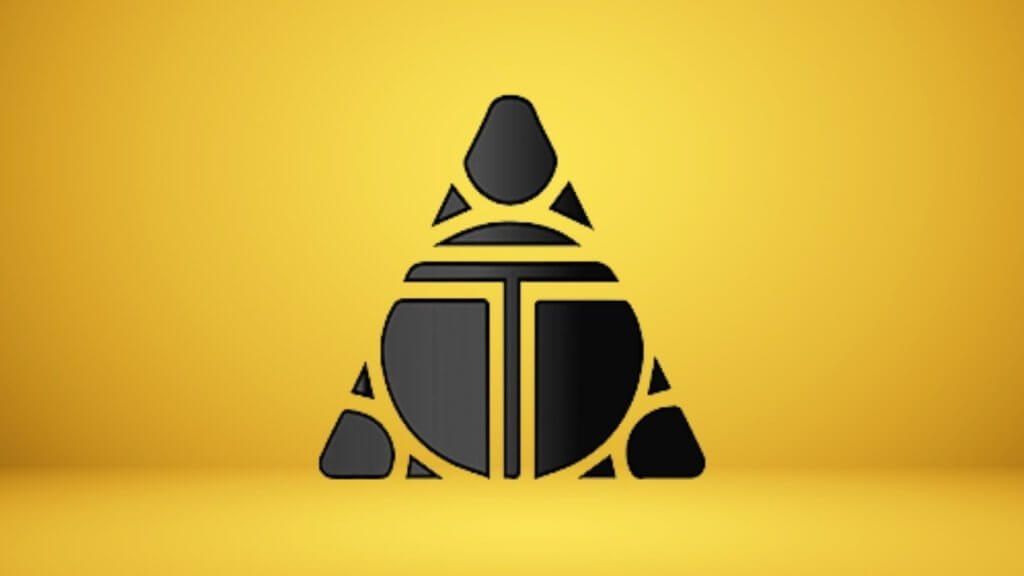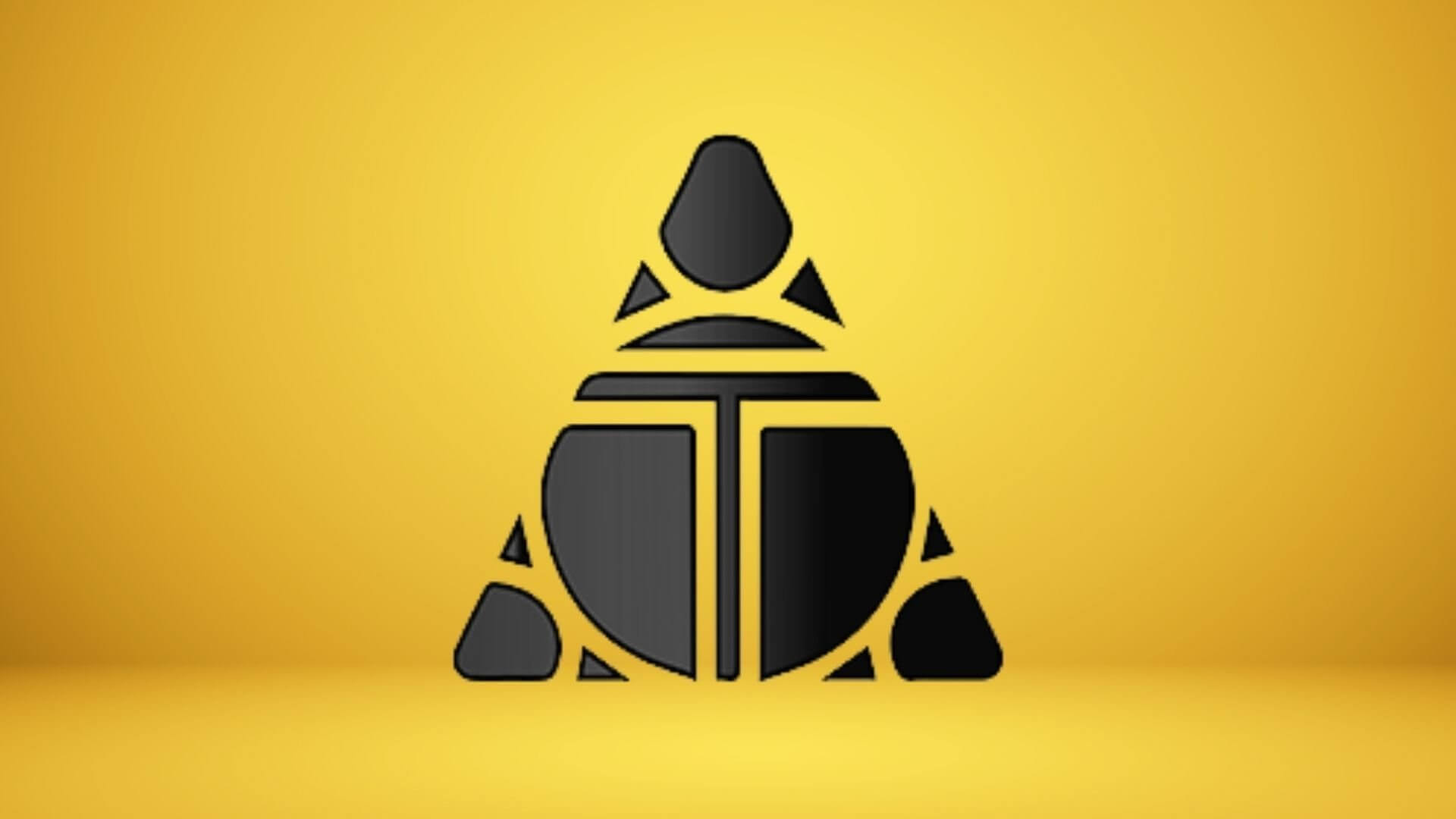 How to Download and Play Alien Worlds Crypto Game
To start playing Alien Worlds, there are a few basic steps you need to complete
Creating a Wax wallet
Signing up for an Alien Worlds Account
Learning how to miney for the first time.
You can play Alien Worlds on PC, Mac, iOS browser (Chrome), and Android browser (Chrome).
Follow the steps below to download and play Alien Worlds:
How to Play Alien Worlds
This tutorial guide shows you how to get starting playing the Alien Worlds crypto game. It involves creating a WAX wallet and syncing it to your Alien Worlds account during sign up.
Total Time: 10 minutes
Go to the Alien Worlds website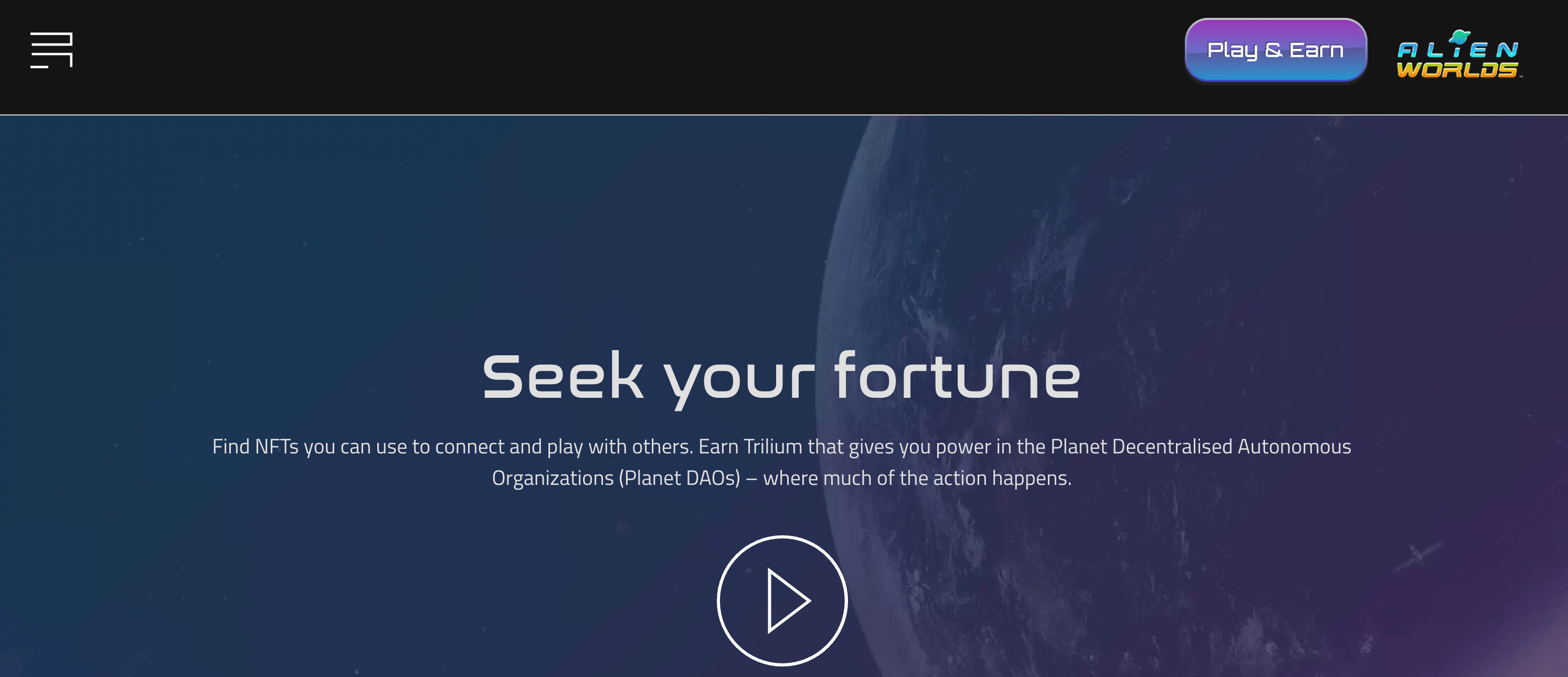 First, go to the official Alien Worlds website and click on Play & Earn in the top right corner.
Click on Star Now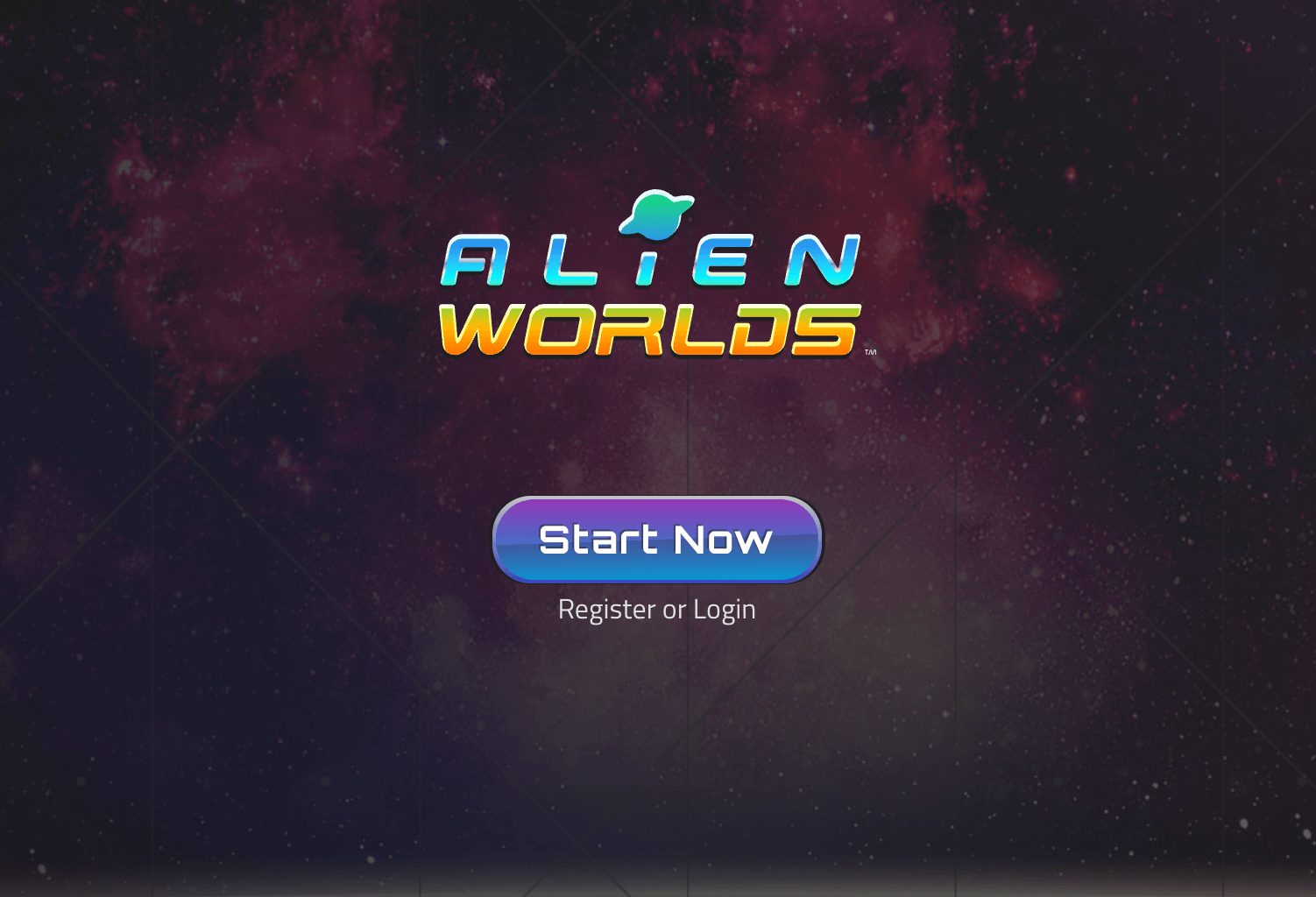 To get started playing, click on Start Now to begin. Click on Login when prompted to login to your WAX wallet.
Log in or sign up for WAX wallet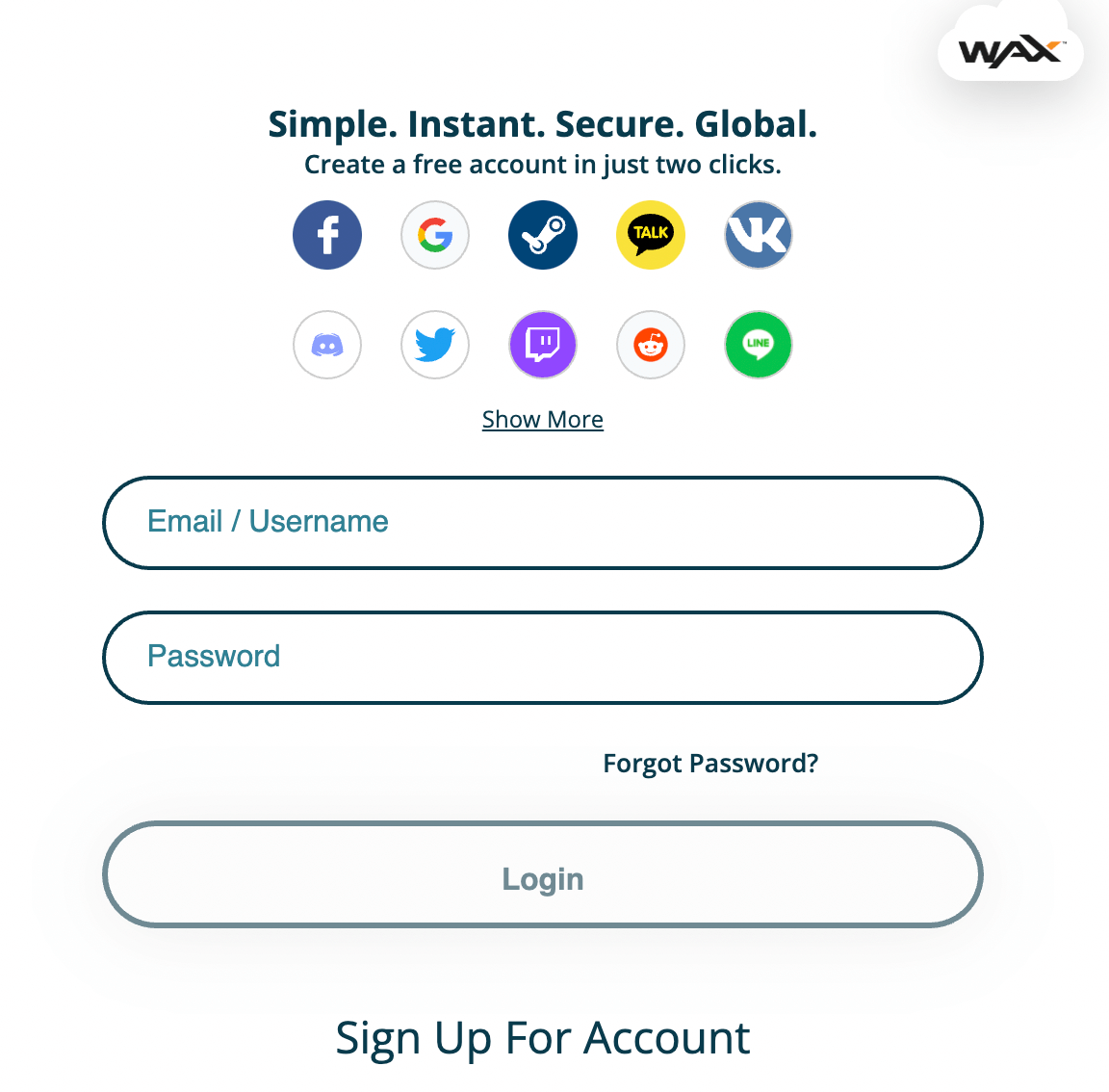 If you have a WAX Cloud Wallet account, you can login here. Or, click on Sign Up For Account and follow the instructions to set up your email address and password.
Verify your WAX account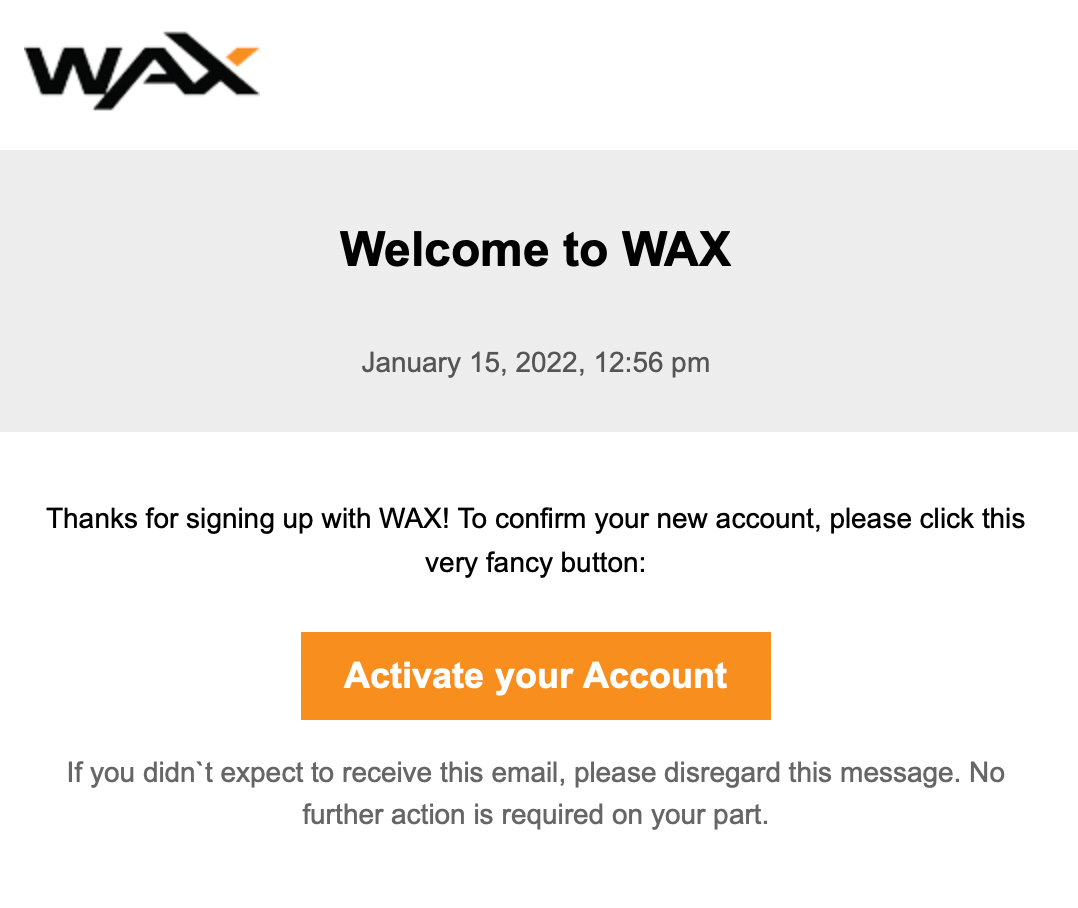 Check your email for one from WAX to activate your account.
Login to your WAX Cloud Wallet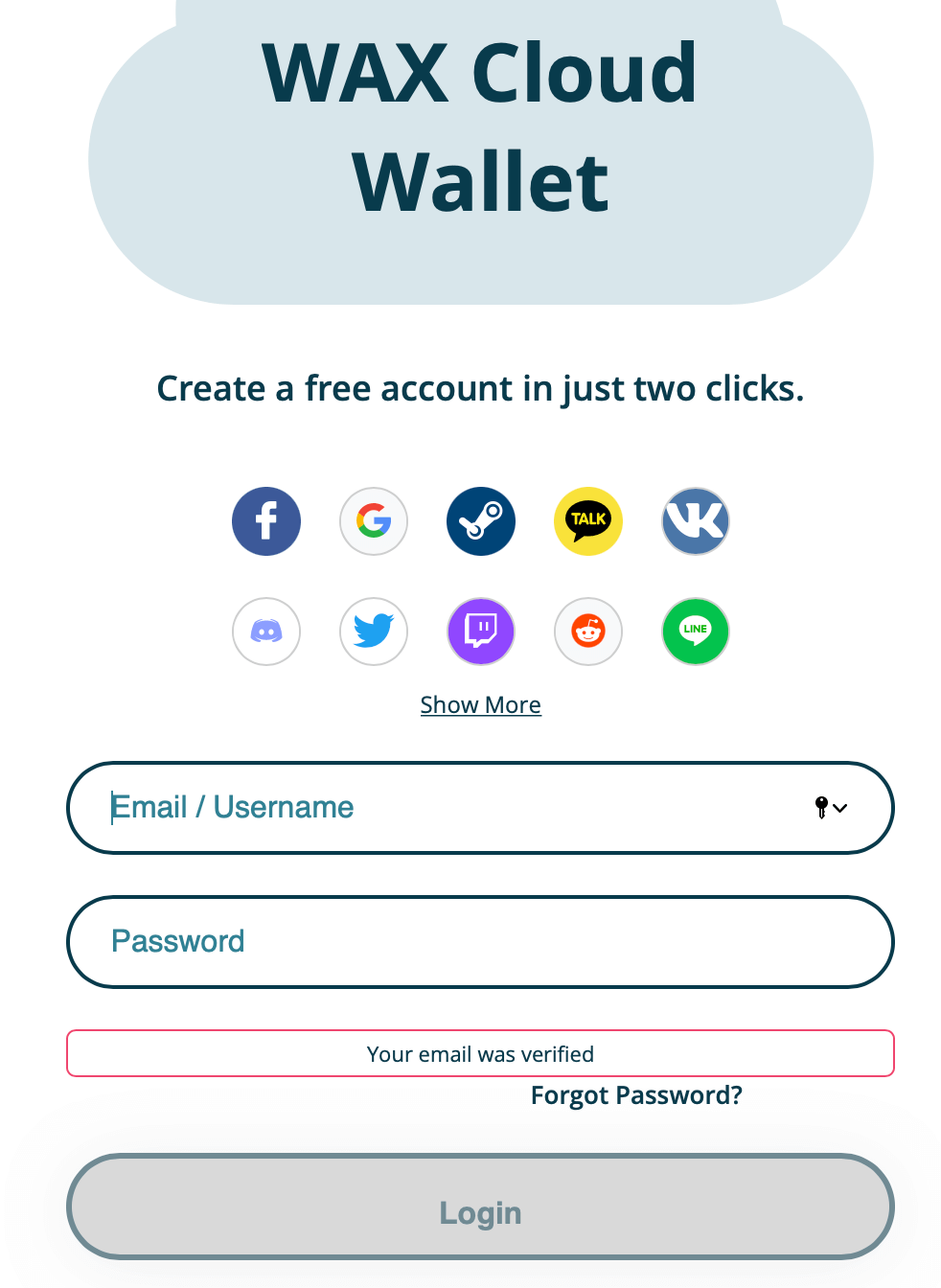 enter in your email address and password and login to your WAX account.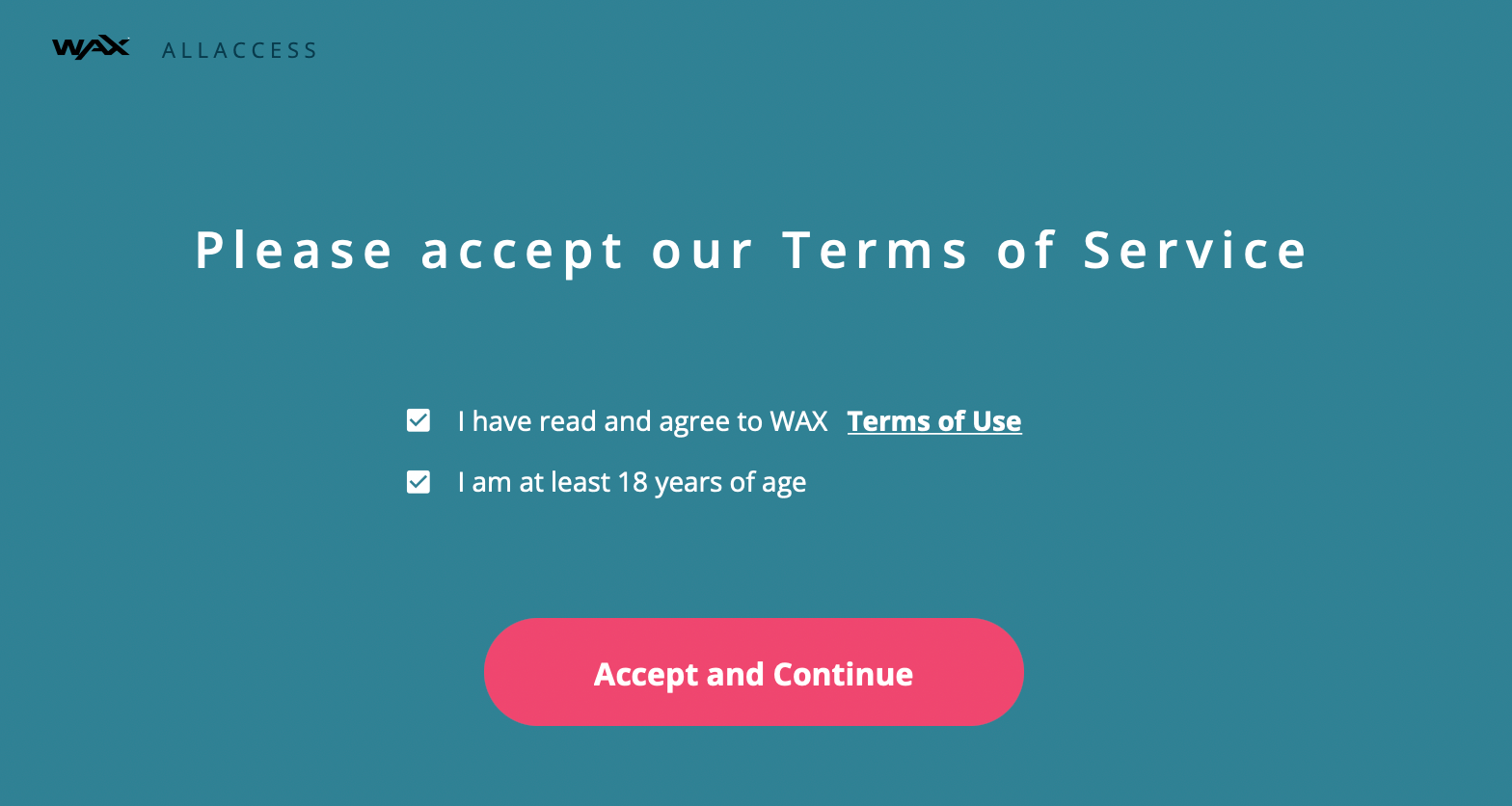 Accept the WAX Wallet terms and conditions and then click on Accept and Continue
Login to WAX through Alien Worlds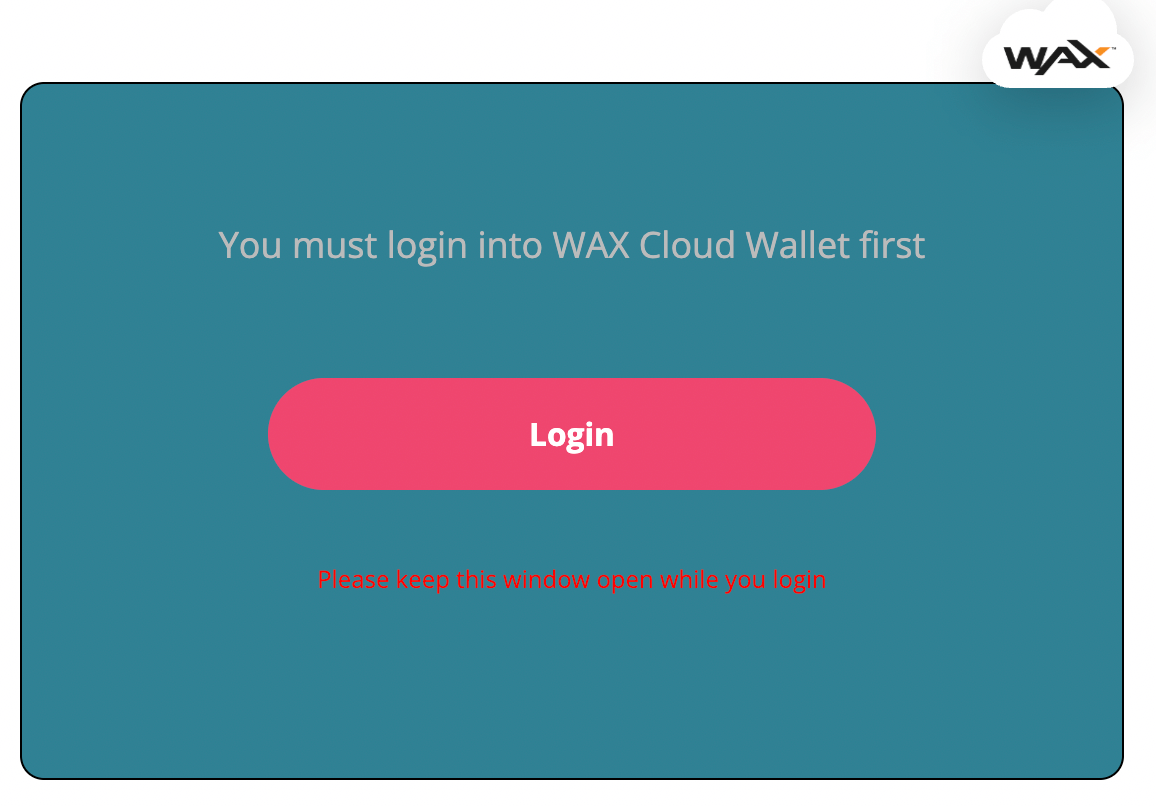 If it does not automatically redirect you, you need to go back to the official Alien Worlds website, click on Play & Earn, click on Start Now and then click on Login at the WAX prompt.
Create your Alien Worlds account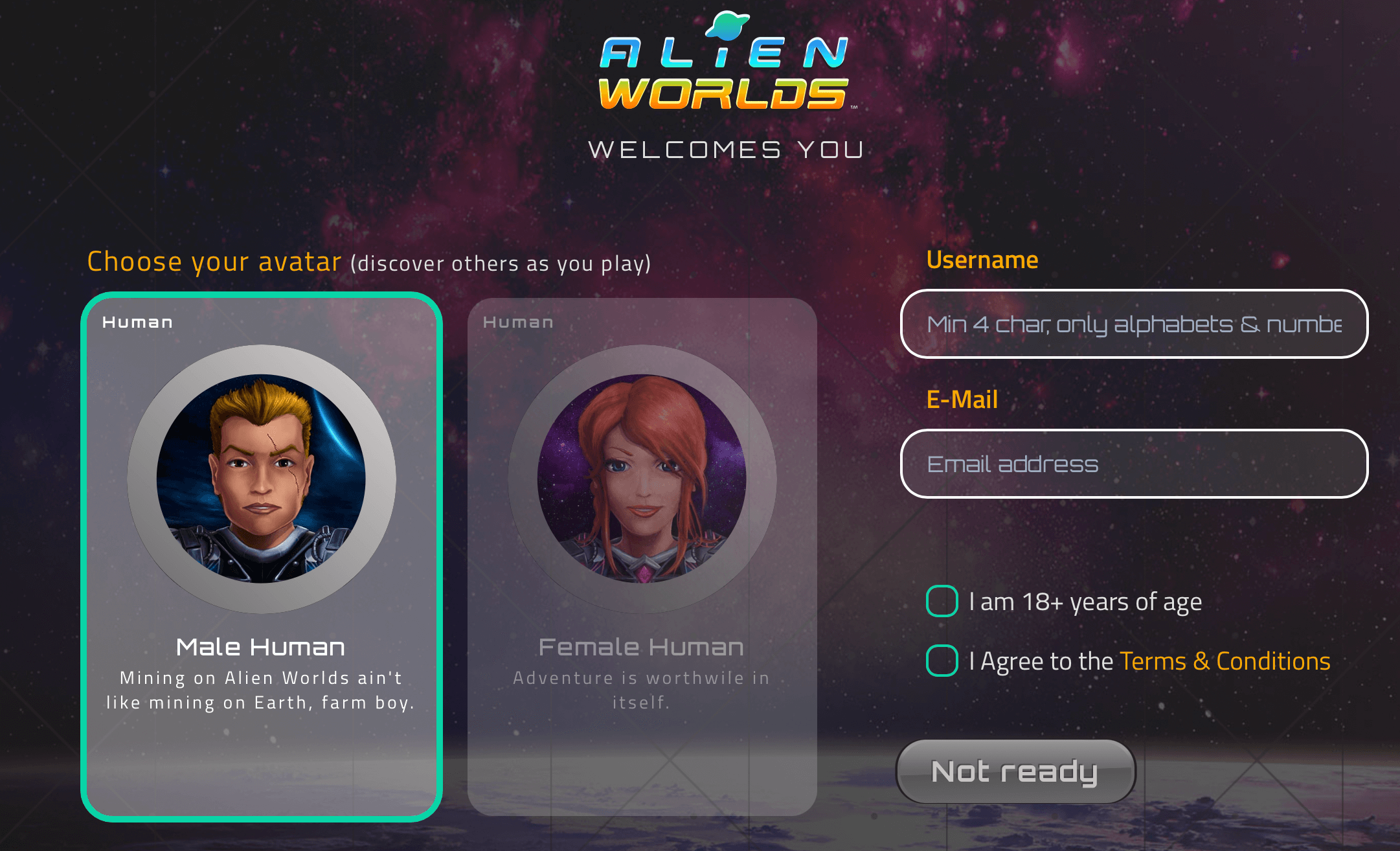 Finally, you have to create your Alien Worlds account character. Choose whether you are male or female and then enter in your username and email address to begin. Click on Ready once everything is complete.
You've created an account and can now play the Alien Worlds crypto game! Next, the game will have you get started by picking a planet and some land to mine.
How to Pick a Planet
Choose a planet. Keep in mind that for every planet in Alien Worlds, you will know the total Trillium you can mind beforehand.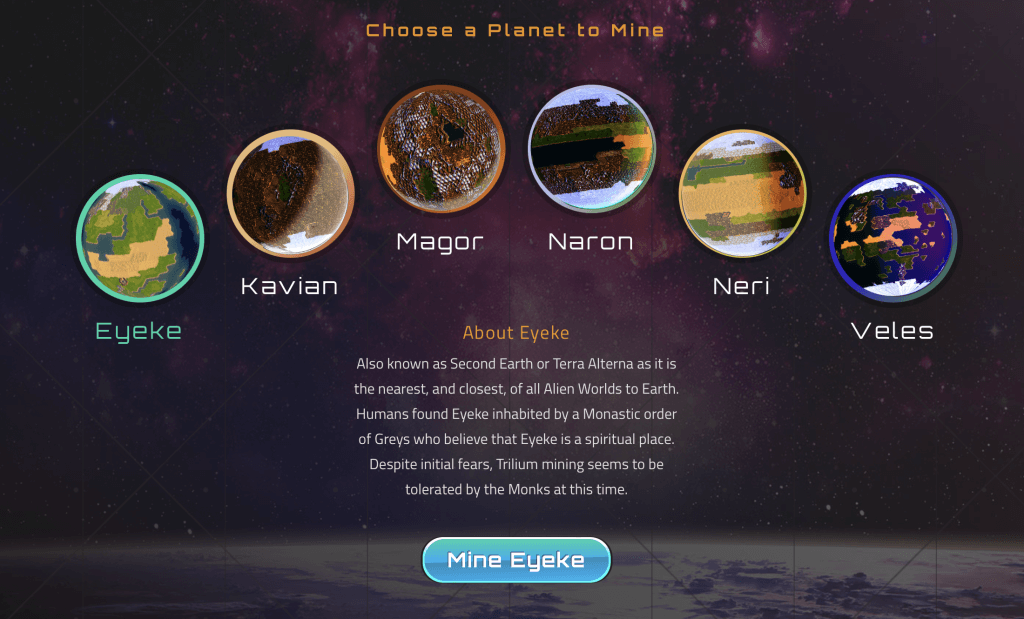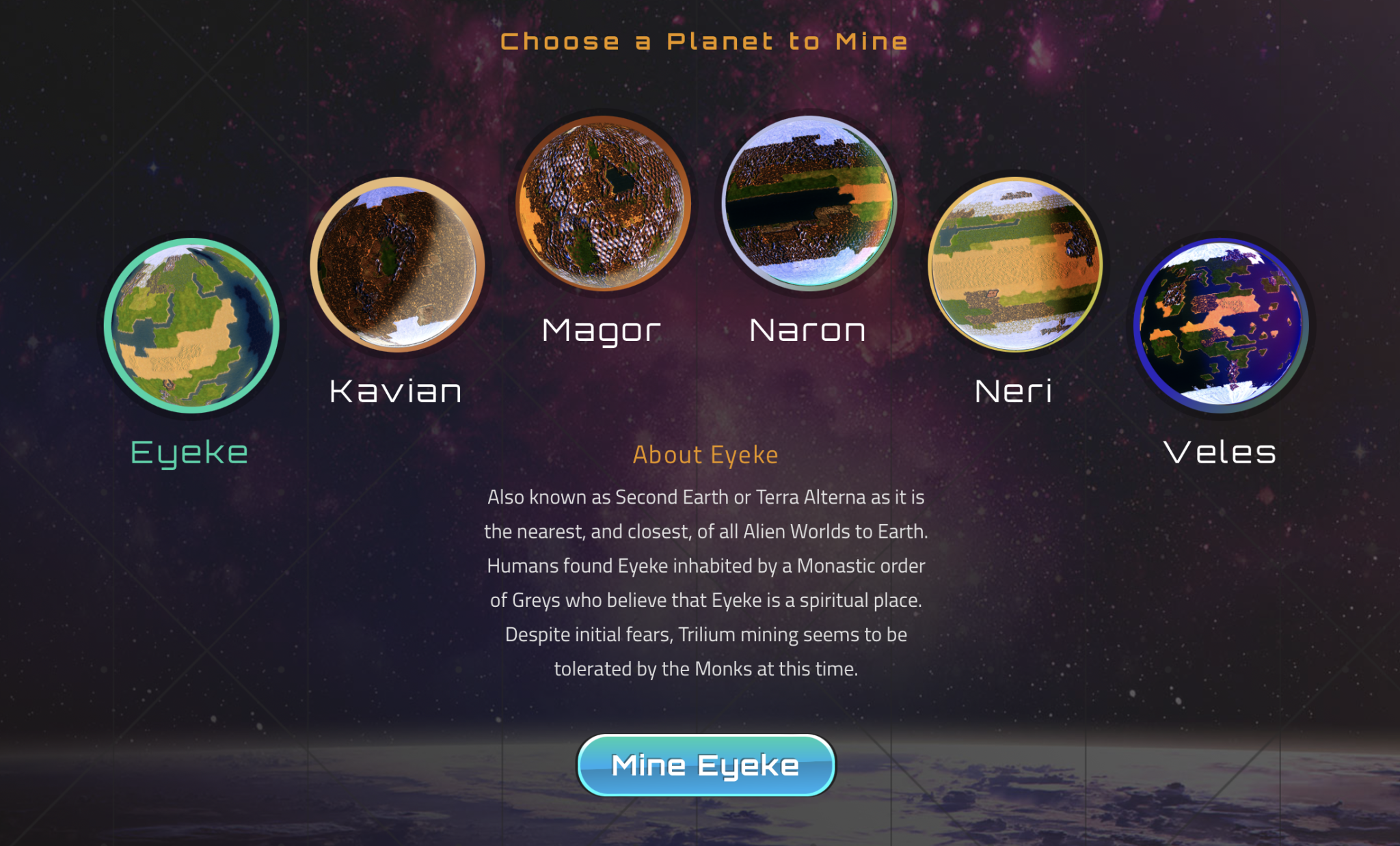 How to Choose a Land
The next step is to choose a piece of land to mine. You may have your own lands to mine TLMs depending on your stake. Before you pick a land, consider the following:
Commission rate: This is the percentage that you will pay the landowner if you don't already have your own land.
Yield multiplier: Depending on the terrain, some lands are strategically positioned than others. For instance, lands with volcanoes tend to be more fruitful than others, only that there's a longer wait time for you to start mining.
NFT luck multiplier: This is the probability of receiving an NFT after a mining expedition.
Charge time: This refers to the length of time you'd have to wait to start mining again.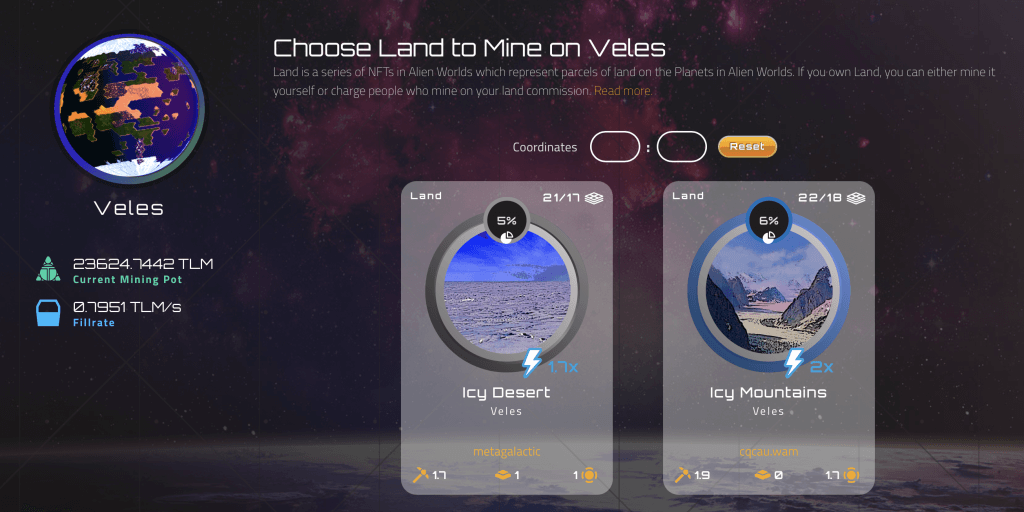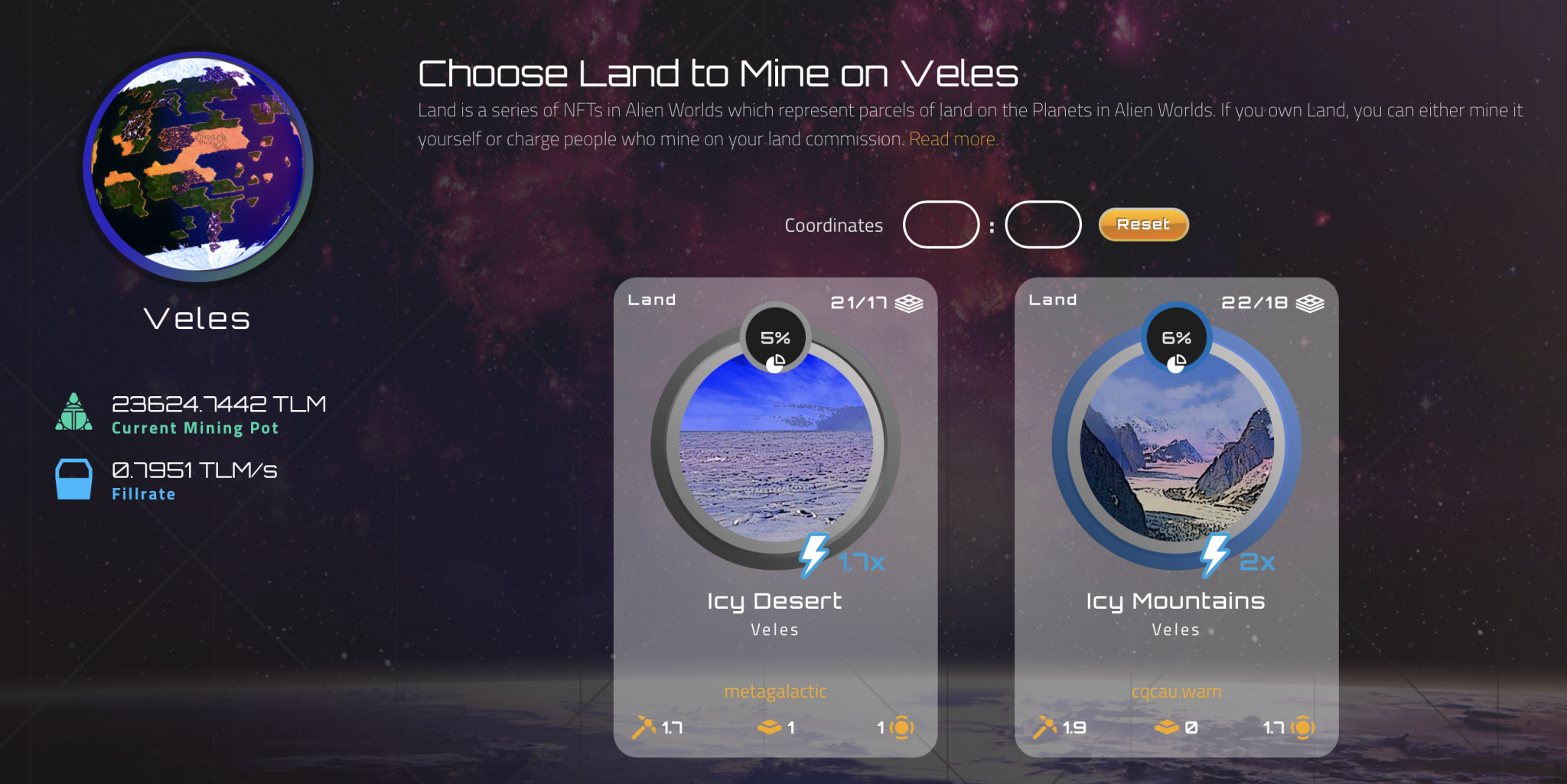 Choose Your Tools
New players get only a shovel to start with. Leverage the game's launch pack to access more tools.
You can choose and use up to 3 tools simultaneously. Each tool features statistics that let you know how much TLM you can mine at a go.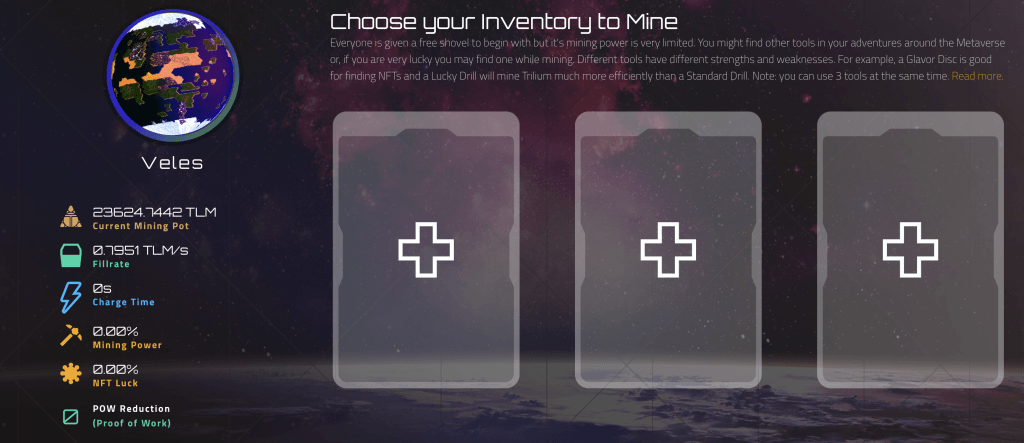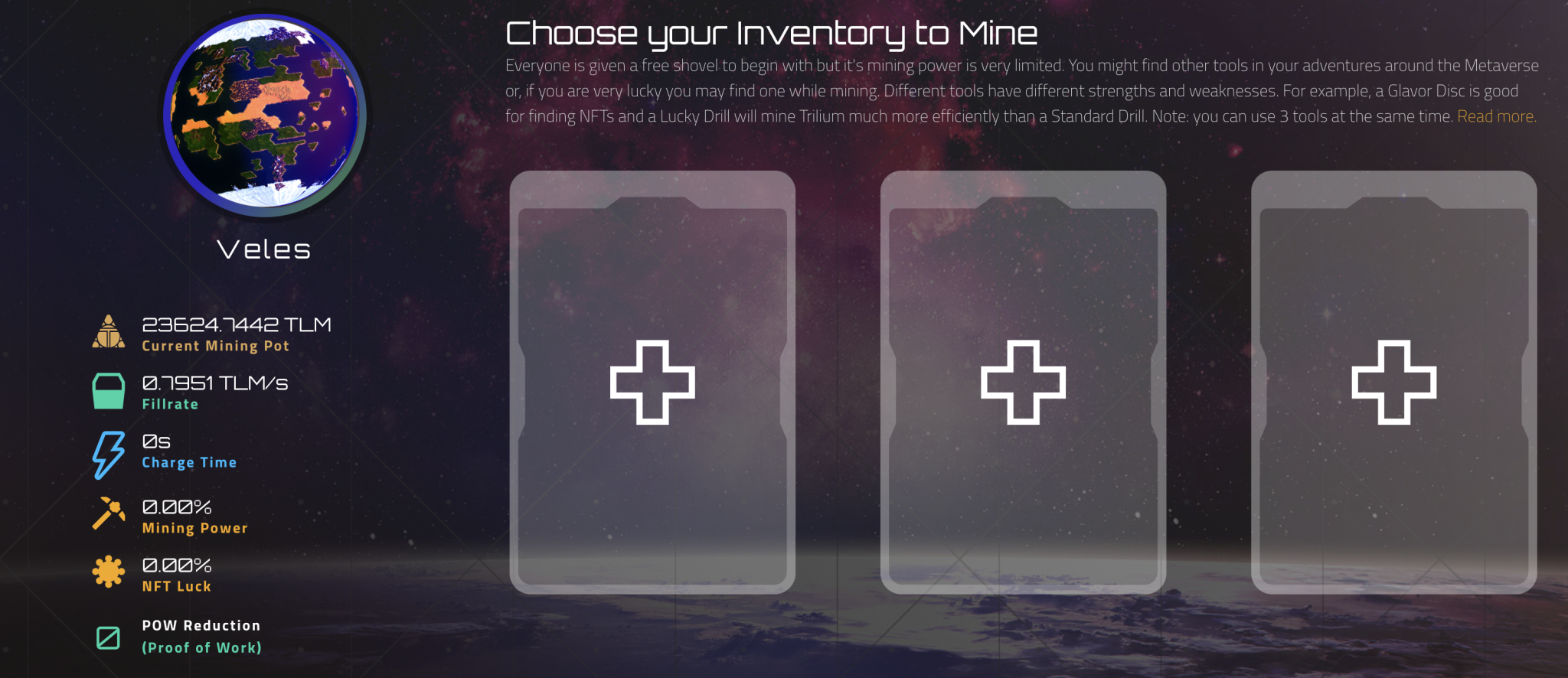 How to Mine
You're all set to start mining TLM and NFTs. Once you are ready, click on the "Mine" button to get started. All actions in Alien Worlds will run through your WAX wallet for verification. You can select to automatically approve these so that they don't pop up in the future.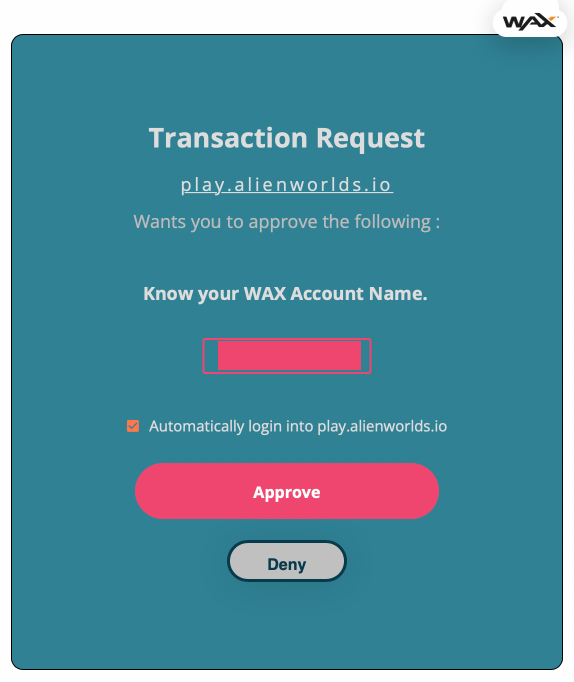 How to earn money playing Alien Worlds Crypto
Currently, there are two ways to earn money playing Alien Worlds crypto:
Earning money through mining Trillium (TLM) and NFTs.
Earning a commission as a landowner.
To earn money through mining TLM and NFTs, you need mining tools and access to some lands. After the successful mining of in-game assets, 20% of your payouts will be allocated to landowners as their commission.
You can then sell your NFTs on the AtomicHub marketplace, while your TLMs can be exchanged on Alchor. Alternatively, you can withdraw your TLMs by transferring them to Binance using Teleport.
Landowners will earn a 20% commission for opening their Land Pack. Opening your Land Pack lets explorers to mine on your land.
And that is use you play the Alien Worlds crypto game. If you are having trouble getting started, comment down below and we will try and help you out.