Splinterlands is a crypto card game where you can play for fun or earn real money. In this ultimate guide, we'll show you how to play Splinterlands and teach you about all of the features in the game.
Specifically, we'll go through:
What is the Splinterlands crypto game?
What is the Summoner's Spellbook and how is it useful in the game?
What are the different game modes and features in Splinterlands?
How do you play Splinterlands?
Tips for how to earn real money in the game
If you have any other questions, make sure to comment down below at the bottom of this guide.
Related crypto game guides:
What is Splinterlands?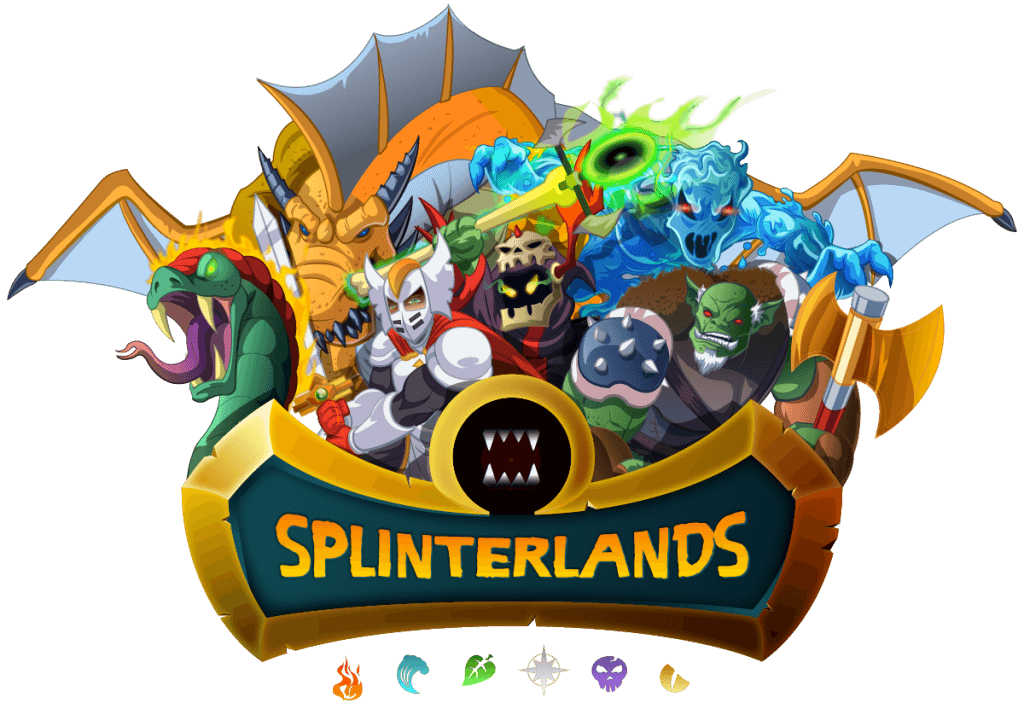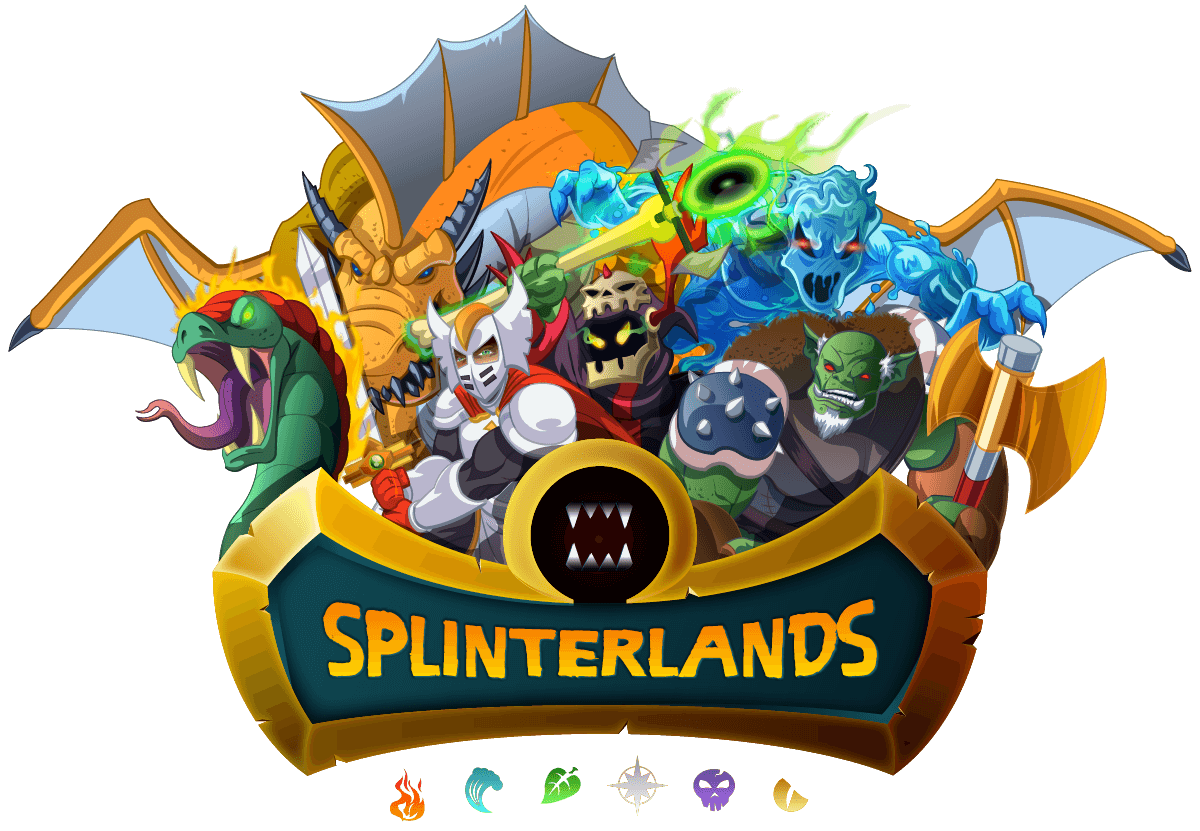 Splinterlands is a card game similar to Heartstone and Magic the Gathering. In the game, players build up a collection of cards with different abilities and stats, and then use them to battle their opponents in matches to earn in-game assets.
Hive Blockchain
Splinterlands is a blockchain-powered NFT game built on the Hive blockchain. Players automatically get an account on Hive when they purchase the Spellbook. By using the Hive blockchain, players can trade their in-game assets on NFT marketplaces to make money. Like other NFT games out there, Splinterlands enables you to earn NFTs and trade them with other players.
Considering the popularity of play to earn games, gamers now engage in a crypto-focused metaverse to earn extra income. Before now, gamers played games for entertainment sake, but Splinterlands has changed that narrative. You can make money off this game while participating in matches.
In Splinterlands, you can buy in-game credits with a wide range of cryptocurrencies. You can even earn HIVE token by participating in the SplinterTalk social media community.
How Does Splinterlands Work?
Splinterlands is an NFT card game where players can play, earn, and trade digital assets for rewards from their mobile and desktop devices. Splinterlands has over 283 cards which players can combine to improve their stats, character abilities, gain strength, and become stronger to defeat their opponents.
There are 7 stats in the game:
Armour
Speed
mana cost
melee attack strength
magic attack strength
ranged attack strength
Each card belongs to a certain fraction: Water, Life, Death, Dragon, Earth, Fire, and Neutral. There are also several Abilities and Rarities which you can leverage to gain advantage over other players.
Splinterlands offers lots of in-game activities that players can participate in to earn daily rewards.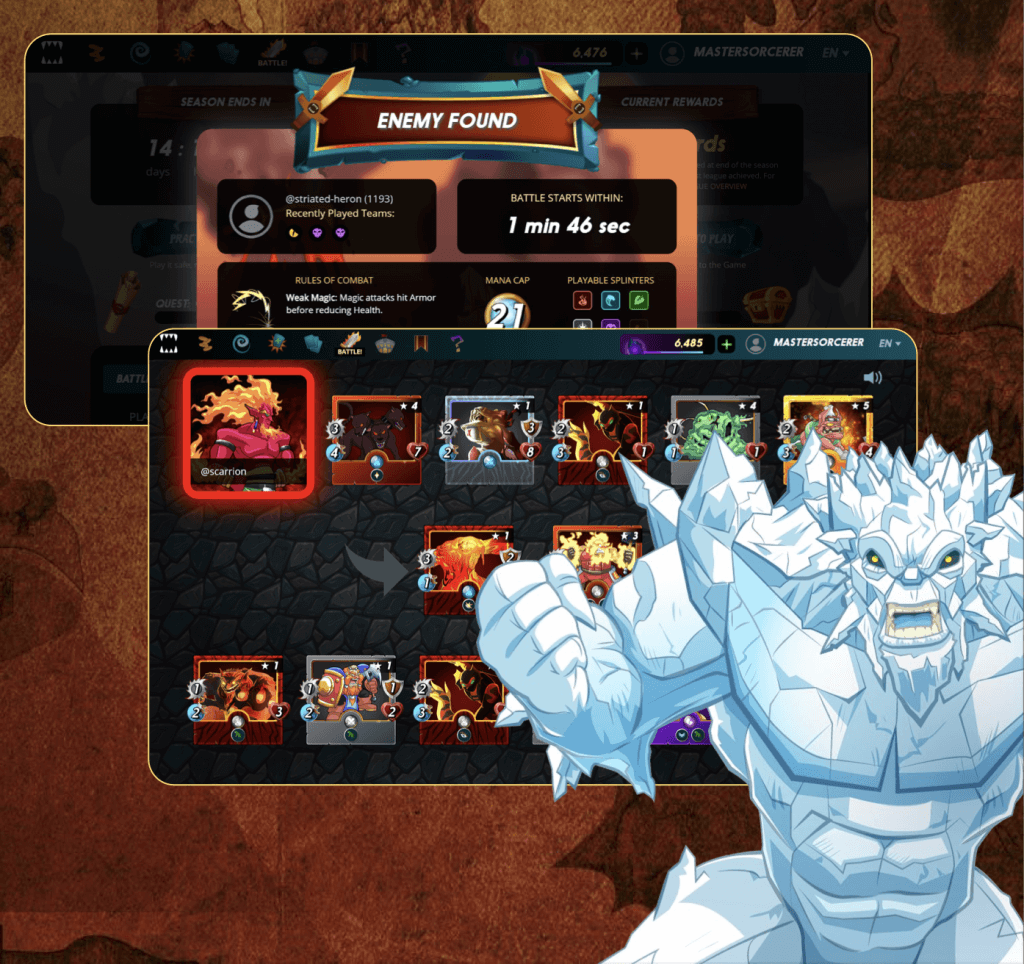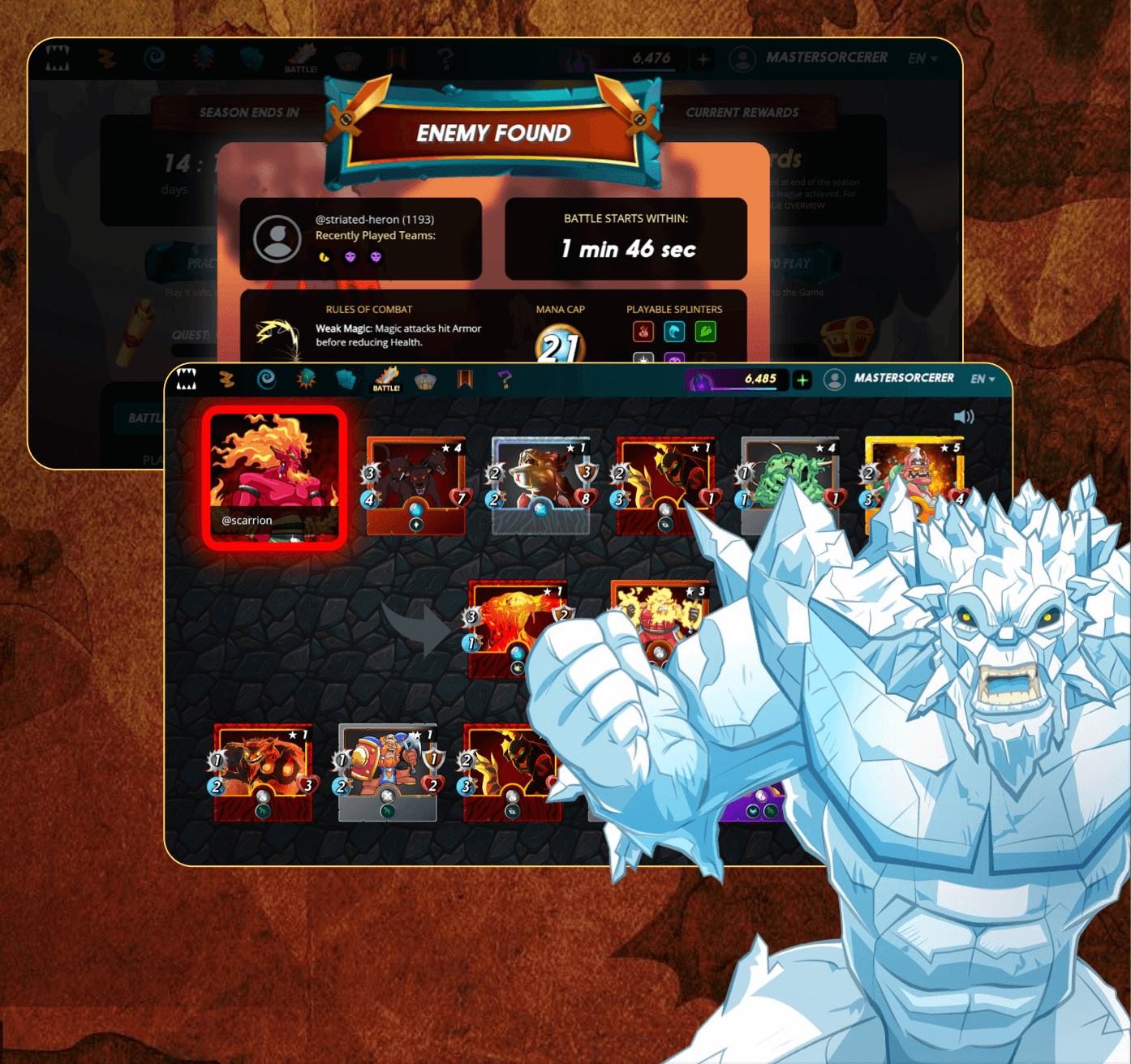 Game Modes
There are four different game modes in Splinterlands that you can play:
How to Play – This is where you learn how to play Splinterlands for the first time. You will learn about the different card types, abilities, stats, and how to battle.
Practice – This area is for practice battles that don't affect your ranking and are completely free. It's a good chance to practice the mechanics in the game.
Ranked – The ranked mode is where you battle if you want to raise your rank in the league.
Challenge – This is where you can create custom matches for you and your friends to battle in. Battles here do not affect your rank.
You can play the game on many different levels to earn rarity, card packs, Dark Energy, and magic potions. Dark Energy is the digital currency of the game which you will use to purchase items from the in-game shop.
What is the Summoner's Spellbook
Summoner's Spellbook is an asset that enables you to access the game's full features and functionalities. While Splinterlands is free to play, you need to purchase Summoner's Spellbook to earn rewards.
It costs $10 to purchase Summoner's Spellbook upgrade. You can buy the Spellbook with PayPal or using any of the over 20 supported cryptocurrencies.
Once you purchase the Spellbook, you will be enjoy a bunch of perks:
The ability to choose your own username
Be able to compete for Season Rewards
Create your blockchain wallet
The ability t earn Dark Energy Crystals
Earn real money rewards for winning battles
Access to the Season leaderboard
If you are serious about play to earn in Splinterlands, the Summoner's Spellbook is key.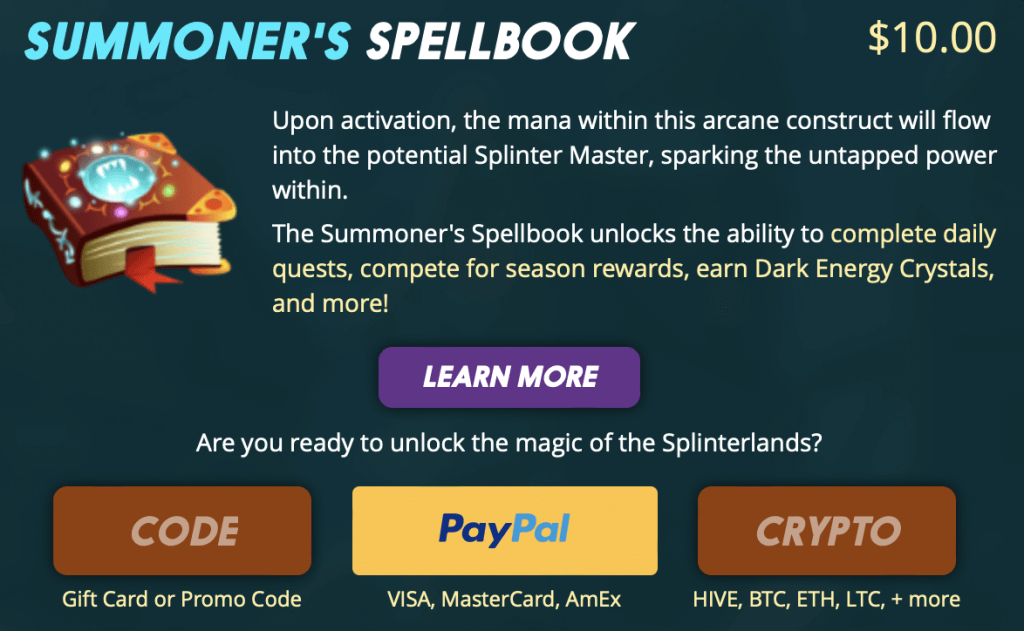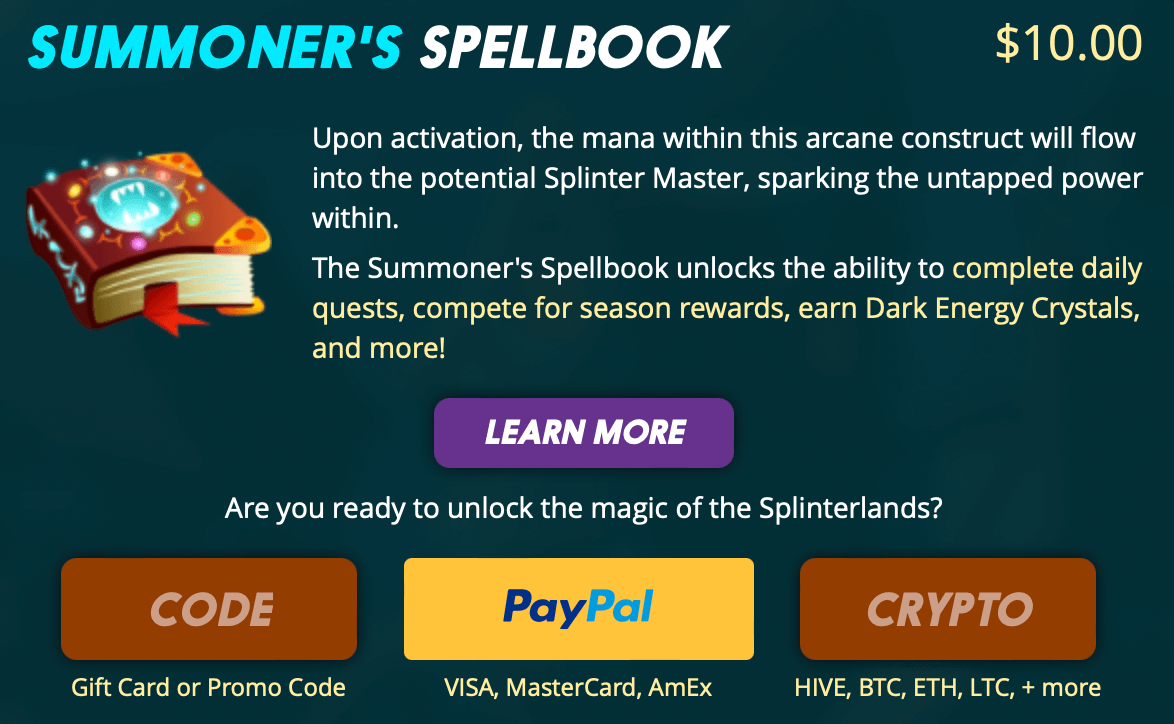 Splinterlands Token (SPS)
Splinterlands has a governance token with the symbol "SPS," which was launched at the end of July 202. SPS is integrated into the game, giving players the right to influence decisions about Splinterlands ecosystem. Players can use SPS to enter special tournaments and can also stake the token to earn passive income.
SPS holders will be able to propose their own changes to the game like modifying the battle settings, changing the tournament schedule, or changing the DEC inflation pools.
SPS is available for purchase on a wide range of decentralized exchanges, including PancakeSwap, BKEX, Gate.io, and Bilaxy. Below, we'll show you how to play Splinterlands with a step by step guide that will get you setup with SPS.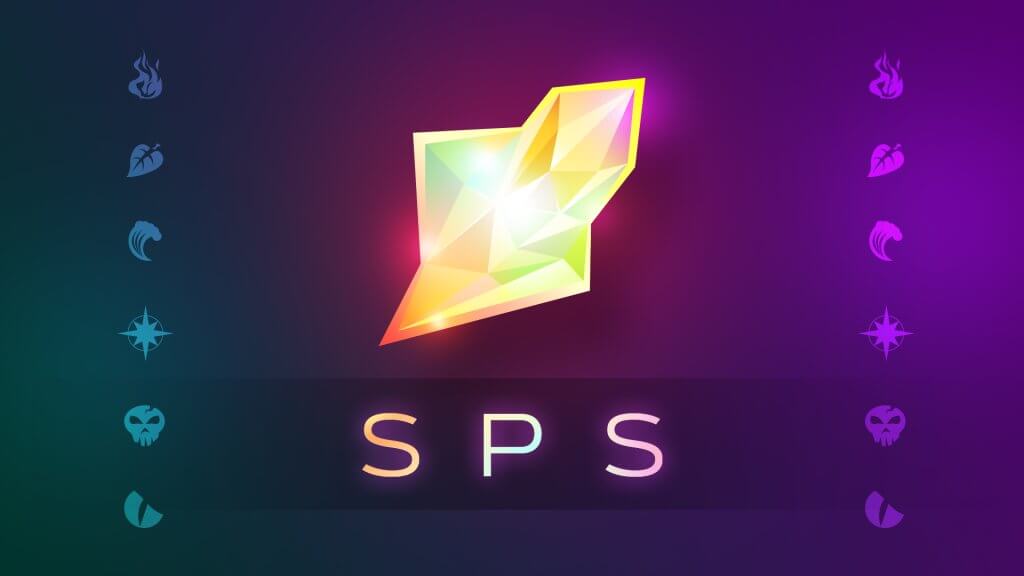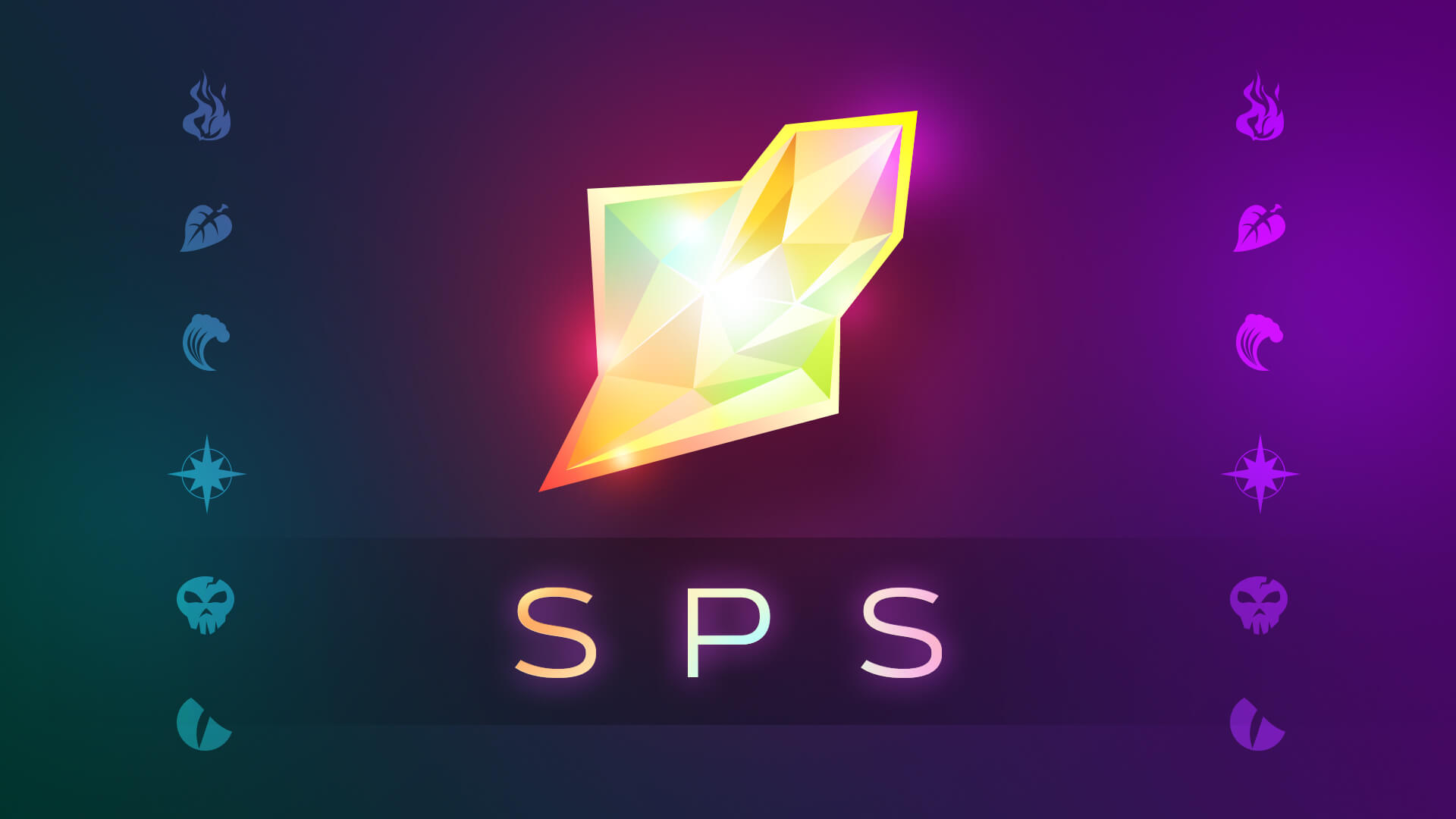 Splinterland Cards
There are 3 different cards in Splinterlands:
Summoner's
Monsters
Gold Foil Cards
Summoners
This card possesses magical powers which players can use to summon monsters. Users can harness one of six primal forces.
Monsters
Monsters are any creature or person called forth by Summoners to engage in a battle. Monsters do the fighting in the game and are key to advance.
Gold Foil Cards
Both Monsters and Summoners exist in Splinterlands Booster Packs, also commonly called Gold Foil Variations. Gold Foil cards are rare in nature but require fewer BCX to level up. When battles are won, Gold card holders earn a 10% bonus per card.
All three card types have different numbers and icons. For example, a typical Monster Card from Fire splinter has the following numbers and meaning:
Mana Cost: Mana cost influences how you create teams.
Stats: These include speed, physical powers, character health, and toughness.
Splinter or Rarity: The color represents Rarity, while the icon represents Splinter.
Name: Character name
Level: Gaining level increases stats and unlock abilities.
Experience: You gain experience by combining duplicate cards.
Abilities: Special skills used during combat.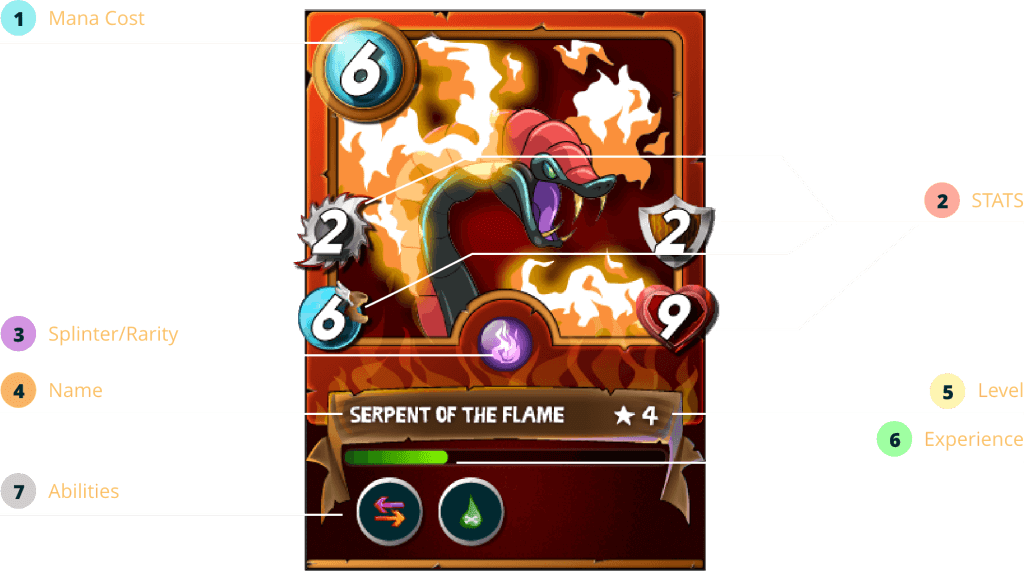 How to Play Splinterlands
Playing Splinterlands involves a few basic steps, including:
Creating a MetaMask wallet
Creating a Splinterlands account
Buying the Summoner's Spellbook
Confused?
Don't worry! We will walk you through each step in detail below.
How to Create a MetaMask Wallet
Visit the official Metamask website at https://metamask.io/. Both Chrome and Firefox are supported by MetaMask, so make sure you are using one of those browsers.
Click the Download button in the top right corner of the Metamask home page.
Click on Install MetaMask for Chrome/Firefox.
In the Metamask store listing page, click on Add to Chrome or Add to Firefox, depending on which browser you are using.
Your browser will make sure that you actually want to install MetaMask in your browser. Read the disclaimer and then click on Add extension.
After MetaMask is done installing in your browser, click on MetaMask in your Extensions area to launch your wallet. You may have to restart the browser in order for MetaMask to show up in here.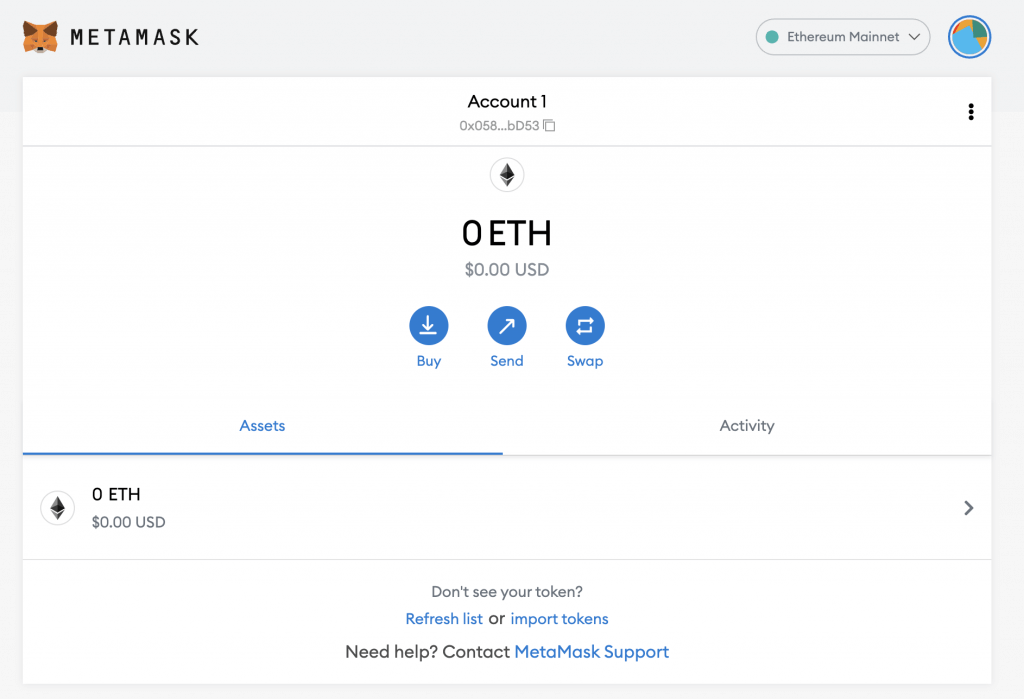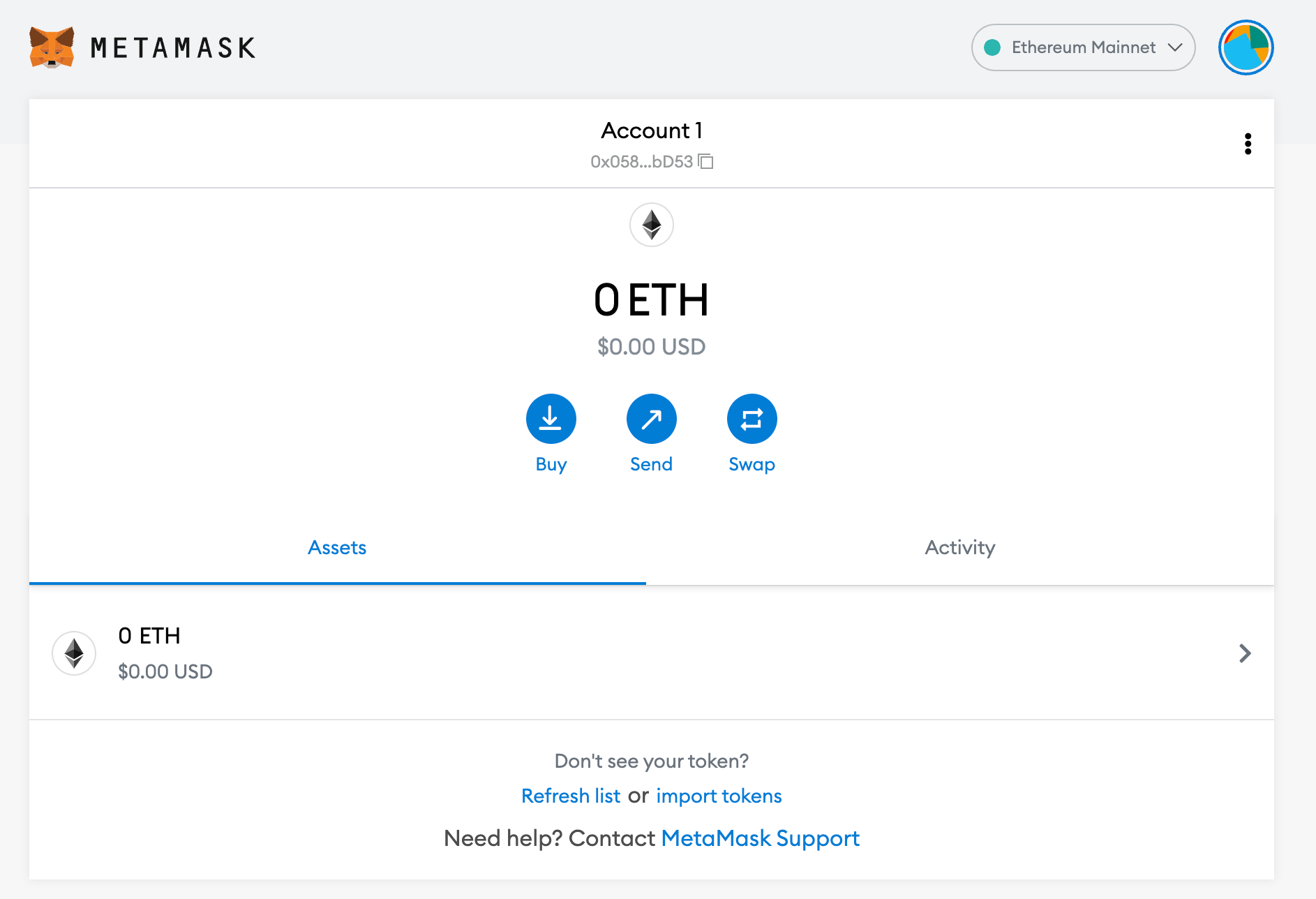 How to Create a Splinterlands Account
Head over to www.splinterlands.com and click on the "Play Now" button. A new window will pop up requesting that you login to your account on crypto wallets like MetaMask or create a new account.
To create a new account, click on the "create a new account" tab.
Complete the account creation form with accurate details. If someone refers Splinterlands to you, you can quote the person's ID as your referral account.
Once you are done entering your details, hit on the "create an account" button.
You will receive a welcome message explaining that you now have a temporary account name.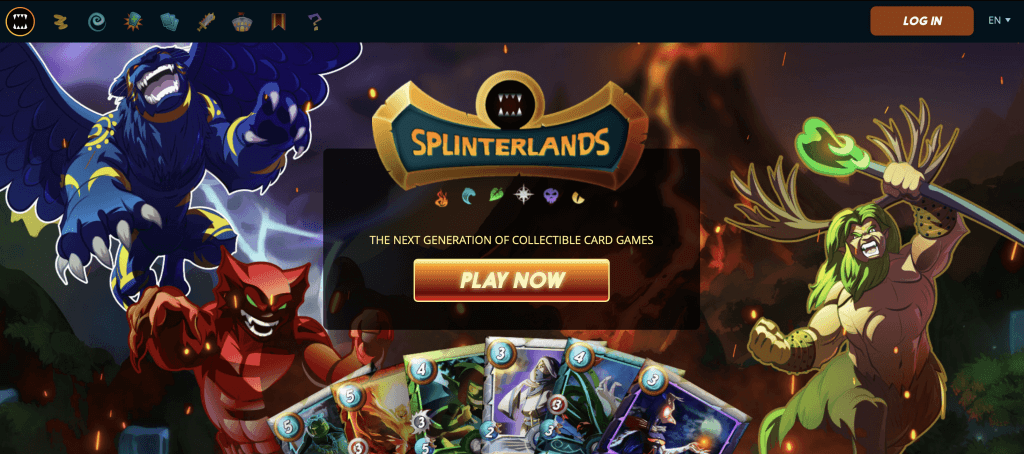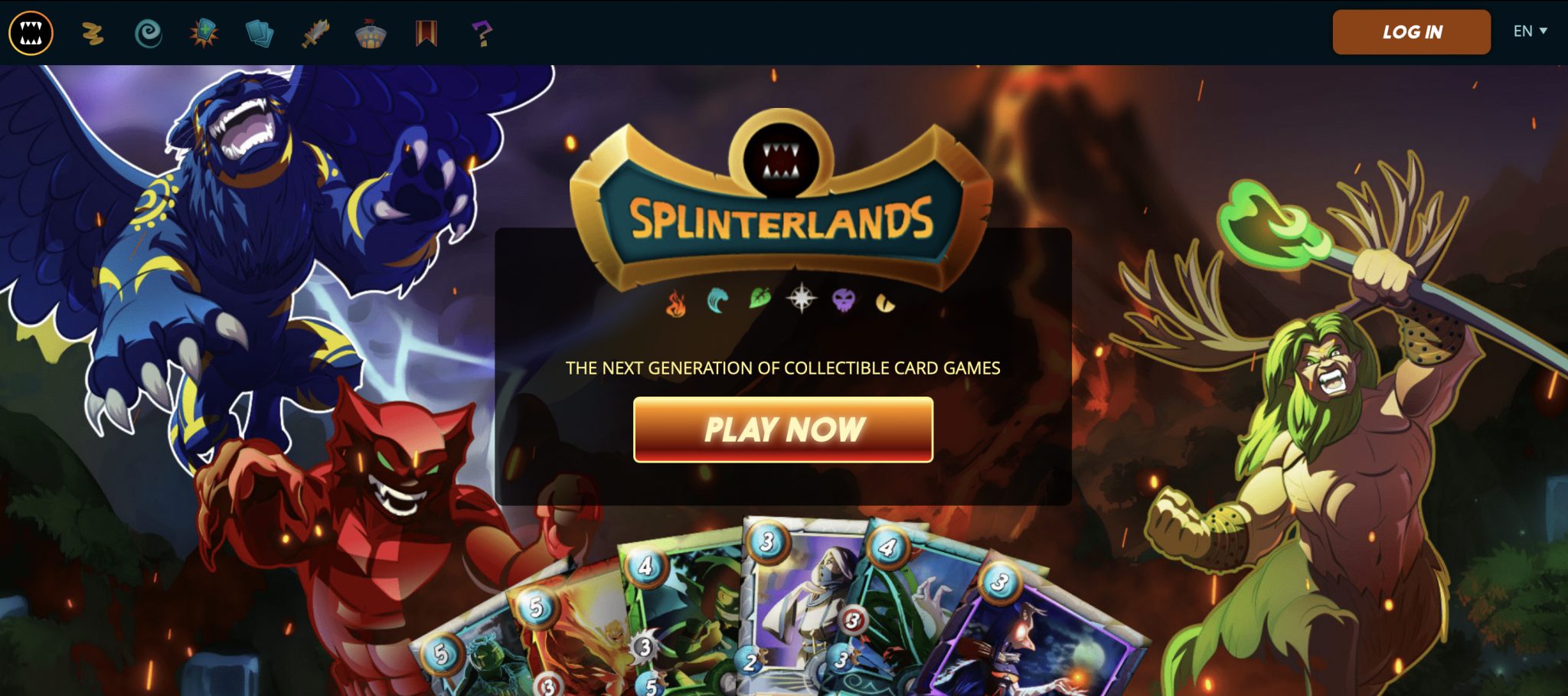 How to Buy the Summoner's Spellbook
If you want to earn real money playing Splinterlands, then you need to purchase the Spellbook. At this point, you will also be able to customize your username and access all parts of the game.
To buy the Spellbook:
Log into your account that you created above.
Click on the Shop icon from the menu on the home page.
Under Summoner's Spellbook, choose PayPal or Crypto depending on how you want to purchase the book.
Follow the instructions on the screen to complete your purchasae. In a few minutes, the Summoner's Spellbook will be attached to your account.
And that is how you play the Splinterlands crypto game! The first time you launch the game, you will be given the option to run through a tutorial. We recommend following it once to learn the basics of the game.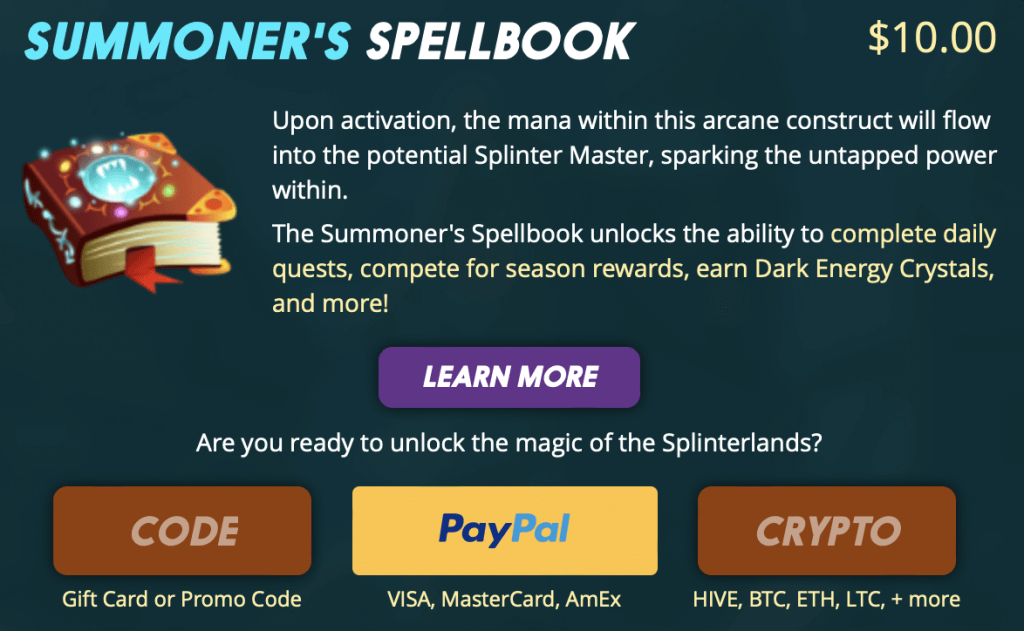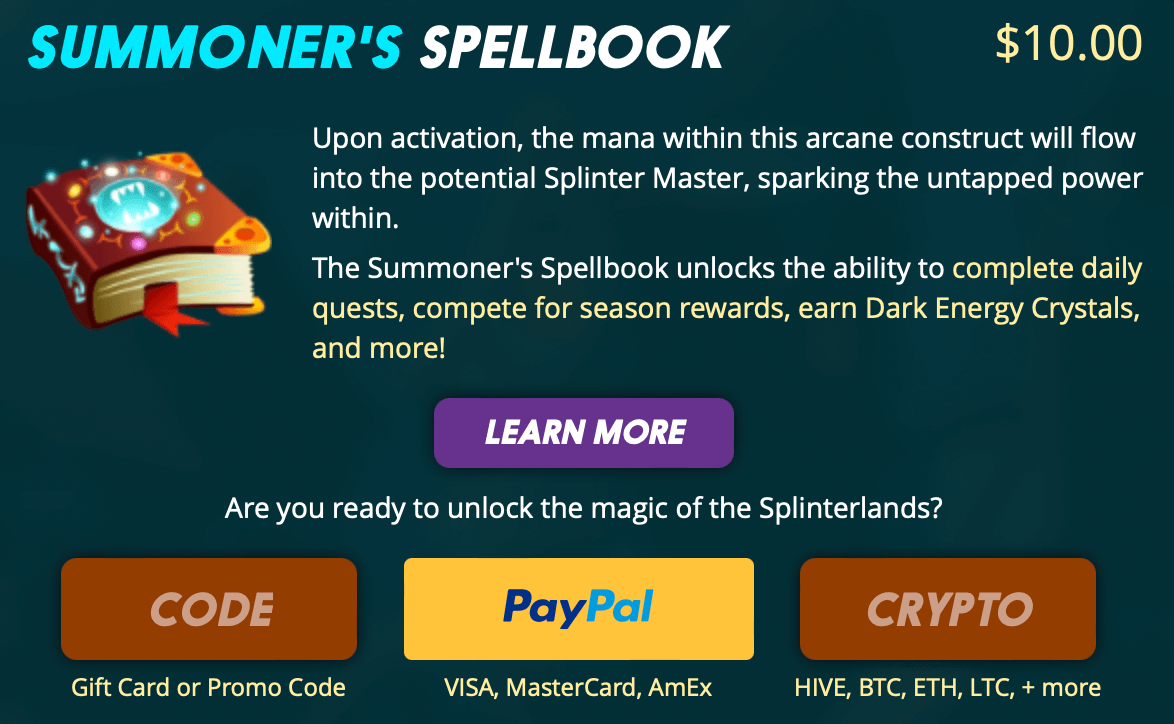 How to Battle
Login to your account and click on the "Play Now" button. You will be directed to a page where you will click on the "Battle" button. The game algorithm will match you with an opponent with similar skills and experience. As soon as you have been matched with an opponent, a pop up window will inform you about the limitations of the battle. For instance, card type to deploy or the amount of Mana required for the battle.
Click on the "Create Team" button. This lets you create a team within the allotted time frame.
The battle begins! You can check the outcome of the game or watch as the battle unfolds. Any winner of the battle will earn DEC tokens and also gain experience points. On the other hand, the losing player will lose some experience points.
The more you win, the higher your rank will go.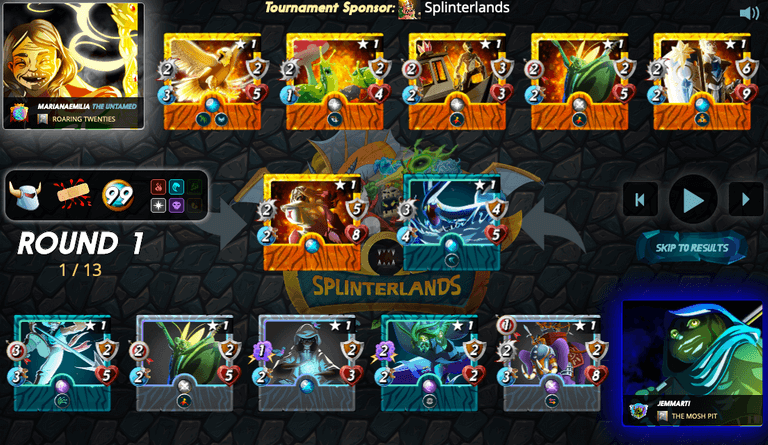 How to earn money playing Splinterlands
There are 3 different currencies that players can earn in Splinterlands – SplinterShards (SPS), DEC, and Credits. You can earn these tokens by:
Completing daily quests to claim rewards depending on your tactical skills.
Joining competitive battles to earn DEC to level up your account.
Players with lots of cards will earn a bigger SPS airdrop until August 2022.
As you can see, there are a lot of layers to this popular crypto game. If you give it a try today, make sure you comment below and let us know what you think.