The OpenMeta and OpenInfo Kodi addons are the latest forks for the MetalliQ/Meta and Extended Info addons, built for Kodi 18 and including new features! These two addons are VERY powerful and let you completely customize Kodi in a single spot without needing to navigate into multiple addons.
If you are confused, don't worry! Our full OpenMeta and OpenInfo Kodi guide below will explain better what these addons are and how to set them up.
September 25th Update: OpenMeta has been updated to v1.4.8. Some of the changes to the addon are:
Fix a bunch of bugs, crashes, and text errors
Fix "Upcoming Episodes" and "Next Episodes"
Added new default play actions from the context menu
Have a look at the table of contents below to jump directly to a section.
Table of Contents
What is OpenMeta Kodi Addon? MetalliQ / Meta Fork
OpenMeta is a fork of the latest official MetalliQ or Chappa'ai & the original Meta. OpenMeta allows you to search movies and TV shows using TVDB/TMDb/Trakt, and play content from a wide variety of other add-ons, without navigating through each individual add-on.
You can search for a movie or show first and then choose what addon to play the content back with.
OpenMeta is fully working for Kodi 17 & 18, and has Trakt support and library integration, allowing you to sync content to your library which is not tied to any one add-on. Instead, it gives you a selection of add-ons you wish to play with. You can also just use it directly like any add-on, or even point widgets at it.
OpenMeta supports playing with any addon that you have a "player file" for. These player files will have to be provided by the community, and are not distributed as a part of OpenMeta. Without any player files you will not be able to really use OpenMeta.
We've provided some community players underneath the OpenMeta install guide for you to check out! We have not created these and have no affiliation with them, but they go hand-in-hand with OpenMeta.
What is OpenInfo Kodi Addon? Extended Info Fork
OpenInfo is a fork of ExtendedInfo Script, and will replace any existing ExtendedInfo Script fork on you system, including the official ExtendedInfo Script in the Kodi Repository.
This is by design, so that it has full compatibility with any pre-existing implementations of ExtendedInfo Script in skins and other add-ons.
Its best to turn OFF auto updates for OpenInfo / Extended info mod / script / etc . to prevent any repos that have forks from overwriting OpenInfo . You can always force updates when you want updates .
This add-on is the ultimate information and browsing tool. You can search and browse movies, TV shows, related content, cast & crew, and even similar or related media like fanart and trailers.
Once you've found something you like, you can use the "Play" and/or "Add to library" features to pass the content on to OpenMeta for addon playback selection. You can even link a shortcut / favorite to the search function!
If this addon is pulled up though Addons > Programs > OpenInfo it will be displayed in the typical Kodi directory script listings view. This is usefull for widgets.
If it is pulled up though Addons > Video addons > OpenInfo, it will be in the Openinfo fancy browser view
It is hard to put into words how useful OpenMeta and OpenInfo really are. It's best to install both and have a look around!
How to Install OpenMeta & OpenInfo Kodi Add-ons
ON Kodi 17 Krypton & 18 Leia Only: From the main menu, navigate to Settings > System Settings > Add-ons > Turn On Unknown Sources > Click Yes.
From the Kodi main menu, navigate to SYSTEM > File Manager > Add Source > None
Type the following EXACTLY https://a4k-openproject.github.io/ and select Done
Highlight the box underneath and enter a name for this media Source like .a4k. and then click OK
Go back to your home screen.

ON Kodi 17 Krypton or later: Select Add-ons > Add-on Browser 
ON Kodi 16 or earlier: Select SYSTEM > Add-Ons

Select Install from Zip File > .a4k > repository.addons4kodi-x.x.zip and wait for the Add-on enabled notification
Select Install from Repository > OpenMeta Repository > Video Add-ons > OpenMeta > Install
Wait for Add-on enabled notification
Back up one screen and go into the Program Addons
Click on OpenInfo > Install to install that addon.
OpenMeta Players Install Guide
In order to pass a movie or show title to an OpenMeta player, you have to manually install players. OpenMeta players are pointers to other Kodi addons such as Seren or Gaia. They allow you to pass off the title to those addons for searching and playback.
To load players, head into the OpenMeta addon settings. Go into the General tab.
Click on Players URL and enter in the zip file as follows: http://bit.ly/openplayers and then click OK.
Click on Total Setup. This is REQUIRED in order to get OpenMeta Players setup with all of the compatible addons you have installed in Kodi. When you install a new addon with Player support, you will want to come back into this spot and press the Total Setup button again.
When you get a confirmation that these players have been added, you are good to go!
OpenMeta Trakt Setup
While you are in the OpenMeta settings, you'll also want to check out the Trakt tab. Click on Authenticate Trakt and follow the instructions on the screen to authenticate your Trakt account with the OpenMeta Kodi addon.
If you would like, you can enable the option to Sync your Trakt collection with your Kodi Library as well.
OpenInfo First Time User Tips
If you are a first time user of the OpenInfo Kodi addon, here are some tips to help get you started.
First off, there are two ways to launch and use the addon. If you launch OpenInfo from your Kodi Program Addons, you will see the following  grid view of movies. This data is pulled off of the internet.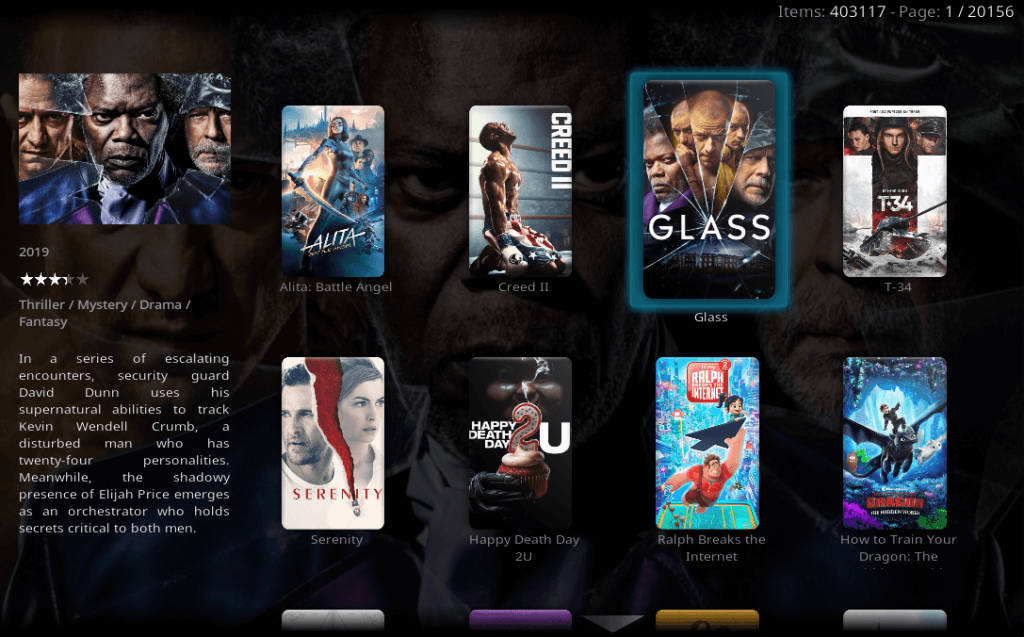 If you press left to open up the side menu, you will get a bunch of nice filtering options and you can search for essentially any title in the world. You can also switch to TV shows from this screen.

When you select a title, you'll see a ton of meta data beautiful placed on the screen for you: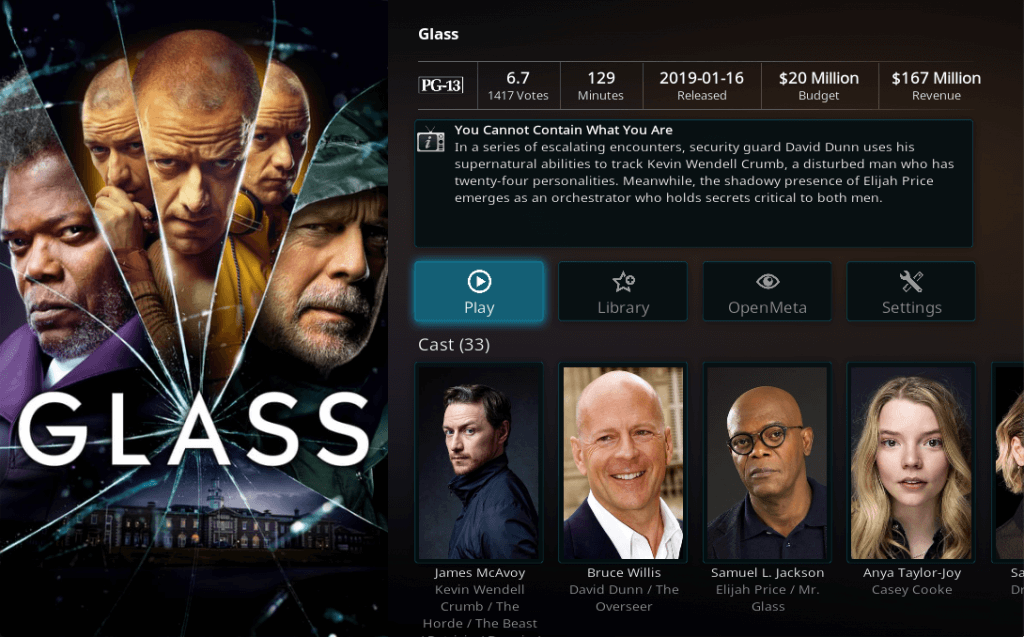 If you click the "Play" button, you will be asked which addon you want to use in order to scrape movie sources!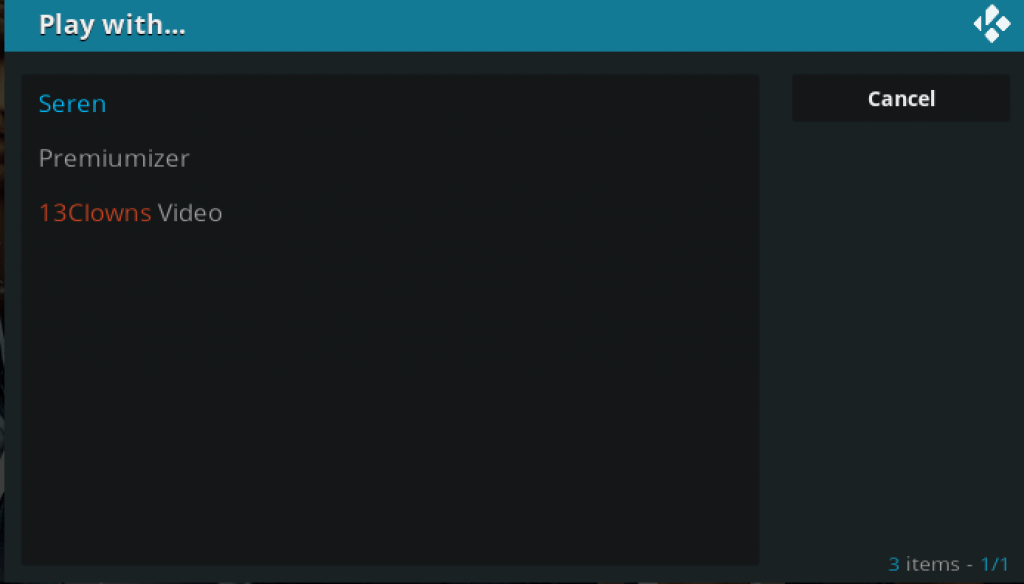 Play around with the addon and see how things work.
Note: If you launch the OpenInfo Kodi addon from your Video Addons, you'll get a less graphical overview of a ton of TMDB playlists such as Top Rated, In Theatres, etc. These are still useable but are meant for skin and build creators to quickly link to specific playlists.
The best way to learn about how to use the OpenMeta and OpenInfo Kodi addons is to try them out and explore! Comment below or get in touch with us on Twitter and we will update this guide with more tips and tricks based on your feedback.
PROTECT YOURSELF ON THE INTERNET
Sign up for a premium Kodi VPN and access the internet unrestricted. We offer exclusive discounts for NordVPN, the highest respected VPN in the Kodi community. It has some great features for users:
Apps for Android, iOS, Mac, Linux & more
Zero Logs
Unlimited bandwidth
Tier 1 hardware (no speed slowdown)
Access to servers hundreds of VPN servers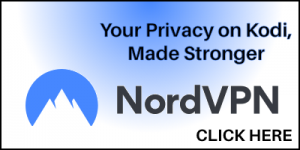 Click here to learn more about Kodi VPN protection