The Incursion Kodi addon is one of the most impressive forks of Covenant (which itself is based off of Exodus and Genesis), arguably the most popular Kodi addon in existence. Find out about Incursion today including what new features and changes it has.
The Incursion Kodi addon is a multi-source Kodi addon based off of the old Covenant code base. Since it is multi-source based, it searches the public internet and retrieves streams, displaying them in an organized format. The advantage to the multi-source addon is that if one website goes offline, the addon still has other sources to pull content in from.
Following the closing of the Colossus Repository, there has been an influx of Covenant "forks": Addons that take the same base code, rename it, and choose to add their own adjustments to and it give it its own personal flair. Unfortunately, this brings a lot of undeserved attention to bad forks who simply change the name, add no new features, and convince users to incorrectly think they have something new and improved. Incursion is not one of those: It has given users new features, updates, and improvements while offering excellent support.
Incursion scrapes over 50 websites for links. It has integrated imdb, trakt, real-debrid, premiumize, and ororo support. 
NOTE: Incursion stores no content within the addon. It only knows how to search the public internet for data and information.
Incursion has frequently appeared on our monthly best Kodi addons list.
Check out information about the Incursion Kodi addon below.
Incursion Kodi Latest Update
May 5th: The Incursion module has received a backend update to fix the Full-Stream and DpStreaming providers. Check out Kodi to see if these providers are bringing back links today.
April 18th: Incursion has been updated to v0.1.7 with the following changes:
More scraper fixes
Moderator disabled
Fixed Trakt On Deck disappearing
Fixed search issue caused by character accents
April 6th The Incursion module has received an update in the backend to allow the discovery of more 4K links. Check out Incursion and see if you can see some 4K in it today!
April 3rd: Incursion was updated to v0.1.6 with the following changes:
Scraper fixes – 2ddl, chillax, allrls, movie4kis
New Scrapers – pubfilmonline, rlsscn
Settings Cleanup
Added polish fixes
Incursion Kodi Addon Improvements
Some of the other improvements and additions that Incursion has made include:
A "Trakt On Deck" menu item has been added, which shows the last 10 episodes you previously watched via Trakt.
Xbox One support has been added.
A "Find Similar" option has been added to the context menu to find similar content for watching.
Furk support has been added – popular scraper
Added "Pre-Emptive Termination" to the settings. This setting terminates searching after it has found a source that matches your maximum quality settings (1080p by default).
Added "Debrid Only" option. This setting only returns Debrid sources and does not search basic free scrapers if you have Real-Debrid authorized.
IMDB and TMDB playlists have been fixed and updated
Incursion Kodi History
Covenant is a direct fork of the Covenant, Genesis and Exodus Kodi addons. Genesis was originally developed by Lambda and was the first popular multi-source Kodi addon.
The popularity of Genesis grew immensely through 2014 and 2015, when the addon came pre-installed on Kodi boxes from China promising "free TV" to buyers. The increase in popularity caused some sources in the addon to fight back against Kodi users by intentionally breaking their source because Kodi users do not give streaming websites advertising revenue that browser users do.
In the middle of 2015, lambda took Genesis offline and rebranded the addon (its first fork) as Exodus. Exodus had the same idea but with some key changes:
Streams were presented in a randomized order so that one source was not getting hammered by Kodi users.
Library integration was removed in favour of Trakt, a better third party library tool.
Provider websites were moved to a central dependency called URLResolver. This meant that resolvers could be updated in URLResolver and would work in all addons using this dependency.
The addition of URLResolver was key for the Kodi community as a ton of new addons have popped up to use the dependency to offer links.
In early 2017, lambda retired from the Kodi addon community and Exodus support was taken over by a collection of developer. In May, TVAddons went offline following some legal action taken by Canada's top media companies. New developers who had taken Exodus over decided to rebrand the addon as Covenant to respect the old legacy and moved the addon into the new Colossus Repo.
The Colossus Repository unexpectedly went offline in the fall of 2017 after many of its developers received cease and desist (C&D) letters from a conglomerate of media companies who are uninformed about the true actions taken by a Kodi addon. Since then, a few forks have popped up for Covenant and even from the Exodus code base. The Incursion Kodi addon is one of those forks, but it is better in that new features have been added to the addon. Also, scrapers have been fixed, allowing for more working links in the addon.

Incursion Kodi Key Features
The features list of the Incursion Kodi addon is quite extensive. If you are new to Kodi or would like a general idea, check out some of the key features below:
Over 50 media sources scraped by the addon.
Special categories for movies and TV including most popular, latest releases, special genres, sorted by rating, and many more.
Support for non-English streams, such as Greek, Spanish, French, and more.
Full Library integration. Save your favourite media titles to your Kodi library for quick access and updating.
Full Trakt.tv support. Trakt is a third-party library and tracking tool. Click here for more information.
Full support for many popular account-based services, including Real-Debrid, Premiumize, and more.
Incursion Kodi Tips
Check out some of the Incursion tips we've compiled from hundreds of questions and feedback submitted to us on social media.
How to Install Incursion Kodi Add-on – Standard Method
Download the Incursion repository by clicking here and save it somewhere you can access within Kodi.
From your Kodi home screen.

ON Kodi 17 Krypton or later: Select Add-ons > Add-on Browser 
ON Kodi 16 or earlier: Select SYSTEM > Add-Ons

Select Install from Zip File > select the incursion.repository.x.x.zip file you downloaded above and wait for the Add-on enabled notification
Select Install from Repository > Incursion repository > Video Add-ons > Incursion > Install
Wait for Add-on enabled notification
How to Install Incursion Kodi Add-on – Git Browser Method
If you don't already have the Git Browser Kodi addon installed, click here to read our guide and then come back here and use the instructions below.
From your Kodi home screen.

ON Kodi 17 Krypton or later: Select Add-ons > Add-on Browser 
ON Kodi 16 or earlier: Select SYSTEM > Add-Ons

Select My Addons > Program Add-ons > Indigo
Navigate to Addon Installer > Git Browser > Search By GitHub Username > **New Search**
Enter nixgates into the search bar and then click OK. Select repository.incursion-x.x.zip from the list, making sure you select the highest revision of the repository.
After the repository has installed, click Continue when you get the popup.
Back out of the Indigo addon and navigate to SYSTEM > Add-ons > Install From Repository > Incursion Repository > Video Addons > Incursion > Install
Wait for the Add-on Enabled Notification
Disclaimer
We have no control over and do not host or upload any video, films, media file, or live streams. KodiTips is not responsible for the accuracy, compliance, copyright, legality, decency, or any other aspect of the content of streamed from your device. If you have any legal issues please contact the appropriate media file owners or host sites.
Incursion Kodi Settings
After installing the Incursion Kodi addon, you'll see a ton of options to configure and customize the addon. Some key configuration changes you can make are listed below:
Settings: General
Providers Timeout – This option changes the maximum time you will allow sources to return content. A lower number will speed up searching but may not bring back all streams.
Info Language – What default language would you like info metadata to come back as? The default is English.
Providers Language – If you want to return streams in other languages, check out the options here.
Flatten TV Seasons – Instead of TV seasons being separated into folders, this option places all episodes in a single screen.
Hide Movies in Cinema – Hide movies not released on DVD yet which aren't available.
Settings: Playback
Default Action – The default option is "Dialog" which means you have to pick your stream manually. Change this to "Auto Play" if you want Covenant to automatically pick the best stream.
Max Quality – Use this settings to enable or disable 4K or HD streams from being shown.
SD Hosters in Auto Play – If this is disabled, the Auto Play function below will never play an SD stream. This greatly increases the chance that you will see the "No Stream Available" dialog.
HEVC – Enable or Disable HEVC streams, which display HD video in smaller file sizes, but aren't supported on older Kodi boxes.
Settings: Providers – Use this section to enable or disable specific providers.
Settings: Accounts – Use this section to sign into your special accounts such as Trakt or IMDB.
Settings: Library – Click here to check out our feature on full Library integration.
Settings: Downloads – Use this section to configure and setup downloads.
Settings: Subtitles – Use this section to manually enable subtitles in all of the streams you view in the Incursion Kodi addon.
Let us know on Twitter or Facebook if we can help you out!
PROTECT YOURSELF ON THE INTERNET
Sign up for a premium Kodi VPN and access the internet unrestricted. We offer exclusive discounts for NordVPN, the highest respected VPN in the Kodi community. It has some great features for users:
Apps for Android, iOS, Mac, Linux & more
Zero Logs
Unlimited bandwidth
Tier 1 hardware (no speed slowdown)
Access to servers hundreds of VPN servers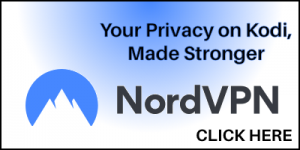 Click here to learn more about Kodi VPN protection