Are you looking to watch free movies and TV shows on your Android TV box or Firestick? You can install the FilmPlus APK on your Android streaming device and get started streaming instantly. In this article, I'll walk you through everything you need to know about this Syncler alternative Android streaming app.
Here's an overview of the contents of this article:
With Filmplus, you can stream from over thousands of movies and TV shows in 4K quality.The app has more links compared to other apps like Cyberflix TV, Nova TV, Typhoon TV, etc.
Read on to know more about FilmPlus!
Related: How to Quickly Install the HappyMod APK on Android TV / Firestick [2022]
What is FilmPlus?

As the name suggests, FilmPlus is a great source of unlimited films and series. If you are a movie buff and find yourself puzzled about what to watch in your free time, you should surely check FilmPlus out.
FilmPlus is a free video streaming app that lets you enjoy your favorite movies and TV shows in 1080p and 4K quality. The app is inspired by other popular video streaming application for Android, like Syncler and Terrarium TV.
The app has the look and feel as that of the Terrarium TV but wins over users with its advanced links crawling technology. With FilmPlus installed on your Android TV box, you can binge-watch hundreds of movies and TV shows in high quality, including 4K.
Throwing some light on the advanced links crawling technology, FilmPlus uses this technology to scrape more and better links. Apps similar to Terrarium TV, like Cyberflix TV, Typhoon TV, and Nova TV, provide a lot of content too. But FilmPlus beats them all in the number of streaming links scraped and the video quality.
The content available on FilmPlus is absolutely free of cost and doesn't require a subscription or sign up. This makes FilmPlus a great alternative to premium services like Showbox and is ideal for those who need a freemium streaming app.
Moreover, FilmPlus supports all the three premium link services viz.
Note: FilmPlus doesn't have any content of its own but rather extracts it from hosting websites.
FilmPlus APK Features
Here are some of our favorite FilmPlus APK features.
Vast Content Library
On FilmPlus, you can stream thousands of entertaining movies and TV shows online. Its huge content library has everything you will ever need in a video streaming app.
Subtitles
Most streaming apps don't provide subtitles other than English. However, that's not the case with FilmPlus. You will find subtitles in almost all the major languages.
Stream Quality
As mentioned in the above sections, you can stream content on FilmPlus in high quality. Based on your requirement and internet speed, you can choose to watch in 4K, 1080p, 720p, or 360p. It has super-fast servers needed to stream in HD and Full HD.
Easy Downloads
Most rival apps don't provide the download functionality or have started to remove the download option for movies and shows. FilmPlus lets the users download any video in the desired quality on the click of a button.
Advanced Filtering Options
The app has advanced filtering options to filter the content available. Some of the advanced filtering options include Language, Quality, Release Year, among others.
Supports Casting
If you are using FilmPlus on yourAndroid smartphone, you might want to cast the contents on your device to a TV. FilmPlus supports casting to big screen devices.
Mark as Favorites
This feature lets you mark the TV shows and movies you enjoy to watch as favorites. Also, you can mark specific episodes of a series or show you've previously watched as favorites.
Also read: How to Install BeeTV APK on Android TV & Amazon Fire [2022]
Before You Install: Enable Unknown Sources
Before we begin, it's a great idea to enable the installation of unknown sources on your system. If you've never done this before, this is how.
On an Amazon Fire TV, Cube or Stick, navigate to Settings > My Fire TV > Developer Options and Enable Apps From Unknown Sources.
On an Android TV box, navigate to Settings > Security > and Enable Unknown Sources.
Now you are ready to install this APK on your device!
How to install the FilmPlus APK on Android TV / Firestick
This section focuses on the step-by-step instructions to install the FilmPlus APK on any device such as the Amazon Fire TV, Android TV, Nvidia Shield, and more.
The easiest way to install the FilmPlus APK on any Android device is through the Downloader app, so it's best to download that app first.
Downloader Method
Downloader is an app that lets you install APK files without needing to manually download and move anything over on a USB stick. Click here to view our Downloader install guide to get it on your system. The link will open up in a new tab. Once you are done, come back here!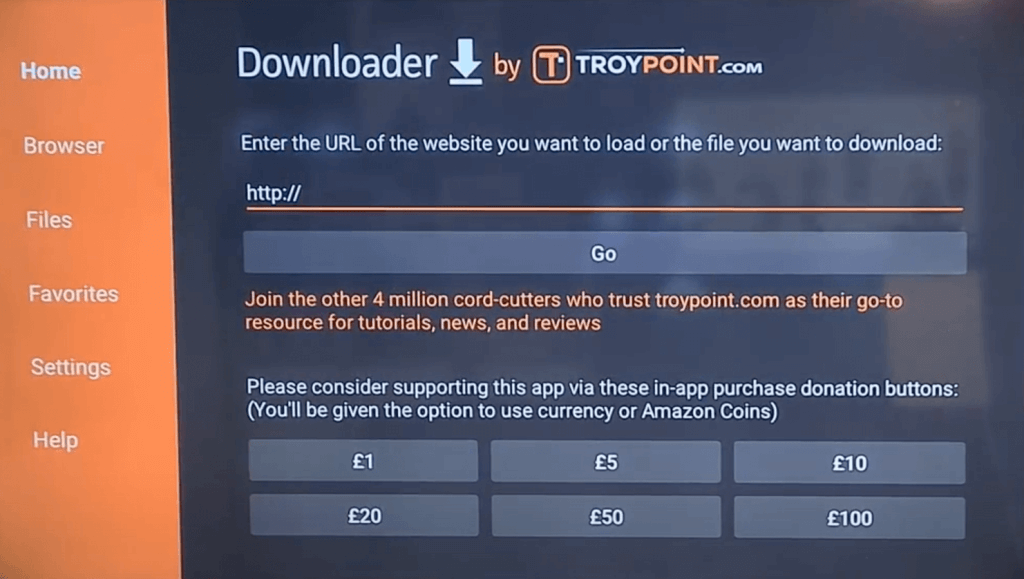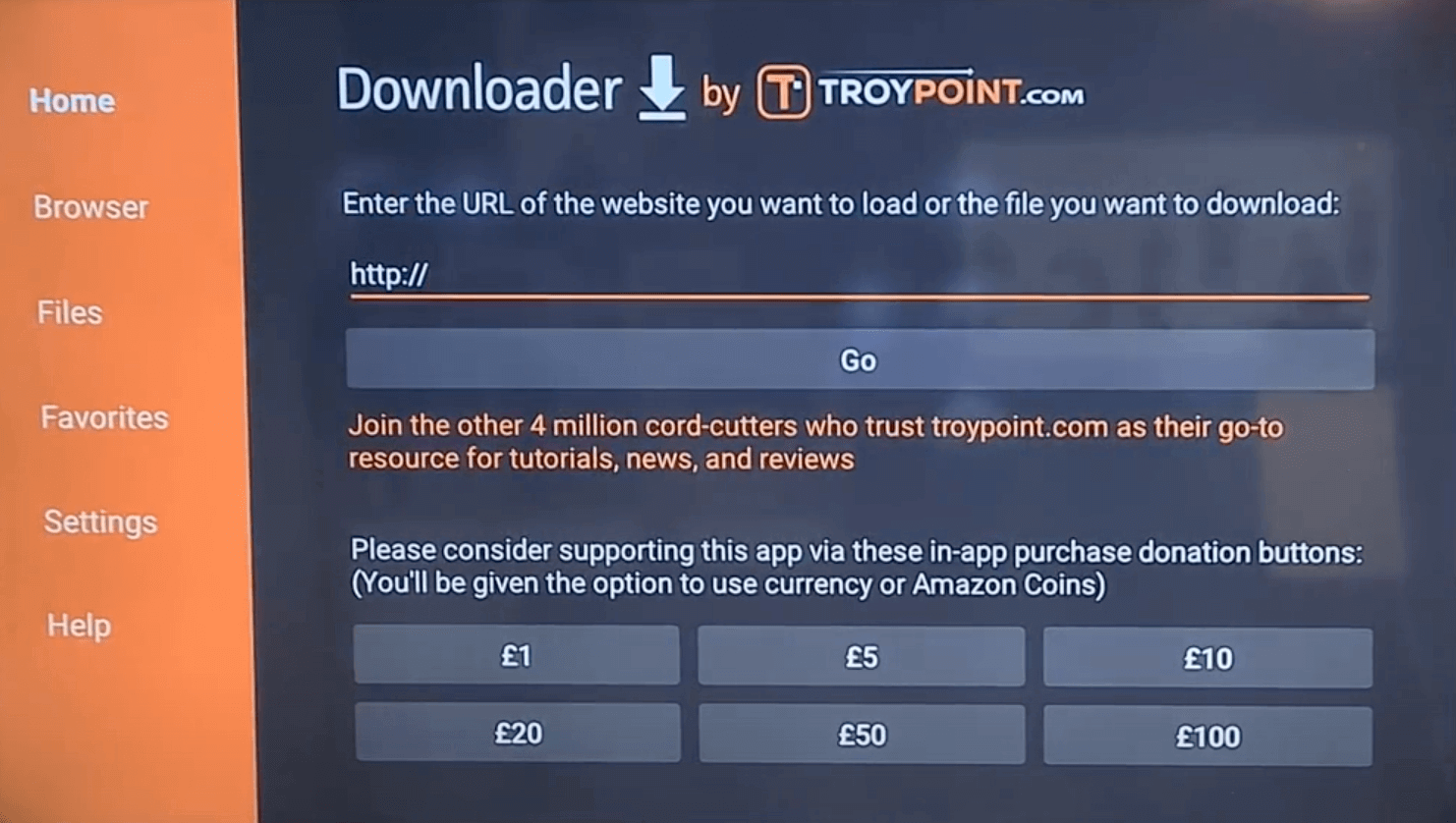 Follow the below simple steps to install the FilmPlus APK on Android TV / Firestick.
Launch the Downloader app
Select Allow in the prompt for access to photos, media, and files on your device if you agree
Click OK in the Quick Start Guide box
Go to the Search box and type in filmplus.vip
Select Go
Select Download App in the next prompt
Wait for the installation to complete
Click the Install button to confirm installation
You will see the "FilmPlus ready to launch" message indicating the app is ready to use
That's all! You can now browse your favorite movies and shows on FilmPlus.
How to Use the FilmPlus APK on Android TV / Firestick?
Once you launch the FilmPlus app, you will see the home screen of the application. On the home screen are two main categories of content: Movies and TV Shows.
Each category comprises many sub-categories like:
Trending
Popular
Top Rated
Airing Today
Action & Adventure
Animation
Comedy
Documentary
Drama
Family
Kids
To start streaming content, select a title and hit the Play button on the bottom right corner of the screen. The scrapers will start looking for the streaming links and throw up a list of links. Select any link and hit Play in the pop-up that follows.
It's worth noting that FilmPlus allows you to play media with external media players like VLC Media Player, MX PLayer, and more. If you'd like to play media on these players, select Play with… and choose the player of your choice.
Suggested read: How to Install Typhoon TV APK on Android TV [2022]
Wrapping up!
When you have FilmPlus installed on your Android TV / Firestick, you are in for pure entertainment absolutely free of cost. You can stream hundreds of movies and series in high quality on the go.
If you have any trouble in installing the FilmPlus APK on your Android device, leave a comment in the comments section below. We'll be happy to help you out.