This is the ultimate guide to setting up Trakt with Kodi.
So if you want to learn:
How to keep track of everything you watch and want to watch in Kodi.
How to setup a full Kodi library.
How to access other great Trakt features.
Then you'll love all of the easy step-by-step and tips in this guide.
Let's dive in!
Table of Contents
NOTE: If you are reading this anywhere else other than KODI T I P S.com, it's been taken without permission.
What is Trakt?
Trakt is a service that contains information on every single movie and TV show. Some of the information it keeps track of includes:
Title
Release data
Plot
Actors, actresses, director, producers, and other associated people
Poster and images
Similar titles
When you create a free Trakt account, you can use all of this information in a variety of ways, including:
Marking which shows and movies you've watched and want to watch
Adding shows to custom playlist and collections
Commenting and discussing the title
It sounds pretty simple, but Trakt is very good at working to keep track of your viewing habits thanks to a feature called scrobbling.
Trakt Scrobbling
When you watch a movie or TV show, Trakt stores this information in your account history and this is called scrobbling.
Scrobbling ensures that after you add a particular TV show or movie to your collection, it is automatically tracked and updated if you watch something. As long as you use a Trakt application that is hooked into it's API, your account will automatically be scrobbled.
These Trakt applications include apps for iOS and Android.
But it also includes our favorite media player, Kodi.
How to Sign Up For Trakt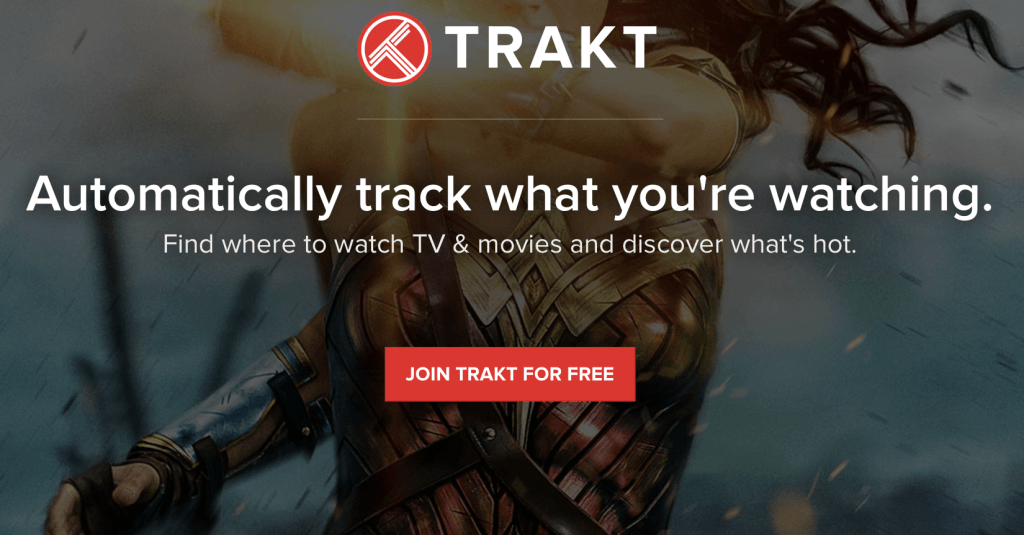 Visit the official Trakt website.
Click the red Join Trakt for Free button.
Choose a username and fill out the form. When you are done, click Join Trakt
You'll be asked to select your favorite genres and some shows to add to your collection first. Fill this out now or skip ahead.
Once you are done, you'll end up at your Trakt dashboard! You can browse through all of the options here or you are now ready to sync Trakt with Kodi.
Trakt With Kodi
You can sync and authorize your Trakt account in all of the most popular Kodi addons today (more on that later) to supercharge Kodi in a number of ways.
Features
View all of your Trakt playlists and collections inside of Kodi.
Automatically have Kodi keep track of watched items and items up next to watch.
View public Trakt playlists in addons such as Trending Movies, Movies In Theatres, Trending TV Shows, TV Shows by Network, and more.
Load in Trakt's metadata listed above to show more information in Kodi.
User Trakt as your Kodi library and movie/TV database
Kodi Addons That Support Trakt
If you want to use Trakt with Kodi, the good news is that all of the most popular Kodi addons and Android APKs include Trakt integration. Some of our favorite Kodi addons with full Trakt support are:
How to Authorize Trakt in Kodi
The process to authorize Trakt with Kodi is roughly the same. The hardest part is finding out where the authorize Trakt button is depending on your chosen Kodi addon. We've made it easy by listing the location of the 5 addons we listed above.
Authorize Trakt Button Location
Seren
Tools
Open Settings Menu
Accounts tab
Authorize Trakt under Trakt Account Setings
Gaia
Tools
Settings
Accounts Tab
Under Trakt, click on Enable
Authorize Trakt
13 Clowns
Tools
TRAKT: Authorize
Yoda
Tools
TRAKT: Authorize
TVZion
Hamburger menu (three horizontal lines)
Settings
(+) Add Trakt Account
After you click on the bolded text in one of the addons above, you will be a prompted with a popup that says something similar to the following:
Visit https://trakt.tv/activate

When prompted, enter: *CODE*
To authorize Trakt with Kodi, open up a web browser on any device connected to the same network as your Kodi hardware. For most people, it will be easiest to use your smart phone or a laptop.
When you visit the address above, you will have to login with your Trakt information if you aren't already logged in.
Next, enter the given code into the box and hit enter.
You may be asked if the application is allowed to sync with your Trakt data. In this case, press Yes.
When everything is complete, the Trakt authorization message shown above will disappear.
Congratulations, your Trakt account is now synced with Kodi. Feel free to perform the steps above on all of your addons.
So now what? Let's have a look at what things you can do in Kodi with Trakt authorized.
Trakt "My" Lists
When you authorize your Trakt account within a Kodi addon, the first thing you'll notice is that on the main menu are a bunch of new "My" lists: My Movies and My Shows. These "My" Trakt lists load your Trakt scrobbling data right into Kodi in a number of ways.
Let's have a look at what "My" Trakt lists you may see: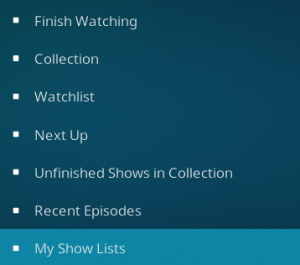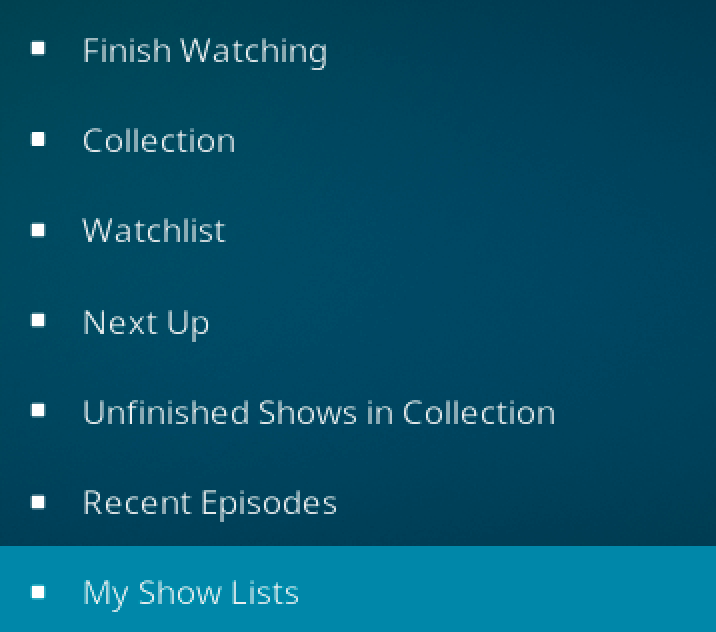 Finish Watching
If you start to watch a TV show or movie but stop for whatever reason, Trakt knows that! It keeps a playlist titled 'finish watching' so that you can go and quickly watch that content you never quite finished in the past.
Collection
The Trakt collection is one of the most widely used features between Trakt and Kodi users. Your collection is like your library – all of those shows and movies you want to keep track of and access quickly.
If you only use one feature between Trakt with Kodi, make it the collection. It will let you quickly watch your favorite shows without searching them each time. And putting new shows or movies into your collection is really easy, which we will show you about in the next section.
Watchlist
Like the collection, the watchlist is a playlist of things you want to watch in the future or maybe are interested in. This is not a feature I'm that familiar with because I see it as redundant to the collection, but is another Trakt playlist you can use accordingly.
Next Up
The Next Up Trakt playlist shows you the next episode you haven't watched in all of the TV shows you have stored in your collection. This playlist is nice because it saves you a few clicks. Rather than having to select a show, select a season, and then select an episode, you can quickly launch episodes from this area.
Unfinished Shows in Collection
This playlist is similar to your Trakt Collection, but it filters out all of the shows which you have watched all of the episodes for. The more you watch episodes while you have Trakt synced in Kodi, the bigger your collection will be and more content you'll have to scroll through. In this case, it's nice to just check out the unfinished shows you have left to watch.
Recent Episodes
One of the things Trakt keeps track of is the air date of every show in existence. The Recent Episodes Trakt playlist shows all of the episodes that have aired in the past week. When you are waiting for shows to air, this is a great spot to keep an eye on recent episodes.
My Lists
Trakt has a feature where users can submit playlists and allows other to add them into their Trakt account. For all of the lists you've added to your account, you can view them in this area.
Some examples of some custom Trakt playlists include "Newest HD movies", "Best (genre) movies/TV", or "Best (TV Network/Movie Studio) Collection"
If you want more information on how to add custom Trakt playlists to your account, check out our massive list of 49+ Trakt playlists!
Now that you know what some of the Trakt menus in Kodi do, you might be wondering how to make use of them!
Let's have a look at that in the next section.
Trakt With Kodi Tips and Step-by-Steps
If you are curious about anything or want to know the steps to do anything else, comment at the bottom of this guide or get in touch with us on Twitter and we will add to this guide.
Trakt Manager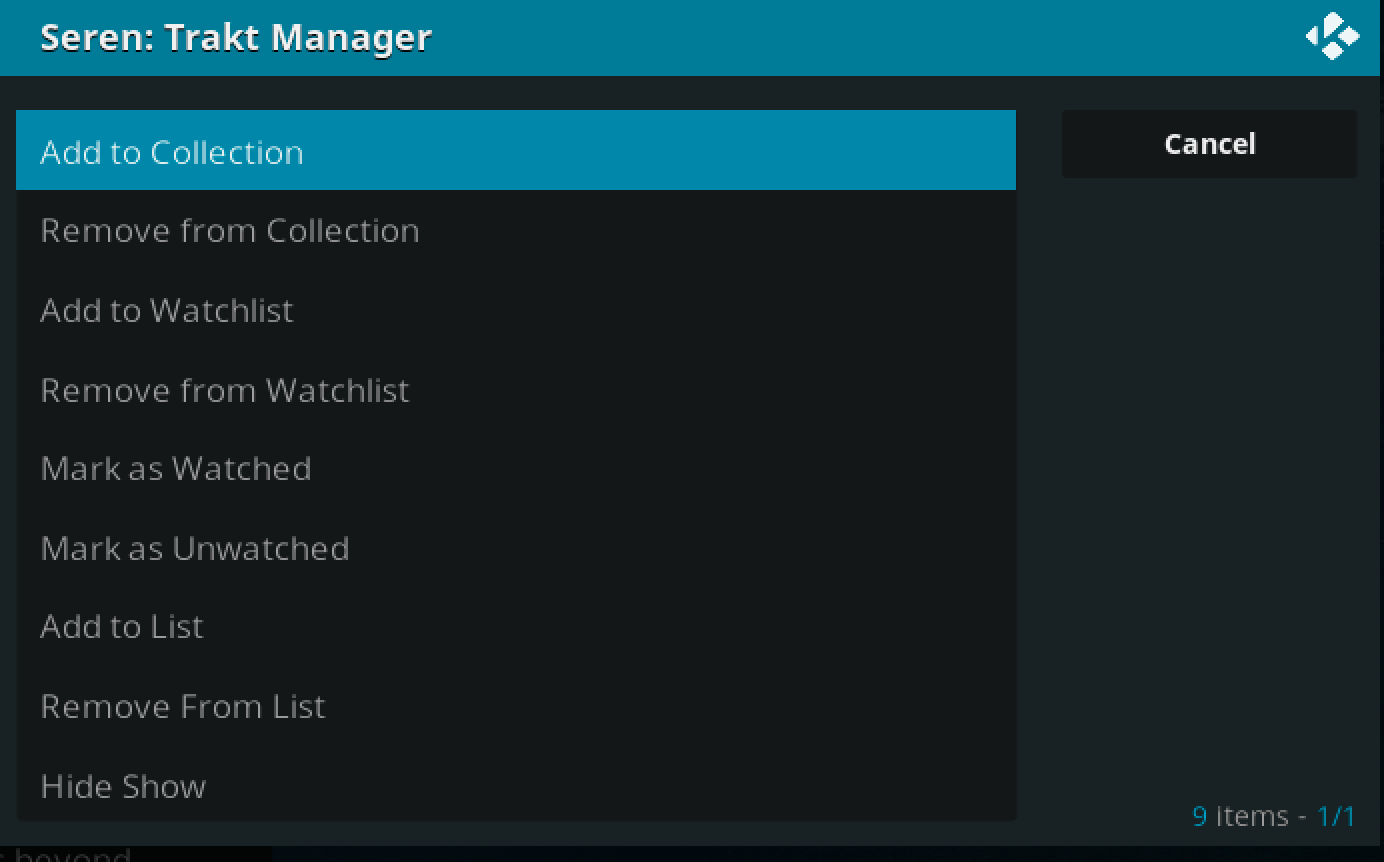 The first Trakt with Kodi thing you want to get used to is the Trakt Manager, a context menu option that is added to your Kodi addons when you have an authorized Trakt account.
To access it, simply find or search for any movie or TV show in Kodi. When you are hovered on the title, press the menu button ('c' on a keyboard) to bring up the Kodi context menu. From here, select Trakt Manager.
The Trakt Manager allows you to quickly take a number of actions including:
Add to Collection
Remove From Collection
Add to Watchlist
Remove From Watchlist
Add to New List
So, you can add content to your collection and then quickly access it using the "My Lists" link we talked about above to access your Collection or Watchlist.
Mark As Watched
One nice thing you might want to get used to, especially if you want to use the Next Up and Unfinished Shows playlists is marking episodes you've already watch already accordingly.
To do this, hover on an episode of a TV show and press the menu ('c') button.
From the context menu, select Mark as Watched.
Some addons will show a checkmark beside episodes you've watched already. Trakt will also keep track of this data and will update playlists accordingly.
Now you have all of the tools you need to use Trakt with Kodi! Comment below and tell us what you think about Trakt.
PROTECT YOURSELF ON THE INTERNET
Sign up for a premium Kodi VPN and access the internet unrestricted. We offer exclusive discounts for NordVPN, the highest respected VPN in the Kodi community. It has some great features for users:
Apps for Android, iOS, Mac, Linux & more
Zero Logs
Unlimited bandwidth
Tier 1 hardware (no speed slowdown)
Access to servers hundreds of VPN servers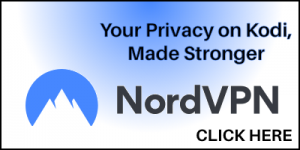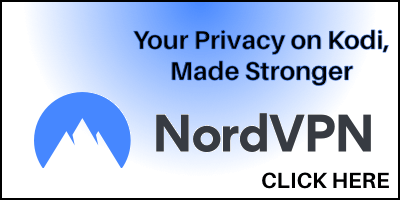 Click here to learn more about Kodi VPN protection