Come and try the TVZion Android TV and Amazon Fire app today, which is packed with unique features and working sources to check out. If you are looking for a great Terrarium TV alternative, come try a fully original APK with lots of features today.
The TVZion Android app is an APK that you can load onto any Android device such as a phone, tavlet, or TV Box. Similar to third party Kodi addons that scrape the public internet for media, TVZion does the same thing without requiring the Kodi interface for media playback.
A lot of users have been looking for a Terrarium TV alternative since the popular Android APK pulled the plug back in September and is no longer usable.
Simply put, it is one of the best Android APKs available today. With REAL development and NEW features worth checking out.
As of the 3.4 update, TVZion contains the largest Trakt integration amongst all Android APKs or Kodi addons, Check out the full features and updates list below.
TVZion Android APK Guide: Table of Content
TVZion is a media and title interface. It uses an Android media player, such as VLC or MX Player, to playback files.
TVZion: Kodi Alternative
TVZion is so smooth and packed with features that it might just be the Kodi alternative you are looking for. It has a few nice advantages over Kodi that we like:
The interface is as intuitive as the best Kodi builds. You can leave it alone and it works great or customize it to your liking with custom playlists and content.
There are less button clicks required to watch content than Kodi.
Menus and screens are more graphical and intuitive to Kodi's "paged" design.
Have a look below at some of the features and screenshots and consider TVZion as a great Kodi alternative.
TVZion TV Features and Recent Updates
The latest update to TVZion is v3.8.1 from August 21st. It comes with a ton of improvements, including:
[Bug Fix] App killed due to ram fix
[Bug Fix] Playback progress
[Fix] Resolvers [+5]
[Fix] Resolver detection system
[Fix] Added bluray as a fail back quality in case 720, 1080, 4K wasn't detected but Bluray was detected.
Version 3.8 introduced 4 new features into the TVZion APK:
[Introducing] [ZionClub] Debrid Suit [DS]: Build, manage and stream directly from debrid cloud using Debrid manager, magnet picker, debrid cloud as source.
[Introducing] [ZionClub] Debrid Manager: Fully manage debrid services from app. Search cloud, add magnets, clear history, unlock external links, and most of all, watch content from your debrid cloud directly.
[Introducing] [ZionClub] Debrid Cloud Source: Links from debrid cloud will now directly show up on link list. [Settings > Content > Debrid cloud > Enable]
[Introducing] [ZionClub] Magnet Picker: Browse scrapped magnet links in a list and also add them to your debrid cloud directly from link search page.
For the complete list of changes and new updates, check out the bottom of this guide!
Other major changes and additions to TVZion in the last little while include:
Full All Debrid integration.
Full MyAnimeList Integration. Think of this link Trakt or TMDB for Animated content. Mark as watched, browsing of lists and search integration all included.
Set or reset watched/unwatched status on any movie or show by long pressing on the title, season, or episode.
Advanced options for AutoPlay

Minimum link count
Maximum delay
# of retry intervals
Quality based filtering (3D, 4K, 1080p, DTS, more)

The addition of ZionToons, a new area dedicated to cartoons and animated content.
Completely overhauled Trakt support You can add all of your Trakt collection folders and playlsits to the TVZion home screen. There is also a dedicated Trakt dropdown that you can select from the home screen.
The Zion home screen has been improved to include the ability to customize all the widgets shown. You can long press on any home widget to add/remove/modify it.
You can enable an option in the settings to hide caught up content and only show episodes you haven't watched yet (Settings > App Management > Watch List > Hide)
This update should make Trakt users very happy. Overall, A lot of features in this update are not available in any other apk (at least for the time being, I'm sure other apks will bring these eventually if they are useful).
TVZion APK Features
The TVZion Android APK has features that aren't included in any other app. Some of the things we really like include:
1. Extensive Cached Torrent Support – More 4K/HD Content
Cached torrents is a service where Real Debrid and Premiumize store torrent files within their cloud storage cache. When you play media that has a cached version in the cloud, Debrid or Premiumize serve you this file.
Unlike traditional media files stored on file hosts, cached torrent links do not go down. Even better, Debrid services have a much higher bandwidth which means these files are top quality. And TVZion supports them a..
2. The Best Home Screen Interface – Fully Customizable & Beautiful
The number one reason we would recommend an APK over a Kodi addon is because of the home screen user interface that the TVZion Android APK offers. TVZion features a really nice grid format that is both visual and packs a ton of information onto your TV screen.
Check out the pictures at the bottom of this guide to see what we mean!
3. Extensive Trakt Support – Browse Trakt Playlists, Track Watching & More
TVZion supports everything related to Trakt. This means that if you are used to having your collection and watchlists and playlists in your Kodi addons, you'll. be excited to know that you just need to authorize Trakt within TVZion to pull up all of this information.
If you don't know what Trakt is yet, Trakt is awesome and is highly recommended.
One nice thing we noticed is that TVZion has a nice "if you like this" feature where it recommends other TV shows and movies in TVZion. This is a feature that does not exist in any Kodi addon.
4. Extensive Link Metadata – Descriptive Video & Audio Quality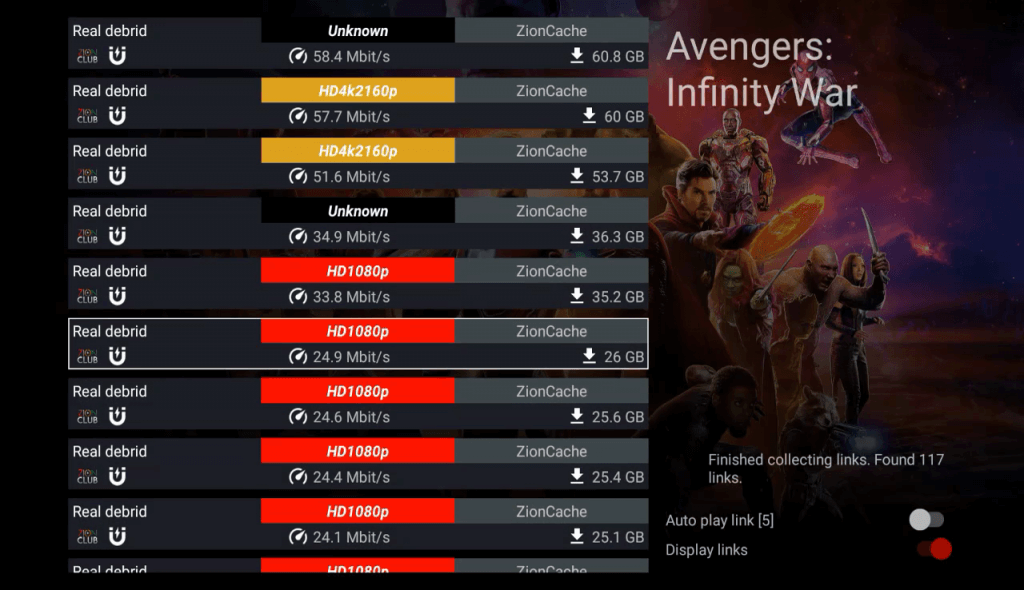 TVZion supports advanced metadata such as file size, quality, bit rate, audio channels, and other things people find important. It knows which one is the best and autoplays it for you.
You can also sort and filter and query this metadata to make sure that you only see the quality you want to see.
5. Less Button Clicks – More Watching!
Compared to a Kodi addon or any other APK, the TVZion app doesn't need as many button clicks. Some examples we noticed of this are:
Resume watching series right from the home screen without having to navigate through any menus.
TVZion automatically knows which episode you left out on, so you never need to go into the "episode select" screen.
Autoplay is enabled by default and works great in TVZion, so you don't have to pick your sources.
Some of the features above give TVZion a more Netflix-style of feel where you can watch content faster without having to browse through links and options.
There are other smaller examples which are really nice to see.
6. Other Features
In addition to the special features above, TVZion also comes with the following:
ChromeCast support
Real debrid support
Anime includes
External players support
Android TV optimized:
Android TV Leanback suggestions support (Nougat +)
Continue watching tiles on your Android TV home: Currently this feature is supported only Android TVs till Android Nougat. Nougat+ devices will be supported soon.
Play random episodes in one click
Special content sections in TVZion home.

Up next section
New in HD section
Airing today section
Recently aired section

Filter content by genre, year filters with sort by popularity, release date options
Customize thumbnail
Change grid size
Choose between poster/screenshot thumbnails
Disable texts on thumbnails
Trailer support
Check out our TVZion Android install guide below. Underneath that, we've posted from screenshots from the app to give you a good idea of what to expect!
How to Install TVZion Android TV & Amazon App
Android
The TVZion APK download is not available on the Google Play Store. Instead, it must be manually downloaded and sideloaded onto your device. You can also use Android software that automatically sideloads APKs for you. To install TVZion, follow these steps:
From your Android home screen, navigate to Settings > Security > enable Unknown Sources.
Download the latest version of the TVZion Android app by clicking here and move it onto your Android TV box via a USB stick or network drive..
Navigate to the TVZion APK file you moved onto your box and run the file. HINT: You can download ES File Explorer from the Google Play Store to make navigating file folders easy. You can also run the APK from inside of ES File Explorer.
When you launch the APK, select Install. TVZion will install and then it will appear in your apps section when it is done.
Amazon Fire TV & Android TV Downloader Method
From the Amazon home screen, navigate to Settings > Devices > Developer Options.
Turn On the option to install Apps from Unknown Sources
Head back to the home screen and launch the Amazon App Store/Google Play Store.
Click on the Search Bar and search for Downloader.
Click on Download to install the app and launch it once installed.
Type https://zionapp.live/d into the URL box and then click the Go button.
The TVZion APK will download. Click on Install once you see the setup wizard.
After it finished, click on Done and Delete the APK file from your box.
TVZion is now installed in your Apps area!
What is ZionClub Inside of TVZion?

When you use the TVZion Android app, you might notice features and a pop up for the ZionClub. This is a $1.25 subscription package for TVZion that gives you the following features:
100% ad free
Cached torrent streaming off of Real Debrid and Premiumize – Similar to the Seren Kodi addon
Cached torrent season pack support – Stream old and obscure TV shows that may not be cached anywhere else.
Advanced meta data detection – detect/sort/filter by accurate resolution, bitrate data
Link filtering/sorting – sort links by bitrate, ping time, quality, resolution, type
Improved autoplay
By paying for ZionClub, you are not paying for any content because TVZion does not own or create any of this content. All it does is searches, indexes, aggregates, and displays content sources to provide convenience to the user. ZionClub lets you pay for that convenience.
How to Get ZionClub
From a web browser, navigate to the ZionClub website.
Scroll down until you see Join ZionClub Today in purple writing. Underneath that, click on the # of devices and length of time you want to buy ZionClub for and click on Buy.
You will be redirected to the purchasing website, where you can click on Buy and follow through with payment instructions.
After everything is complete, you will be emailed an exclusive ZionClub code which you must enter into your ZionClub app on all of your devices.
How to Add ZionClub Membership into TVZion App
Launch the TVZion Android APK and click on the hamburger button (3 horizontal lines).
Select Settings
Click on (+) Add ZionClub.
Enter your ZionClub code into the ZionClub Code box.
Give your device a name, which is important if you are setting up your code on multiple machines.
Click on Done when you are complete.
If you've done everything correctly, the first option in the Settings page will have changed to "ZionClub active [Expires *date*]".
ZionClub Free Trial Offer
You can try ZionClub for free thanks to our partnership with TVZion! If you want to try out premium ZionClub for a weekend without any cost, follow these instructions:
Launch the TVZion Android APK and click on the hamburger button (3 horizontal lines).
Select Settings
Click on (+) Add ZionClub.
In the ZionClub Code box, enter KODITIPS
Give your device a name, which is important if you are setting up your code on multiple machines.
Click on Done when you are complete.
You now have full ZionClub inside of the TVZion app for the weekend!
How to Add Accounts into TVZion (Real Debrid, Premiumize, Trakt)
Real Debrid
First, sign up for a Real Debrid account.
Launch TVZion and click on the hamburger menu in the top left (3 horizontal lines).
Click on Settings.
Scroll down to Accounts.
Click on Add RD Account
Follow the prompt to visit the Real Debrid authorization page. When you are done, click on Done in the TVZion app.
If everything worked right, the option should now change to (-) Remove RD account.
Premiumize
First, sign up for a Premiumize account.
Launch TVZion and click on the hamburger menu in the top left (3 horizontal lines).
Click on Settings.
Scroll down to Accounts.
Click on Add Premiumize Account
Follow the prompt to visit the Premiumize authorization page. When you are done, click on Done in the TVZion app.
If everything worked right, the option should now change to (-) Remove Premiumize account.
Trakt
First, sign up for a Trakt account.
Launch TVZion and click on the hamburger menu in the top left (3 horizontal lines).
Click on Settings.
Scroll down to Accounts.
Click on Add Trakt Account
Follow the prompt to visit the Trakt authorization page. When you are done, click on Done in the TVZion app.
If everything worked right, the option should now change to (-) Remove Trakt account.
TVZion Help
How to Change Player
TVZion by default can call on both VLC and MX Player to playback media provided by public providers in the app. If you are having trouble with TVZion, such as broken video or audio, you can switch the player in order to relieve your issues.
From the TVZion main menu, click the top left hamburger menu icon (3 horizontal lines)
Select Settings
Scroll down and select Video Player
Select your choice of player here
Support
Support for your TVZion download can be found in a few different places.
The TVZion Reddit is where the developer often posts updates. It is the best source for up to date information on the APK.
The TVZion website is another source for news and information.
TVZion Android TV Screenshots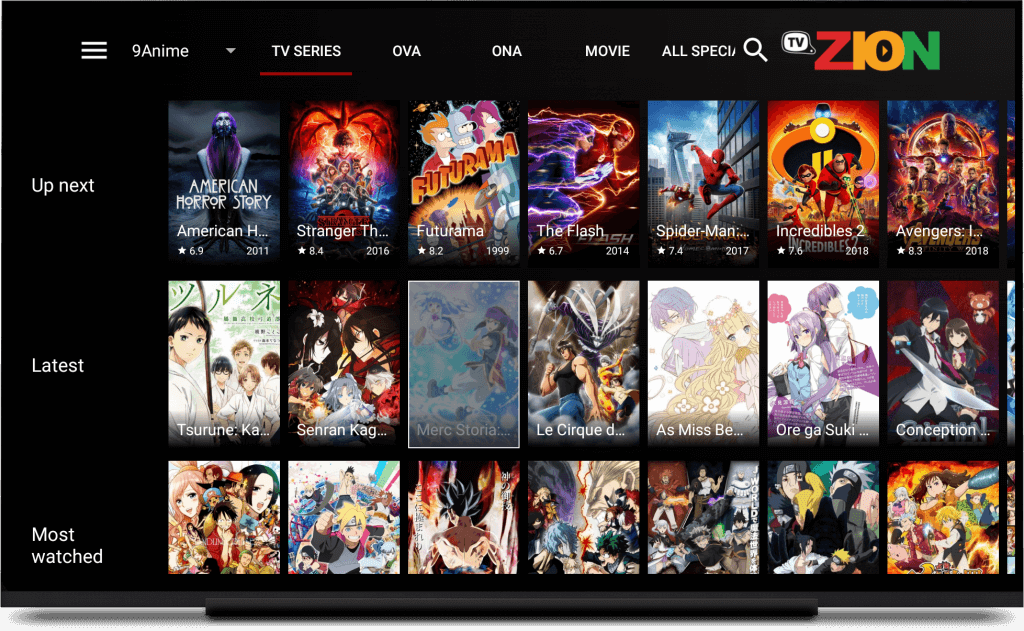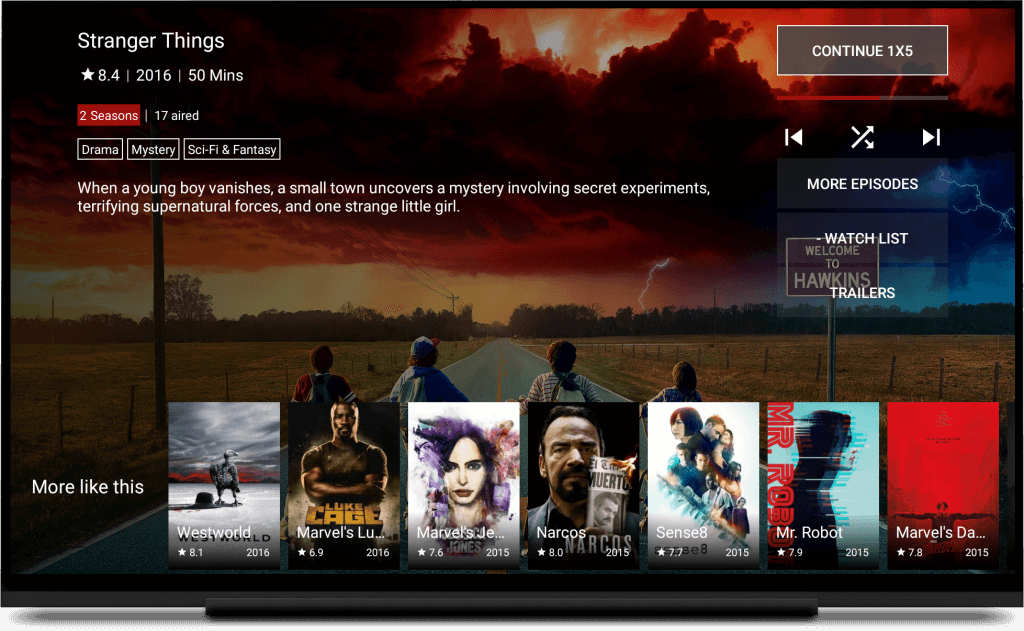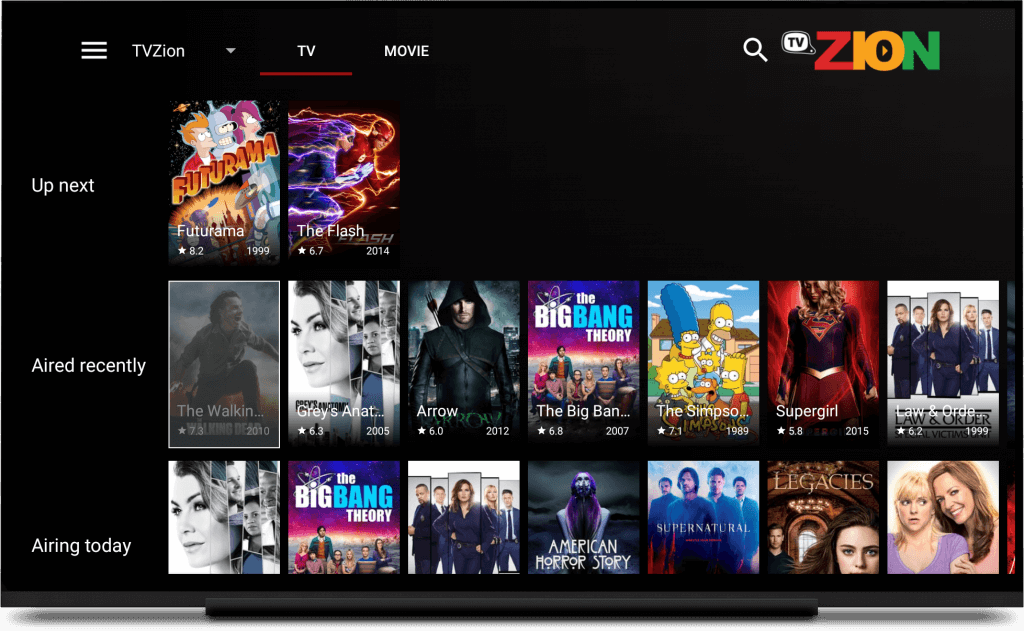 Let us know on Twitter if we can help you out!
TVZion Latest Version Change Logs
TVZion v3.7.1 Change Log
[Added] Run as high priority (Settings > App > Run as high) to ensure app does not die during playbacks causing "App died due to low ram" error.
[Added] Option to not remove from history when (-) watching is clicked. Note that Trakt watched items are automatically re-added on start up or when item page is viewed.
<[Added] Debrid service priority. Prioritize your debrid services one over another when multiple debrid services are enabled. Settings > Accounts > RD/PM > Debrid service priority.
[Added] Full (Hosters + Cached torrents) AllDebrid (alldebrid.com) integration.
[BugFix] Newly imported trakt items weren't hiding itself when hide caught up enabled.
[BugFix] Trakt my list was showing duplicate up next sections.
[BugFix] Duplicate episodes were appearing on MAL browser.
[BugFix] Browsers will no longer appear on search page browser list of disabled.
[BugFix] Leaving category name blank during home widget adding is not allowed now.
[BugFix] Hebrew subtitles was not appearing.
[Optimized] Trakt settings page.
[Added] New useragents.
[Optimized] Trakt "Watching" button hold action list loading time.
[Optimized] Start up time. Specially for Trakt/MAL users as those accounts are initialized at start up.
[Optimized] Improved season pack episode name detection.
[Optimized] [RD] Improved season pack episode extraction.
[Optimized] Debrid service integration. New debrid services integration will be much easier now
[Reset] Some settings in Settings > Accounts > Debrid services > Account has been reset to new default values for better naming and might need user intervention if changed previously.
TVZion v3.7 Change Log
[Introducing] Full MAL integration. Mark as watched, sync at start up, browse MAL personal and public lists. MAL link search may not gather a lot of results as it is still experimental and improvement is planned soon.
[Added] Resolvers [+1].
[Fixed] Resolvers [+3].
[Added] Option to hide browsers. [Settings > Content > Content browsers]
[Added] Option to hide browser dropdown. [Settings > Visual > Hide dropdown]
[Renamed] Watching list section as "Watching" as that better describes what the list is (which is things watched/watching/intend to watch later) and also is less confusing to Trakt users.
[Optimize] [Trakt] Removing from watching will now remove it from Trakt history as well so that it does not appear again when re-synced/reloaded show page.
[Added] Description "Long press to load options" on "Watching" button when single clicked to inform user of the long press options.
[Added] Now load more lists under "Featured lists" tab by changing Settings > Accounts > Trakt options > # of featured list index pages to download.
[Added] Personal lists will now appear on a separate tab "My lists".
[Added] Tab persistence. Will now automatically detect the last tab used on each browser and auto select it instead of the first one.
[Optimize] [Media caching] Previously all media on watch list was being cached in memory (consumed more ram), now media is only cached if viewed.
[Refactor] Removed old show/movie page.
TVZion Android APK: Ultimate Setup Guide For Android TV & Amazon Fire
was last modified:
December 7th, 2019
by