Looking for thorough World Cup Kodi coverage? Follow our guide below for the best streaming info for World Cup matches, replays, previews, highlights, and more. The top European Football tournament takes place from June 14th to July 15th. Read all of the details in our guide.
The 2018 World Cup Kodi coverage begins officially on June 14th, but you can get match previews and information leading up to the big tournament. Our guide has the following information:
2018 World Cup Match Dates & Groupings
The 2018 World Cup takes place in Russia at 12 different venues around the Country. The Group stage matches take place from June 14th up until June 28th. After that, the Knockout stage begins on June 30th, taking the tournament down to just two teams. The final is on July 15th in Moscow.
World Cup Groups are as follows:
Group A = Russia, Saudi Arabia, Egypt, Uruguay
Group B = Portugal, Spain, Morocco, Iran
Group C = France, Australia, Peru, Denmark
Group D = Argentina, Iceland, Croatia, Nigeria
Group E = Brazil, Switzerland, Costa Rica, Serbia
Group F = Germany, Mexico, Sweden, South Korea
Group G = Belgium, Panama, Tunisia, England
Group H = Poland, Senegal, Colombia, Japan
A Very Important Kodi Note
A few of the Kodi addons listed in this guide use AceStream links. AceStream is a peer-to-peer torrent driver where you share your connection with others while streaming in order to shoulder the bandwidth load. Where traditional streaming links introduce buffer as more users join, AceStream links are stronger with more people.
AceStream streaming is the most reliable way, but we highly recommend the use of a VPN when streaming these links in order to hide your connection. In some countries, ISP service providers will send you threatening letters or fines if you are caught peer-to-peer streaming or downloading.
For World Cup fans, we offer two separate Kodi VPN plans: IPVanish and NordVPN. Both are premium services certified for streaming. Hide your connection quickly and access geoblocked content with a quality VPN.
As well, some of the channels listed inside of this guide require a VPN in order to access if you do not live in the country of origin. Sign up for a VPN in order to access these channels.
The second important thing to note is that Kodi addons do not host or store any content. If you have any issue with anything presented in Kodi, find and submit your queries to those hosting content. We take no liability for any content in any Kodi addon. It is up to you to understand the legality of Kodi streaming in your home country.
World Cup Kodi Previews & Highlights
A number of Kodi addons have information on static non-live content of the tournament. This includes World Cup Kodi previews, highlights, replays, interviews, and other content.
Replays R Us – Sports replays and highlights
Kick Off – European Football highlights, previews, and content.
Official World Cup Kodi / Android TV Streams
The following World Cup Kodi streams are from verified sources. Streaming quality will be the highest and buffer will be the lowest. Please check with each individual provider in order to determine their full streaming schedule.
fuboTV is an online OTA service that carries a ton of live sports streaming. They are advertising full World Cup coverage, which you can sign up for and read about on their website. Click here to read more information about fuboTV.
DAZN is an internet based live sports streaming service that calls itself the "Netflix of Sports". In Germany, DAZN is listed as one of the providers for the FIFA World Cup 2018. To use DAZN for the World Cup, you simply sign up for the service, connect your VPN to Germany, launch the service, and stream. Learn more about DAZN today.
Sling TV is an American OTA TV service. All Sling Blue customers have access to Fox Sports 1 in the service, which is a major provider for the World Cup. As well, the base FOX channel is available in select markets.
Over the Air television options allow you to stream local HD live channels completely free. You can watch World Cup Kodi streams without any buffer and from some of the networks listed below. Simply follow our guide to find what channels are available in your area, and then purchase an antenna for fast and easy setup.
TVPlayer Kodi Addon – This free addon allows you to stream live UK TV channels, including BBC, which carries World Cup Football coverage. The addon is composed of completely free and legal channels that you can stream OTA on your Kodi hardware.
World Cup Kodi Channels
A number of TV channels in different countries will be showing the World Cup and are available completely free. To access the links below, you just need to enable your VPN and connect to the channel's country. Then, use the link to access free World Cup streams.
These channels are available through any internet browser on your computer. You can then connect your computer to your TV via an HDMI cable and mirror your screen on both spots.
Third Party World Cup Kodi Addons 
Kodi addons do not host any content. They simply search the public internet for freely available links on the internet.
Please note that these Kodi addons might not be legal to use in your country. We suggest to our readers to only choose legal, official World Cup streaming channels available in their country. We host none of the streams in these addons, so your use is at your own risk.
Some examples of third party Kodi addons include:
Live Streaming Kodi Tips
Here are some general Kodi streaming tips to help you when accessing media and content you are legally able to view:
Make sure your internet connection is a minimum of 10mbps and recommend 20mbps in order to have the bandwidth required for live streams.
Always make sure your media box is plugged in with hardwire Ethernet back to your router. The latency on wi-fi is 10x worse than hardwired Ethernet, which leads to more buffering.
When using peer-to-peer or acestream links, use a VPN to hide your connection and access content safely.
Test your streams well in advance of any event. Don't wait until the last minute once an event has started.
PROTECT YOURSELF ON THE INTERNET
Sign up for a premium Kodi VPN and access the internet unrestricted. We offer exclusive discounts for NordVPN, the highest respected VPN in the Kodi community. It has some great features for users:
Apps for Android, iOS, Mac, Linux & more
Zero Logs
Unlimited bandwidth
Tier 1 hardware (no speed slowdown)
Access to servers hundreds of VPN servers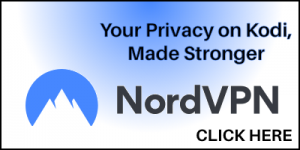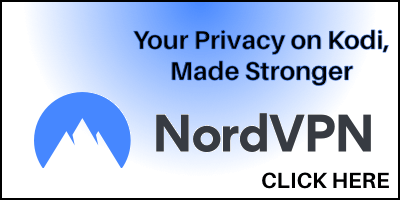 Click here to learn more about Kodi VPN protection