Looking to find quality new Kodi addons? Use our list of GitHub usernames for Kodi repositories, which can help you use the GitHub browser to find and add new addons. Read the full details in our guide. 
Many Kodi repositories and addons are stored on GitHub, a free hosting service that comes with full version control and change tracking of files. We've compiled a list of GitHub usernames for Kodi below, making it easy for you to load new addons and discover new content in Kodi.
Knowing GitHub usernames for Kodi has a few nice advantages and perks:
You can use the GitHub Browser Kodi addon to install addons directly from GitHub without needing to add sources in your Kodi file browser.
GitHub comes with integrated features for flagging errors to the developer, which can help them fix and make each addon better.
GitHub stores change tracking for all files, meaning you can learn Kodi coding, tracks changes, and find out when updates comes out.
Using the GitHub Browser Kodi addon has a few nice advantages for both developers and end users:
Less sources in your file manager: The Kodi community can be a confusing place for inexperienced users. Since addons tend to change source addresses so often, a lot of users have a massive amount of sources in their file manager. These can include old dead sources which do nothing but slow Kodi down. By using the method below, you no longer need to add sources to your file manager. Conversely, Kodi developers don't need to find a .com source to host their repo any more.
No need to remember repository.com sources: Instead of remembering sources, which tend to change a lot, you now just need to know a developer's GitHub username.
Addon developers have more freedom: Lots of addon developers choose to combine forces so that users only have to install one source in their file manager. This method allows developers to use GitHub (which most are using anyway) freely on their own. Installing repos by GitHub username will make it easier for developers to distribute their addons.
For a comprehensive list of popular GitHub usernames and the repositories that they contain, see below. Underneath that, we've added instructions on how you can add the KodiTips.com Feed, a listing of all of the usernames below which allows for quickly installing these on Kodi!
GitHub Usernames for Kodi
kodibae
nixgates (Incursion Repository)
MrBlamo420 (Blamo Repository)
Nemesis668 (Stream Army Repository)
tvaddonsco (TVADDONS Repository)
rockcrusher01 (Rockcrusher Repository)
duncanh52 (Maverick Repository)
Goliath-Evolve (Goliath Repository)
tdelight (UK Turk Repository)
How to Install KodiTips.com Feed for Git Browser
Launch the Git Browser Add-on from your Program Addons page, click on Addon Installer > Click on Git Browser
Select Search By GitHub Username.
Enter in the GitHub username for the Kodi feed you would like to install. One example is koditips, which will give you access to our feed. When you are done, click Enter.
If everything worked correctly, you will now see a listing of all Kodi addons and repositories from that username. Feeds are displayed in yellow. If you searched for us, you will see koditips.feed-x.x..zip.
After clicking on the repo, the feed will now install.
Go back to its main menu, where you will now see a link to Search Feeds (which wasn't there before you had any feeds added). Click on this and select the KodiTips.com Feed feed that you installed above.
Select a repository heading which we've added to our feed that you are interested in installing.
Select the repository.name-x.x.zip file from the list.
Click Install when prompted. After the repository has installed, click on Continue (don't restart).
Go to other repository headings and install all of the other repositories you are interested in.
To install addons from each repository:
From your Kodi home screen:

ON Kodi 17 Krypton or later: Select Add-ons > Add-on Browser 
ON Kodi 16 or earlier: Select SYSTEM > Add-Ons

Select Install from Repository and find the Repository you installed above. Navigate into Video Addons to see all of the addons in the repo.
Have any questions about using GitHub usernames for Kodi? Let us know on Twitter or Facebook if we can help you out!
PROTECT YOURSELF ON THE INTERNET
Sign up for a premium Kodi VPN and access the internet unrestricted. We offer exclusive discounts for NordVPN, the highest respected VPN in the Kodi community. It has some great features for users:
Apps for Android, iOS, Mac, Linux & more
Zero Logs
Unlimited bandwidth
Tier 1 hardware (no speed slowdown)
Access to servers hundreds of VPN servers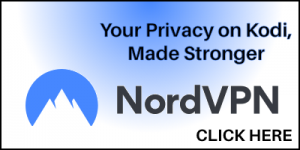 Click here to learn more about Kodi VPN protection